Tag: Before and After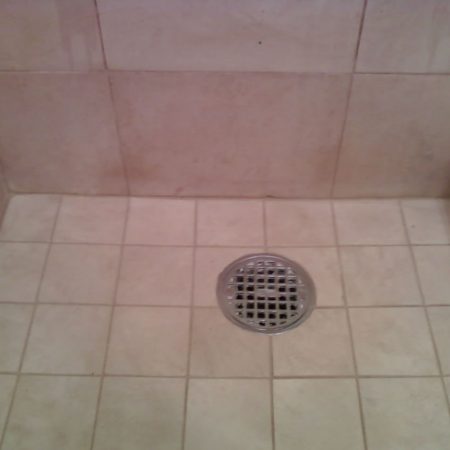 This shower stall and saddle had deep mold, hair dye residue, etching, and deep stains. We restored the marble and eliminated all the deep stains and deep mold with a special paste (also known as a poultice). We then more...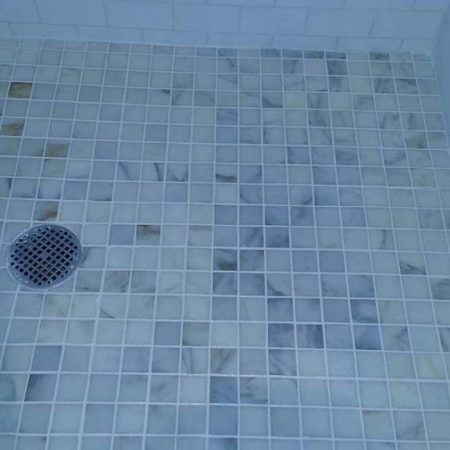 As you can see in the photo, we restored not only between the tile seams but also removed yellowing and stains, eliminated the traces of efflorescence on the stone by deep grinding and chemical treatment. The general more...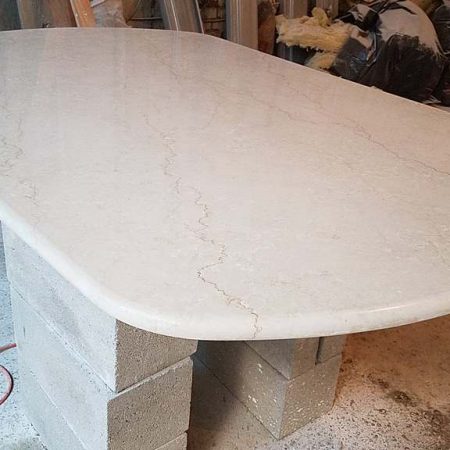 The old round table was cut to the elliptical shape and fabricated on the construction site (attached to the customer's building). The polyester coat was sanded out and delaminated, two sides trimmed and rounded, more...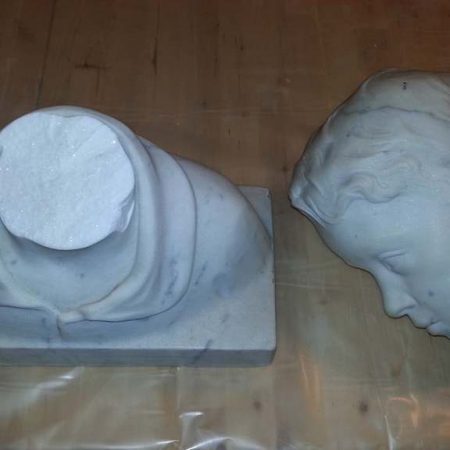 Sculptural restoration is not only a faster process of returning the original appearance to marble sculptures but also cheaper than replacement. After all, you can restore not only the countertops, floors, and more...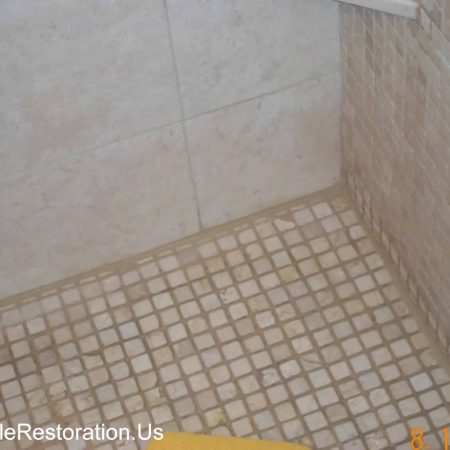 The picture shows the marble mosaic shower floor after cleaning. Grout & marble was cleaned and mold removed. Then all shower surfaces were resealed. more...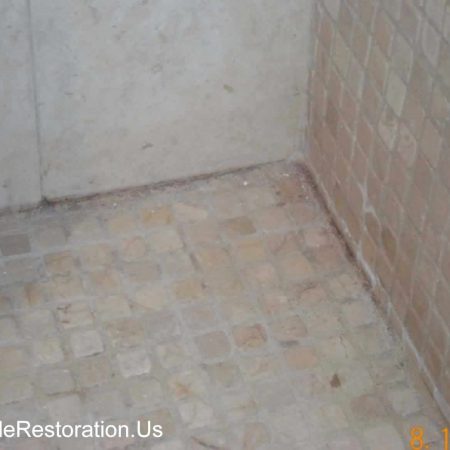 The picture shows some mold growing on the floor grout in the mosaic shower. It's not big yet, but it would definitely develop deeper and blacker. more...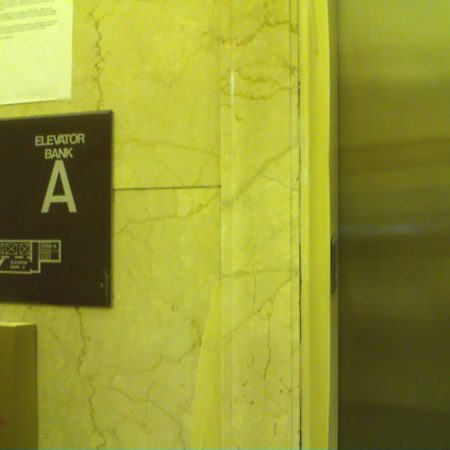 Ornamental Botticino elevator curved doorframe after onsite cracks repair. more...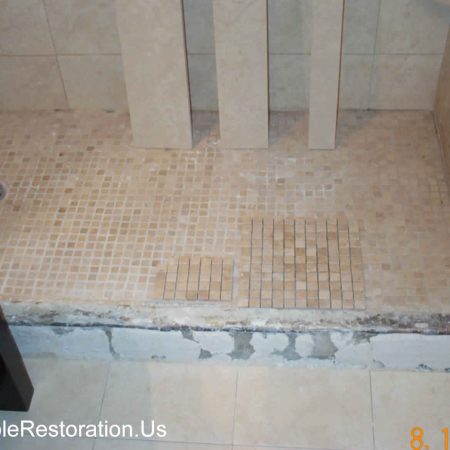 Picture shows marble shower and saddle parts before repair. Shower had mold on the floor and soiled grout. Removed old shower saddle for replacement. The old shower threshold was removed and the new pieces fabricated more...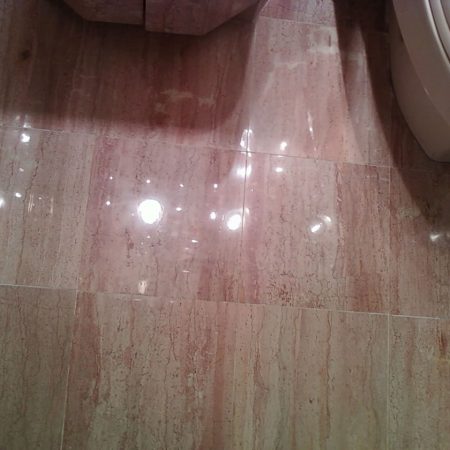 Restored shine finish on bathroom travertine marble floor. more...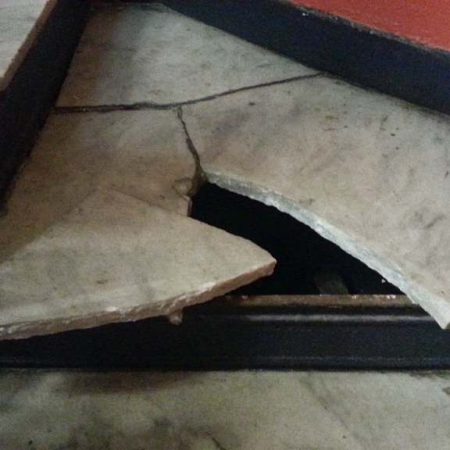 In rare cases, we can do salvageable buckling landing slabs and structural repair. A lading slab has to be propped from the bottom side, by a metal sheet, L-bars, concrete, wooden beams, etc. Under this slab we were more...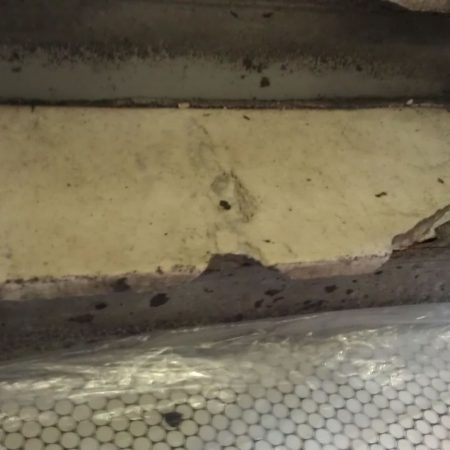 Replacement of the disrepair broken interior step to reduce the potential of falling hazard. Delancey Street, New York NY more...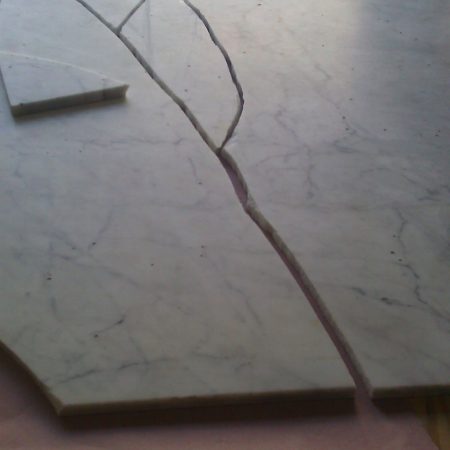 This heavy 1 inch thick White Carrara worktop was accidentally broken into several parts. To repair we picked it up and then deliver back to the owner. The table was used by the photographer as the background of more...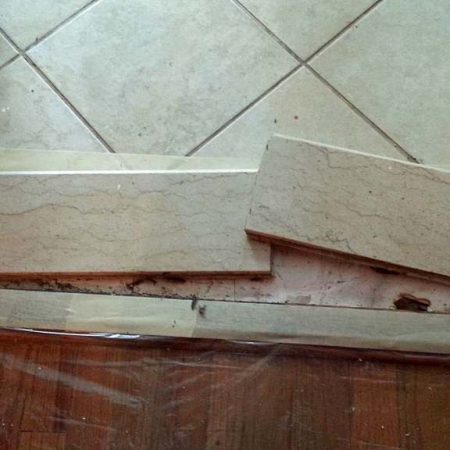 Before installing the door saddle you'll need to make sure that the floor beneath is thoroughly cleaned and dried. Marble is a soft material and can be susceptible to cracking if not installed on a level surface. more...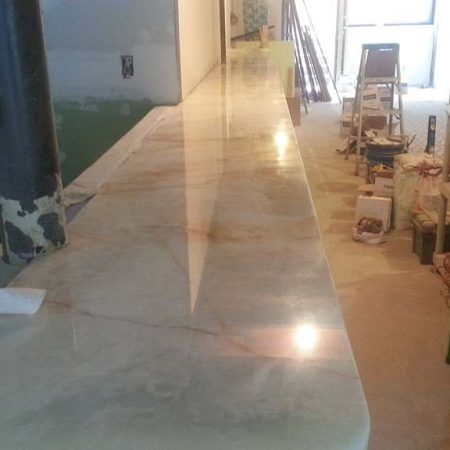 Grinding and polishing onyx is identical to polishing marble. In polishing can be used crystallizer, buffing powder, diamond pads as for processing granite. The cracks repair and re-bonding are done in a very similar more...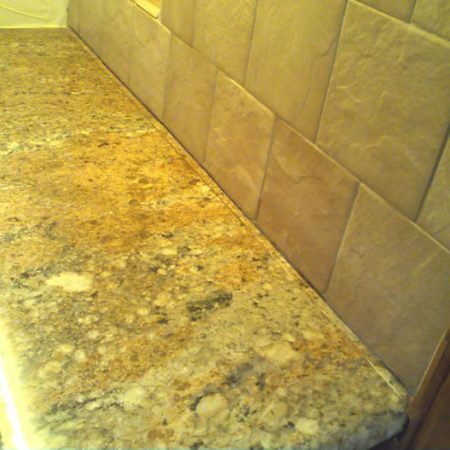 Since the installer of counter applied just one color to fix the seam it appears noticeable and could be re-bonded and improved. more...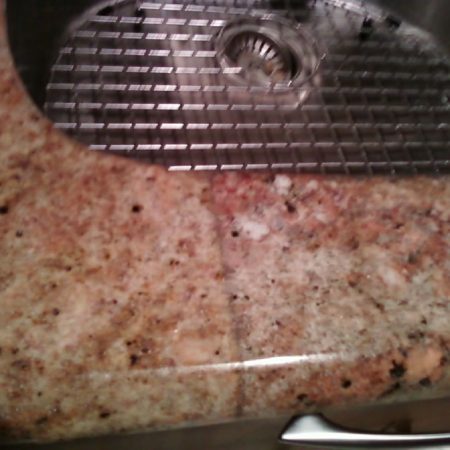 Front seam of golden oak granite countertop was filled up with colored epoxy, flattened and polished to less obtrusive appearance. more...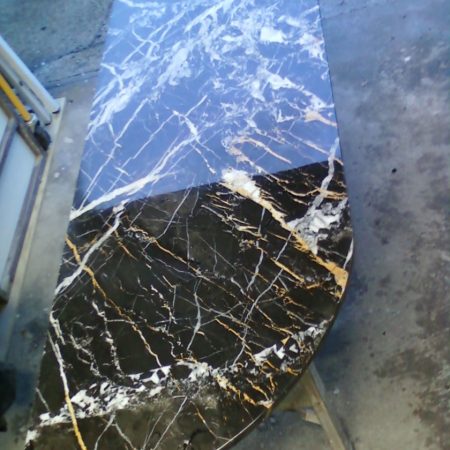 After our restoration services the piece of marble looked as if it was brand new. We added a brilliant gloss to the exterior of the stone, which helped to bring the original colors back to life and added a shine that is more...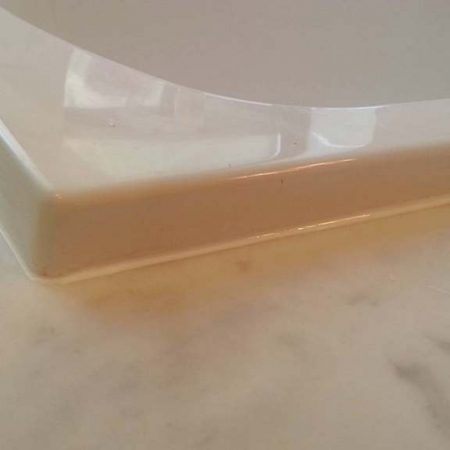 Caulking the seams in the bathroom is very important because, through poor-quality caulked seams, moisture spreads into and out of the tiles, and then, after a while, causes irreparable harm to the underneath surface, more...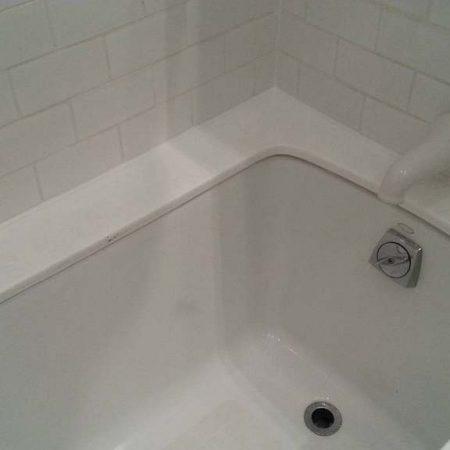 The gap between the wall and tub can be narrow or wide. If the gap is not too wide, it is better and easier to use acrylic caulk. Insert the tube into a caulk gun and gently, in one step, fill the gap along the entire more...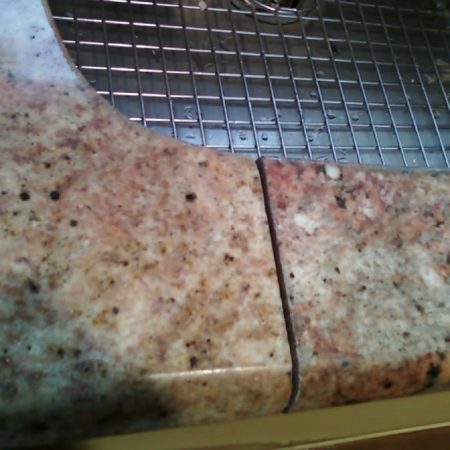 This dislodged seam expansion caused by shifting down the opposite side of the entire slab. To fix it we lift up and support the entire slab, then re-bond the seam itself. more...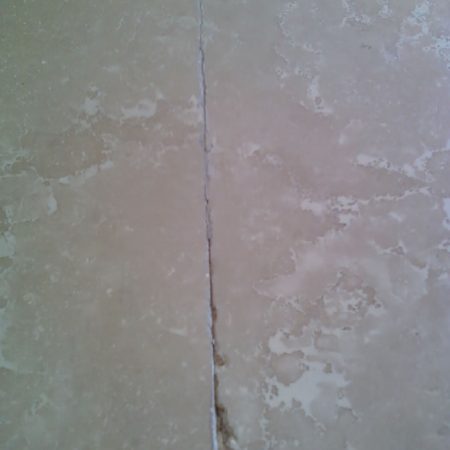 Seams repair Q&A: Should the tub top be replaced? – NO. Does poorly filled seam get worse? – YES. Can such the seam in marble be refilled? – YES. more...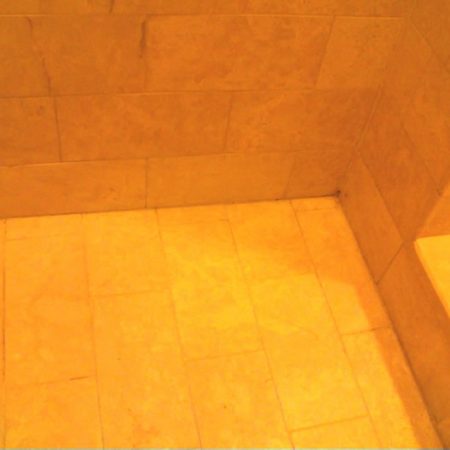 The mold stains were removed by deep grinding and brightening by long contact with some aggressive chemicals. more...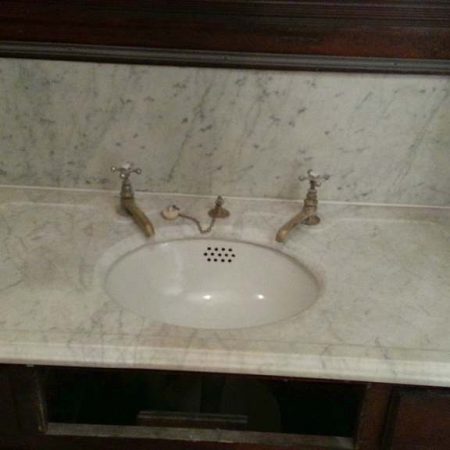 Antique marble counter top with the backsplash is located in a brownstone in Brooklyn. Although it had a lot of permanent stains, some of them possibly 100 years or so, after poulticing we were able to extract most of more...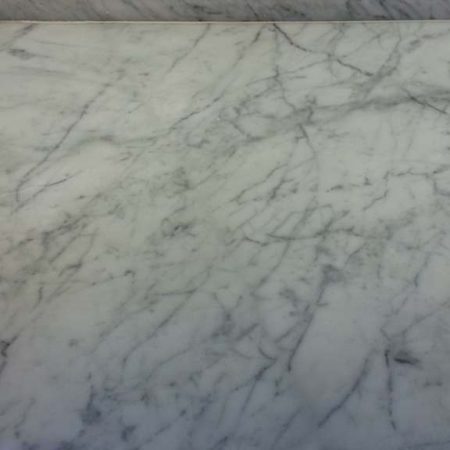 Picture of the counter area where the yellow stains were removed by brightening with various chemicals and methods. more...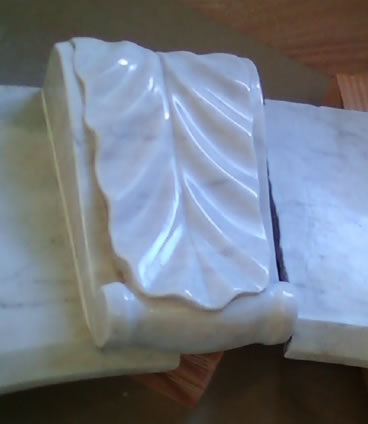 The keystone or medallion along with rest parts of the fireplace was cleaned, brightened, stains removed and polished to shine. more...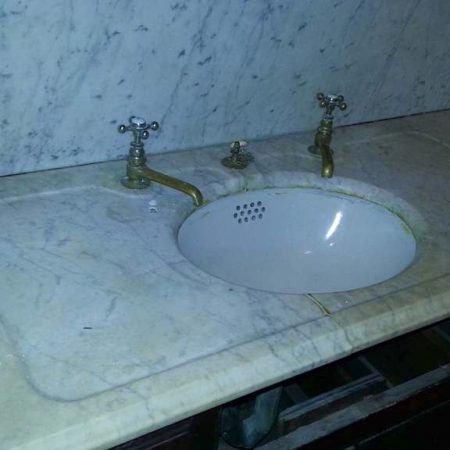 We will simply grind down the stained and discolored layer until we'll get clean, raw marble with uniform color. Then a poultice will be applied to remove some of the stains from the counter. If we'll be lucky, more...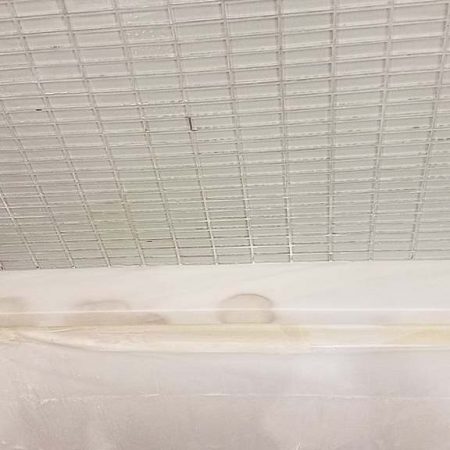 Marble has pores and thus permeable, so it is easy to leave a stain and often impossible to remove the stains, especially on such white marble. We were able to brighten them to less obtrusive shade. more...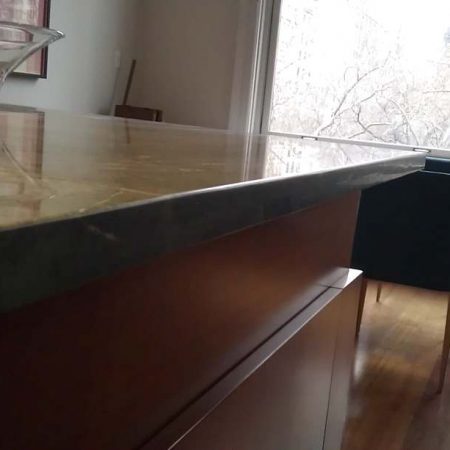 Double edge was revamped with leftover marble stip. We cut out the marble strip to fit exactly to the existent edge. Then glued and forced up the stip with pressure using clamps, then simple edge shaping and more...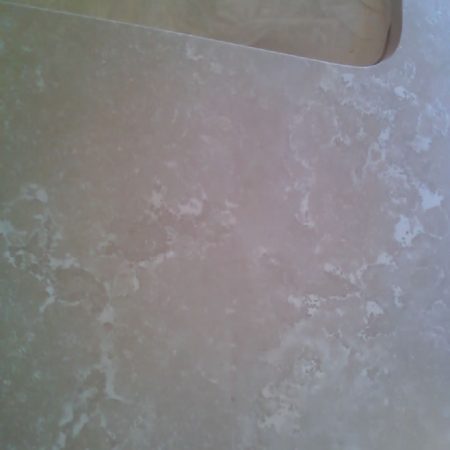 For best hiding a seam or crack on multicolored marble we prepare and use a few colors of epoxy. The ordinary school teach to use one most available color on stone, as it is a faster and easier way, but not always the more...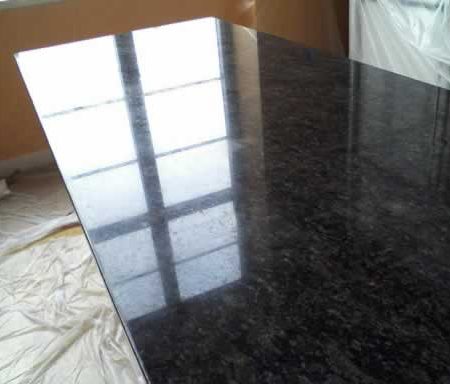 We've removed some old epoxy from top of the seam, then clean up the gap with acetone and fill in with new epoxy. more...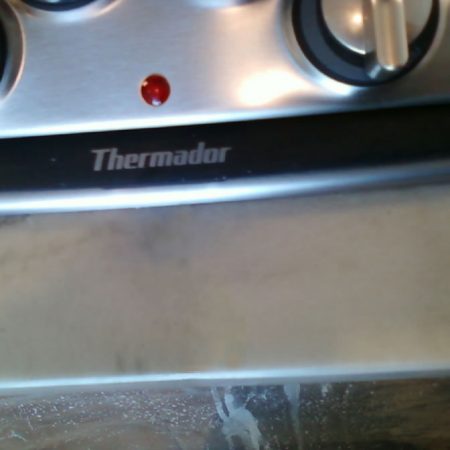 A seam can be fixed by lifting of a counter and shimming from underneath of a countertop and fixing with solid epoxy or a silicone. Then the seam should be cleaned, degreased, and slightly sanded if possible. Then more...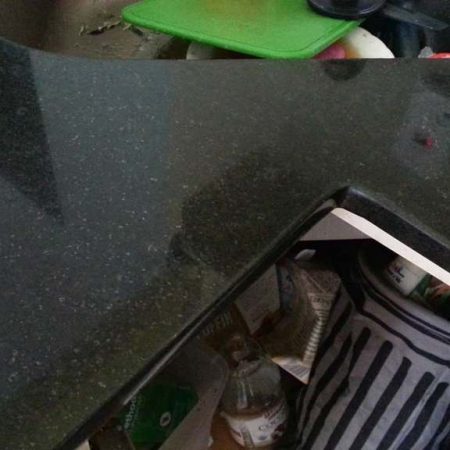 Cracks in granite are repaired by filling up with epoxy to glue pieces back together. But the crack will remain visible and uneven unless the area around the crack is sanded and properly polished. Filling the cracks more...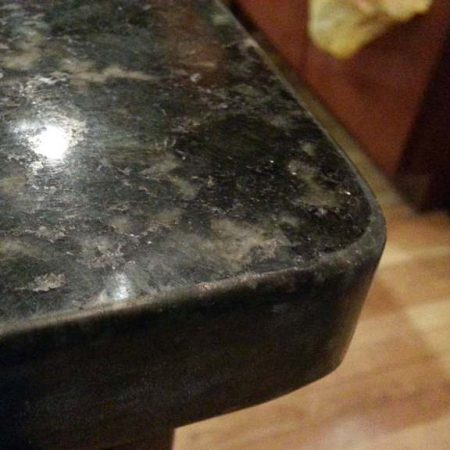 We put tape on the area around the chip and put some epoxy to fill up the gap and spread just little above stone surface. We use epoxy and and mix color toners in the epoxy to blend the chip with best color more...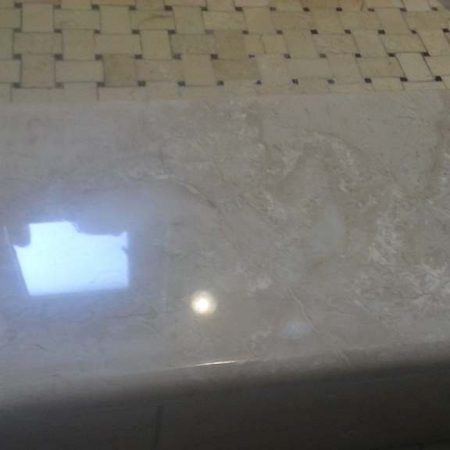 In practice, marble is restored somewhat easier than granite. If properly processed, the traces of its restoration will be almost impossible to notice. Often the crack line may appear as a natural vein or pattern. To more...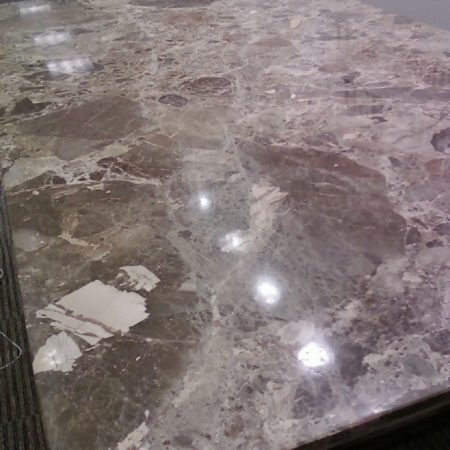 To perfectly hide the cracks we used several colors of epoxy. It helped us better to blend and hide crack lines among other veins and patterns to unnoticeable. more...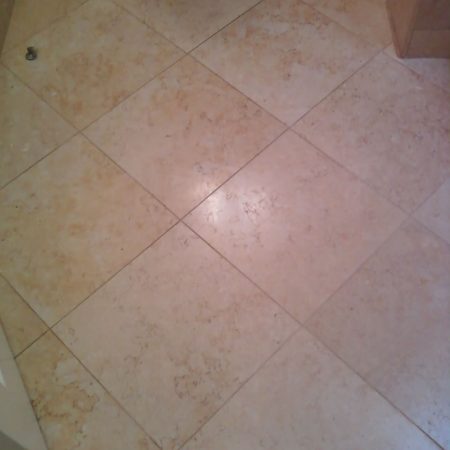 Bathroom floor before honing and cleaning. You can notice how stone veins, holes and as well grout lines are filled with darker dirt. The material of the tiles is Jerusalem Stone. more...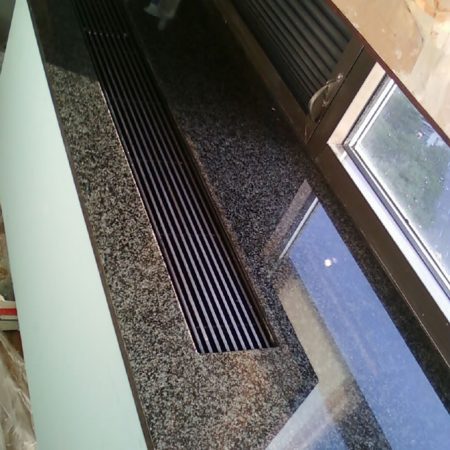 To repair and hide the crack lines to unnoticeable – the multi-colored epoxy was used. more...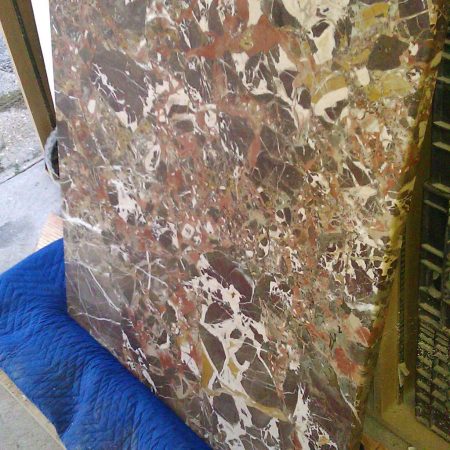 Hued square coffee table top slab after broken off corner repair. Various colors, patterns, and veins allowed us to hide crack lines to invisible. more...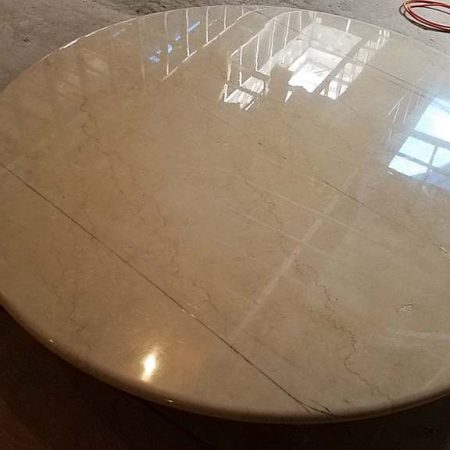 The round Botticino dining table coated with Transparent Polyester Glazed Coat, glass-like finish. Marked for trimming, cutting, edging to bullnose, coat stripping and fabrication to specified dimensions and more...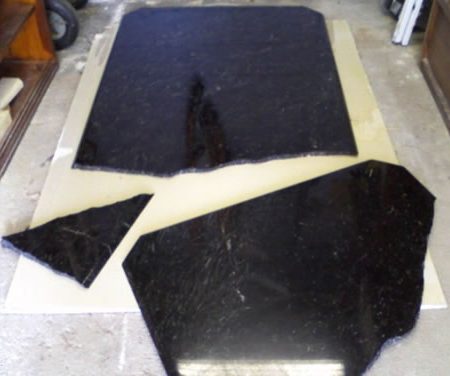 This coated with a "liquid glass" dining table split apart into 3 fragments. To strengthen the repair we used metal bars from the bottom side. Image before restoration. more...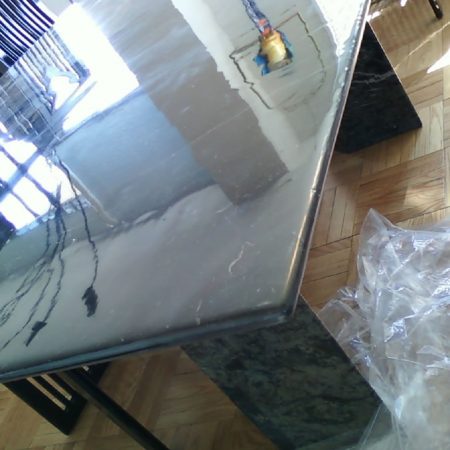 The corner of the glazed dining table was broken off during moving to a new apartment in Manhattan. We use our unique technique to restore chipped or cracked plastic layer (transparent polyurethane) on the marble more...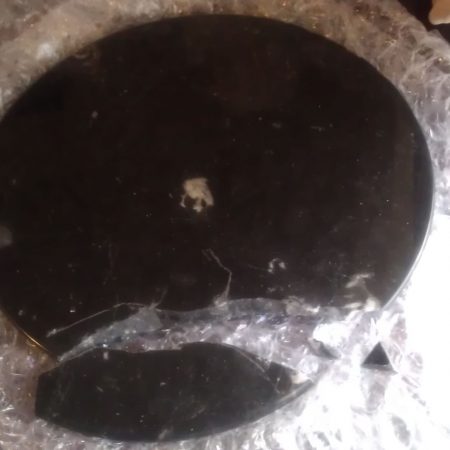 This glazed table was messed up by the owner and shipped to us from Texas for chip and flake off on the plastic layer repair and recoating. During transportation, it was broken once again by the shipping company. Plus more...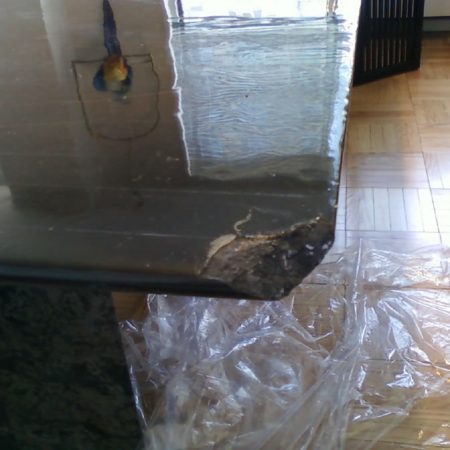 The corner of the marble dining table and "water clear" glaze coat was messed up and delaminated during transportation by moving company. Same table in the moving company storage. First time it was broken more...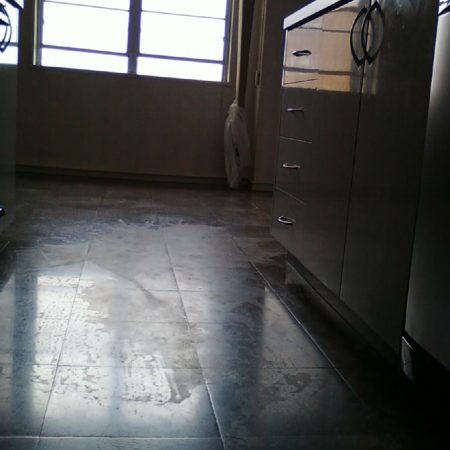 This is the etched kitchen marble floor in Brooklyn apartment. The owner accidentally had dropped a bottle with overly aggressive vinegar. It clearly shows reaction overly aggressive acid/vinegar with a marble more...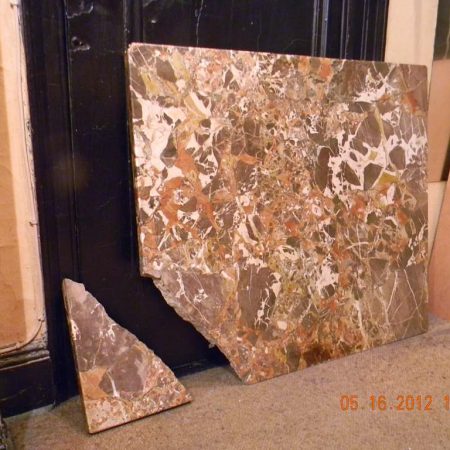 The good news is that a broken marble slab does not mean that it has to be put down in and trashed, if the break isn't too severe, it can be mended and used as brand new table. more...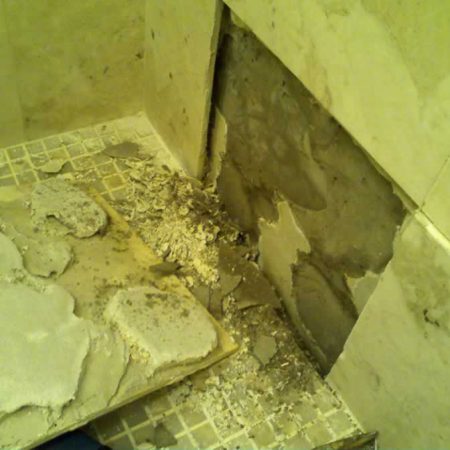 Many times our bathrooms, shower rooms, steam room or wet room – whatever you term it needs an overhauling renovation, especially for those tiled surfaces that keep on coming out. Our specialized tile resetting more...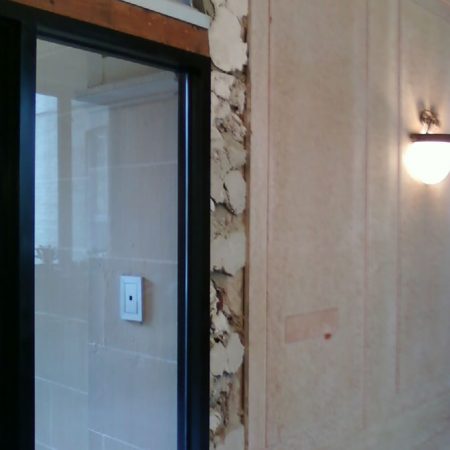 Image before suffered marble panel restoration and installation in building lobby. Brooklyn NY more...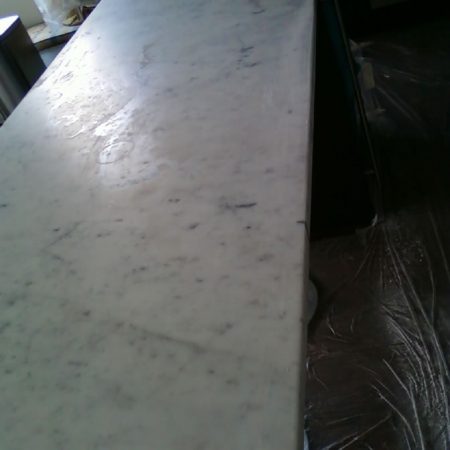 Some drawbacks of a kitchen marble countertop. It can get damaged from time to time. Kinds of damage may include scratches, stains, cracks, loss of shine, etches, ring marks, spottings, etc. It is here that we enter more...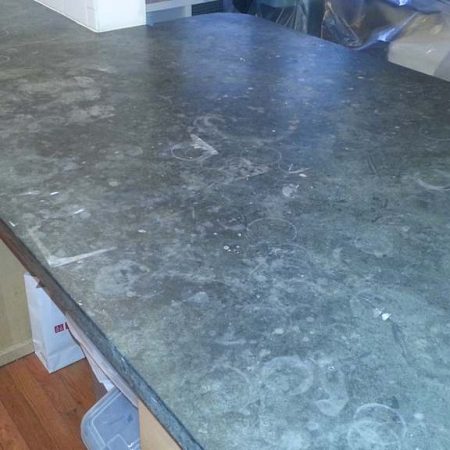 It is absolutely counter-indicative to apply for cleaning marble usual caustic household cleaners: a washing powder, cleaning powders like Ajax or Domestos. The substances contained in them can destroy the structure of more...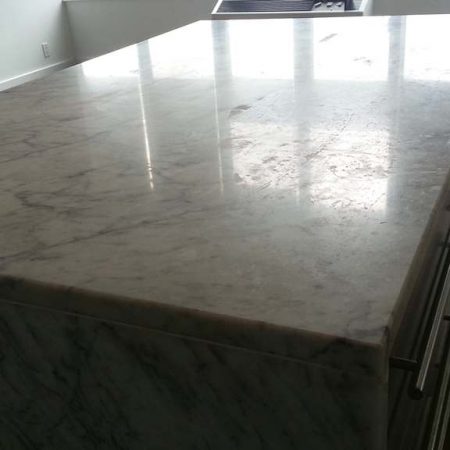 Water spottings or etch rings on countertop surface and waterfall edge. Marble, travertine, onyx, limestone are all these stones on a calcite basis, and therefore unstable to PH active liquids, especially acids. When more...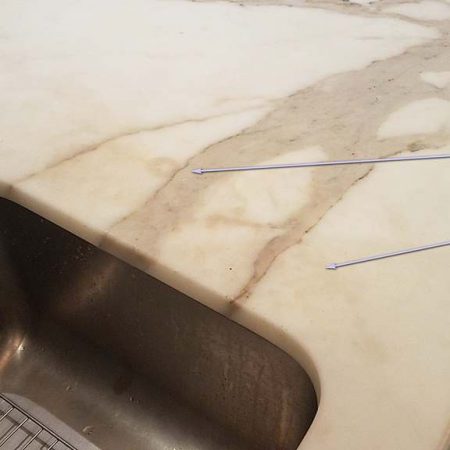 In order to avoid such undesired spottings, you should know:  marble is afraid of spilled coffee, tea, juice, sodas, wine, ketchup, dressing, etc. A sealer may help in some such cases but in not all cases. more...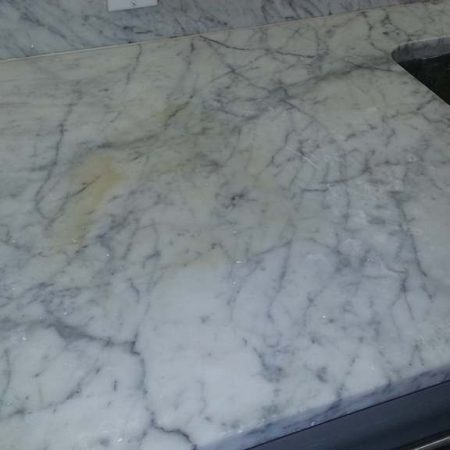 Sometimes the light marble countertops begin to acquire an undesired yellowish shade. To remove yellowing spotting, try to apply on a stone surface and leave for a few hours a saturated solution of soap, and then more...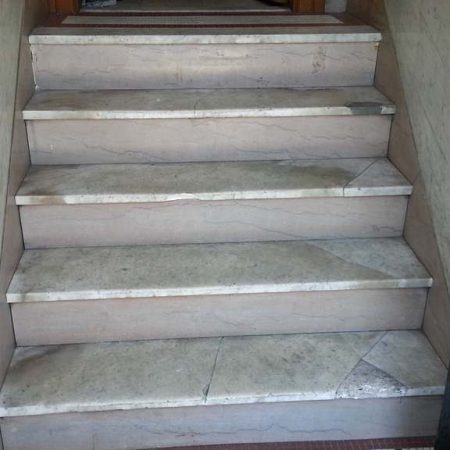 Despite all its positive qualities, marble belongs to the group of soft stones, so constant exposure of the polished surface to abrasives, chemicals or other unfavorable compounds and other deterioration factors can more...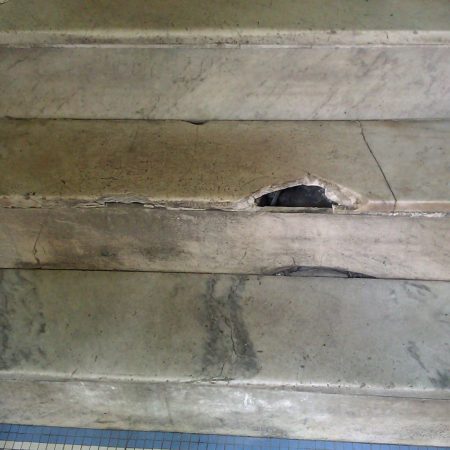 Some problems like broken marble steps and rough nosing of stone can affect the beauty and can cause injuries. From tabletops to countertops, from bathroom floors to marble steps all will require a marble grinding and more...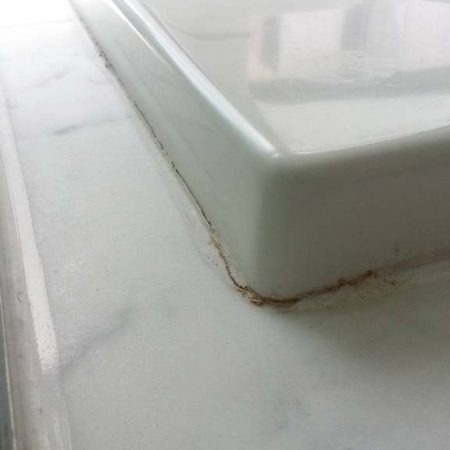 There are a lot of seams in a bathroom, and all of them must be caulked immediately after the completion of the main works. Be sure to check each seam and do not forget to apply a special compound that will give water more...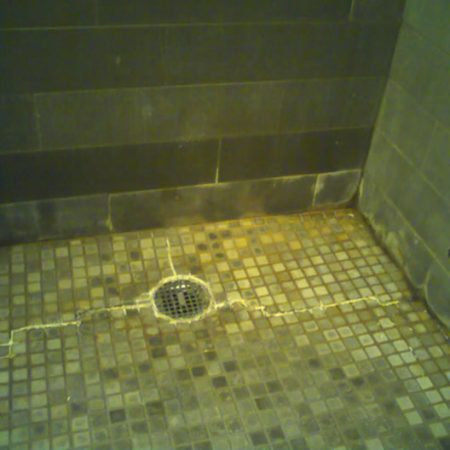 If water comes out from underneath marble shower floor, that is a more serious issue as it has soaked throughout tiles or seams from the bottom to the surface, leaving salt deposits and other compounds on the more...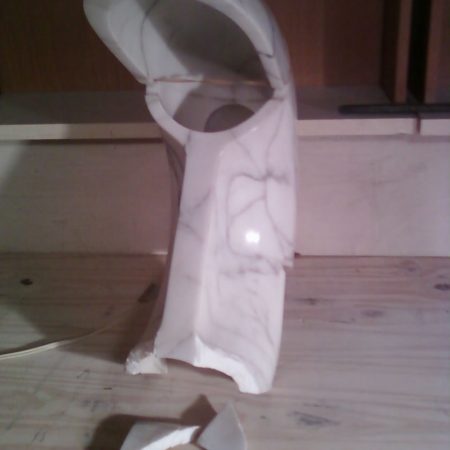 This delicate and brittle marble table lamp was accidentally messed up to crooked break-offs. We fix it using our standard technique. Carved from White Carrara marble. more...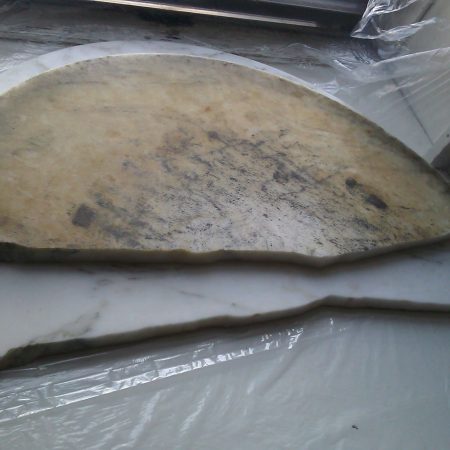 The table top wasn't attached to its base and leg and accidentally dropped down and broken. We mounted the top to the leg with screws upon the crack restoration. more...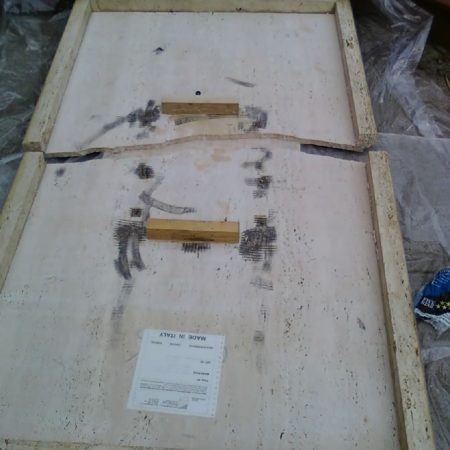 This big travertine dining table was revitalized in the backyard without pickup and delivery. Sometimes it's easier and safer to do reparation on-site, it is eliminating the risk to be messed up during more...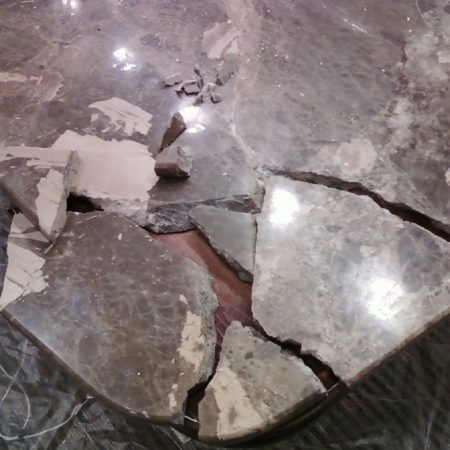 Although the table was laying on a flat plywood base, it was accidentally messed up during moving into the new office. more...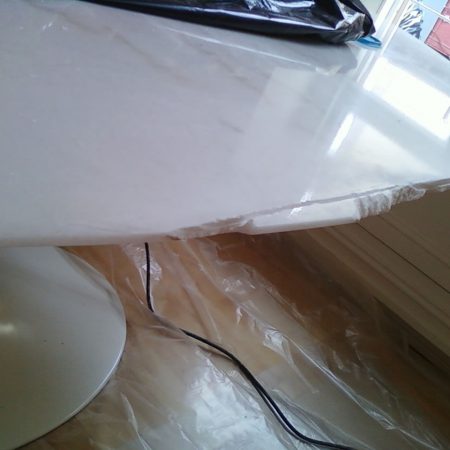 The white thassos Knoll dinning table was deeply chipped during moving to new office in Manhattan NY. We cut off and re-shape the new edge. more...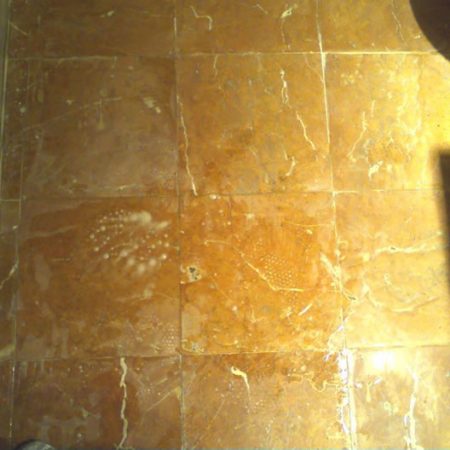 Bathroom marble floor tiled with 12″ by 12″ brownish tiles with white veins. Messed up with pre-restoration activities. more...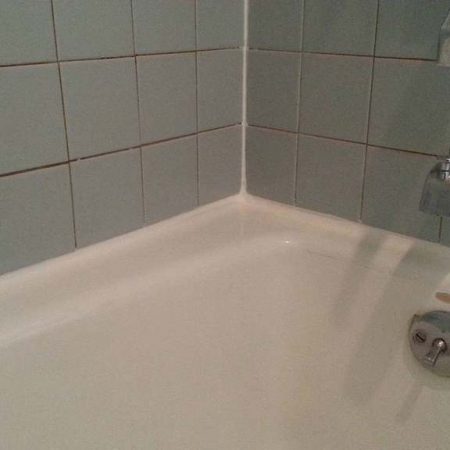 Re-caulking is important in areas such as: Bathtubs tops Shower floors perimeters Shower thresholds and window sill Shower glass panels Around shower fixtures such as handles and faucets Around sinks and more...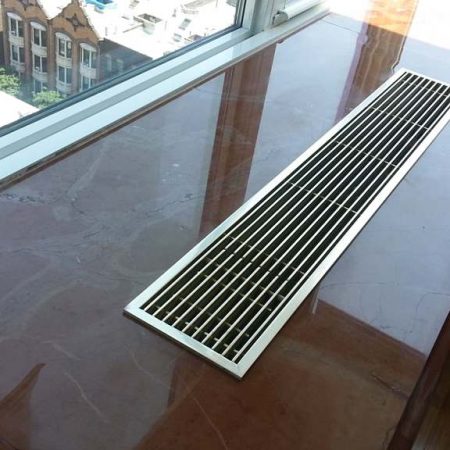 We are doing marble restoration not only on flooring but also on window sills, walls, counter tops, steps and for each task (like to save fixture) we use its own approaches and equipment. more...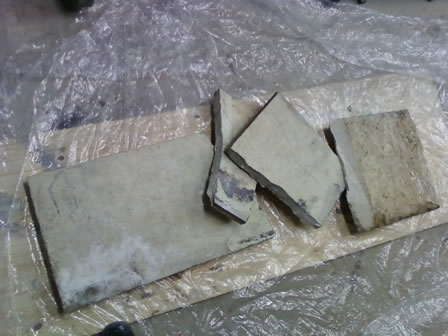 On the picture is the rectangular floor hearth that was broken, burned, scratched, and chipped in many places. Picture before restoration. more...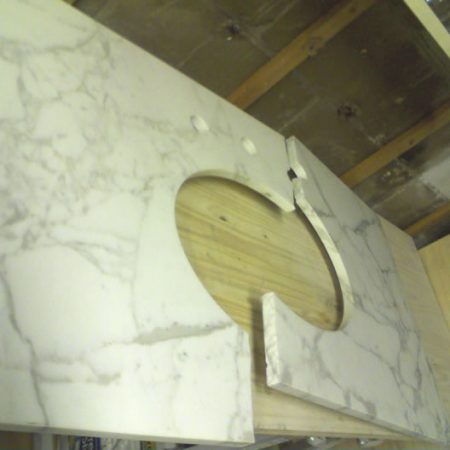 Honed Calacatta Gold vanity with an oval sink. Before renewal and the crack repair. more...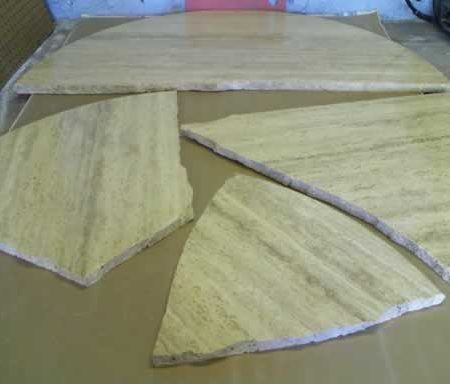 The round dining table has been fallen and chopped onto 4 large shards and turned to salvageable condition. The good thickness and lightweight of travertine allowed us to fix it without inserting metal bars. more...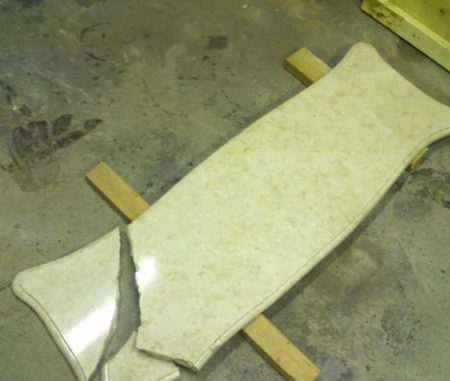 Salvageable old fashioned commode top with Ogee edge is accidentally chopped to 3 shards. more...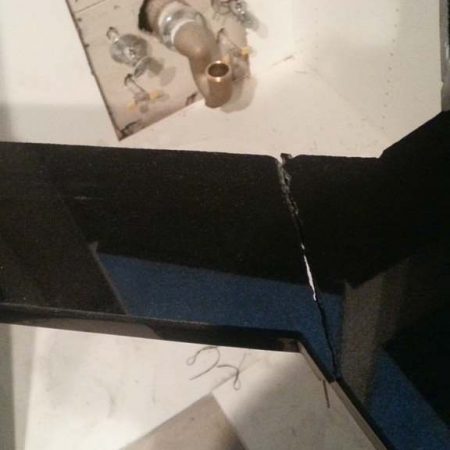 Cutout for sinks or cook-top are weakest areas on a counter, and the most potential spots for chap cracks to happen, as there is most concentration of internal tensions over an entire counter. more...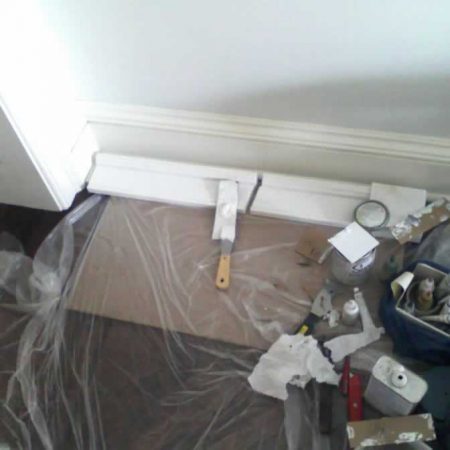 The broken pillar of the fireplace was damaged during shipping from oversea. We were able to perform the repair on-premises without pickup an delivery. more...
---