Tag: Before & After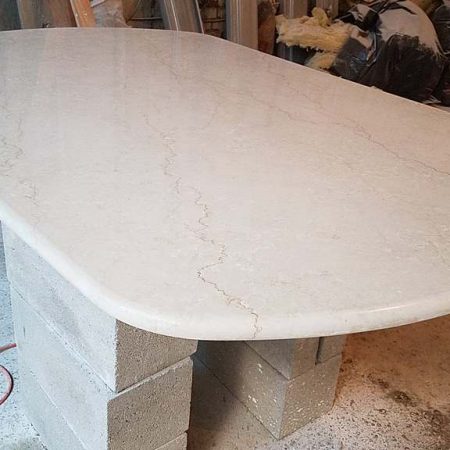 Elliptical table cut and fabricated from the round table. The old polyester coat was sanded out, two sides trimmed and rounded, edges on two long sides shaping to bullnose and polishing.  The oval table just more...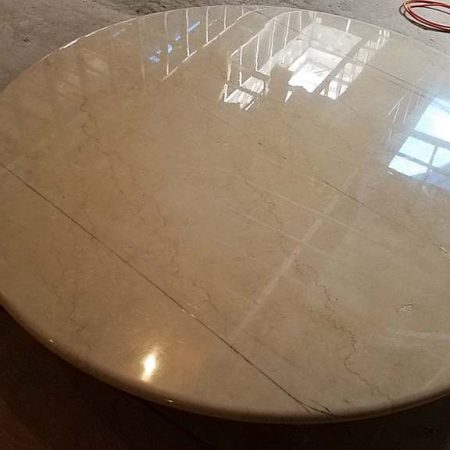 The round Botticino dining table coated with Transparent Polyester Coat, glass-like finish. Marked for trimming, cutting, edging to bullnose, coat stripping and fabrication to specified dimensions and more...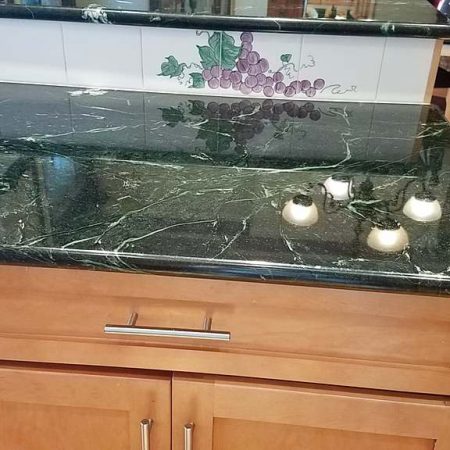 As a result of honing, the Vermont Verde surface becomes matte and dull. The color will be slightly muted, and the picture of the stone patterns is not very clearly seen. To give to the Vermont Verde surface a high more...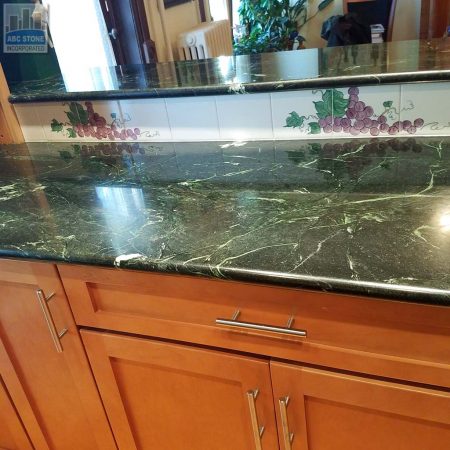 Picture of Dull Black Vermont Verde Marble Counter before polishing and crystalizing. more...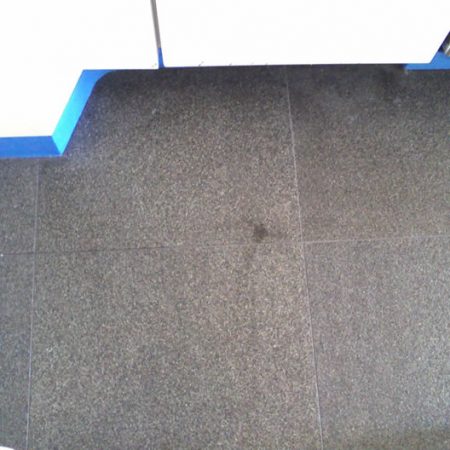 How do I clean the stains? The faster you wipe away the leaks, the better your chances of cleaning effectively. You can use soft marble cleaners from the local store, or you can make your own cleaning agent, using mild more...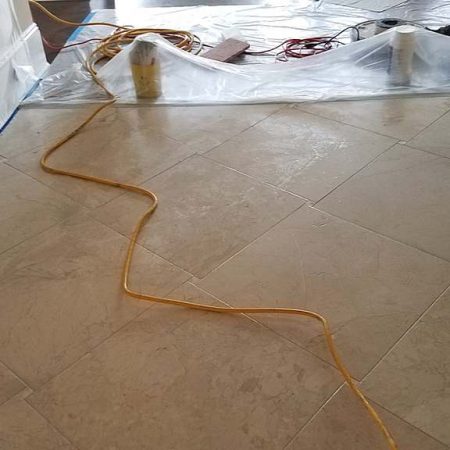 Marble Floor with Brushed Finish. Reasons: – incorrect chemistry for regular daily cleaning; – mechanical "trowelling" of marble. Solutions: – with slight dullness – crystallization; – with strong more...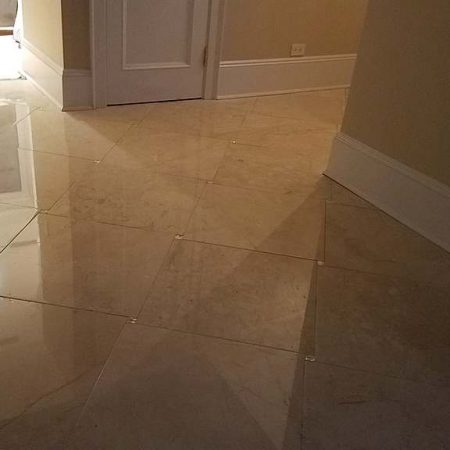 We polish marble floors not only right after laying and installing marble slabs, but also after using marble floors in a few years later. Our task is not only to restore the original shine of marble floors, but also more...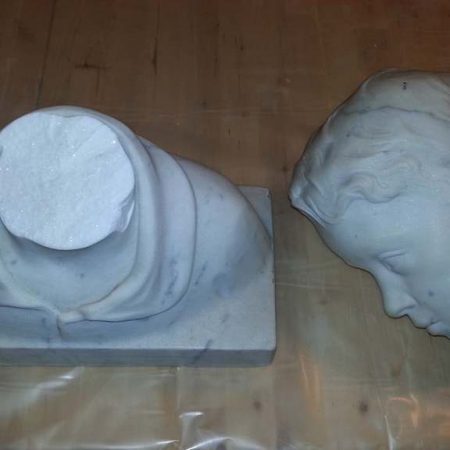 Restoration of marble is not only a faster process of returning the original appearance to marble but also cheaper than replacement. After all, you can restore not only the countertops, floors, and bathrooms but also more...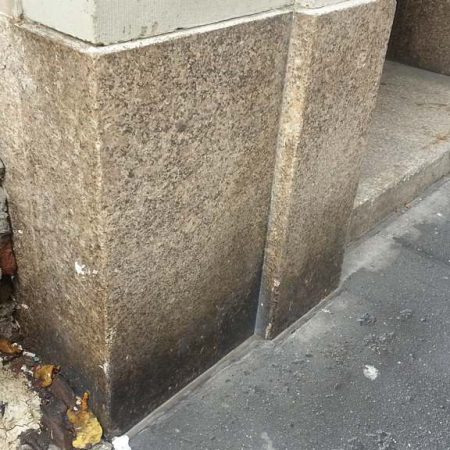 Granite is a very beautiful natural material, it is very popular for decoration in premises, decor elements, etc. Often, granite is used for facing facades and finishing various elements of buildings. The influence of more...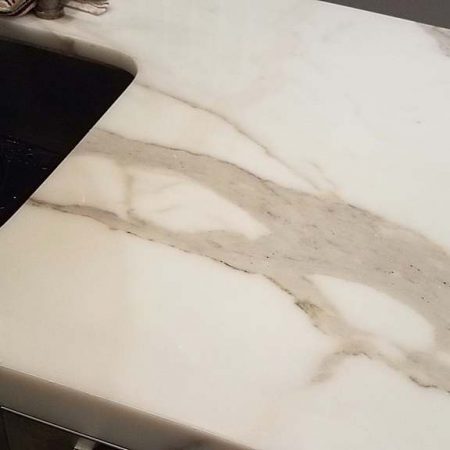 The stains were topical and easy to removie with top layer of marble. Sometimes light countertops begin to acquire a yellowish shade. To remove such film, try to apply on a surface and leave for a short time a more...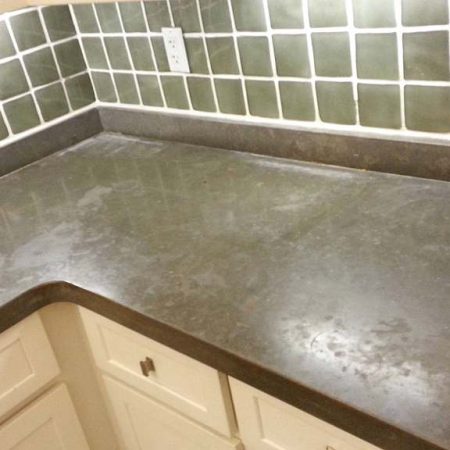 More often than not, customers call to us for polishing countertops service and restoring table tops because of the fact that marble countertops with a time passing lose its elegant appearance. Due to the exploitation more...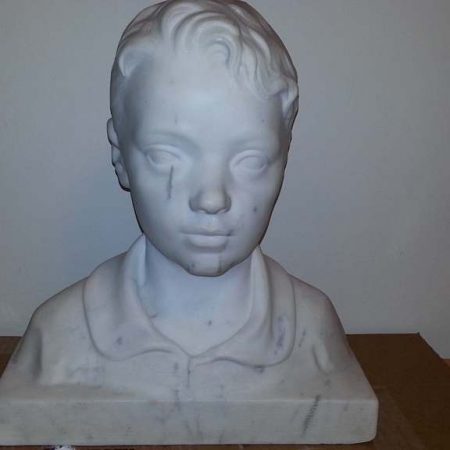 In order to glue together splintered statuario white marble parts you need special glue like Akepox, and it must be designed for a white marble repair. The fact if you'll use the wrong mastic you can make very more...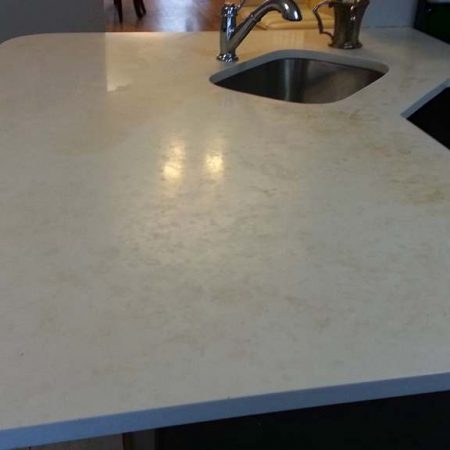 It is important to remember that a Corian (despite it's man-made stone) can be spoiled by any acids: sour berries and fruits, general detergents and others. In the case of acid spilled on Corian, it is important more...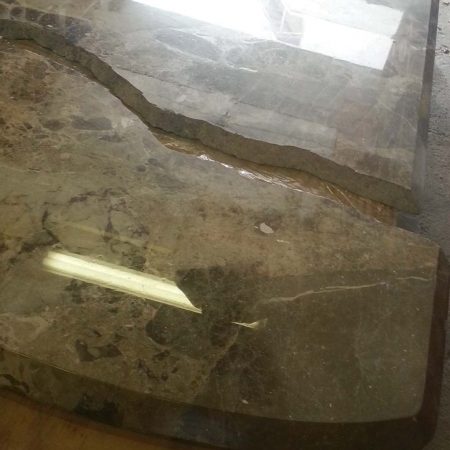 Often we are asked how to glue a split marble table, advice for DIY self-repairing by own hands. We are not giving harmful advises, all the recommendations found on the Internet are only advisory and is not a visual more...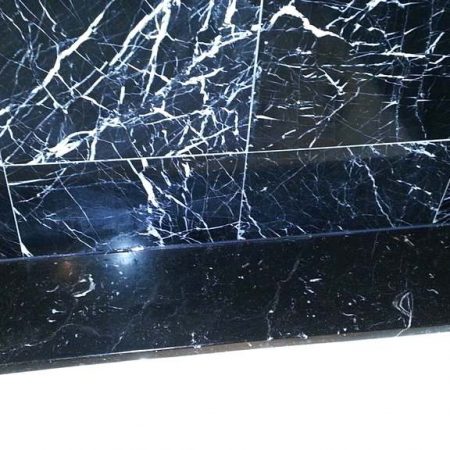 Marble protection implies the application of solvent or water based sealers to marble surface – this is the final stage of chemical treatment. It will give to restored surface water, oil and grease repellent more...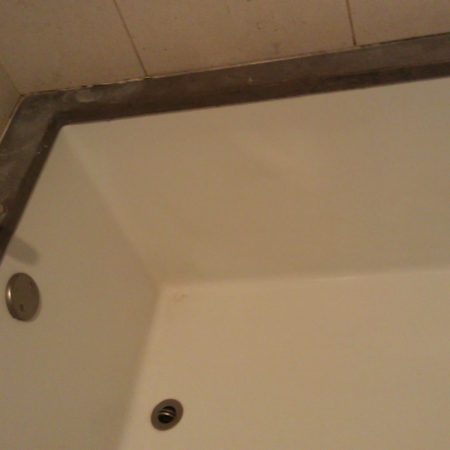 You can see on the picture a many white stains all around marble tub top, it is actually not stained, it is marble erosion, caused by constant contact with water and bathing products. As well you can notice mold on more...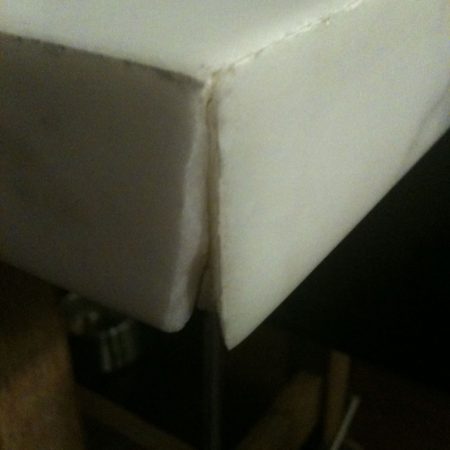 This chip is more likely happen when fabricators put together the edge parts and over pressure the mitered tip of the edge. The crack was hidden for some time, and then fell apart. It's not fail of the more...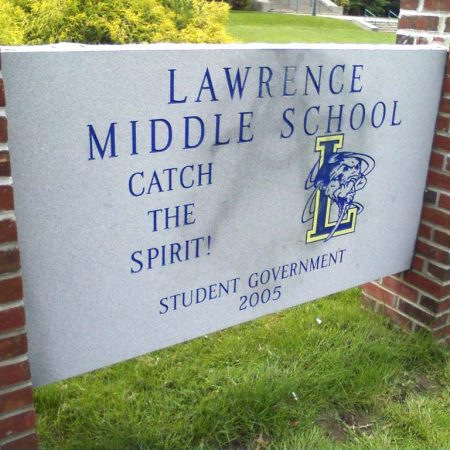 Lawrence Middle Public School graffiti paint removal. Lawrence, NY more...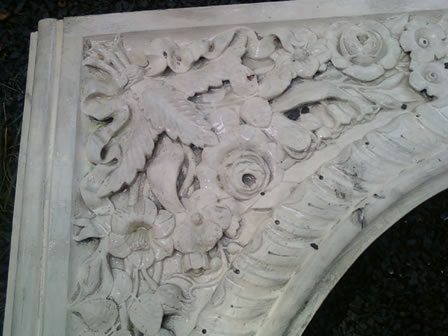 To remove the remaining paint we used a soft wire brush. It takes some hard work. Also we used some soft chemicals and water to dissolve the paint and make it easier to remove. more...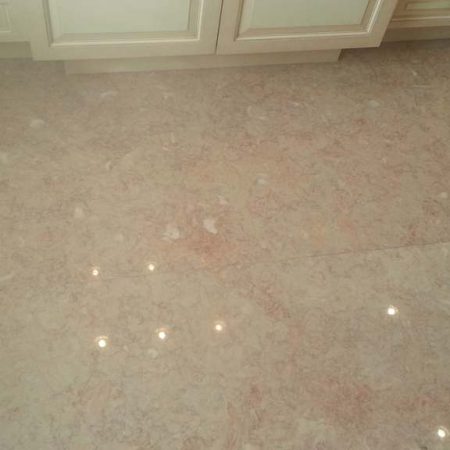 If you want the marble to glisten and look even, several numbers of abrasives should be used. The polishing process can be divided into three stages: coarse grinding, ordinary grinding and finishing – each time you more...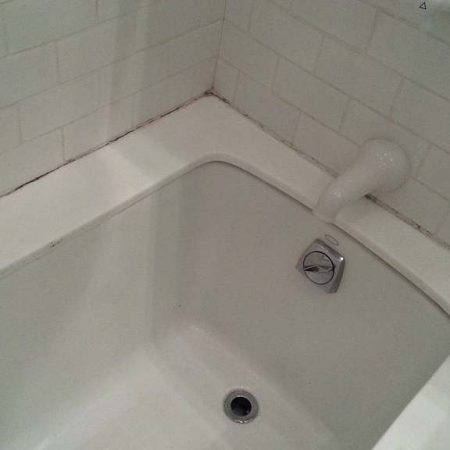 The joint between tub top and wall tiles quite often becomes a problem when doing repairs in the bathroom. Even recently, it was necessary to decide what to install first – a tiles on wall or tub top, then seal more...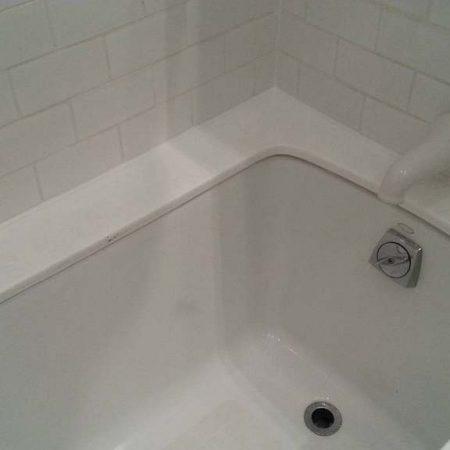 The gap between wall and tub can be narrow or wide. If the gap is not too wide, it is better and easier to use acrylic caulk. Insert the tube into caulk gun and gently, in one step, fill the gap along the entire more...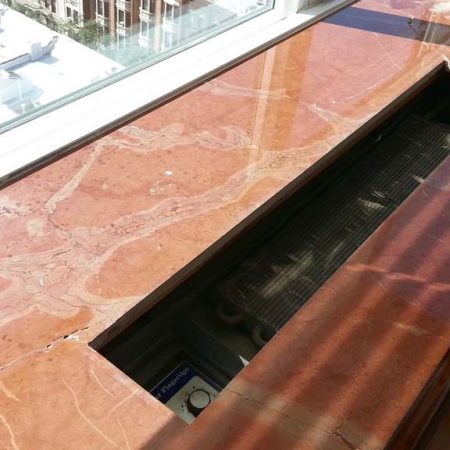 Often to restore window sill, it is necessary to dismantle the stone. Today, we can restore your window sill right on premises. The price for the restoration will be accordingly cheaper, since dismounting and more...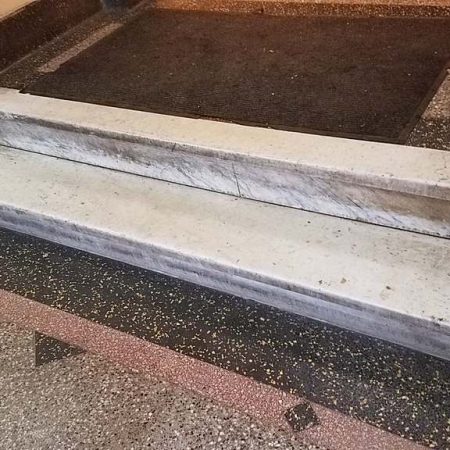 Most often, marble steps restoration and additional stone repairs are required for stairs and floors made of natural stone. These items made from natural stone that are more prone to wear and tear, cracks, scratching, more...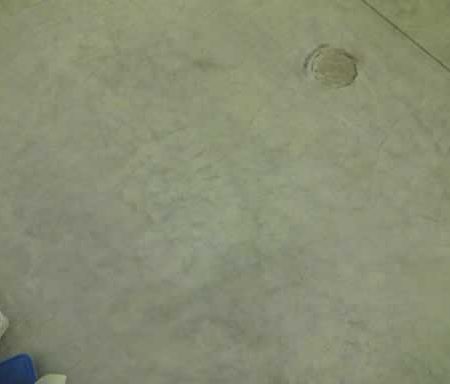 The yellow stains were removed with various chemicals without affecting or discoloring an original finish on the concrete floor. Removed within one day without poulticing. Located in West Village New York, NY. more...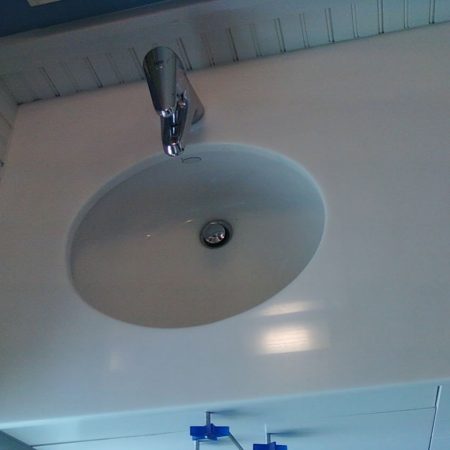 The piece was repolished, buffed, stains removed and sealed. more...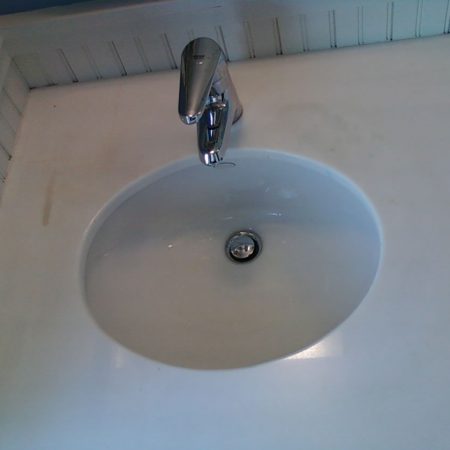 The stone got such specks by hair dye; else, there were some etched spots. more...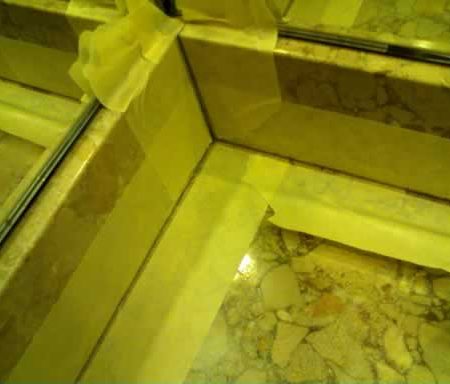 For an even and smooth caulk applying, the first we evenly put masking tape along the "empty" lines, after the applying caulk we remove the tape, leaving smooth and accurate lines. Sometime we do final more...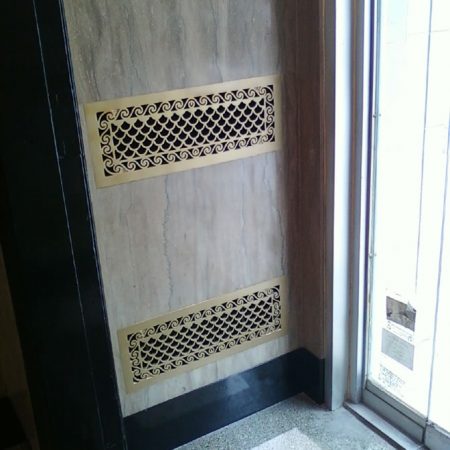 The Tennessee marble on walls, black border and terrazzo floor were deeply cleaned and polished. Also we cleaned and painted the grid to look like a bronze. more...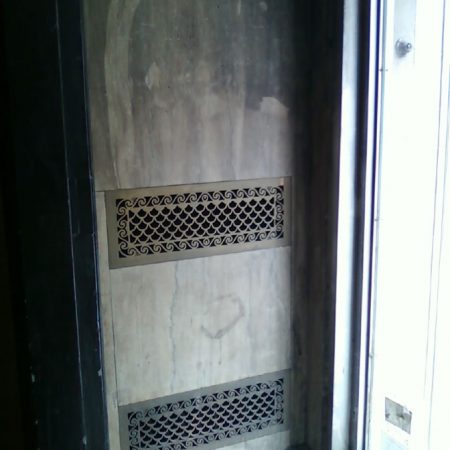 The Tennessee Marble wall was covered with a layer of dust and dirt coming out with air flow from the radiator grid. The floor black border was discolored by weather and salt coming from outside on a winter time. more...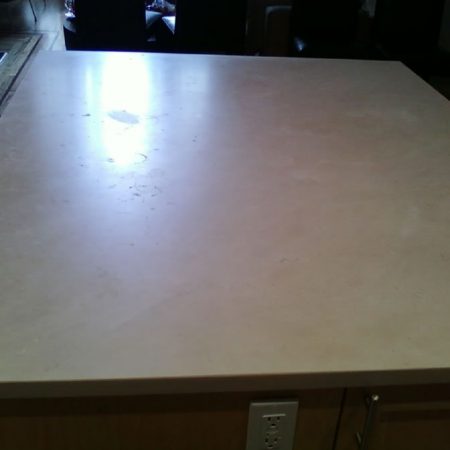 Crema marfil kitchen island, water rings and dull spots removal. Picture before removal. Some kinds of marble can be etched by slightly acidic liquids or even just with tap water if leave on surface for long time. So more...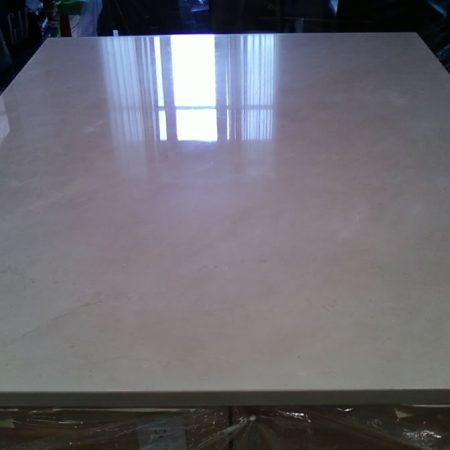 Crema marfil countertop after water marks/rings/stains and etches removal. more...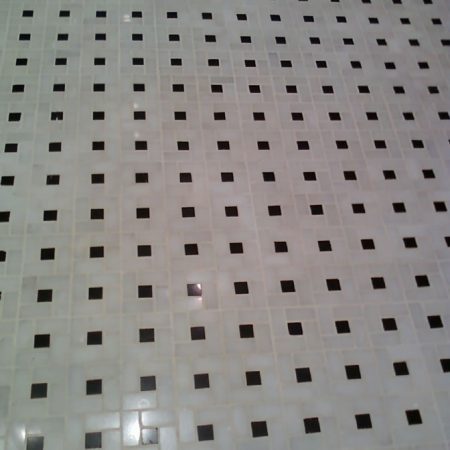 The white grout was cleaned with heavy duty grout cleaner, sponge and brushes, then sealed. more...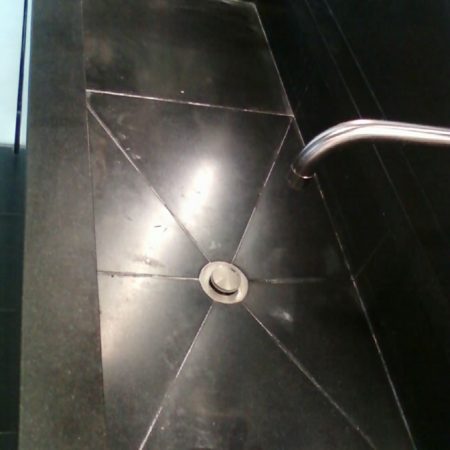 This custom built rectangular black granite sink had joins with white calcium deposits. more...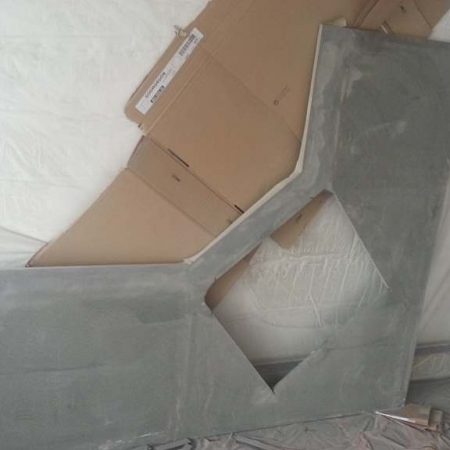 The double edge on black granite counter was split into original 3/4″ thickness. The cut made a lot of dust. Although the apartment was under construction, we covered all surroundings and floors with plastic, then more...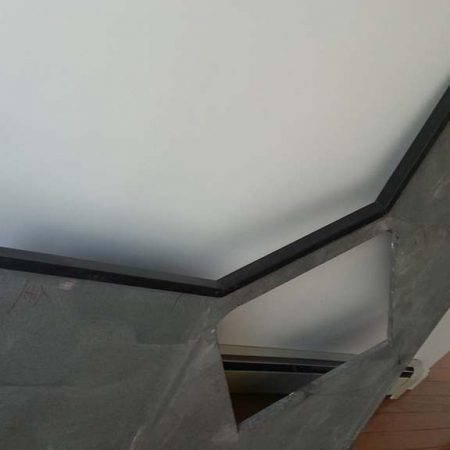 Prior the installation I need my granite counter double edge shaved down about 1/2 inch. Job would need to be done in home. more...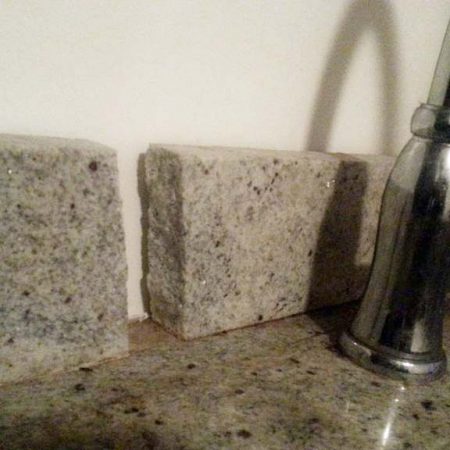 In fact, after the backsplash crack restoration, it will be visually intact. Outwardly, nothing will show its repair, it will be possible notice the traces of restoration only under the magnifying glass and knowing more...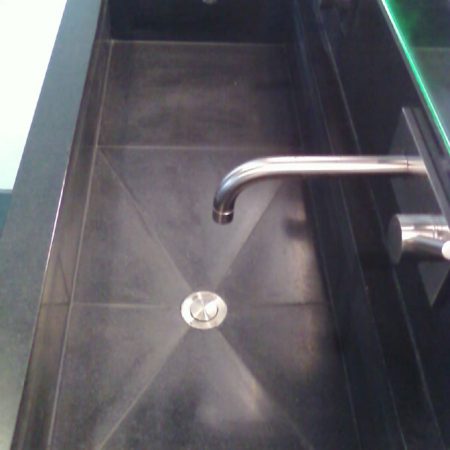 We clean the sink, removed old grout and put new grout into joints. more...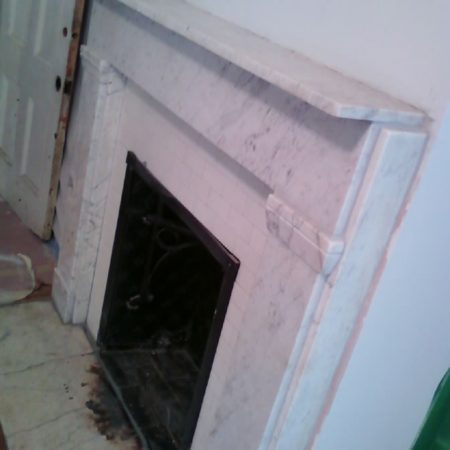 The fireplace panels were cleaned and polished, seams patched. The cracked floor slab was picked up from client house and fixed on our side. The whole work took 2 days. more...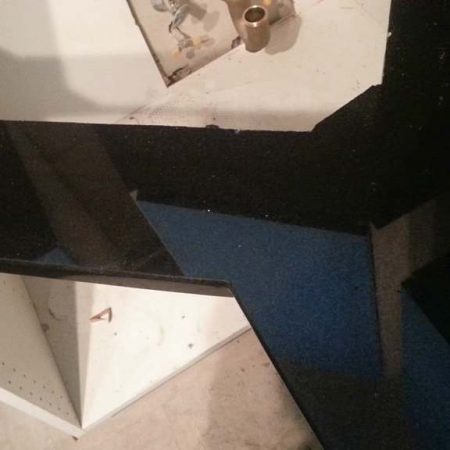 In contrast to marble, granite will not interact with the crystallizer. At the root, the term "crystallization of granite" is not correct, since granite does not crystallize, but can be polished only. In most more...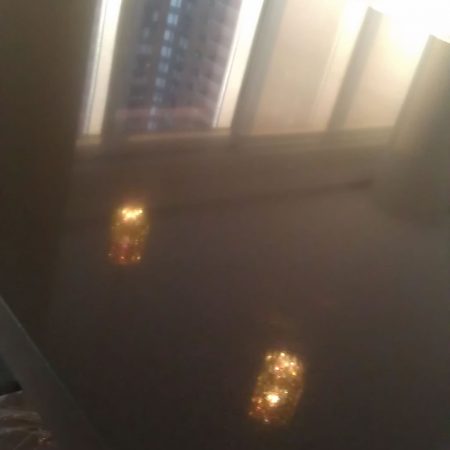 The hardest black absolute granite polishing may take 2-3 times longer than polishing regular/soft marble. more...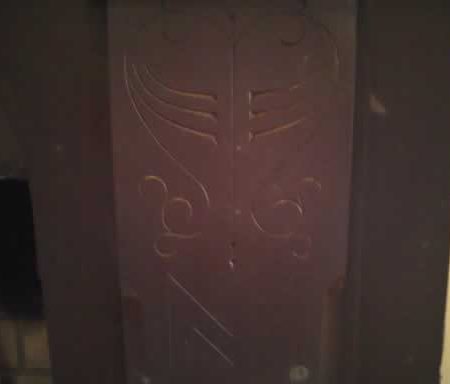 Curved engravings on black slate surface was cleaned, polished and enhanced. more...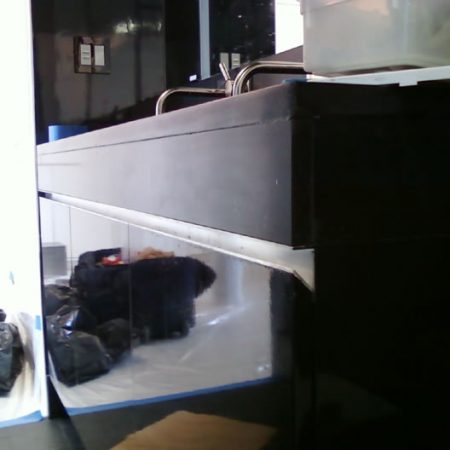 The black absolute counter was unevenly installed with the lip between top and lower panel. more...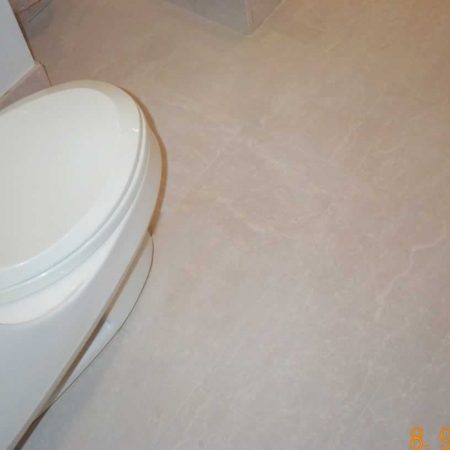 Picture shows botticino tiles in bathroom. This tiles was honed, re-grouted and then sealed by impregnator stone sealer. Re-honing was done by single head 17" floor machine with diamond honing powder and white nylon more...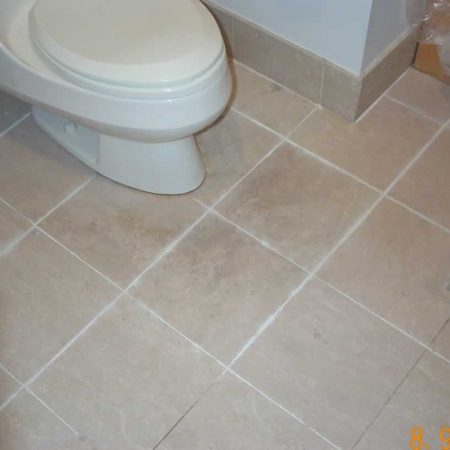 This pictures shows stains on Botticino tiles in bathroom before cleaning, honing and re-grouting. Dirty grout lines were scrubbed out to be ready for new grout apply. Dirty grout before re-grouting. more...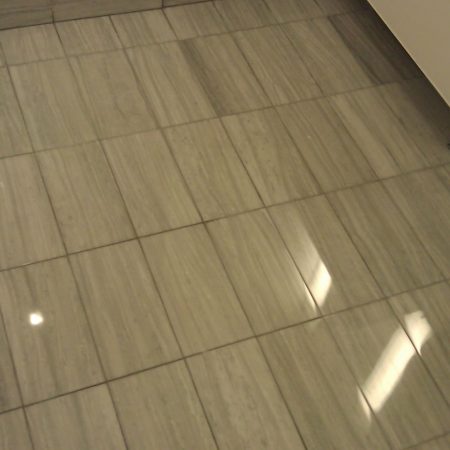 Tiled floor in bathroom after restoration. Rectangle gray tiles were re finished and sealed. Marble is possible Athens Grey. more...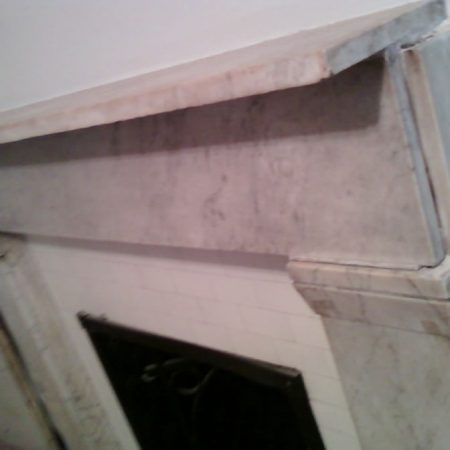 The fireplace is located in Victorian style hose in SI NY, but looks younger than the house. The marble was soiled, seams cracked with overall dull surface. The uninviting marble made fireplace looked old and dirty. more...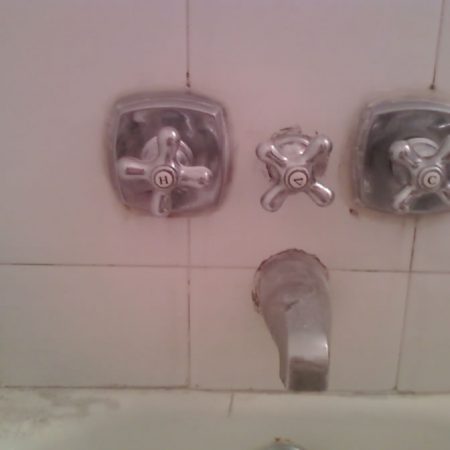 The goal of a bathroom faucets caulking is not just aesthetic, but sealing the holes between wall and faucet cups and preventing a water splashes go behind a tiles and develop decay, bad smell and mold growing. more...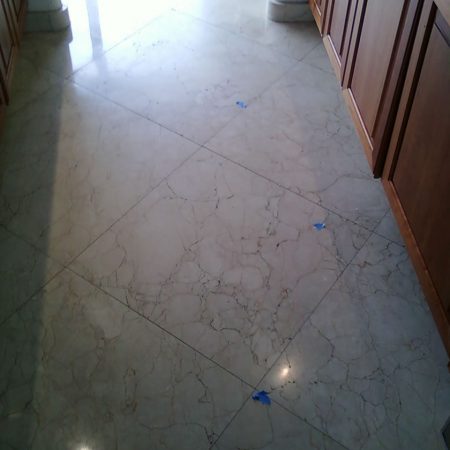 Some considerations. Since marble is durable, beautiful, and exclusively used in places such as palaces, you should understand that it is also quite expensive. Installing the floor will also be expensive, and should more...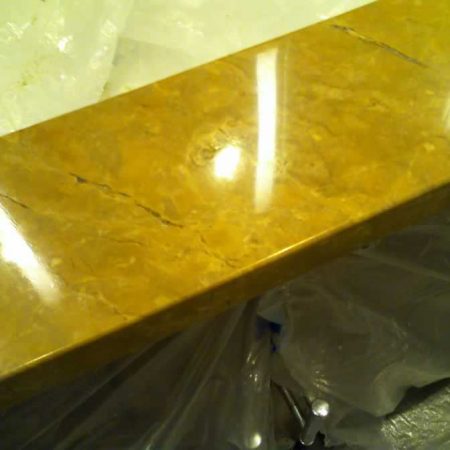 On this kind of marble it is easy to find and match the color of epoxy, so the crack line is almost invisible. more...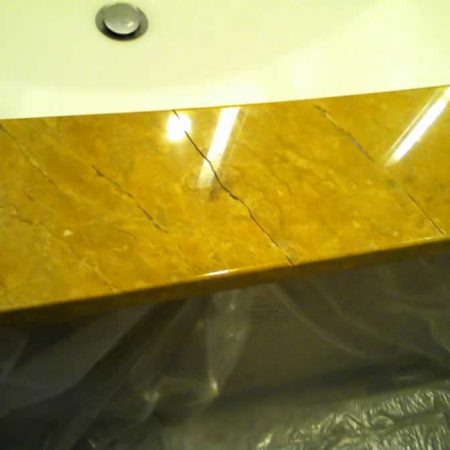 Probably there was an internal tension in marble body, caused by improper installation or fabrication, that can lead to cracking vanity. more...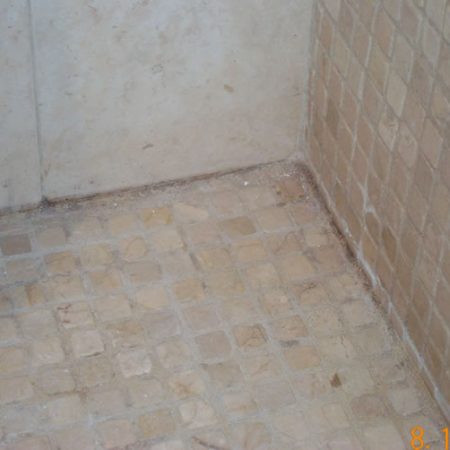 Picture of molded marble shower floor. Mold has black color and located on the grout at the corner of shower. The mold looks like just began to grow, it's best time to remove it as it still has no deep roots in more...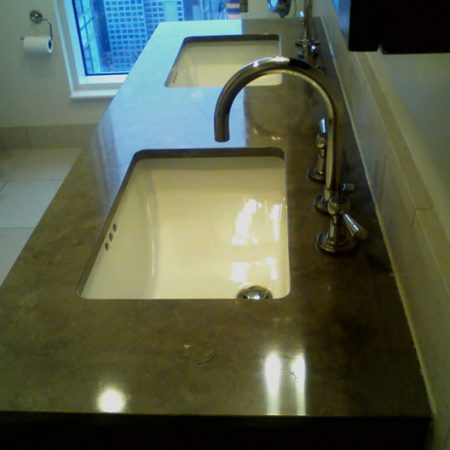 A limestone typically has a good polishability, but at the same time due its chemical composition it is very sensitive for any acidic chemicals or wrong cleaners. more...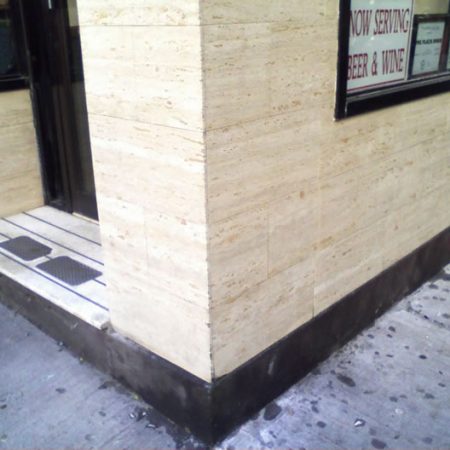 This part of Cafe entrance after restoration. The stone was cleaned, sanded and enriched with color enhancer sealer. Located on 2nd avenue and 56 street in Manhattan NY. more...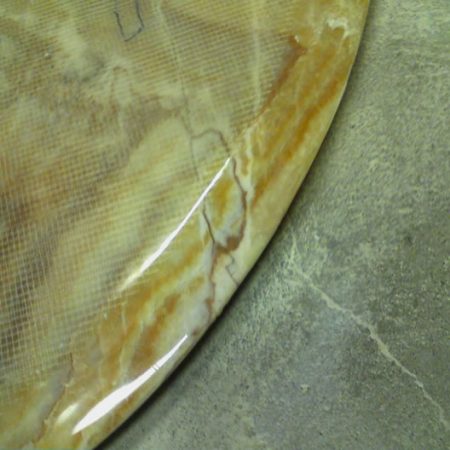 Onyx is one of the easiest marble for color matching. It has natural yellow/brown colors what is matching to most general epoxies. It can be easy blended among the natural colors. more...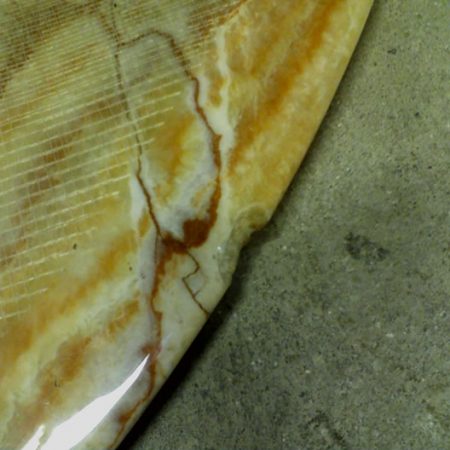 The table has a clear coat on the edge, we fixed the chip without coat restoration. more...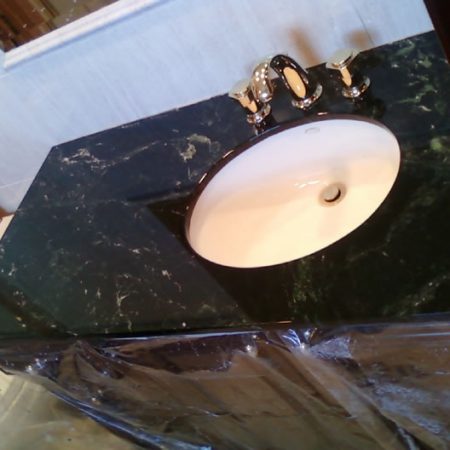 This serpentine marble vanity had scratches, etching, cloud  stains, and lost its color and sheen. We restored it back to better than new appearance. We eliminated all water marks, stains and we gave it a natural more...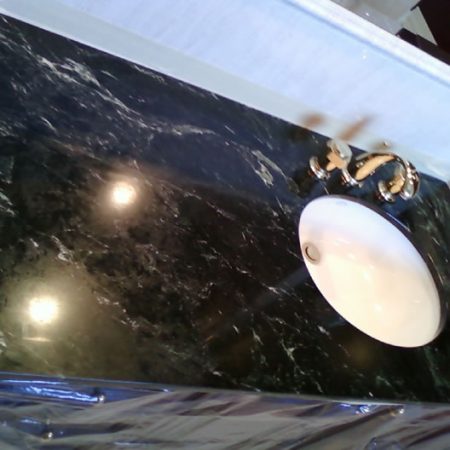 An aggressive liquids can easy etch a marble, but if the marble is not rich with calcium carbonate, the surface can be slightly etched and discolored, creating clouds-like haze. more...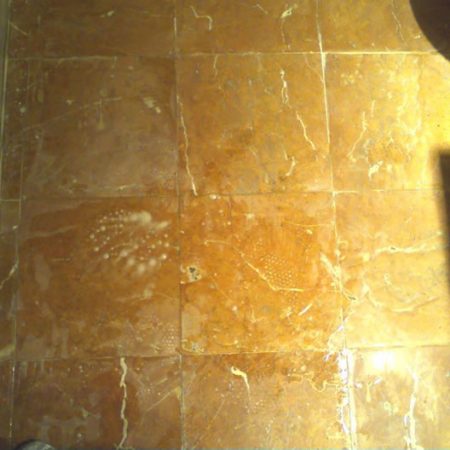 Bathroom marble floor tiled with 12″ by 12″ brownish tiles with white veins. Messed with pre-restoration activities. more...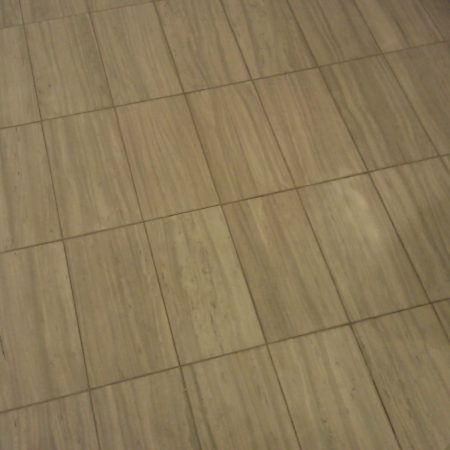 Gray rectangle tiles in bathroom. Marble floor restoration. Image before polishing more...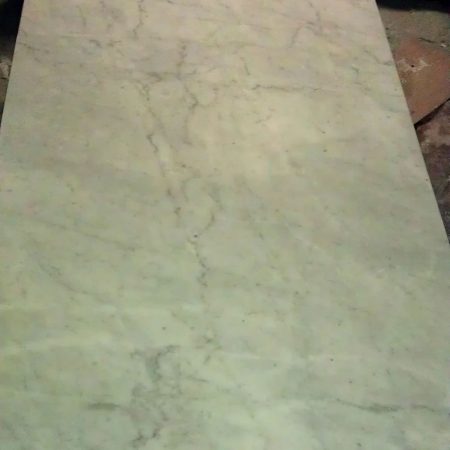 The table was used by photographer as pictures background. So for the purpose of prevention flash reflection we preserve the original matte finish. more...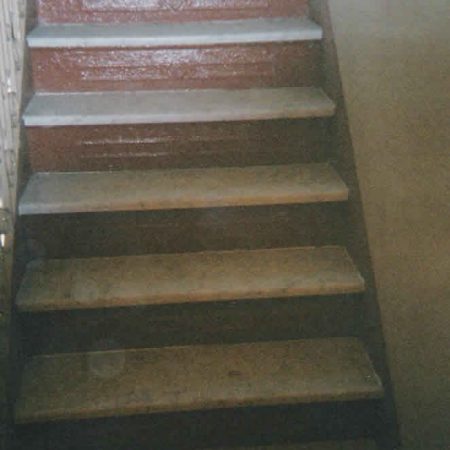 Old steps were removed and new White Carrara steps installed. To adhere the steps we used a white caulk, it makes good appearance and some flexibility and durability. more...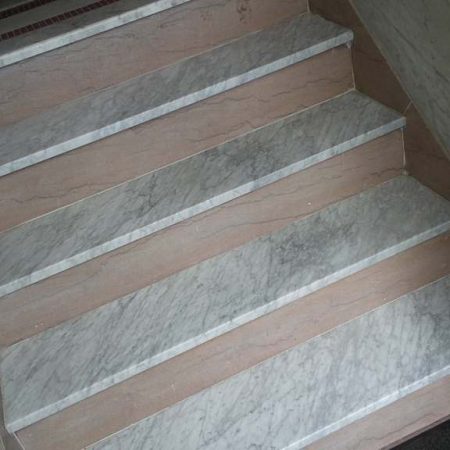 Picture of the new white carrara marble steps in foyer after installation. The original Risers were re-used and saved, the step slabs only were adjusted and replaced. more...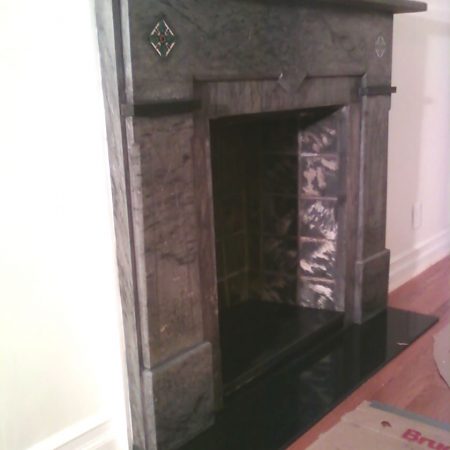 Dark marble fireplace after restoration. Brand new black absolute granite floor slab. Located in Manhattan NY. more...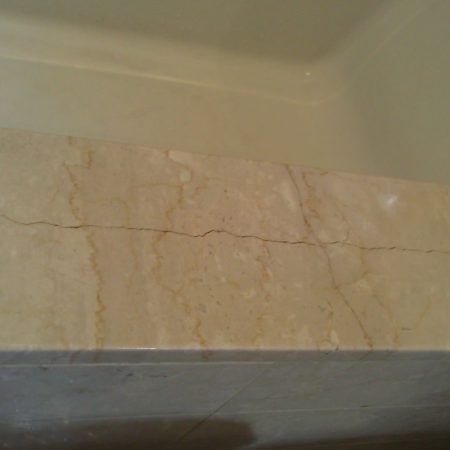 This crack is result of moisture absorbed into the marble, rusting and expanding in volume metal rod. Was fixed with 2 component flowing super adhesive "Cremabond" and colored by Akemi coloring more...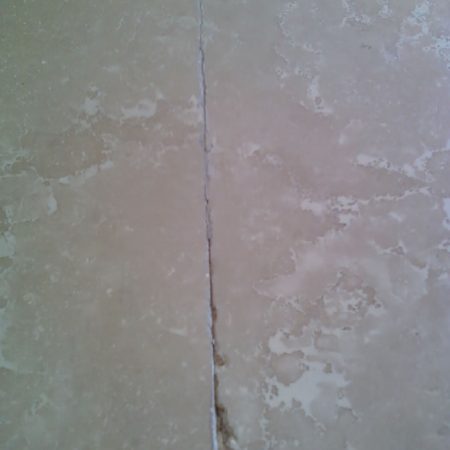 Q&A Should the tub top be replaced? – NO. Do seam get worse? – YES. Can such seam in marble be repaired? – YES. more...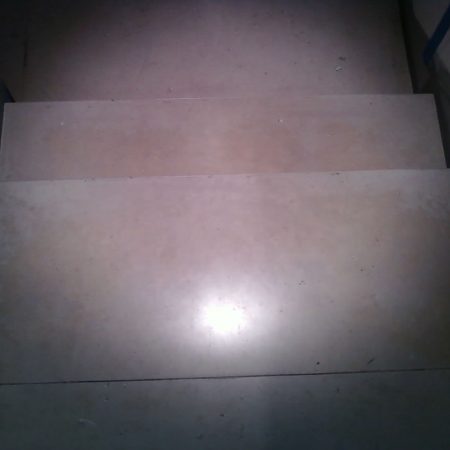 You can see how the limestone is soiled and stained, it is like "polished" by foot traffic. more...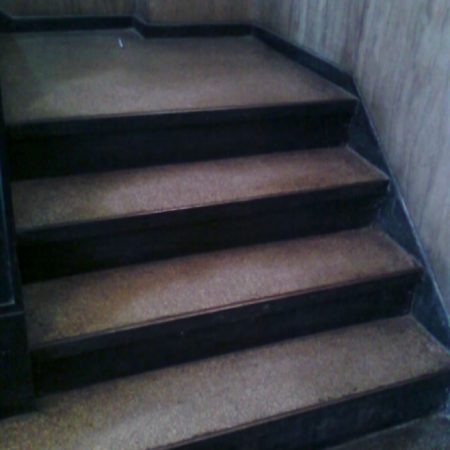 Those steps as well as the next terrazzo lobby floor had multi year wax buildup. The wax accumulated most dirt through years, so with wax stripping we strip most of dirt as well.  Varick Street New York, NY more...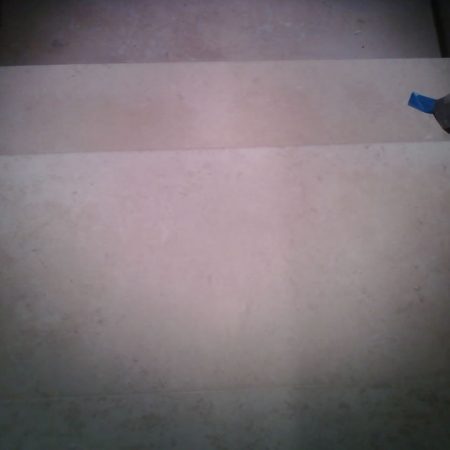 These interior limestone steps were re honed and cleaned. This part of entire apartment floor cleaning, about 3000 sq/ft. more...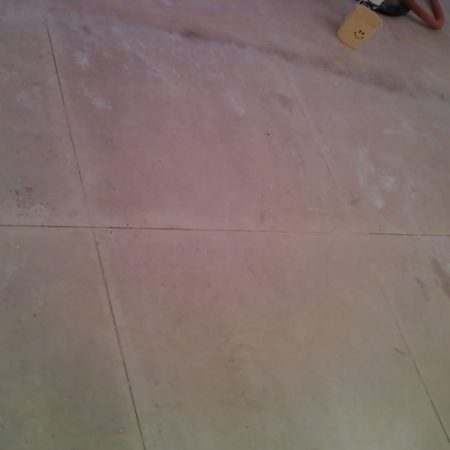 A marble cleaning or maintenance plan should include the capacity to remove all etches and the abrasive scratches on the marble. more...
---