Table Coating with Transparent Polyester Resin
It often happens that aged tables with a "glass-like" coat, like Knoll or custom marble tables, starts to peel off or show crack lines on the old coat. It may look like a completely damaged surface, but the marble base itself can be a well-preserved and intact piece.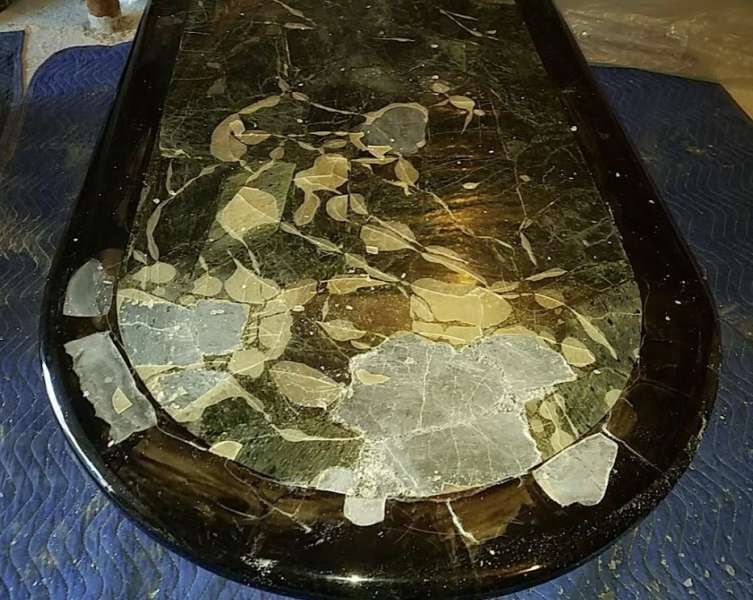 The table re-coating service we are providing will simultaneously perform several functions. In addition to creating a transparent and high-gloss surface, it provides marble protection from color stains, etches and dull spots for many years.
Epoxy we are using is a two-component flowing material consisting of resin and its hardener. One of the most remarkable properties of the proper epoxy is maintaining the original volume after polymerization. It covers the surface with a uniform transparent layer, hiding natural marble imperfections or defects. Therefore, you can turn any table surface, no matter how deep damages are there, into the brilliant, star-bright surface.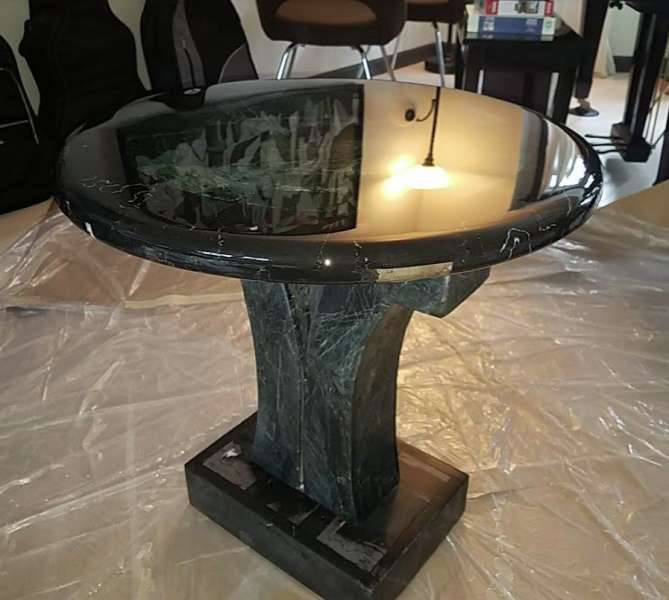 Below we have presented some tips and details of the coating process, so you can be aware of how it's done and get some ideas about what to expect.
How to Choose Epoxy?
If you have decided to coat your table by yourself, it is important to find the right epoxy.
The epoxy has to be transparent and has long-lasting life, otherwise, you run the risk of seeing the inconsistency of the layer, tacky surface, or apply a coat a few times and spend more time on layer-by-layer pouring.
The right resin has to provide:
proper viscosity that will be able to fill up tiny pits and crevices
moderate curing time that will allow working with large tables
excellent self-leveling
no shrinking during the curing time (retains its original volume)
transparency does not decrease even with prolonged exposure to UV sunlight
high-gloss consist finish
colorless (especially when applied on white marble)
resistance to peeling and cracking
a cured resin will not emit toxins and is not harmful to health.
A regular flowing adhesive that is commonly used for rodding or cracks in stone repair is not suitable here, they are thicker and will not allow all air bubbles to escape, more fragile, with yellow or honey color, and hardeners that are used with such resins may lead to coat shrinking (deformation) and provoke overheating during mixing.
How to Calculate the Required Amount of Epoxy?
Approximate amount of epoxy needed for one coat (1/16″ thick). One epoxy coat equals up to 50 polyurethane/varnish coats.
A pint will coat 4 square feet
A quart will coat 8 square feet
A gallon will coat 35 square feet
Mix only the amount that you need for one application. All leftovers should be left in their original containers.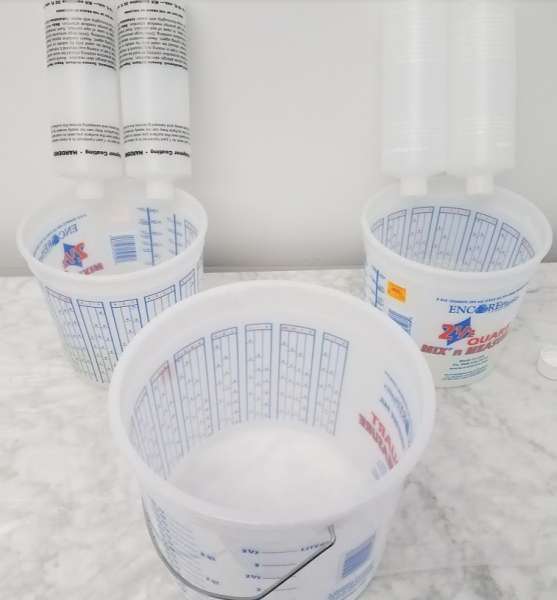 Work Preparations
Since the polymerization and curing have limited time, prior to the pouring, it is necessary to prepare all materials and surrounding conditions.
When pouring, the temperature in the room should be around 75-85F and humidity is under 60%. You can raise the temperature of the resin and its hardener by placing bottles into warm water for a few minutes (do not put water into epoxy), doing so, you'll get a thinner consistency and air bubbles will escape from the coat on the surface much faster. Do not overheat over 95ºF, as the working time will be significantly reduced.
High humidity, low temperature, epoxy impurity, and a dusty room can spoil the work. In a liquid state, the resin may catch dust particles, that will permanently stick to the surface. So the room should be with minimum dust, with no wind and any traffic around the table for at least 24 after pouring.
Cracks, seams, or holes where epoxy can flow through should be fixed, or sealed underneath with duct tape.
Do not forget to prepare personal protective equipment such are gloves, respirators, and safety glasses. Cover the floor and other horizontal surfaces in the surrounding zone with plastic, to keep them clean, and help to minimize the dust to take off from the floor.
You will also need containers for measuring and mixing two components. Note, some resins are mixed by volume, and some by weight. Inaccurate measuring will cause the surface to remain soft or tacky. When mixing large amounts, the longer mixing time will shorten your time to apply. A large mixing amount may generate heat and speed up the curing process right in the mixing container.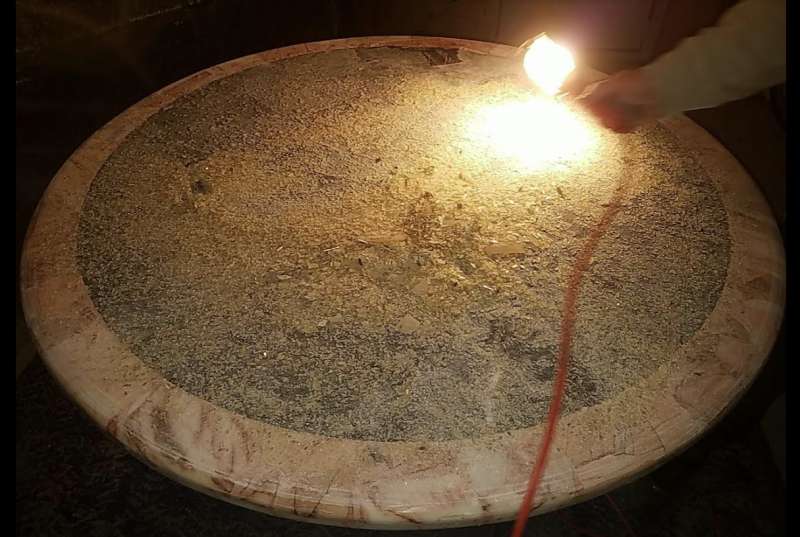 Applying Epoxy
As soon the epoxy is mixed in the container, flow it evenly over the marble surface. To spread it over the entire surface, you can distribute the "pool" with your fingers (with gloves) or paint a wood stick. You will have about 4 hours before the epoxy starts polymerization and solidifying.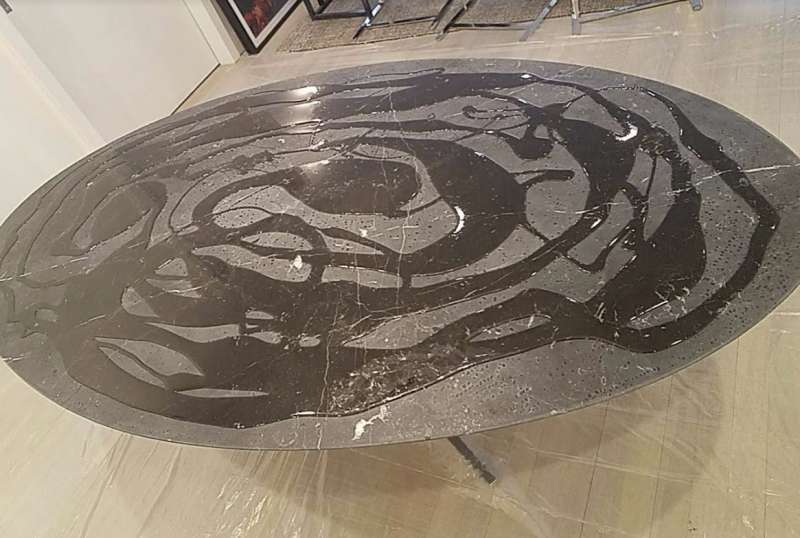 If air bubbles do not pop out well (usually if applied in a room with low temperature), you can heat the surface with a gas torch or simply spray out acetone from a spray bottle, this will reduce surface tension and allow air bubbles to escape faster. Do not use a hairdryer, as it may leave waves.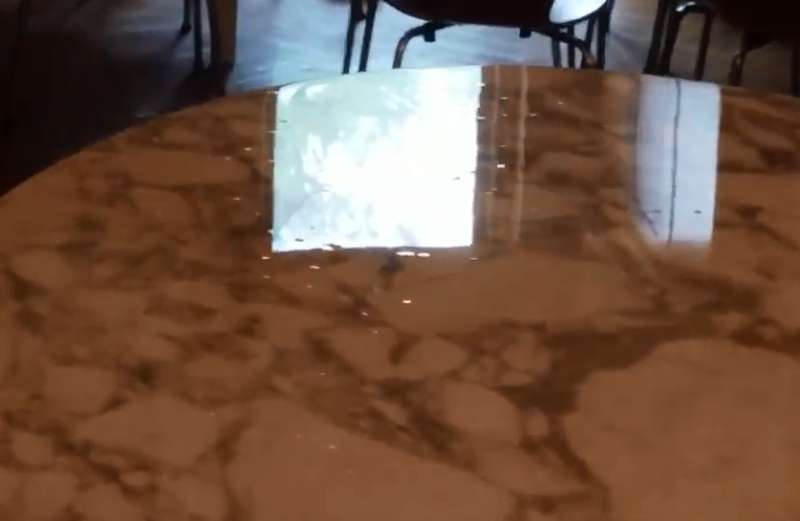 Curing to solid-state may take a few days, at least 2-3 days. You can speed up the process by raising the temperature in the room, but be very careful, because if the table is large, it may lead to the formation of air bubbles, shrinking, and even cracking.
At room temperature, the full cure may take 5-7 days, the full cure will allow you to achieve its maximum properties and let to gain full strength.
Precautions and Taking Care of the Coat
There is no material that can be absolutely perfect. Only the end-user can choose which advantages are decisive, and what disadvantages he or she is ready to neglect. Epoxy is not an exception. Some of the properties can be considered advantages, however, they may not be so obvious in the context, therefore we give more specific precautions and how to take care of the coat.
Epoxy tables can be installed in most indoor rooms. The resin itself is very resistant to moisture, in the manufacturing industry it is used as a bonding agent for waterproofing reservoirs or boat repair. But under the influence of outdoors' temperature frequent changes, it may shorten the coating life, and thus not recommended to place outdoor.
Despite the strength of the material, it can melt or shrink when exposed to high temperatures. Never put on any cookware, like teapots, pans just removed from the stove. For cups or plates use coasters.
It is recommended to carefully handle the surface, however, it is quite strong, it is not prone to chips, cracks, scratches, or cuts.
Do not pull or drag any objects as the surface can be scratched. Do not use abrasive cleaners, the finish may become dull and lose its luster.
Unlike natural marble, the resin coat cannot be properly polished or buffed out to high-gloss, so any damages like chips, cracks, or peel-offs cannot be fixed, and often the entire table should be re-coated.
Request an estimate for table re-coating or ask a question:
When to expect a response?
You'll get a response within a few minutes or hours and usually not longer than 24 hours.
Knoll Saarinen 96″ Oval Black Marble Eames Table Re-Coating
Brown Marble Table after Re-Coating
Knoll Saarinen Oval Table After Coating
Tulip Pedestal Round Table Before, During and After Coating
Before & After
Submit Your Order or Ask a Question :
When to expect a response?
You'll get a response within a few minutes or hours and usually not longer than 24 hours.
Tags: Etches Removal, Services