Tag: Before and After. Page # 2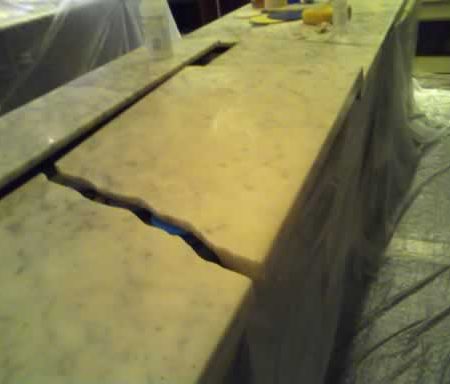 This piece is located in the busy retail store in Manhattan NY, so for convenience, the dislodged chap piece was fixed during night time. more...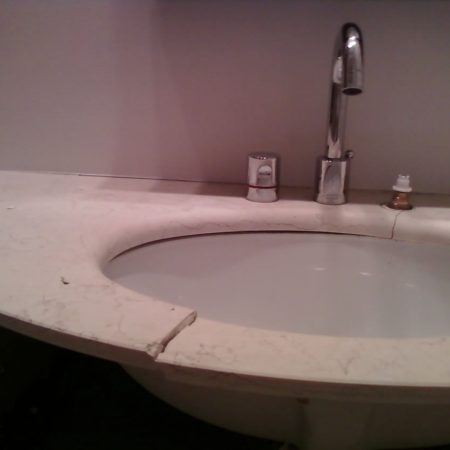 This console type of vanity was broken by the previous tenant living in Manhattan and was sagging and held by the sink, otherwise, it would fall apart. more...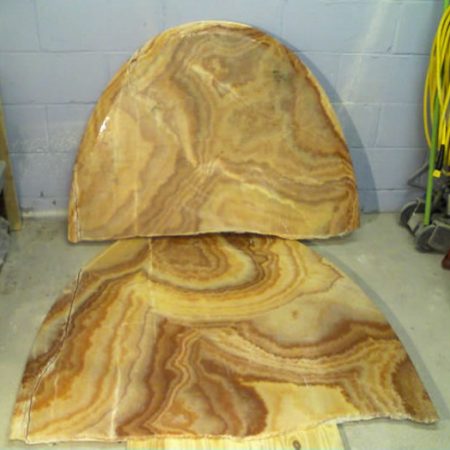 Although the table has a fiberglass mesh, it was split into two parts. The mesh is helping to enforce the slab in the direction toward to finished surface, but it only helps and not significantly strengthen more...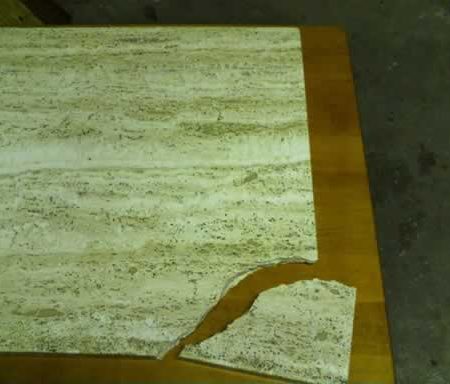 The travertine is a very soft and brittle kind of marble, plus there are a lot of natural voids and holes in the body of the stone. So it makes the travertine easier to knockdown and come apart. more...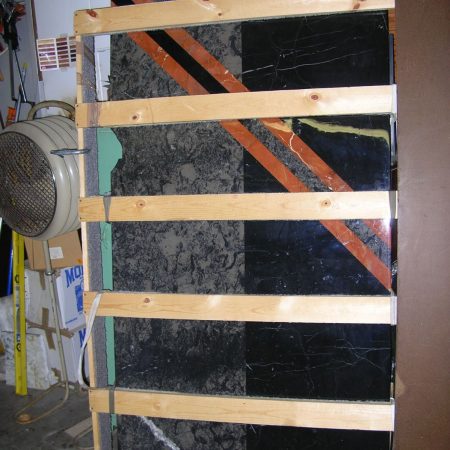 The table in the wooden crate was cracked in the middle and the big chink was broken off from one side. The clear coat was separating and delaminated along the cracks. more...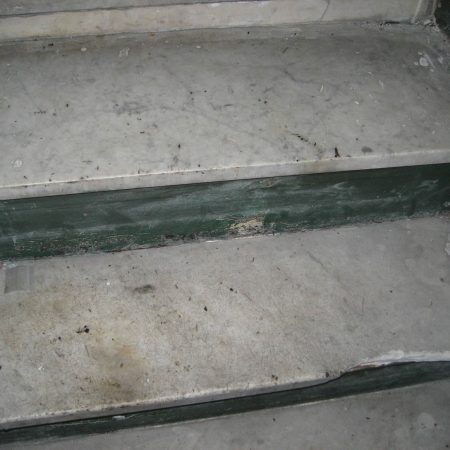 The roofing contractor moved down equipment from the attic and chipped off the chink of the marble step. more...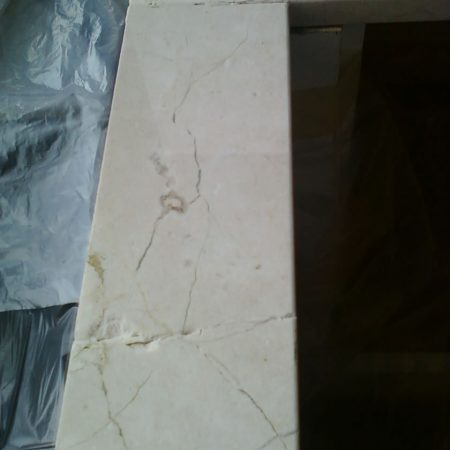 Like other problems on brittle marble, cracks and stun marks can be confusing and difficult to correctly determine. more...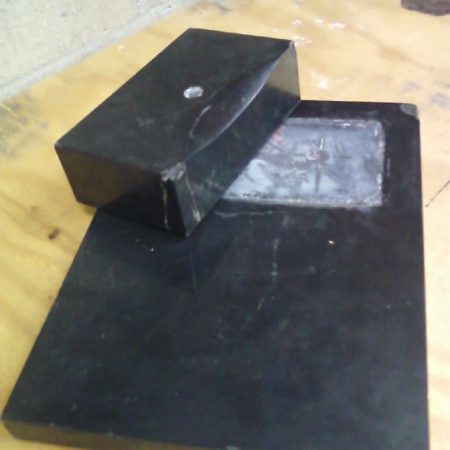 The 2 pieces were in lifeless shape; gray dull, cracked, gashed, scratched and chipped. The top cube was dislodged and detached. We guess it is all due to its age. Material is pure black marble. Spruced up on our more...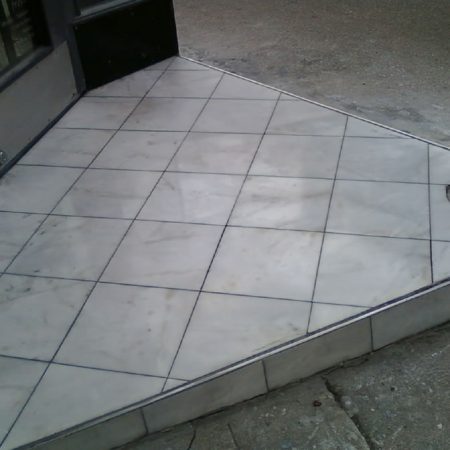 The tiles were polished to shine finish and all cracks fixed. Spruced up in one day. more...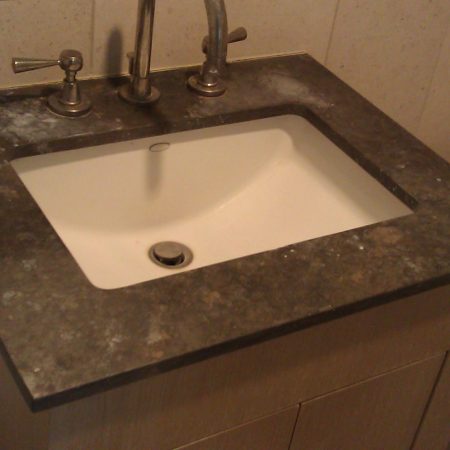 This vanity is soiled with soap scum and others undesired etches and stains. Caulk dried and peeled off. more...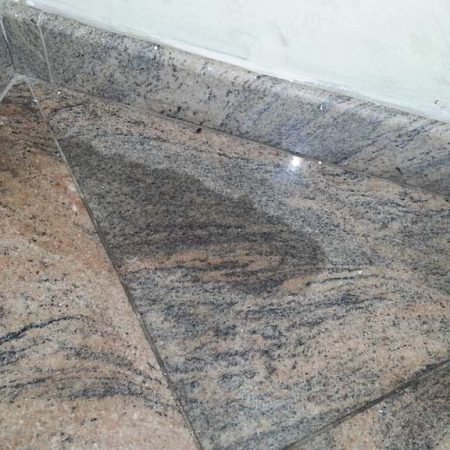 Granite does not require special maintenance conditions, such as floors and products made from marble. The dense structure of granite, in most cases, does not allow moisture and dirt to soak into the pores, forming more...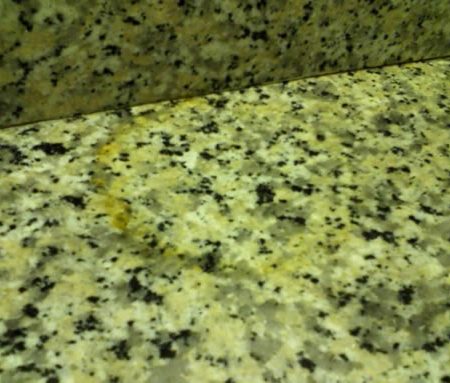 This undesired stain caused by metal can left on granite for several days. Regular cleaning was useless. The de-staining service has to be provided. more...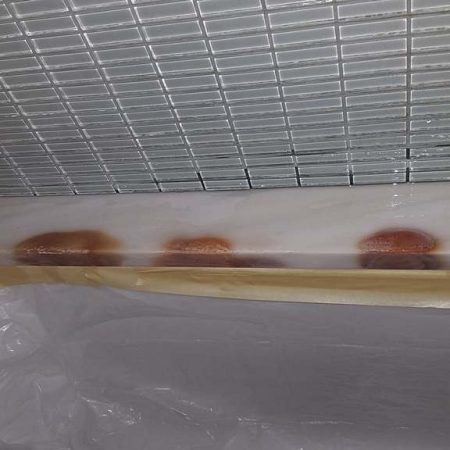 Taking into account the content of minerals in marble, there is always a risk that the iron in the rock can rust. A beautiful picture can deteriorate when iron, deep inside the rock, changes color under the influence more...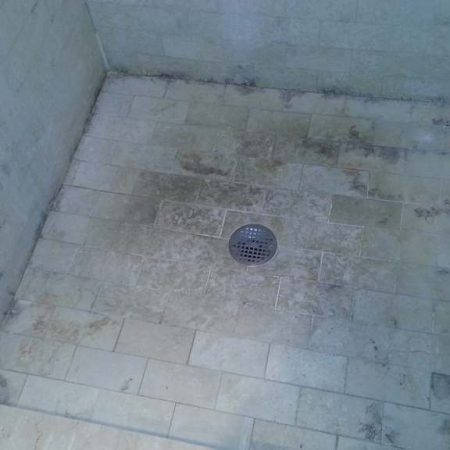 Shower Mold Removal. Undesired toxic black mildew can cause problems such as mold illness, mental disability, damaging internal organs, allergic reactions, etc. If you don't take care of mildew in a shower, it can more...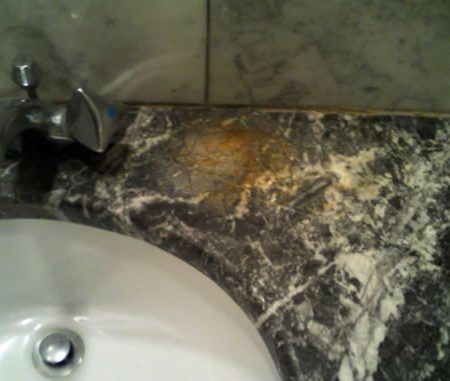 The marble is susceptible to undesired stains and possibly caused by various bathroom products such as hand soap, metal can, hair dye, etc. more...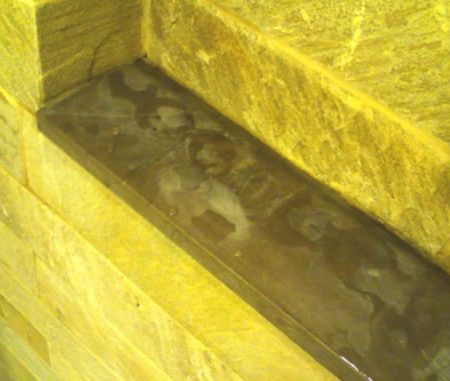 The marble in the bathroom/shower/kitchen is susceptible to stains and maybe not the best choice especially if you heavily use it unless you are crazy about marble beauty and willing to spend some money on maintenance more...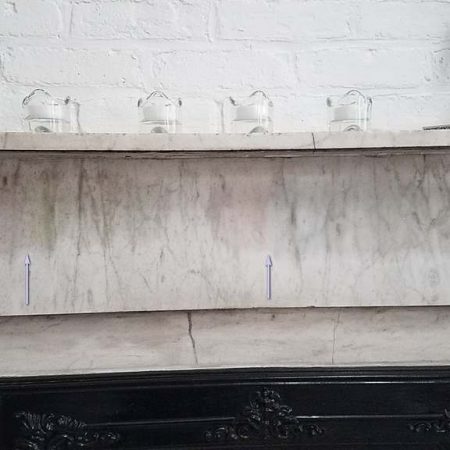 The organic blots/smears were left by Christmas Decorations adhered to the marble panel. Often there is an opportunity to remove such stains with special gels, and organic stains from a light stone often can be removed more...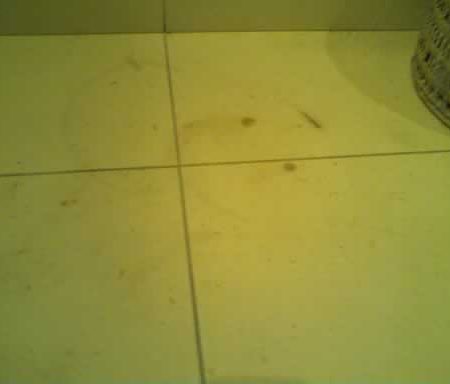 Keep in mind that marble is porous and susceptible to stains, making it a fast absorber of colored spills, smears, which may add unsightly undesired marks on the surface. more...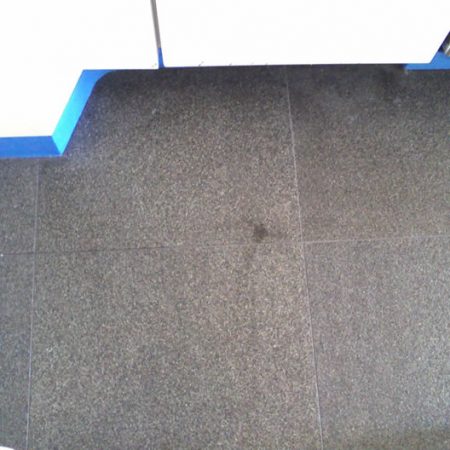 How do I clean the undesired stains? The faster you wipe away the leaks, the better your chances of cleaning effectively. You can use soft marble cleaners from the local store, or you can make your own cleaning agent, more...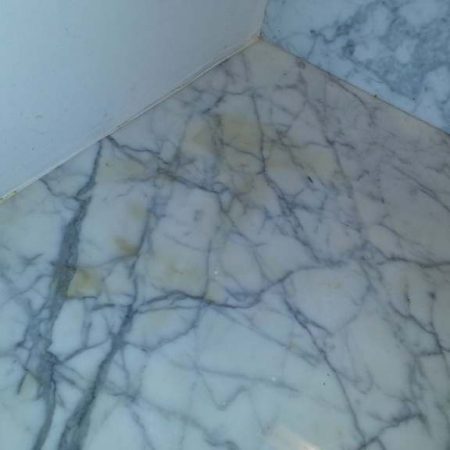 Spills and drops from coffee, tea, wine can leave ugly undesired marks. To avoid this, immediately wipe the stain with a damp cloth and then apply to the remaining stain with a special "Mangiamacchia – Spot more...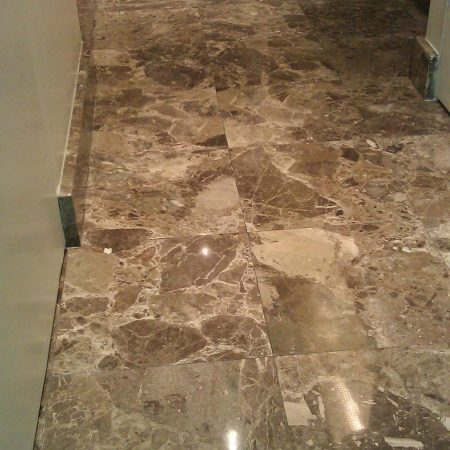 To achieve the ideal floor, it is necessary to grind it with subsequent polishing. This type of work will give your floor a qualitatively different appearance, not only from aesthetic but also from a practical point of more...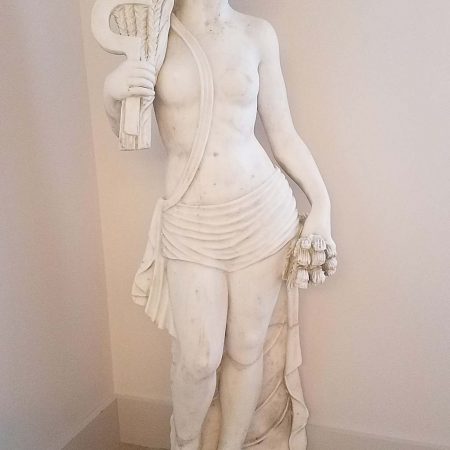 Sealers are products that saturate and penetrate into pores of statuary marble and clog its pores, thus reducing the natural absorbency of most stains. more...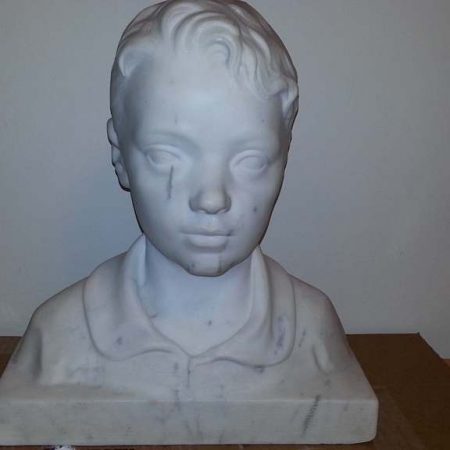 In order to glue together splintered statuary white marble parts you need special glue-like Akepox, and it must be designed for a white marble repair. The fact if you'll use the wrong mastic you can make very visible more...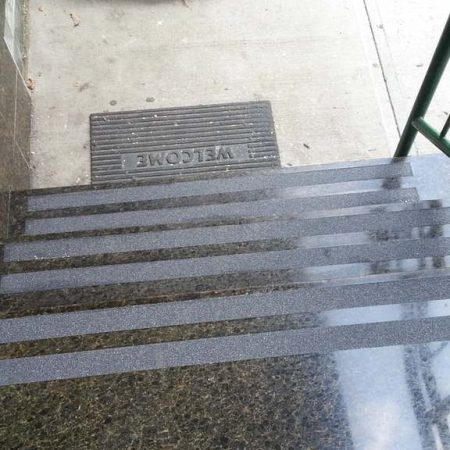 Installing quartz, ceramic, porcelain, granite steps in a building, commercial or factory premises as well as on the adjacent street territory is a practical and economical solution. However, with all the advantages of more...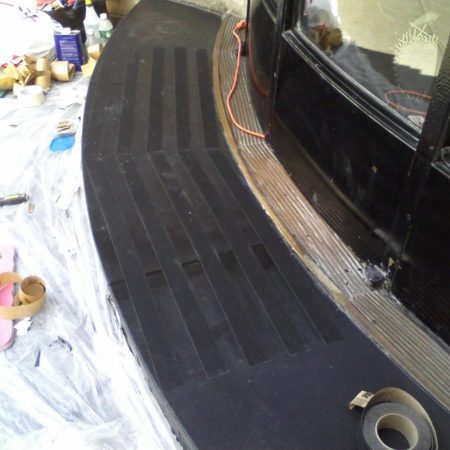 Anti-slip (non-skid) tape installation and seam repair on the granite step. Petrossian Caviar restaurant at 911 7th Ave, New York, NY 10019. more...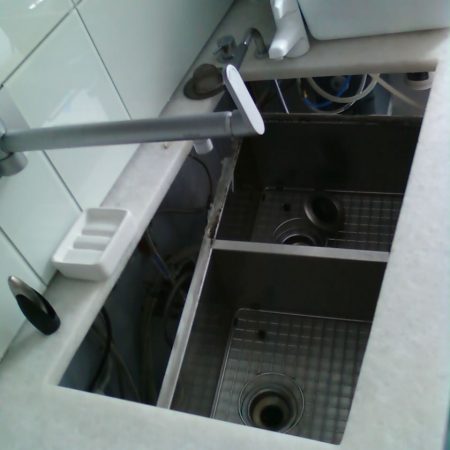 The proper sink installation should include the holes drilling, brackets mounting and sink rim water seal with silicone. The proper amount of holes and brackets should permanently withhold a sink full of water or any more...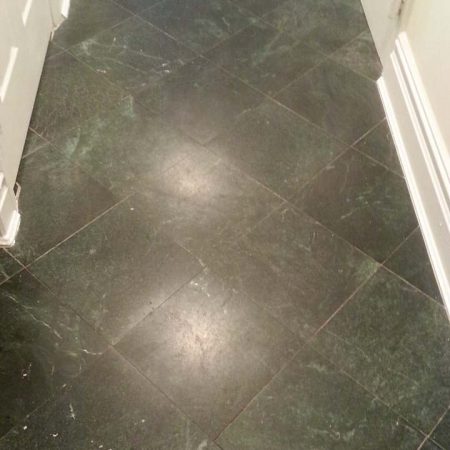 Entryway marble floors are most often subjected to restoration because due to deterioration such as sand grain abrasive effects in mud, the floors are usually opaque, severely scratched and worn out. It happens when more...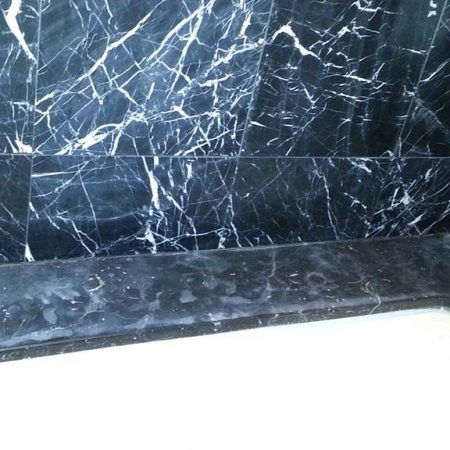 Cloudy opaque spots on marble are actually etched, no stains, the salts, and minerals in tap water react on the surface, leaving such etch marks. more...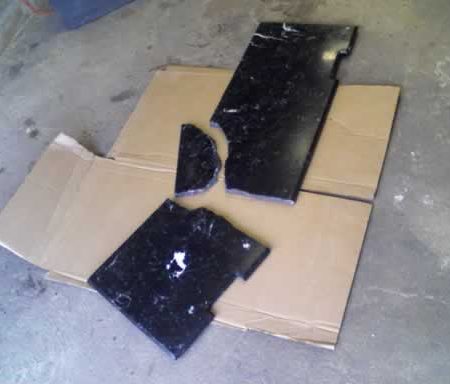 Black marble credenza top with a white pattern and beveled edge. Broken onto 3 big chunks. more...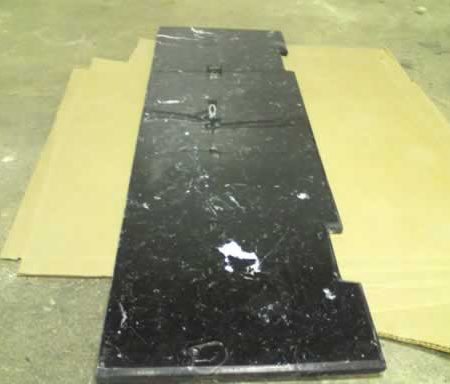 Drawer/credenza black marble top was broken in a few parts, then fixed with 2 components epoxy and polished. more...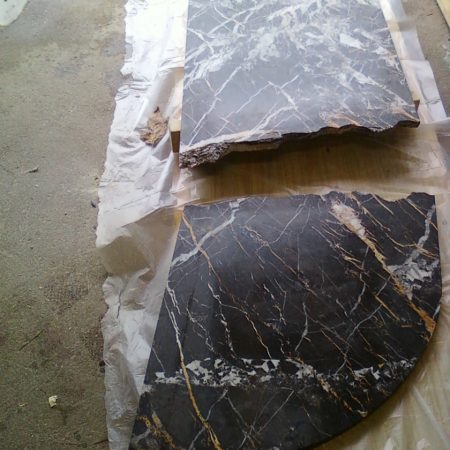 One of the main concerns that our customers have is whether their stone is repairable after a major crack such as the one shown in this photo. The simple answer is yes, we know exactly how to treat minor and major more...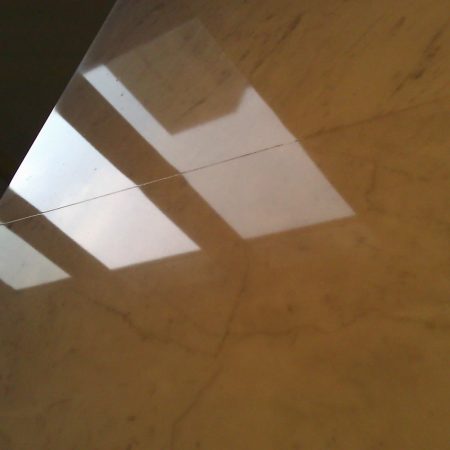 We didn't do the poorly filled seam repair, our goal on that project was surface refinishing, removing all cloudiness and dull spots. more...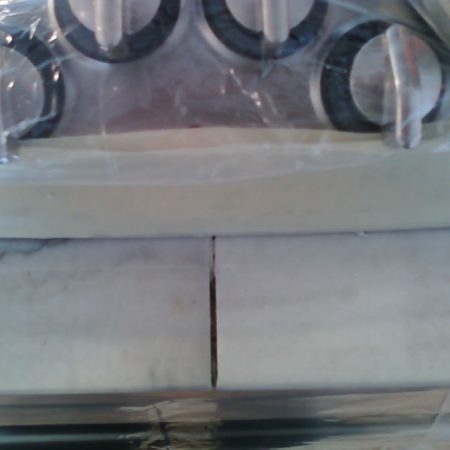 The poorly filled seam expansion may occur when new kitchen cabinets setting down under the weight of counters, building shifting, inaccurate templating or installation. more...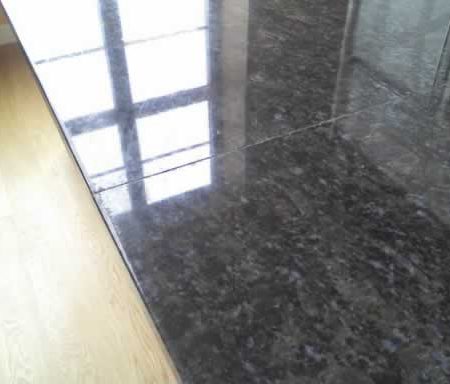 The poorly filled seam on this counter island is very obvious and deep. More likely it's because of poor installation, also it may be happened by using a strong cleaner that could dissolve and remove some glue more...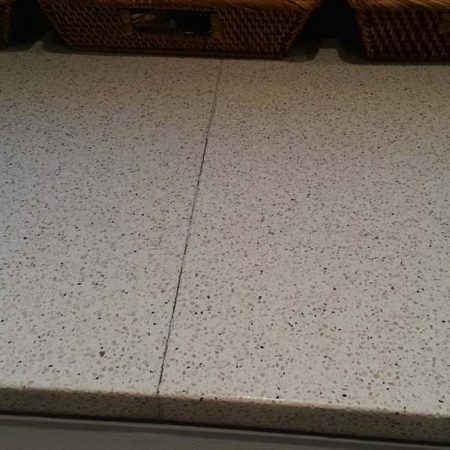 The poorly filled seam on Caesarstone is cleaned from old glue by cut out and is ready for fill up, blending and restoration. more...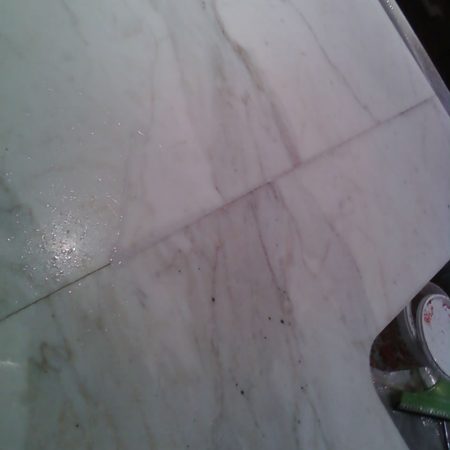 You can clearly notice lifeless and greasy surface that definitely will require the topical refinishing or at least deep cleaning and sealing. Additionally, there is a poorly filled seam. more...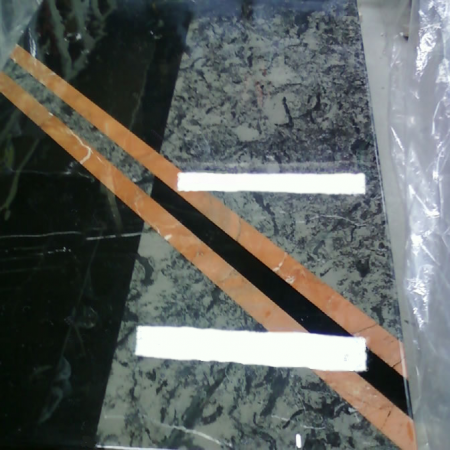 The dining table damages were fixed first, then recoated with crystal clear epoxy resin. more...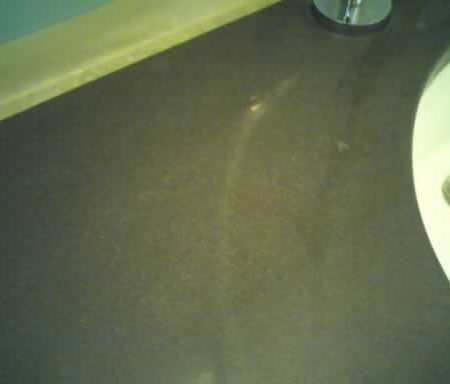 Natural marble is the shiny and appealing stone found on vanities, countertops, bathtubs, tables tops, etc. When this marble gets scratches or gashes, it can appear very dull, and not reflect as it should. This tends more...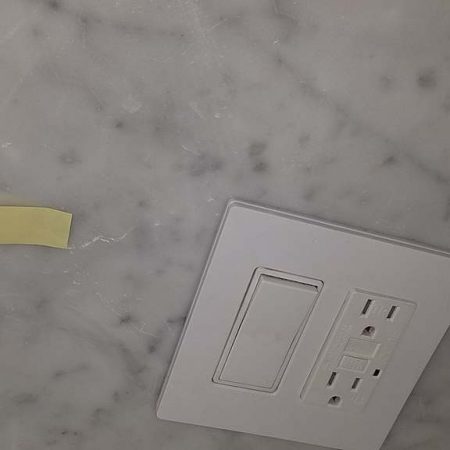 Although surfaces made of natural stone refer to sufficiently hard surfaces, but it can be easily be scratched by any hard object like kitchenware. A good deep polishing can definitely remove light surface scratches more...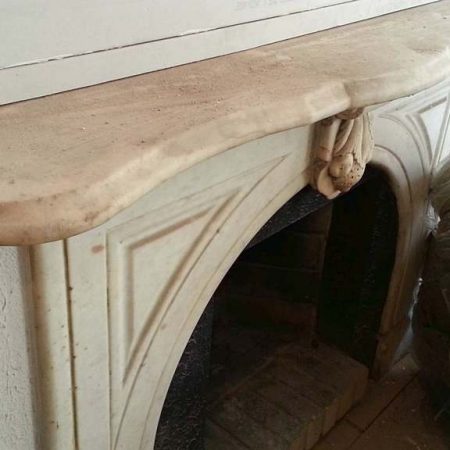 As a result of intensive and long-term use, the marble fireplaces are losing all their beauty and attractiveness. In addition, many non-aesthetic scratches, gashes, chips, and stains are formed on its surfaces. To more...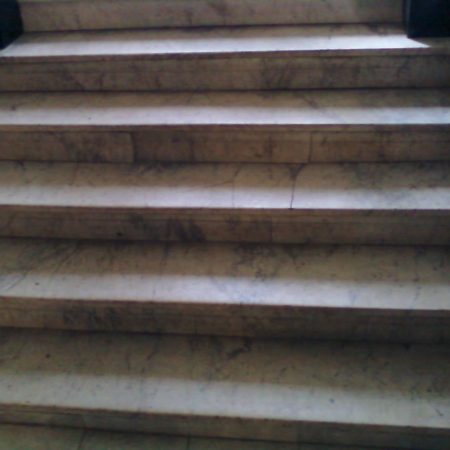 Staircase to the marble lobby in the building. There are many cracks, gashes, scratches, dirt, grime, stains, etc. Located in Brooklyn Heights NY. Material White Carrara marble. more...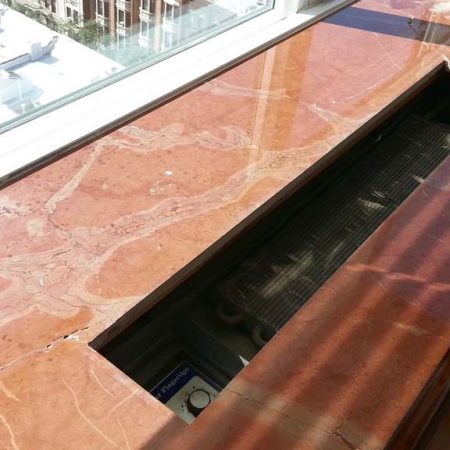 Often to restore window sill, it is necessary to dismantle the stone. Today, we can restore your window sill right on-premises. The price for the restoration will be accordingly cheaper, since dismounting and more...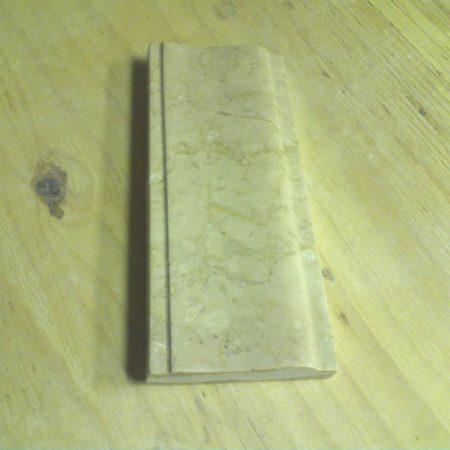 This part of the elevator door frame was missed in the building, we made the new refitted section of molding fabrication. more...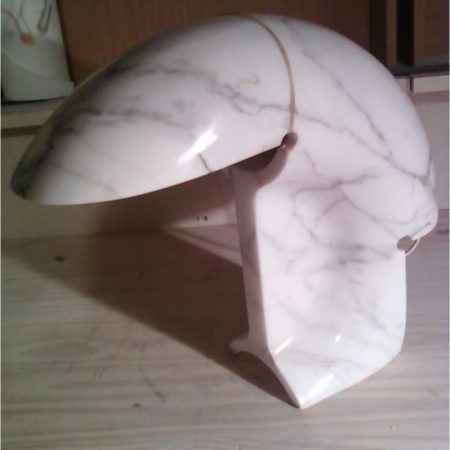 Less obtrusive marble lamp cracks. Image After Restoration more...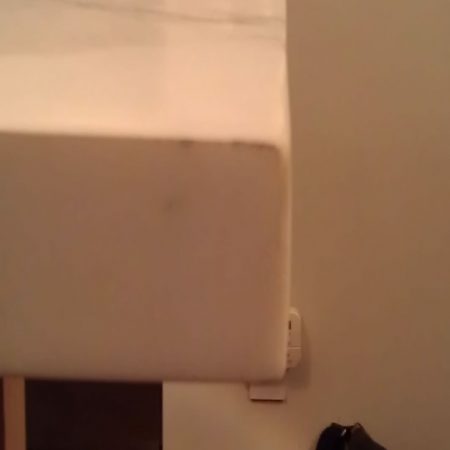 To fix such chip we used a water-clear epoxy, with some white pigment added. more...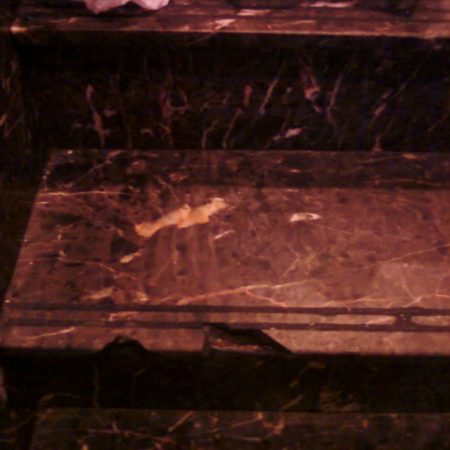 Chipped nosing step in Junior's restaurant. More likely happened by hitting of shoe hill. Times Square in Manhattan. more...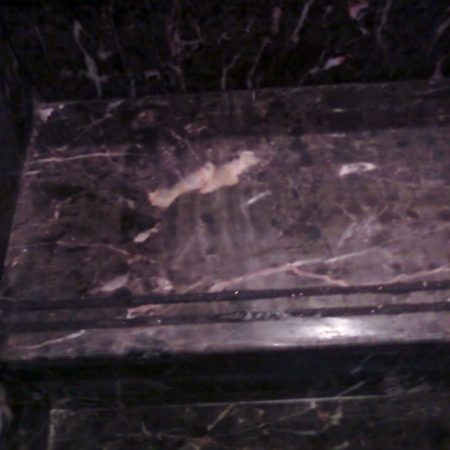 Chips on nosing were fixed with tinted epoxy and setting back broken off pieces. Restaurant on Times Square in Manhattan. more...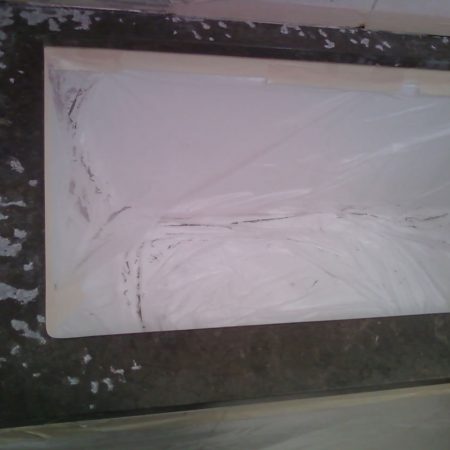 The Orion condominium at 350 west 42nd street The marble was crumbled and deteriorated in some areas to sand-like condition. It's happened due to the nature of this kind of limestone and continuous contact more...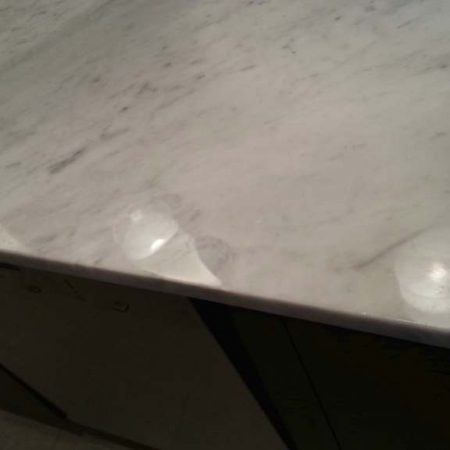 First, we made the template, then cut out the insert from other White Carrara piece, and then install it into the hole on the counter edge. Made it much less obtrusive. more...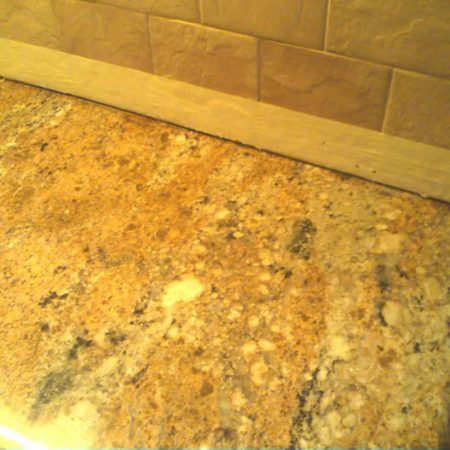 We replaced the single color seam by the tiled backsplash with a few colors, then made excess epoxy removal and polishing. It made it less obtrusive. more...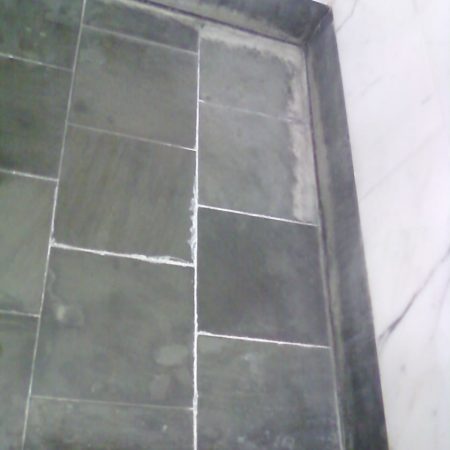 Salt / calcium / minerals / lime buildups in shower floor removal, polishing, cleaning and sealing. Grout lines were cleaned and surface restored. more...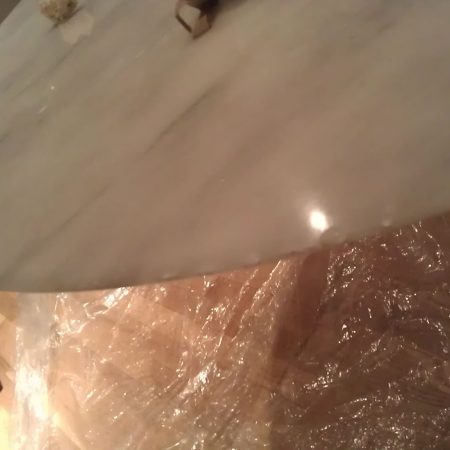 The edge was chipped during the moving table and hitting chairs, although they are not big, there are indentions spreading all around the table edge. more...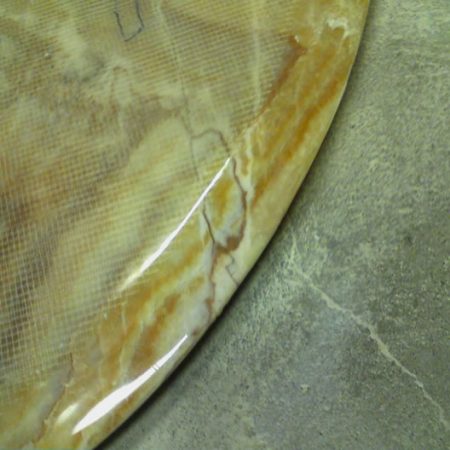 Onyx is one of the easiest marble for color matching. It has natural yellow/brown colors that are matching to most general epoxies. It can be easily blended among natural colors and patterns. more...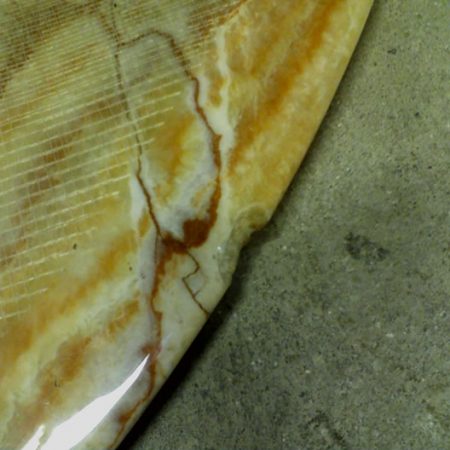 The table has a clear coat on the edge, we fixed the ding without coat restoration. more...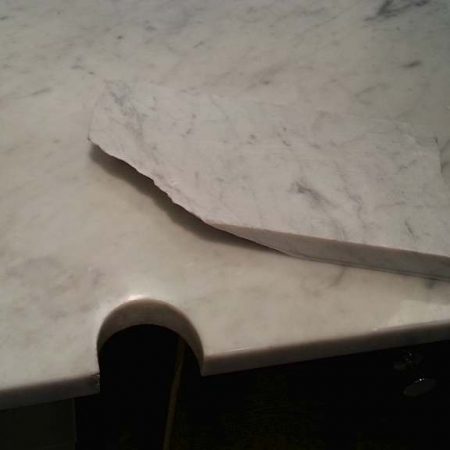 When restoring marble such operations as grinding, polishing, sawing, drilling, cutting, carving, gluing, sealing, glazing, refitting and others can be used and their combinations. more...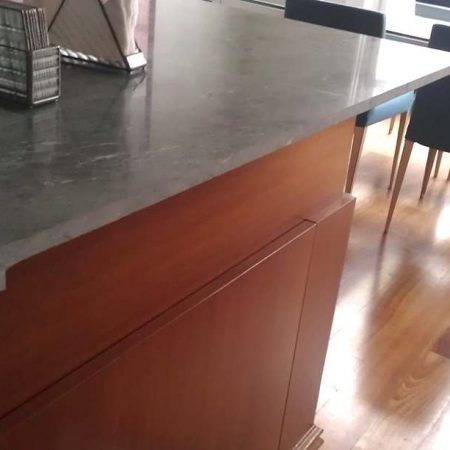 The cabinets and marble top were trimmed and cut off. Our work was to cut the stip from marble leftovers and use this piece to fit and build a double edge on the newly cut edge. more...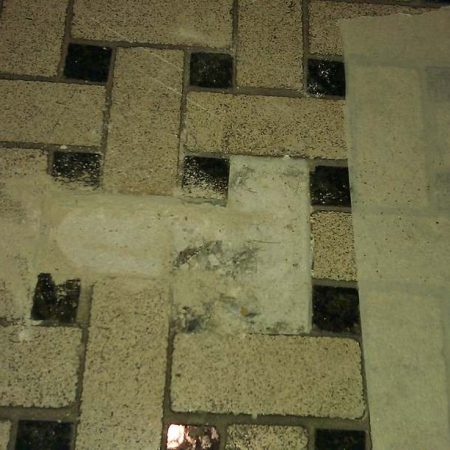 Mosaic tiles are a combination of pieces of the same shape and size, glued to its base, which creates a single composition. The base can be a mesh or paper. The material is various, it can be glass, stone, plastic, more...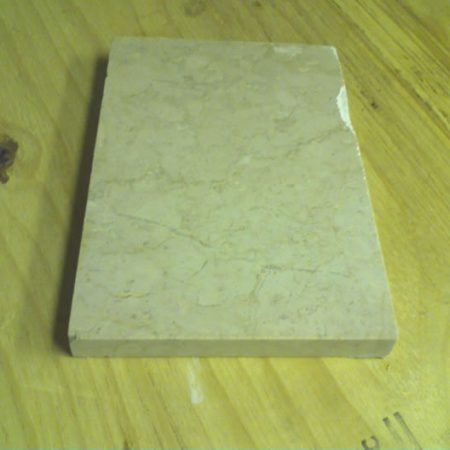 We picked the original botticino leftover from the work side, and then cut and refit to desirable form. more...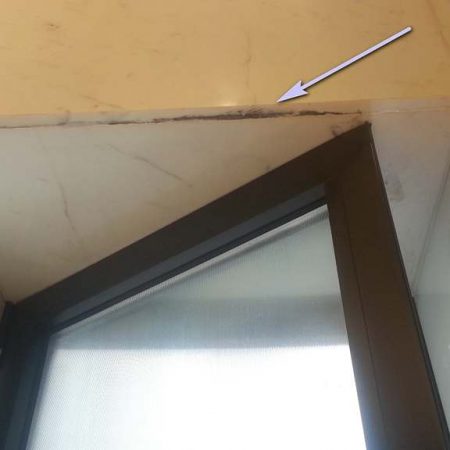 Picture of the overhead marble lip, preventing the window door freely open. more...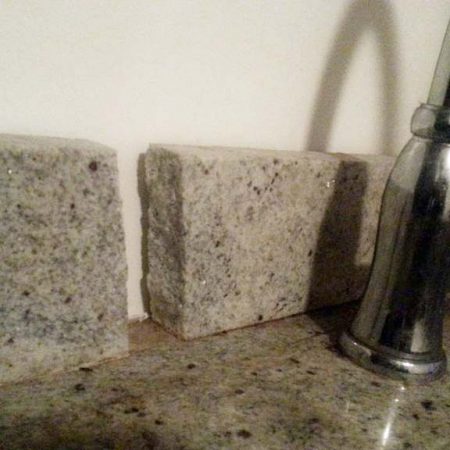 In fact, after the backsplash crack restoration, it will be visually intact. Outwardly, nothing will show its repair, it will be possible to notice the traces of restoration only under the magnifying glass and knowing more...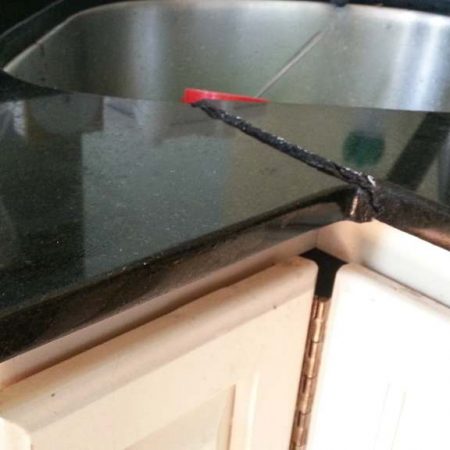 Granite crevice repair is quite a demanded service, which we are performing constantly. As a rule, at most this applies to granite tiles and granite countertops. Of course, granite crevice reparation should be more...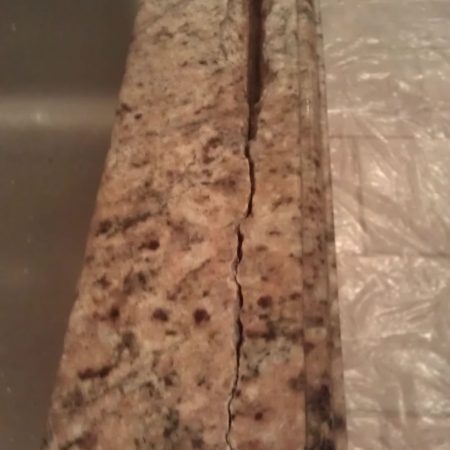 Spalling and cracking on granite are a very common problem, especially on areas like by a sink, where metal rods are starting to rust and expand. The complexity of the work will depend on the specific case and how more...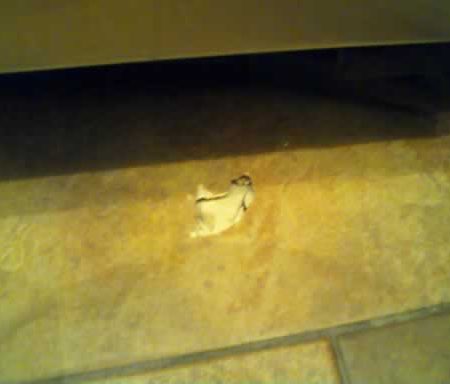 Deep gouges, crumbling or potholes in a tile caused by moving furniture or by hitting other heavy objects can be not easy to repair and depending on its size and depth. Deep gouges or chips (that is 1/8″ or more...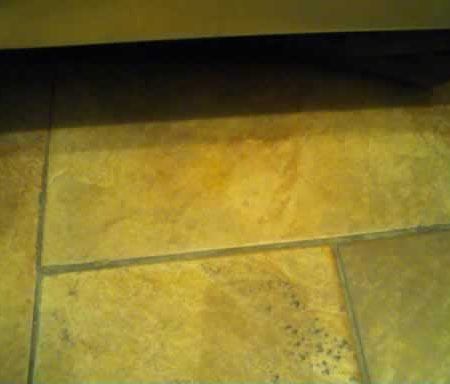 The gouge (pothole) was filled in with pre-colored epoxy and hidden by imitating the original finish. more...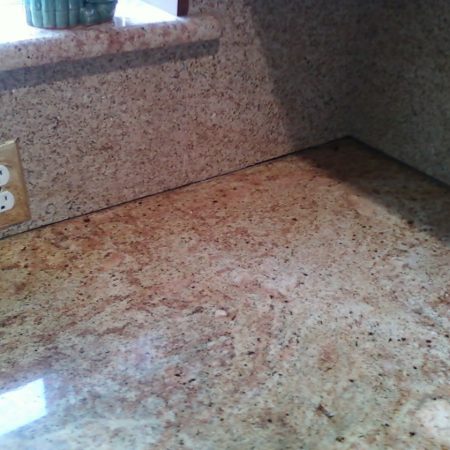 The counter had not properly propped cabinets under the corner, due to its weight the counter eventually starts to moving down and buckling, detaching seams and cracking sink cutout. more...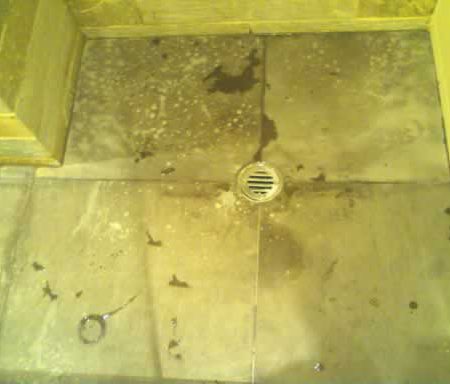 A few folks understand how to use general cleaners and how chemically caustic aggressive cleaners can severely discolor or stain the marble tiles. To avoid that you have to follow the manufacturer's more...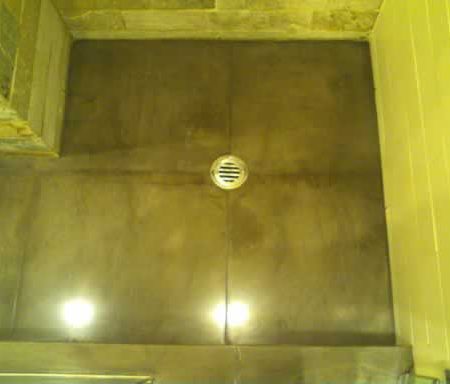 The floor was severely burned and discolored with caustic harsh cleaner. We have revived the shine and the color with polishing and sealing. more...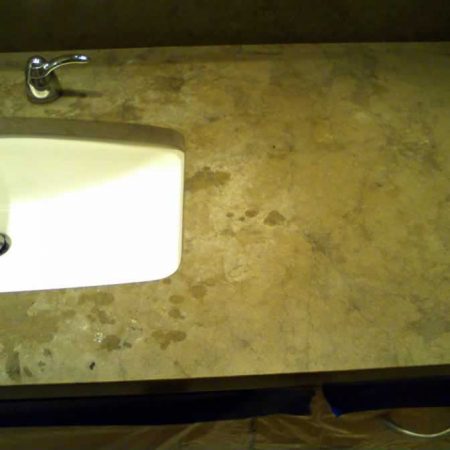 The brown limestone bathroom vanity was severely etched and discolored during normal usage and various caustic cleaners and chemicals. If not timely restored it could entail the deep erosion. more...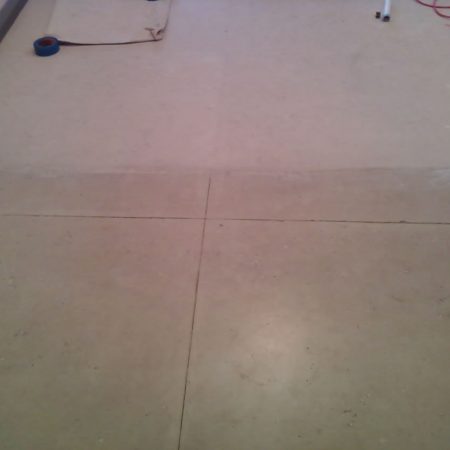 Picture of limestone floor with honed/leached/cleaned and filthy, not yet cleaned parts. more...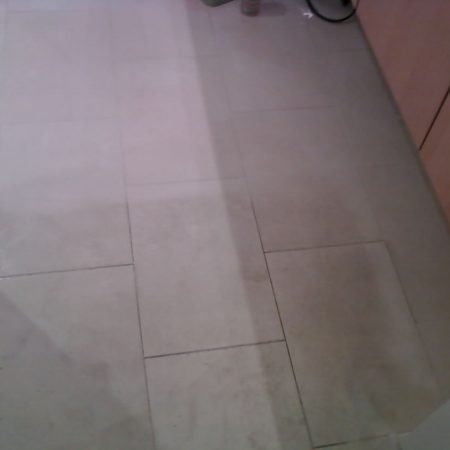 Grime kitchen marble floor scouring. Compare cleaned (leached) and not cleaned parts. more...
---