Stains Removal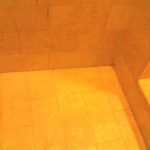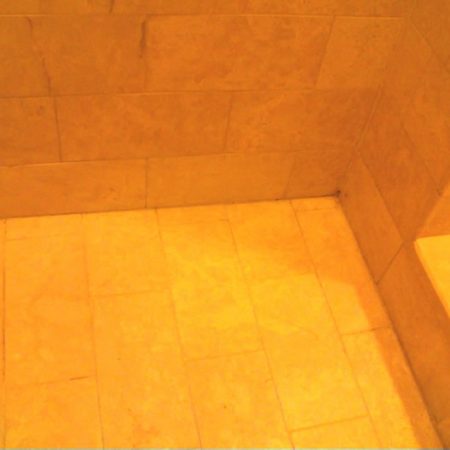 The mold stains were removed by deep grinding and brightening by long contact with some aggressive chemicals. more...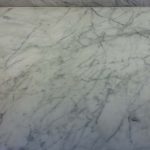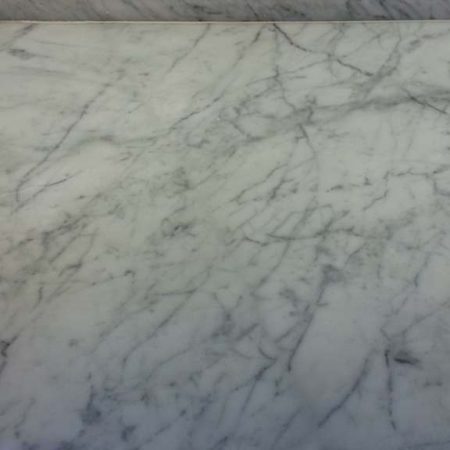 Picture of the counter area where the yellow stains were removed by brightening with various chemicals and methods. more...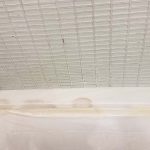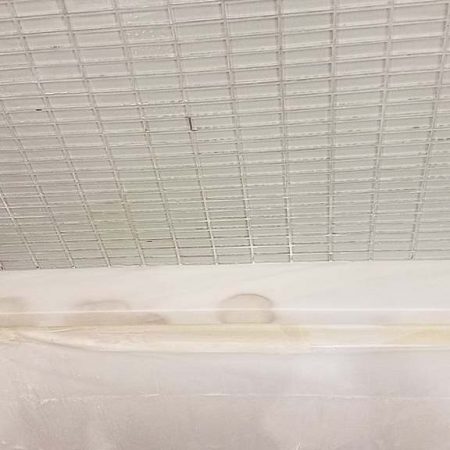 Marble has pores and thus permeable, so it is easy to leave a stain and often impossible to remove the stains, especially on such white marble. We were able to brighten them to less obtrusive shade. more...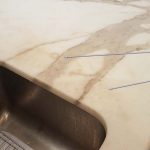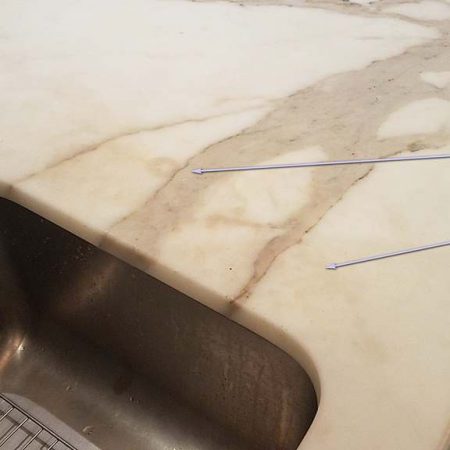 In order to avoid such undesired spottings, you should know:  marble is afraid of spilled coffee, tea, juice, sodas, wine, ketchup, dressing, etc. A sealer may help in some such cases but in not all cases. more...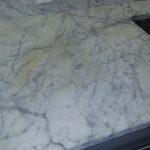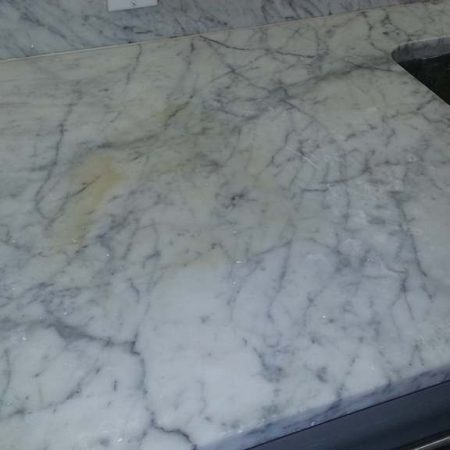 Sometimes the light marble countertops begin to acquire an undesired yellowish shade. To remove yellowing spotting, try to apply on a stone surface and leave for a few hours a saturated solution of soap, and then more...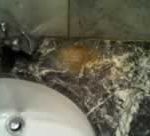 Undesired stains can occur when a colored liquid absorbs into the stone body, into micropores below the surface and cannot be cleaned by any cleaner or wipe-off method. The stain is inside the stone, so surface more...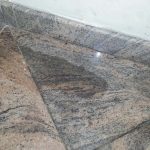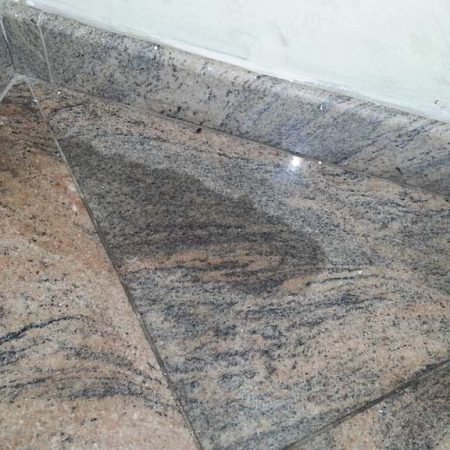 Granite does not require special maintenance conditions, such as floors and products made from marble. The dense structure of granite, in most cases, does not allow moisture and dirt to soak into the pores, forming more...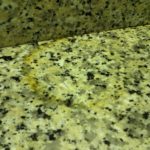 This undesired stain caused by metal can left on granite for several days. Regular cleaning was useless. The de-staining service has to be provided. more...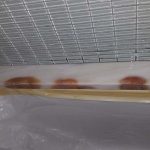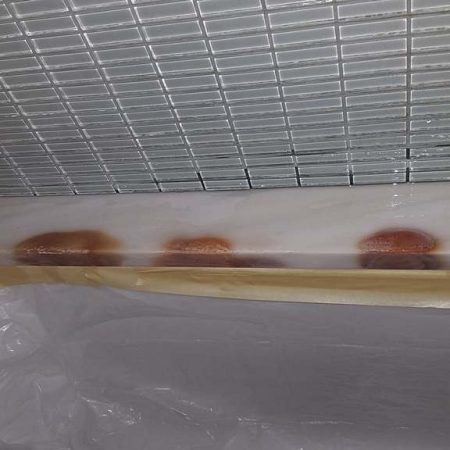 Taking into account the content of minerals in marble, there is always a risk that the iron in the rock can rust. A beautiful picture can deteriorate when iron, deep inside the rock, changes color under the influence more...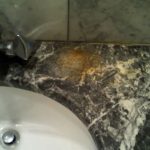 The marble is susceptible to undesired stains and possibly caused by various bathroom products such as hand soap, metal can, hair dye, etc. more...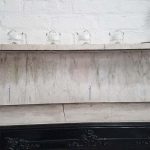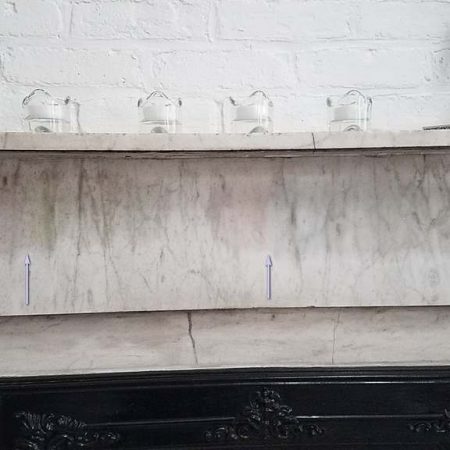 The organic blots/smears were left by Christmas Decorations adhered to the marble panel. Often there is an opportunity to remove such stains with special gels, and organic stains from a light stone often can be removed more...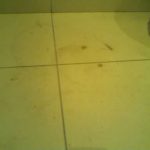 Keep in mind that marble is porous and susceptible to stains, making it a fast absorber of colored spills, smears, which may add unsightly undesired marks on the surface. more...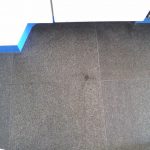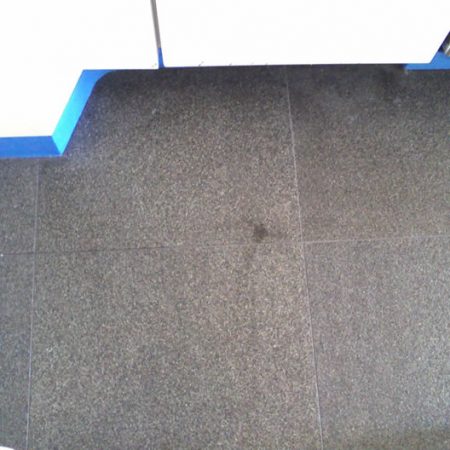 How do I clean the undesired stains? The faster you wipe away the leaks, the better your chances of cleaning effectively. You can use soft marble cleaners from the local store, or you can make your own cleaning agent, more...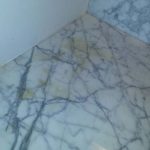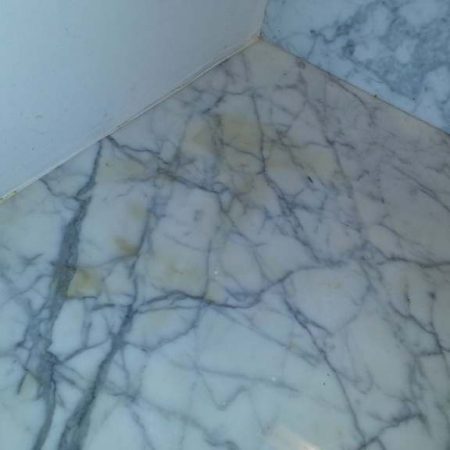 Spills and drops from coffee, tea, wine can leave ugly undesired marks. To avoid this, immediately wipe the stain with a damp cloth and then apply to the remaining stain with a special "Mangiamacchia – Spot more...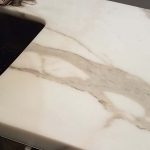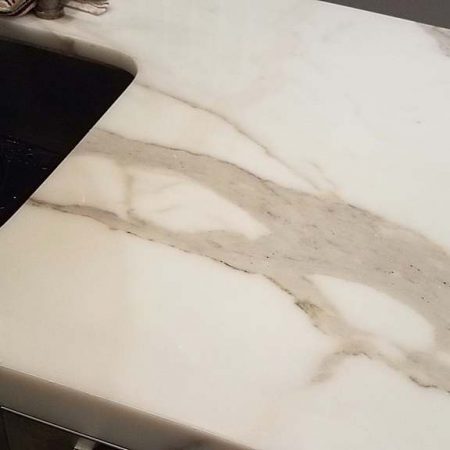 The blotchy stains were topical and easy to removie with top layer of marble. Sometimes light countertops begin to acquire a yellowish shade. To remove such film, try to apply on a surface and leave for a short time a more...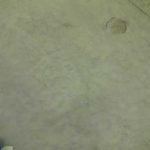 The yellow smears were removed with various chemicals without affecting or discoloring an original finish on the concrete floor. Removed within one day without poulticing. Located in West Village New York, NY. more...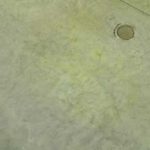 The concrete floor got some yellow stains from unknown source. The challenge was to remove the stain only, without affecting the original concrete coat. Located in art gallery in West Village New York, NY. more...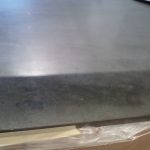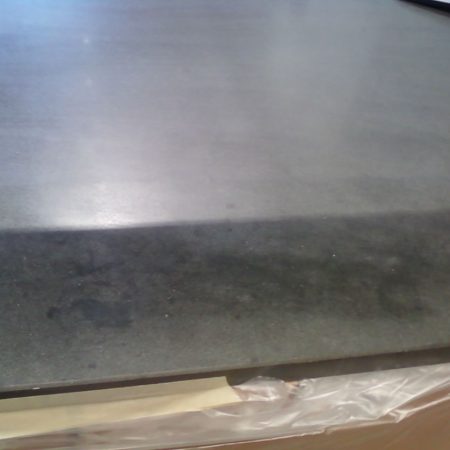 This kitchen limestone countertop was stained due to normal cooking and usage. There are many oily and unknown stains. more...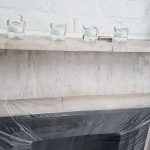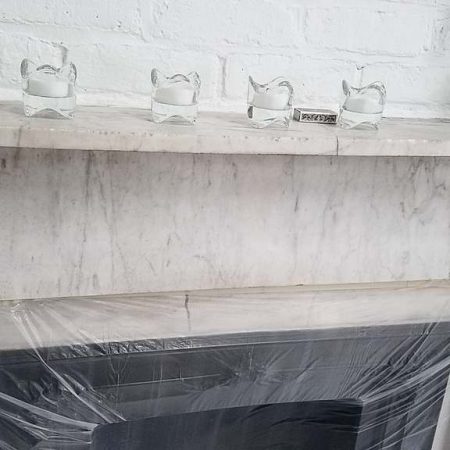 Picture of the de-stained fireplace where oily stains were removed from under top shelf stab. more...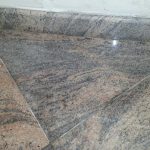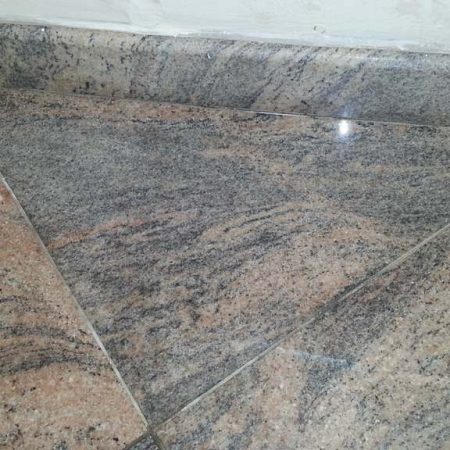 Granite is known as impervious to liquids and is actually less absorbent than a marble. However, if a substance like oil will soak into a granite floor, it will leave a dark-colored stain, that could be extracted and more...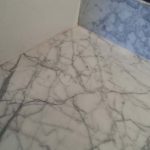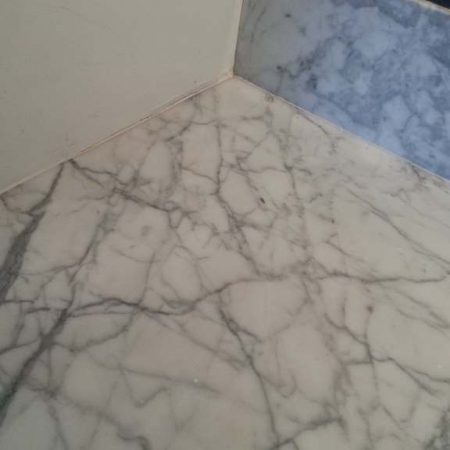 Stains from coffee, tea, wine can leave an ugly mark. To avoid this, immediately remove the stain with a damp cloth and then with moisten white linen napkin in a mixture of hydrogen peroxide and a few drops of ammonia more...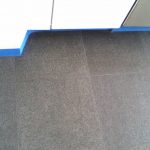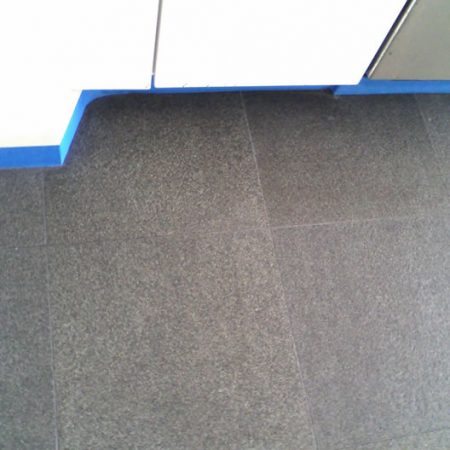 Picture of the gray granite with flamed finish after specks removal. The oily stains were removed with peroxide and heat in a couple hours. more...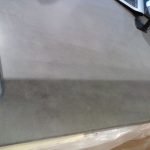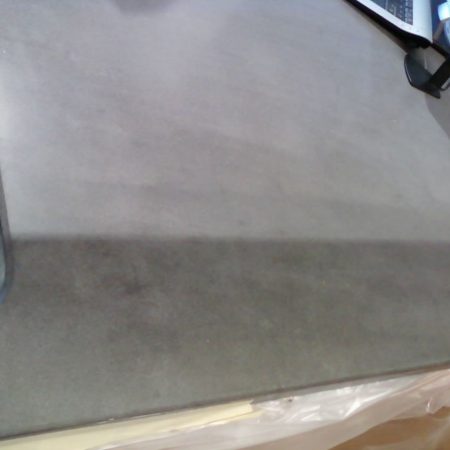 We removed most of stains from marble without poulticing and grinding within one day, saving time and money. more...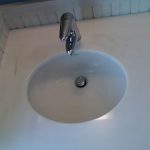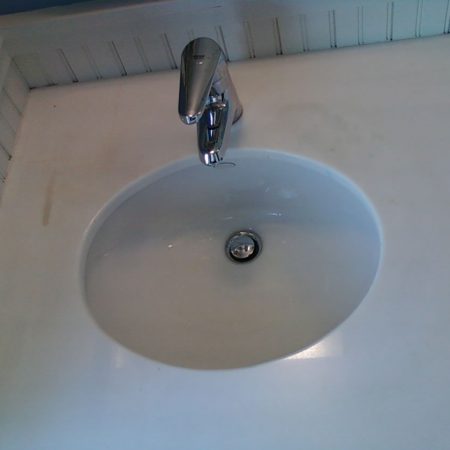 It should be noted that sometimes marble damage occurs at a chemical level. Even when cleaning with stone cleaners, you inevitably harm the marble. Even spilled body oil, hair dye, shampoo, hand cream or shower gel can more...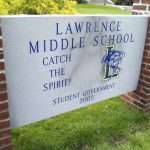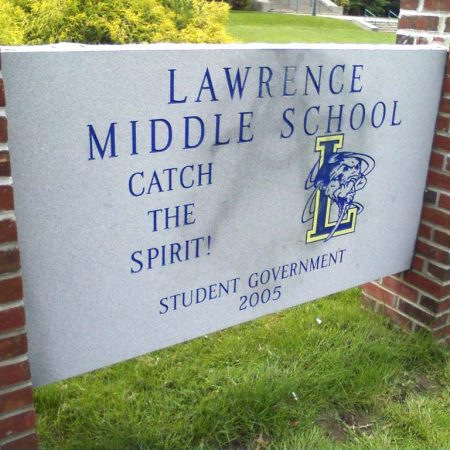 Lawrence Middle Public School graffiti paint removal. Lawrence, NY more...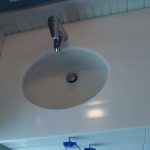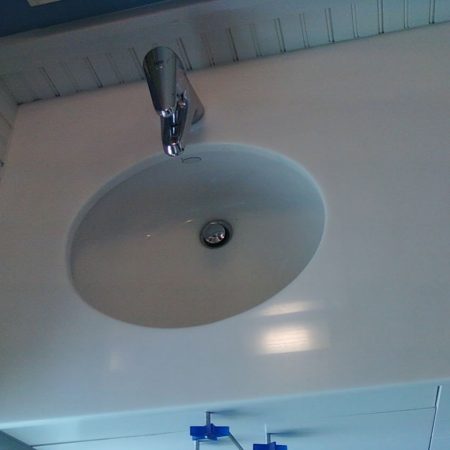 The piece was repolished, buffed, stains removed and sealed. more...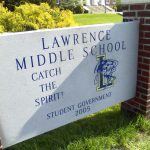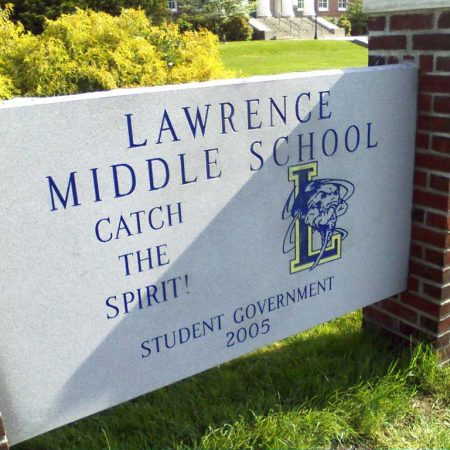 Lawrence Public School engraved granite block after graffiti leftovers removal. Located in Lawrence, NY more...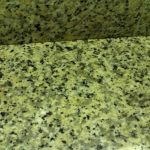 The stain was removed in a few hours by using various chemicals and techniques. To save the time and money  we successfully avoided poulticing. more...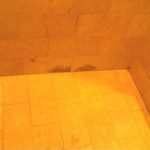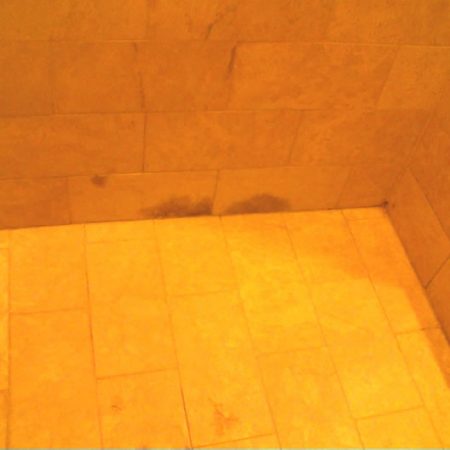 The mold roots are going on some depth into a marble pores, and often can be treated as regular stain. In some cases a tile with a mold stain can be replaced only. more...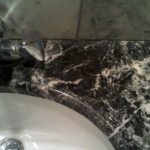 We removed the stain by just deep polishing and buffing, the stain wasn't too deep and stayed on the top. more...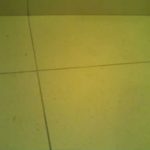 The stains were removed with bleach penetration and then re-polished. Fortunately the stains were not absorbed too deep and successfully removed without poulticing. more...
---