Yellowing on Shower Mosaic Floor
Yellowing on a shower mosaic floor can be caused by several factors:
1. Hard water stains: If the water in your area has a high mineral content, it can leave behind hard water stains on your shower mosaic floor, which can appear yellowish in color.
2. Soap scum buildup: Soap residue and scum can accumulate on the surface of the mosaic floor over time, especially if the shower is not cleaned regularly. This buildup can discolor the tiles and cause them to appear yellow.
3. Mold or mildew growth: Bathrooms are prone to mold and mildew growth due to the moist environment, and if not properly cleaned and maintained, mold and mildew can develop on the shower mosaic floor. Mold and mildew can have a yellowish appearance, especially when they are in their early stages of growth.
4. Aging or discoloration of grout: The grout used to fill the gaps between the mosaic tiles can also age or discolor over time, leading to a yellowish hue on the floor.
5. Chemical reactions: Certain cleaning products or chemicals used in the bathroom, such as bleach or ammonia-based cleaners, can react with the mosaic floor and cause yellowing or discoloration.
To address yellowing on a shower mosaic floor, it's important to identify the underlying cause and take appropriate measures. Regular cleaning with mild, non-abrasive cleaners, proper ventilation in the bathroom to reduce moisture, and sealing the grout lines can help prevent yellowing. If mold or mildew is present, it's important to address the issue and eliminate the source of moisture. If the yellowing persists or is severe, it may require professional cleaning or restoration techniques to restore the floor to its original condition.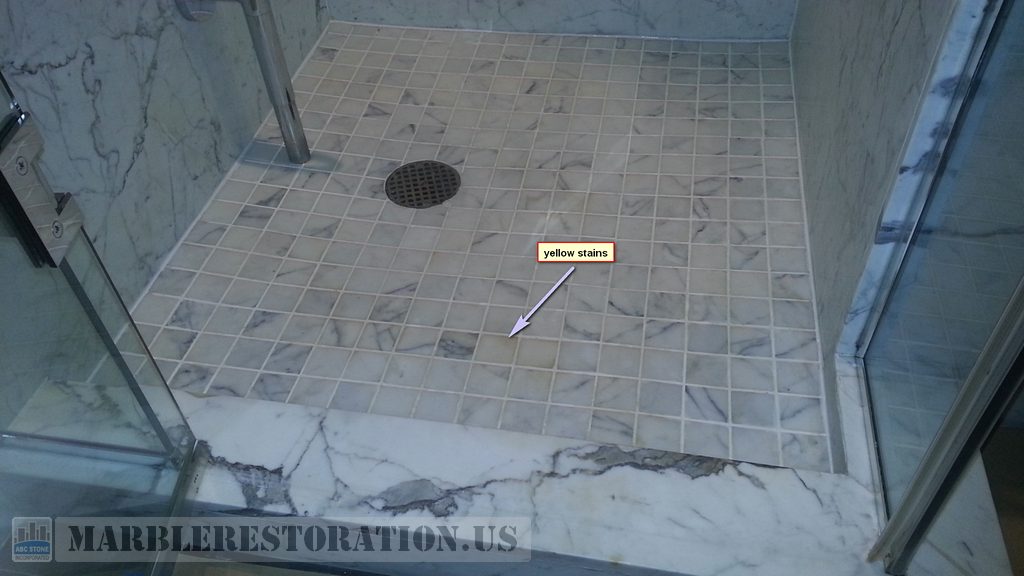 Image Title: Yellowing On Shower Mosaic Floor Removal
Submit Your Order or Ask a Question :
When to expect a response?
You'll get a response within a few minutes or hours and usually not longer than 24 hours.