Unknown Stain on White Marble Countertop
Here's a general guide on how to attempt to remove an unknown stain from a white countertop.
Materials you may need:
– Clean, white cloth or sponge
– Mild dish soap or all-purpose cleaner
– Baking soda
– Hydrogen peroxide
– Water
– Soft brush or toothbrush
– Clean water for rinsing
Instructions:
1. Begin by gently blotting the stain with a clean, white cloth or sponge to remove any excess residue.
2. Mix a solution of mild dish soap or marble cleaner with water in a bowl, following the manufacturer's instructions.
3. Dampen a clean cloth or sponge with the soapy solution and gently scrub the stained area in circular motions. Avoid using abrasive materials that may scratch the countertop.
4. If the stain persists, make a paste by mixing baking soda with water to create a thick consistency.
5. Apply the baking soda paste to the stain and let it sit for 10-15 minutes to allow it to penetrate the stain.
6. After the baking soda paste has been set, use a soft brush or toothbrush to gently scrub the stained area in circular motions.
7. If the stain still remains, you can try applying hydrogen peroxide directly to the stain and letting it sit for a few minutes. Then, rinse with clean water.
8. Once the stain is removed, rinse the countertop thoroughly with clean water to remove any residue from the cleaning products.
9. Pat dry the countertop with a clean cloth or towel.
Note: Some chemicals can lead to etchings or burns. If you are dealing with a stubborn or persistent stain on a white countertop and you are unsure of the nature of the stain, it's always best to seek professional advice to avoid damaging the countertop surface.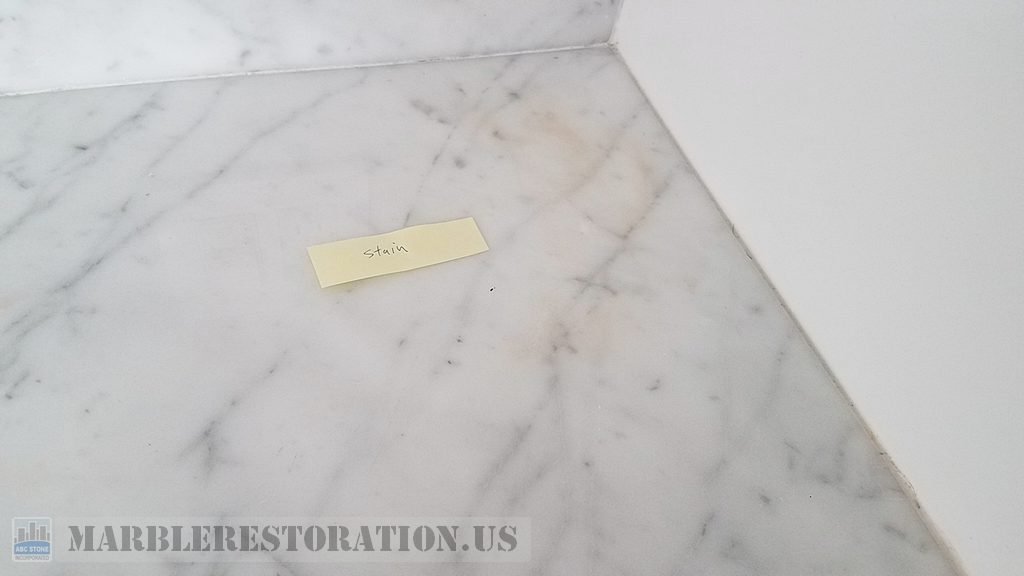 Image Title: Unknown Stain Removal White Marble
Submit Your Order or Ask a Question :
When to expect a response?
You'll get a response within a few minutes or hours and usually not longer than 24 hours.