Yellowing On Shower Floor after Removal
To remove or reduce yellowing on a shower floor, you will need the following materials:
1. White vinegar
2. Baking soda
3. Soft brush or sponge
4. Water
5. Clean cloth or towel
Here are some steps to remove yellowing on a shower floor:
1. Mix equal parts of white vinegar and water in a spray bottle.
2. Spray the vinegar solution generously onto the yellowed areas of the shower floor.
3. Let the vinegar solution sit for about 10-15 minutes to loosen the yellow stains.
4. Create a paste by mixing baking soda with a small amount of water.
5. Apply the baking soda paste onto the yellowed areas and use a soft brush or sponge to scrub gently in circular motions.
6. Rinse the shower floor thoroughly with water to remove the vinegar and baking soda residue.
7. Wipe the shower floor dry with a clean cloth or towel.
Repeat the process if necessary until the stains are completely removed. It's important to avoid using abrasive cleaners or tools that may scratch or damage the marble surface. If yellowing persists, you may need to seek professional help.
It's important to note that the exact appearance of yellowing on a shower floor may vary depending on the specific cause and severity of the issue. Regular cleaning and maintenance can help avoid yellowing and keep your floor looking clean.
Note, extended contact with vinegar can etch the marble, so once the stain is removed, the etch should be removed by sanding and polishing.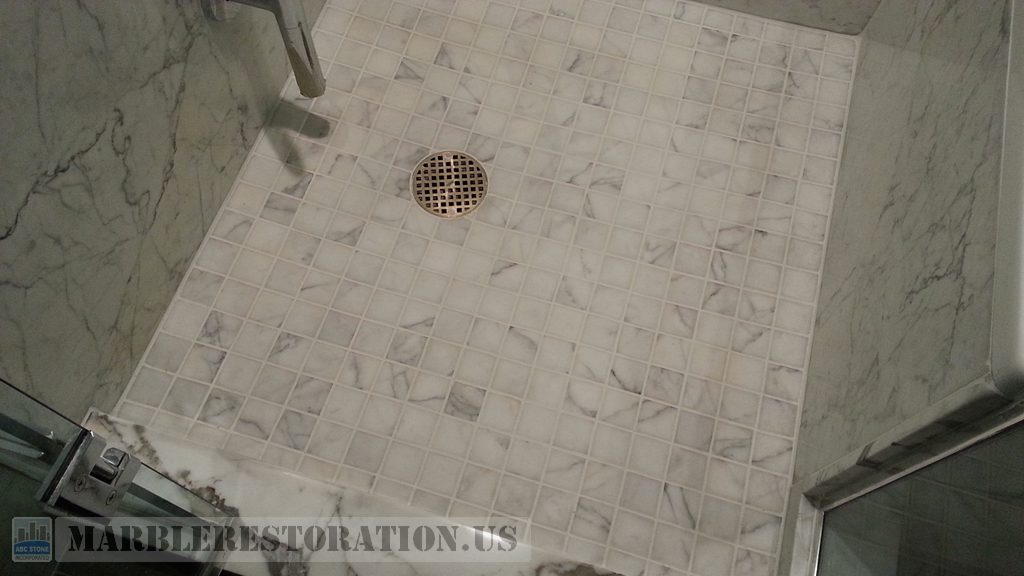 Image Title: Yellow Stains On the Shower Floor Removed
Submit Your Order or Ask a Question :
When to expect a response?
You'll get a response within a few minutes or hours and usually not longer than 24 hours.
Tags: Before and After
---