Brown Stains after Chemical Treatment/Removal
Some general information and suggestions for dealing with brown stains on a marble shower floor slab:
1. Identify the source of the stain: Brown stains on marble can be caused by various factors such as rust, hard water deposits, mineral deposits, or organic materials. Identifying the source of the stain can help determine the appropriate cleaning method.
2. Avoid acidic or abrasive cleaners: Marble is a sensitive natural stone that can be easily damaged by acidic or abrasive cleaners. Avoid using vinegar, lemon juice, or other acidic cleaners, as well as abrasive cleaners or scrubbers, as they can etch the surface of the marble and make the stain worse.
3. Try the poultice method: If the brown stain is stubborn and not easily removed with a regular marble cleaner, you can try using a poultice. A poultice is a paste-like mixture that is applied to the stain and left to sit for a period of time to draw out the stain. Poultices can be made from various materials, such as baking soda, talcum powder, or hydrogen peroxide, mixed with water to form a thick paste. Apply the poultice to the stain, cover it with plastic wrap, and let it sit for several hours or overnight. Then, carefully remove the poultice and clean the area with a marble-safe cleaner.
4. Consider professional help: If the brown stain persists or if you are unsure about how to safely clean your marble shower floor slab, it's best to consult with a professional marble restoration or cleaning service. They have the expertise and proper tools to effectively clean and restore marble without causing damage.
Remember to always test any cleaning method or product on a small, inconspicuous area of the marble before applying it to the entire stained area to avoid any potential damage. Proper maintenance and regular sealing of marble can also help prevent stains from occurring in the future.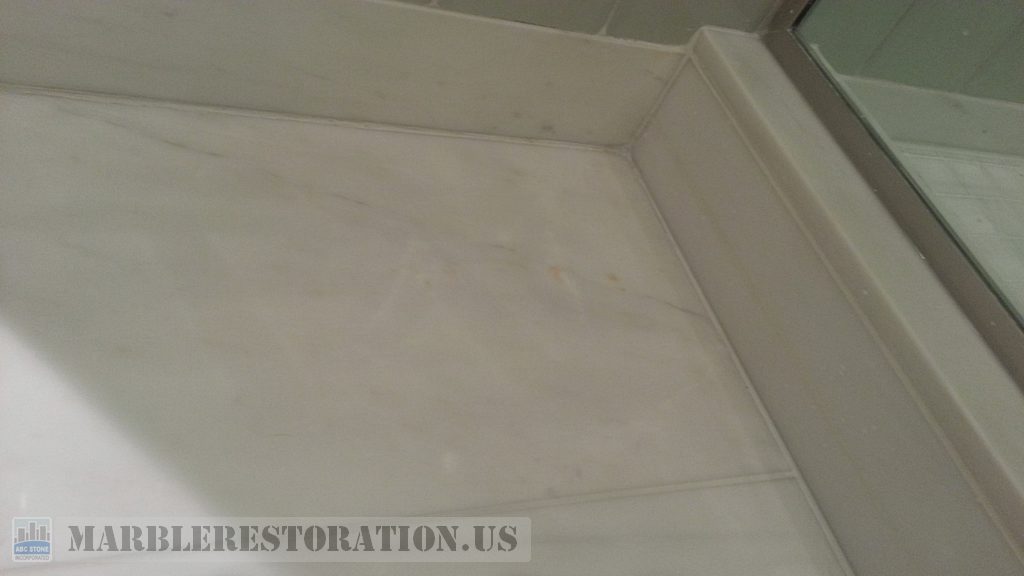 Image Title: Rusty Stain After Removal/Reducing
Submit Your Order or Ask a Question :
When to expect a response?
You'll get a response within a few minutes or hours and usually not longer than 24 hours.
Tags: Before and After
---