Tag: Granite Restoration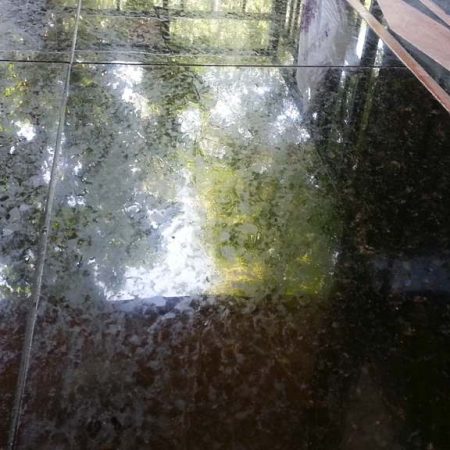 Ubatuba Granite is a dark green or black granite with specks of gold, brown, and green, and it is commonly used for flooring due to its durability and natural beauty. If cracks occur in Ubatuba Granite floor tiles and more...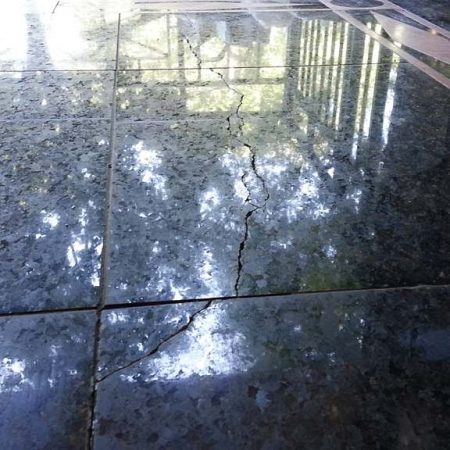 A cracked Ubatuba granite floor tile may have visible fissures or fractures on its surface, which can vary in size, shape, and direction. The cracks may be thin or wide and can run in straight lines or have irregular more...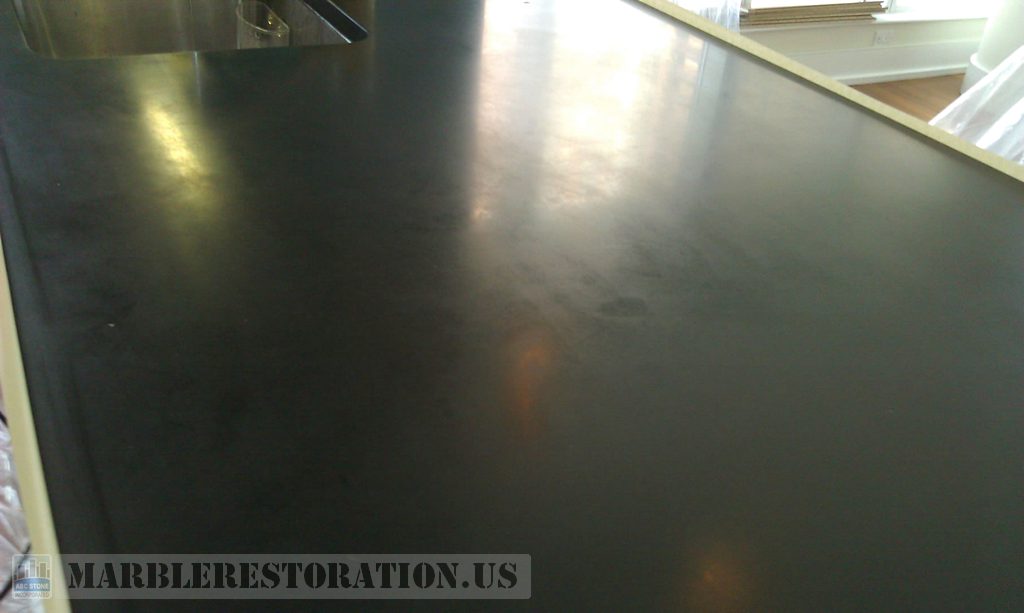 Before & more...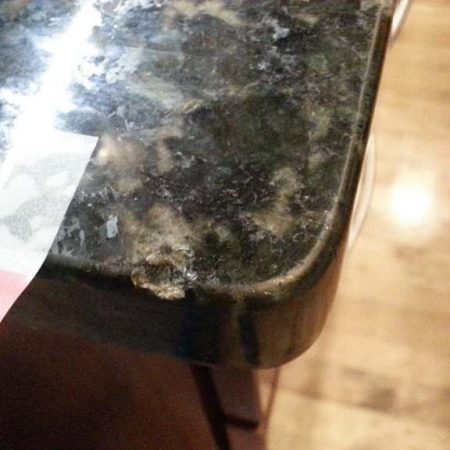 Crystalline granite can develop chipping and pitting since it is made from a variety of different grains, crystals, and minerals with various hardness, that can come out, usually on the edges, or around the sink where more...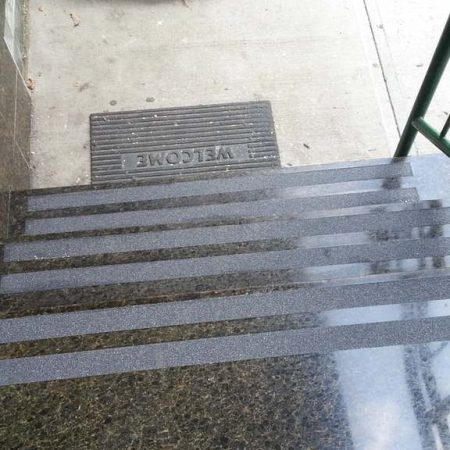 Installing quartz, ceramic, porcelain, and granite steps in a building, commercial, or factory premises as well as on the adjacent street territory is a practical and economical solution. However, with all the more...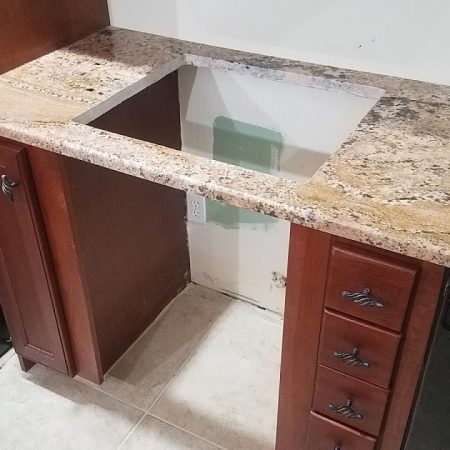 The hole in the granite countertop just cut is ready for installing a gas cooktop. more...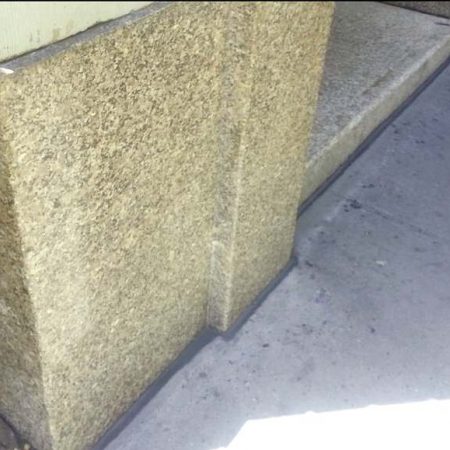 Building facades made from natural stone and other porous materials are constantly affected by freeze and thaw cycles, and require special protection. Extremely sensitive to aggressive influence in a damp climate are more...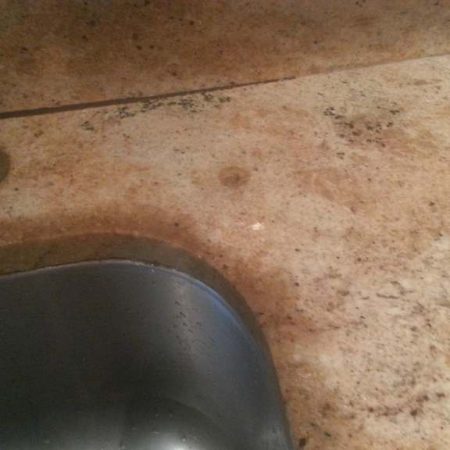 Some advantages of professional drilling : When drilled with a diamond core bit, the structures are not vibrated – this is a guarantee that stone will not collapse; Low noise level; It is possible to work with more...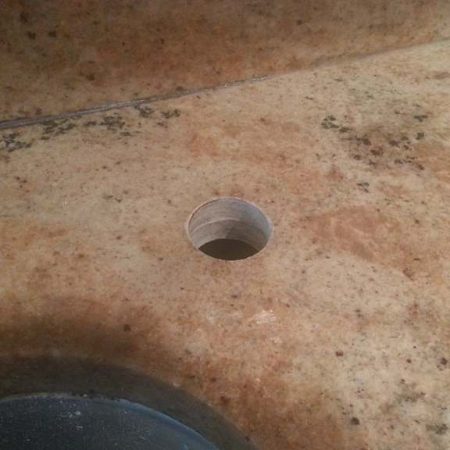 How to Drill Hole in Granite for Faucet. Drilling holes in stone have to be performed with water. Water prevents overheating of cutting edge of diamond core drill bit, flushes the sludge from its edge. This will prolong more...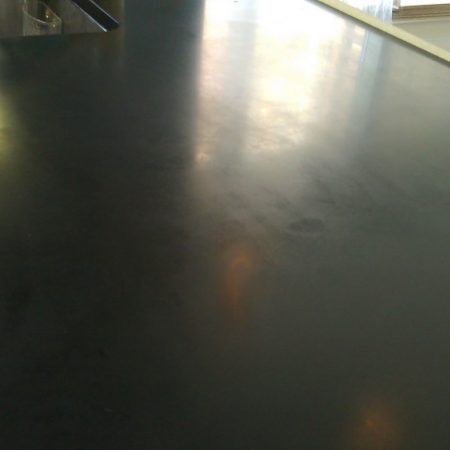 Although the black absolute granite is one of the hardest of granite, its surface still can be worn out or etched buy harsh cleaners and substances like on the picture below. more...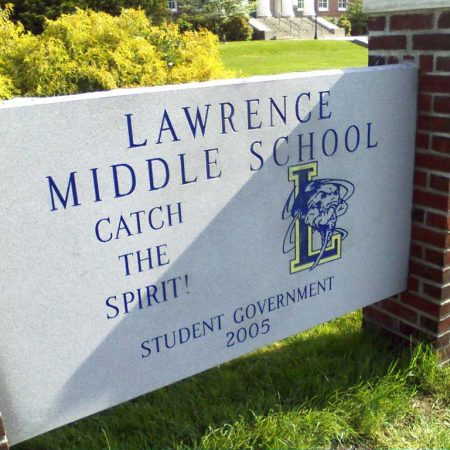 Lawrence Public School engraved granite block after graffiti leftovers removal. Located in Lawrence, NY more...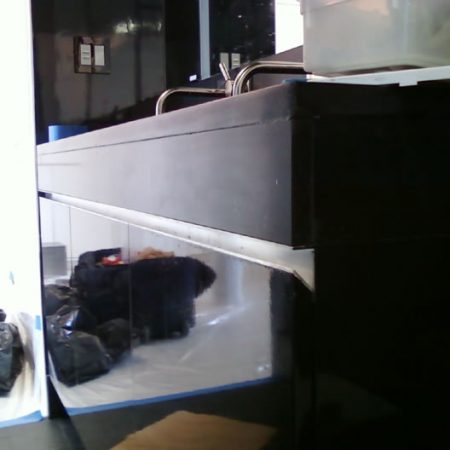 The black absolute counter was unevenly installed with the lip between top and lower panel. more...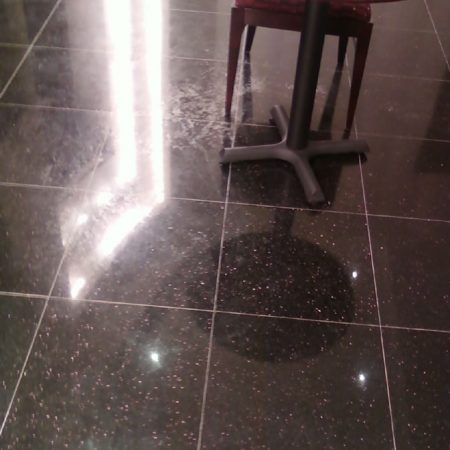 Black galaxy or black absolute granite in most cases have an excellent shining degree and doesn't require any gloss improvement, unless of course the surface is somehow damaged. Restaurant floor in Hotel Four more...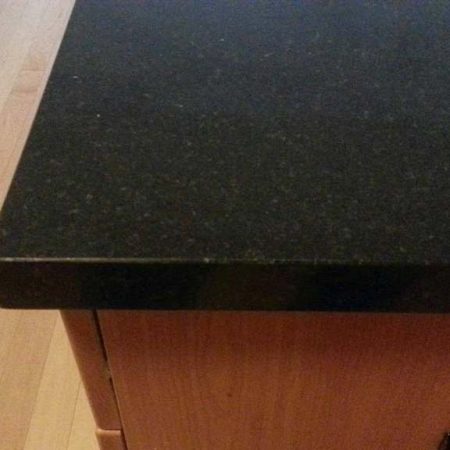 The chip on the granite counter top edge should not be polished with diamond abrasives, but instead the glue excess should be scrubbed off with sharp razor blade, then slightly buffed. more...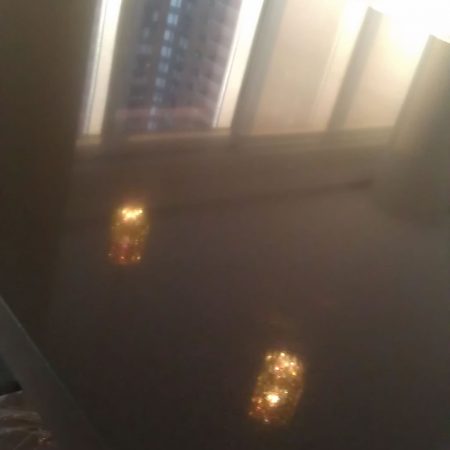 The hardest black absolute granite polishing may take 2-3 times longer than polishing regular/soft marble. more...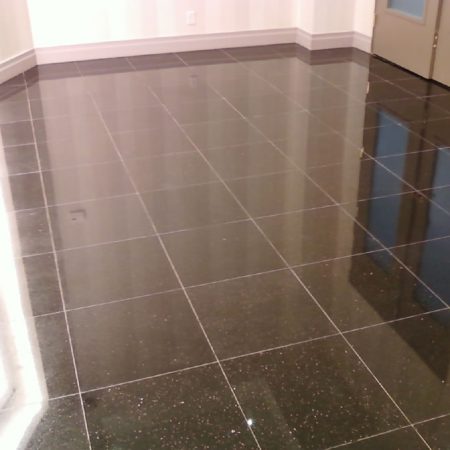 Wax finish was stripped in one night with wax dissolver and floor machine equipped with coarse nylon pads. Located in Hotel's Restaurant, New York NY. more...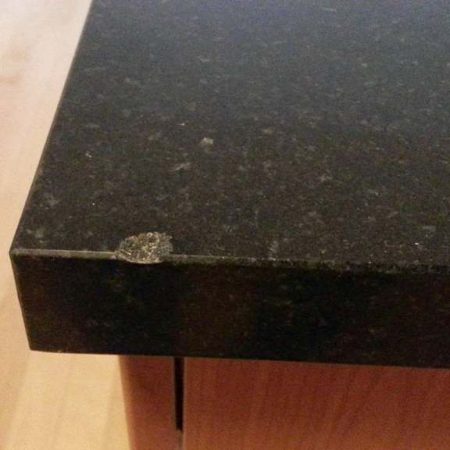 If you've ever had a stone counter top — either granite or marble, then you know how easily it can be chipped. A marble is a soft material and granite often has a crystals, that both can be easy chipped. more...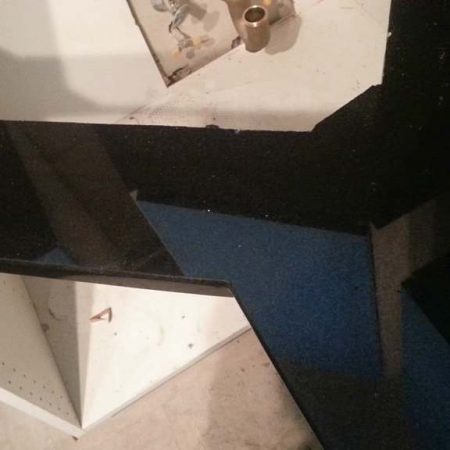 In contrast to marble, granite will not interact with the crystallizer. At the root, the term "crystallization of granite" is not correct, since granite does not crystallize, but can be polished only. In most more...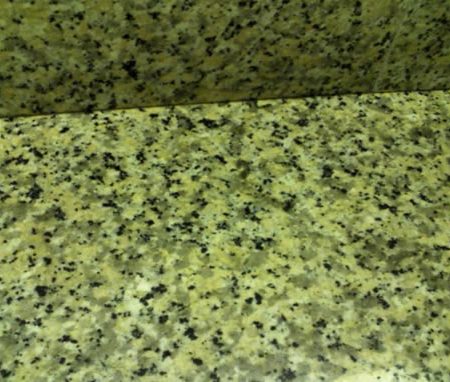 The stain was removed in a few hours by using various chemicals and techniques. To save the time and money  we successfully avoided poulticing. more...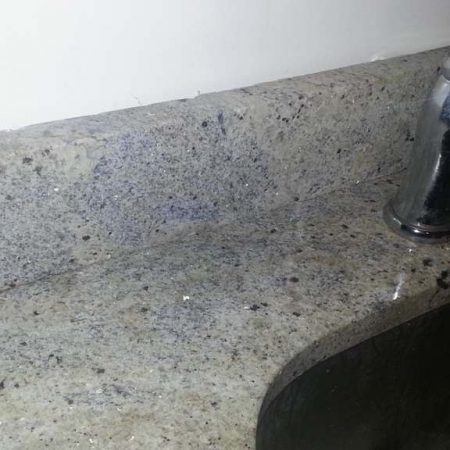 The granite counters and backsplashes are installed with cheap latex caulk that may crack, grow mold and peel off over time. Many times a new houses will settle down causing the caulk to crack between the granite more...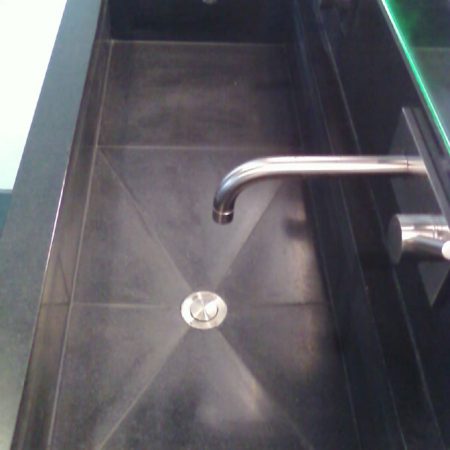 We clean the sink, removed old grout and put new grout into joints. more...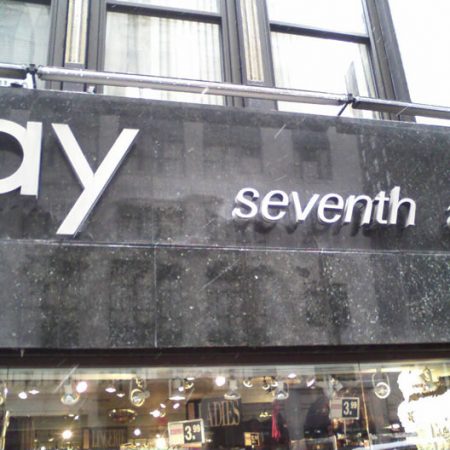 To set the panels back to the wall we have drilled holes in each slab and "hook" them on anchors toward to the wall. To adhere the panels to the wall the outdoor adhesive was used. more...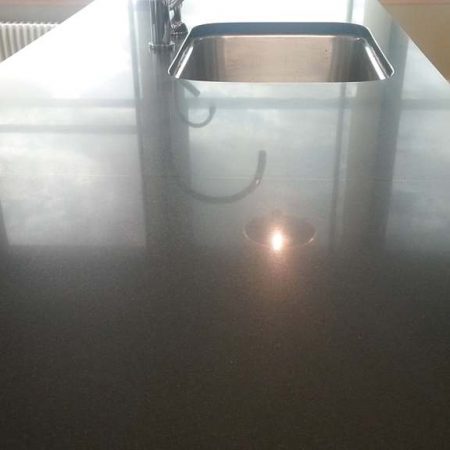 Granite polishing is usually done with an abrasive tool, it gradually move from a grinding tool with large grains to a tool with a smaller grains. Ideally, to get a full gloss on granite, you need to have a set of more...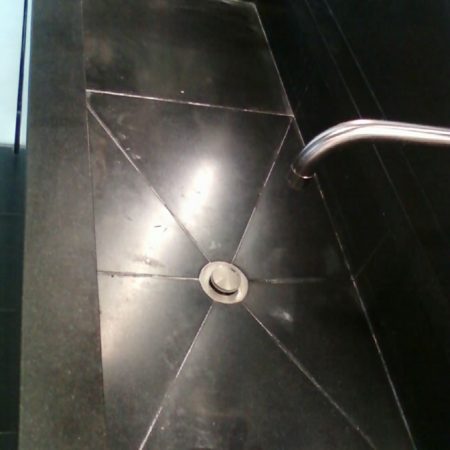 This custom built rectangular black granite sink had joins with white calcium deposits. more...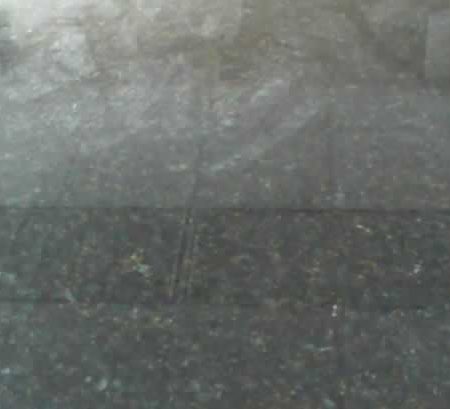 We move this table to new office in Midtown of Manhattan, then assembled and fixed it on site. more...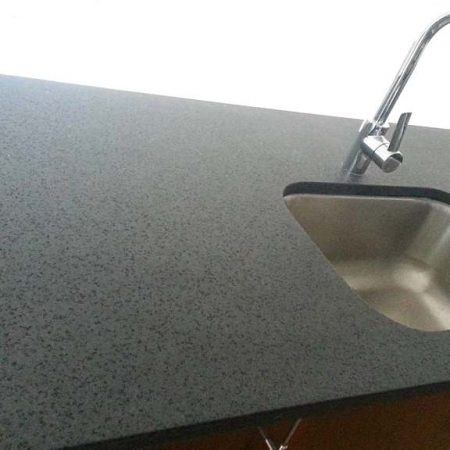 The semi-shine finish gives to surface intermediate between honed and gloss finish. more...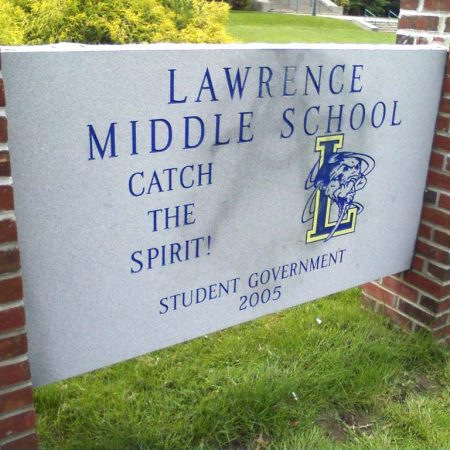 Lawrence Middle Public School graffiti paint removal. Lawrence, NY more...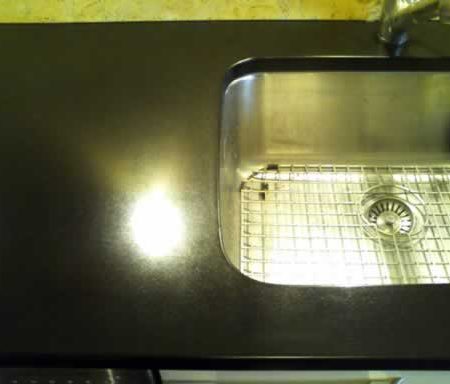 Although the black granite cannot be polished and treated to "factory-like" gloss finish, it can get smooth and even shine or semi-shine finish. more...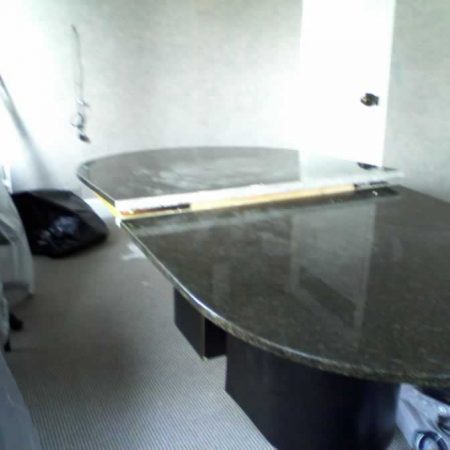 We disassembled this table top and its base in Downtown Manhattan, then moved it to Midtown and assembled in the other office room. more...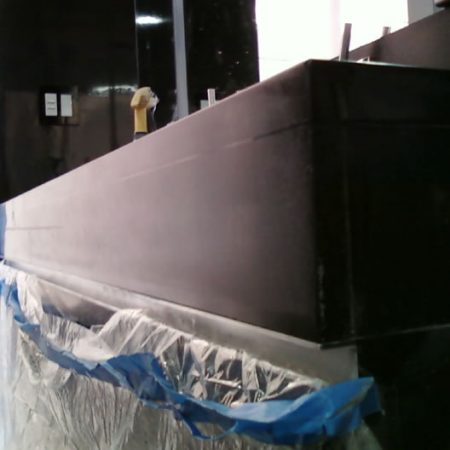 The seam was ground down, honed and prepared to fine polishing. To minimize dust in the living apartment we used vacuum cleaner to catch the most dust. more...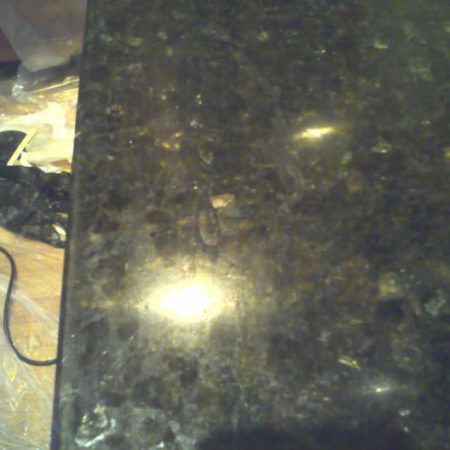 The crack was forced out by rusted and expanded metal bar inside of the granite. more...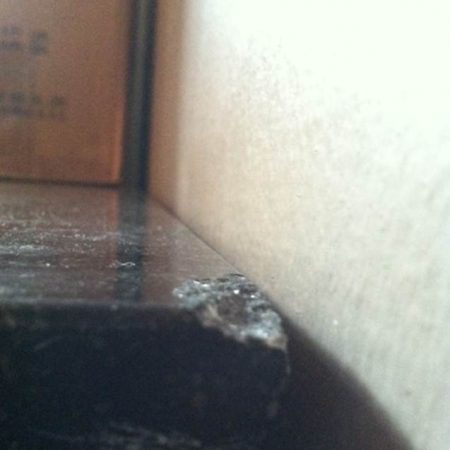 Hello, I just moved from Brooklyn to Riverdale in the Bronx and unfortunately, two corners of the marble top of my sideboard did not fare so well. I would love to know what my repair options are and how much it might more...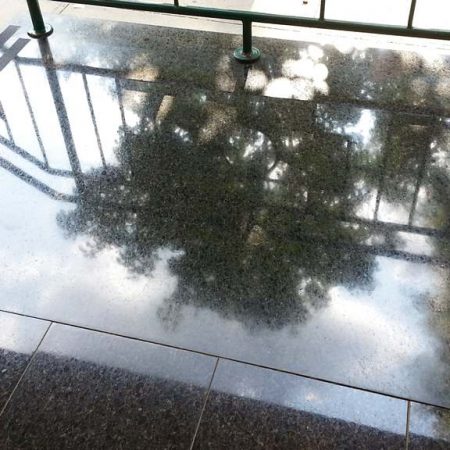 Currently granite is the most popular stone for finishing flooring. Granite floors are well known for their strong physical properties and temperature stability. But, like any stone granite eventually breaks down and more...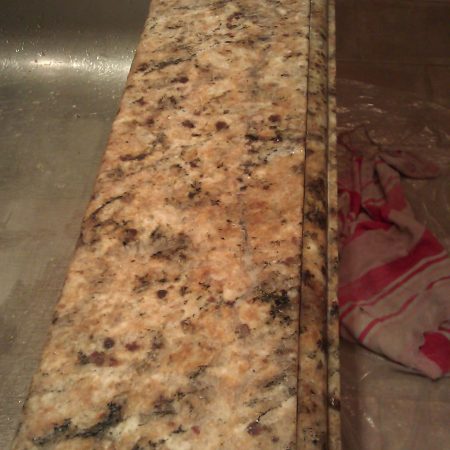 We expanded the crack a little in order to better clean up inside rust, and dry out the inner surfaces. Then filled up with flowing epoxy resin. For better crack hiding we blended a few colors of resin. more...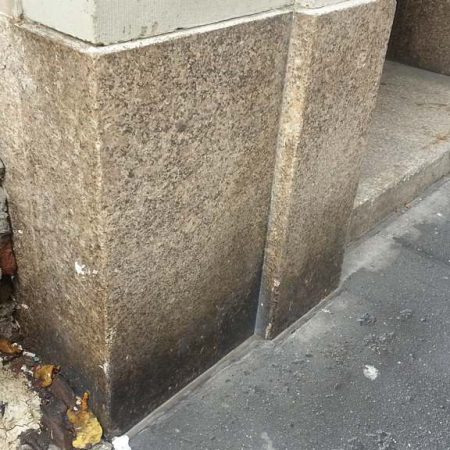 Granite is a very beautiful natural material, it is very popular for decoration in premises, decor elements, etc. Often, granite is used for facing facades and finishing various elements of buildings. The influence of more...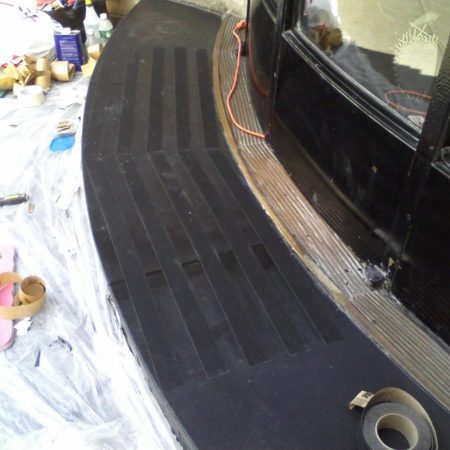 Anti-slip (non-skid) tape installation and seam repair on the granite step. Petrossian Caviar restaurant at 911 7th Ave, New York, NY 10019. more...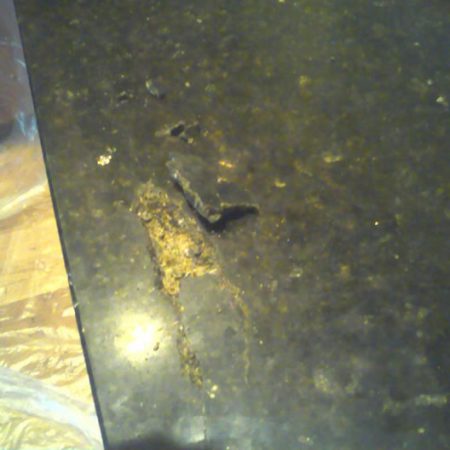 In order to strengthen a weak part of counter top  a stone fabricators use a metal rods/bars for purpose to strengthen a weak part of counter, in most cases it's around sink cutout or narrow and long more...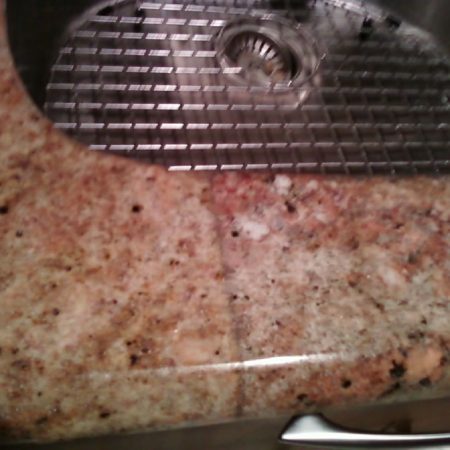 Front seam of golden oak granite countertop was filled up with colored epoxy, flattened and polished to less obtrusive appearance. more...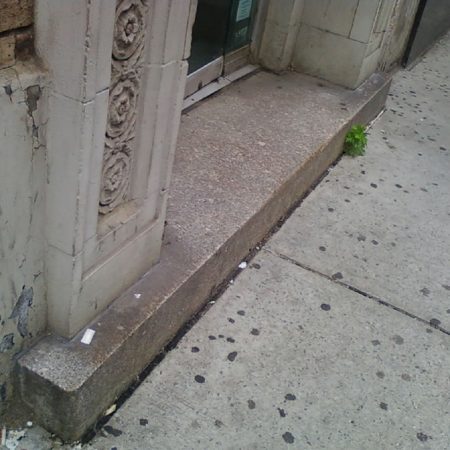 Granite is a natural type of stone, which is often used on outdoor steps, thanks to its strength, frost resistance, and beautiful appearance. But every stone, including granite steps, eventually loses its appearance more...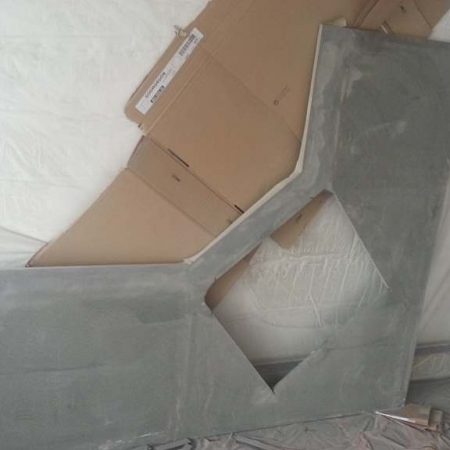 The double edge on the black granite counter was cut off into the original 3/4″ thickness (flash edge). The cut made a lot of dust. Although the apartment was under construction, we covered all surroundings and more...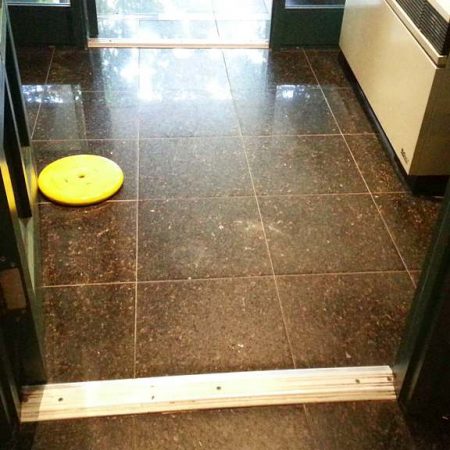 Why the granite restoration process is important? First, it is worth comparing how the granite looked before and after polishing. Also, if the granite contains many cracks, scratches, scuffs, and dingy spots, then the more...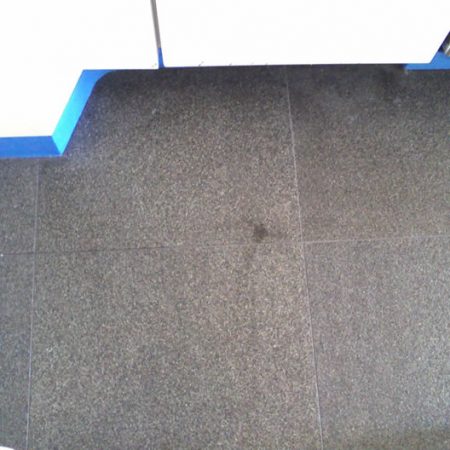 How do I clean the undesired stains? The faster you wipe away the leaks, the better your chances of cleaning effectively. You can use soft marble cleaners from the local store, or you can make your own cleaning agent, more...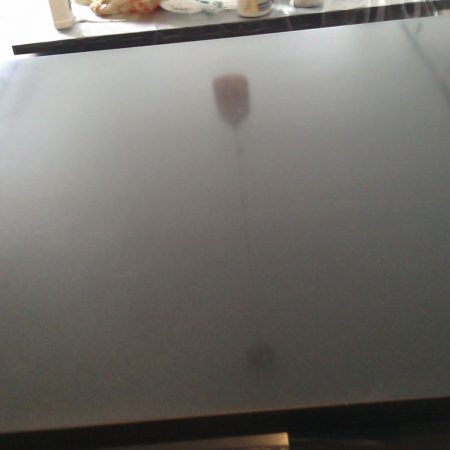 To polish black absolute we use the full set of diamond pads starting from 500 and finishing on 3000 grits and buff pad. Then we use diamond buffing compound especially designed for granite shining. more...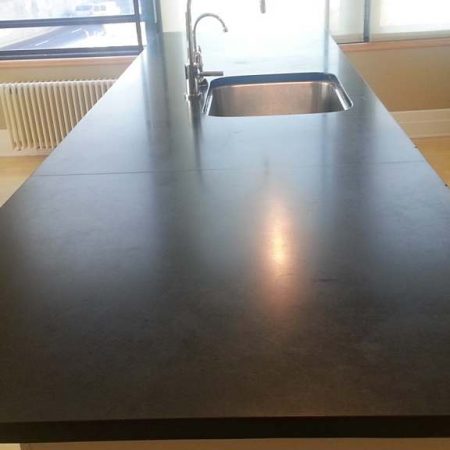 Granite countertops – the most practical choice for a kitchen. They are not reacting with acids and they are very difficult to scratch. As a protective measure remember the following rule: try to remove spilled more...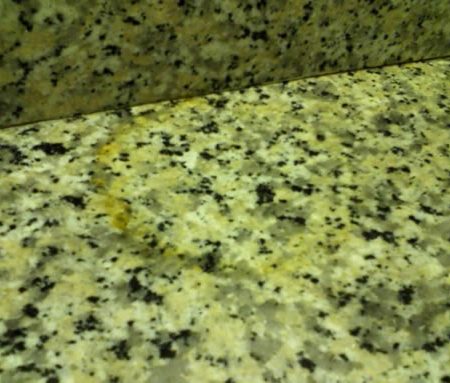 This undesired stain caused by metal can left on granite for several days. Regular cleaning was useless. The de-staining service has to be provided. more...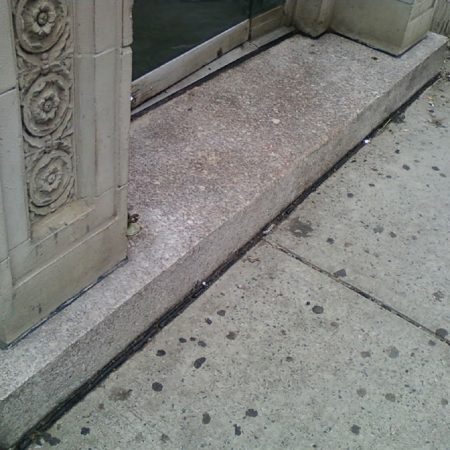 The block was cleaned by using industrial strength alkali. That is a very aggressive chemical and would completely destroy if applied to dolomite or calcite based stones or if used improperly. Step was exposed to the more...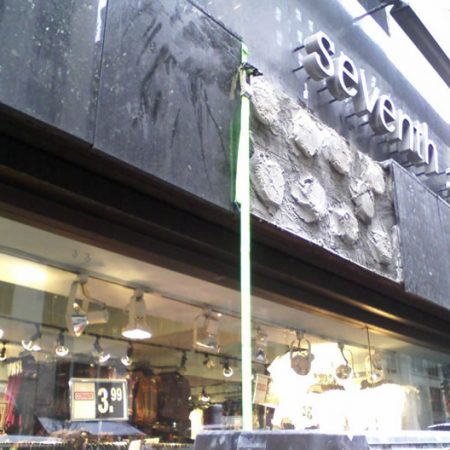 The granite slabs were sagged and loosen due to the weather environment (poor structural installation) and threatening to fall down on the busiest street in Manhattan NY. Emergency attention was required. more...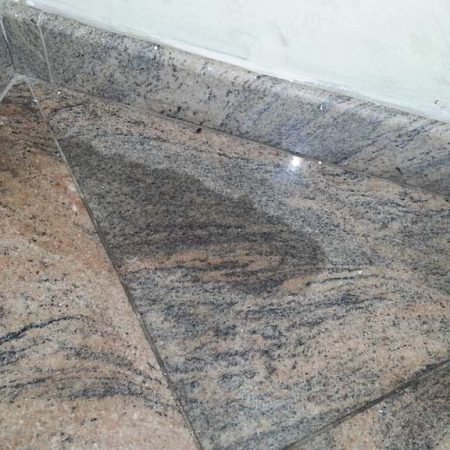 Granite does not require special maintenance conditions, such as floors and products made from marble. The dense structure of granite, in most cases, does not allow moisture and dirt to soak into the pores, forming more...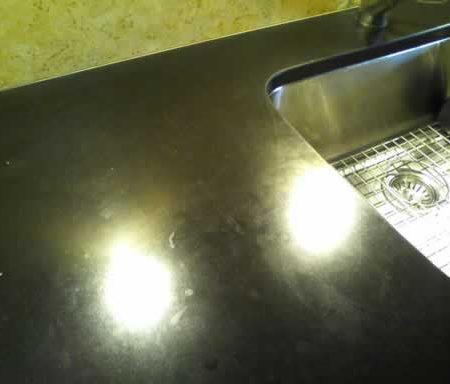 Often a black granite got marks similar to etchings, but actually the granite cannot be etched with mild acid or alkali. Such splotchy marks can be left by mechanical pressure, sliding kitchenware, cutting on the more...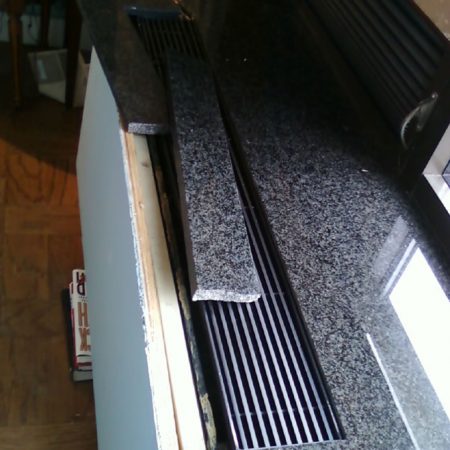 The top is cracked due to looseness of radiator wooden frame/cabinet. more...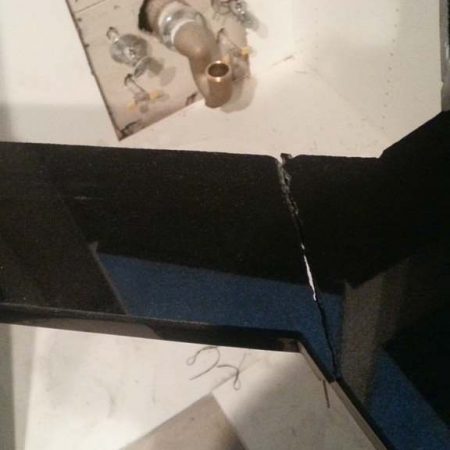 Cutout for sinks or cook-top are weakest areas on a counter, and the most potential spots for chap cracks to happen, as there is most concentration of internal tensions over an entire counter. more...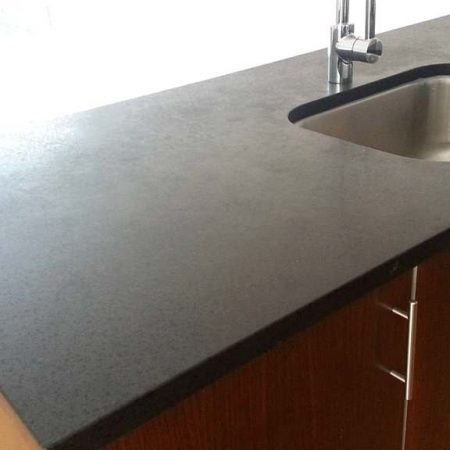 Granite as a finishing material has a lot of advantages: it is a variety of colors, natural pattern uniqueness, and high resistance to adverse effects. It is widely used in countertops, floors, facing facades, more...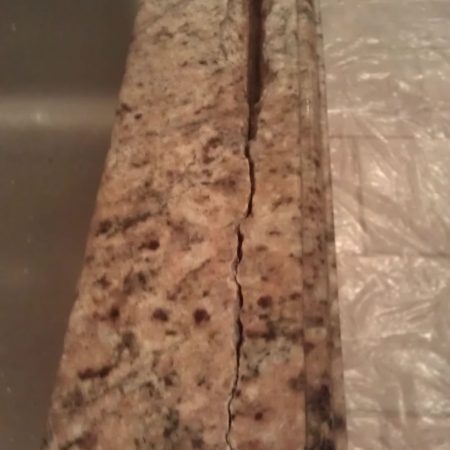 Spalling and cracking on granite are a very common problem, especially on areas like by a sink, where metal rods are starting to rust and expand. The complexity of the work will depend on the specific case and how more...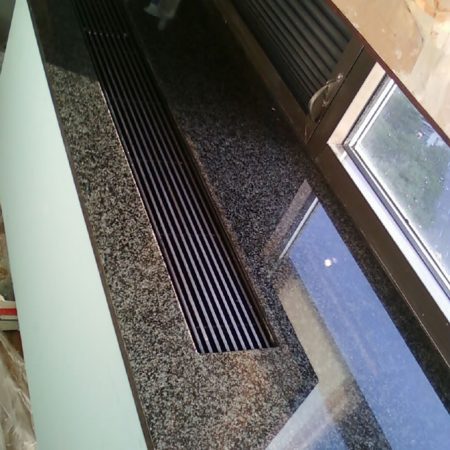 To repair and hide the crack lines to unnoticeable – the multi-colored epoxy was used. more...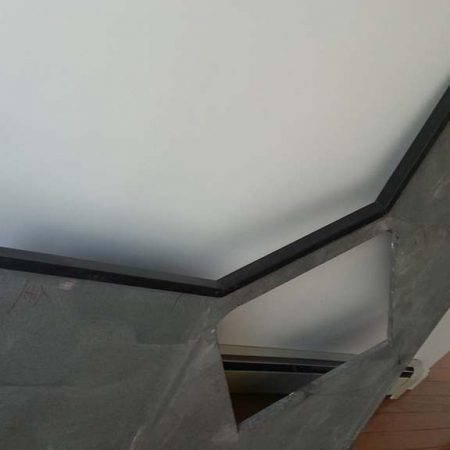 Prior the installation I need my granite counter double edge shaved down about 1/2 inch. Job would need to be done in home. more...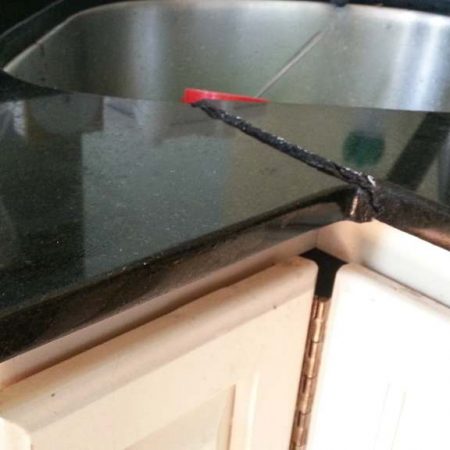 Granite crevice repair is quite a demanded service, which we are performing constantly. As a rule, at most this applies to granite tiles and granite countertops. Of course, granite crevice reparation should be more...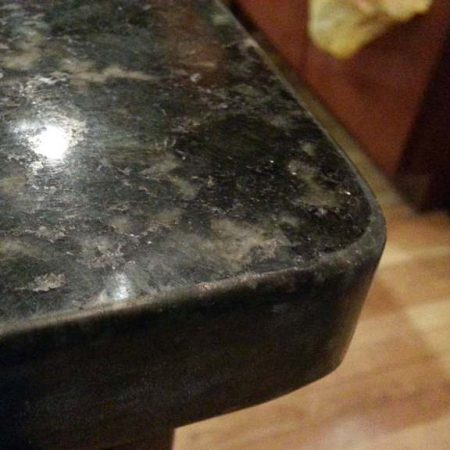 We put tape on the area around the chip and put some epoxy to fill up the gap and spread just little above stone surface. We use epoxy and and mix color toners in the epoxy to blend the chip with best color more...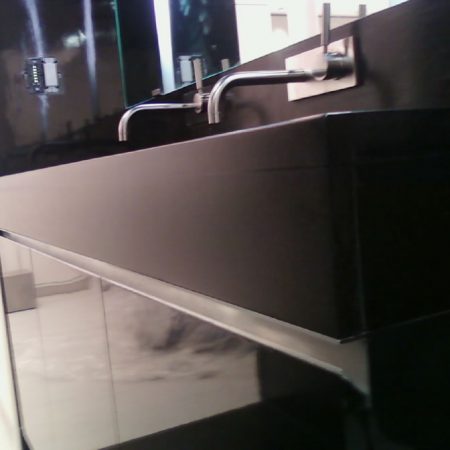 The initially the top edge and the vertical panel were installed uneven (with a lip), we grind the granite down to make it flat, and then successively polish it with various diamond pads and abrasives to lackluster more...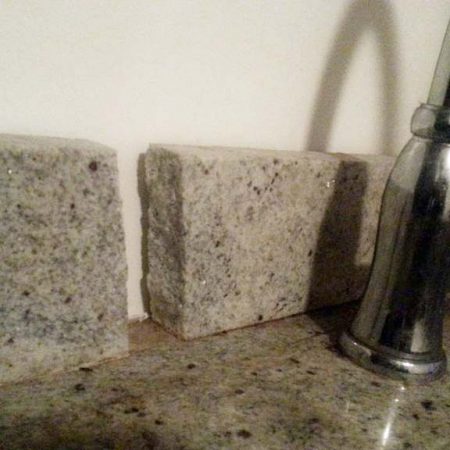 In fact, after the backsplash crack restoration, it will be visually intact. Outwardly, nothing will show its repair, it will be possible to notice the traces of restoration only under the magnifying glass and knowing more...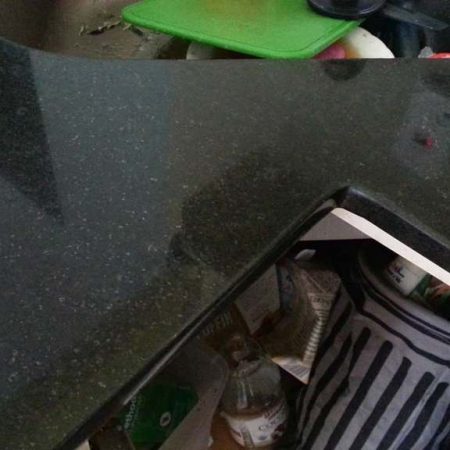 Cracks in granite are repaired by filling up with epoxy to glue pieces back together. But the crack will remain visible and uneven unless the area around the crack is sanded and properly polished. Filling the cracks more...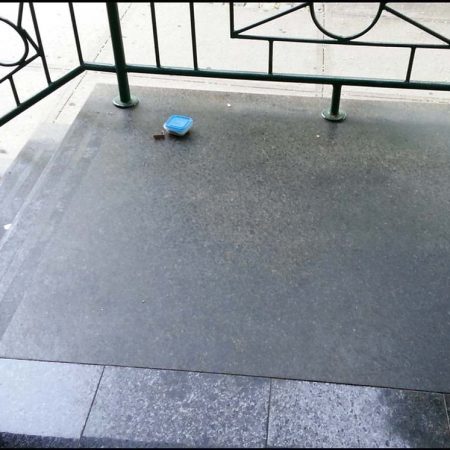 No matter how resistant and durable a stone, every cleaning, every season and pollution leave traces and scuffs on it. Modern methods can significantly restore and protect the granite surface, as well as completely more...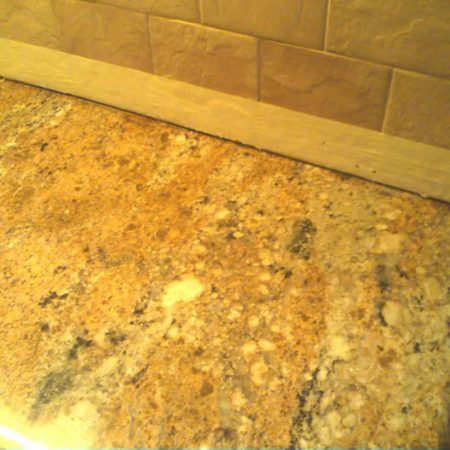 We replaced the single color seam by the tiled backsplash with a few colors, then made excess epoxy removal and polishing. It made it less obtrusive. more...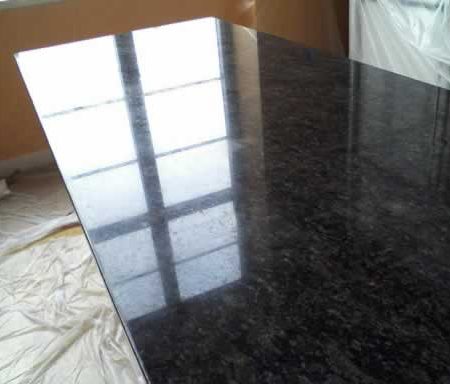 We've removed some old epoxy from top of the seam, then clean up the gap with acetone and fill in with new epoxy. more...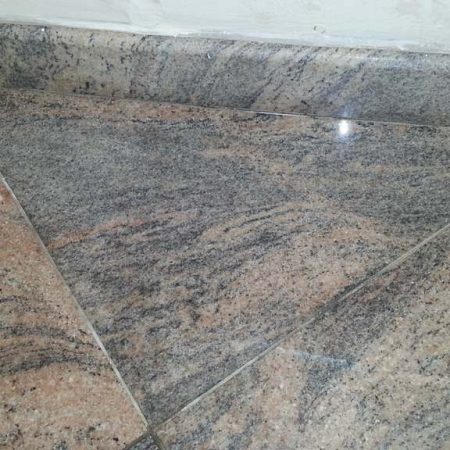 Granite is known as impervious to liquids and is actually less absorbent than a marble. However, if a substance like oil will soak into a granite floor, it will leave a dark-colored stain, that could be extracted and more...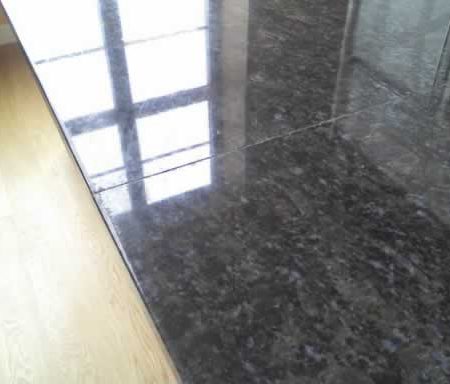 The poorly filled seam on this counter island is very obvious and deep. More likely it's because of poor installation, also it may be happened by using a strong cleaner that could dissolve and remove some glue more...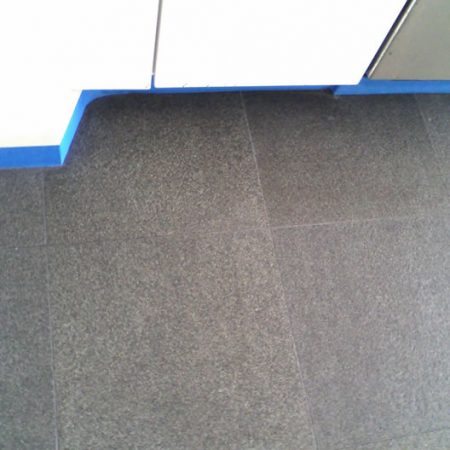 Picture of the gray granite with flamed finish after specks removal. The oily stains were removed with peroxide and heat in a couple hours. more...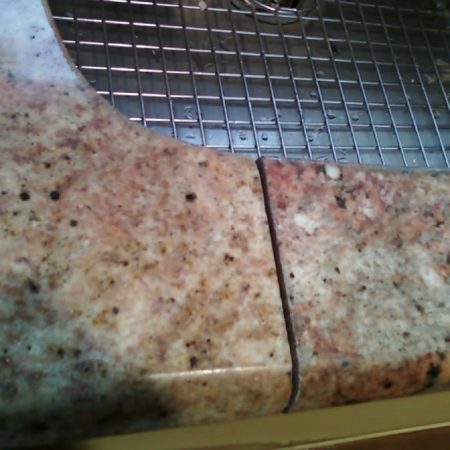 This dislodged seam expansion caused by shifting down the opposite side of the entire slab. To fix it we lift up and support the entire slab, then re-bond the seam itself. more...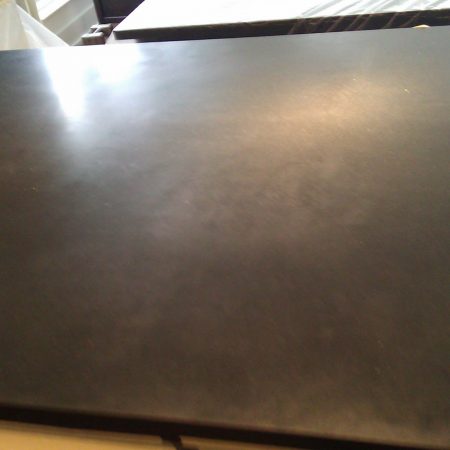 Granite is unlike a marble for the care and cleans up. Granite is much harder than a marble, and in most cases cannot be etched as easy as marble. Though sometime we can see some etches on the granite countertops from more...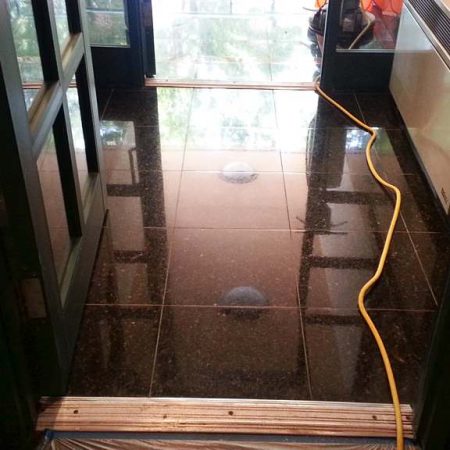 The price for the granite floor restoration depends on a lot of circumstances. It matters both age and granite color. A big role is played by granite quality. Granite floor grinding is not performed on those surfaces more...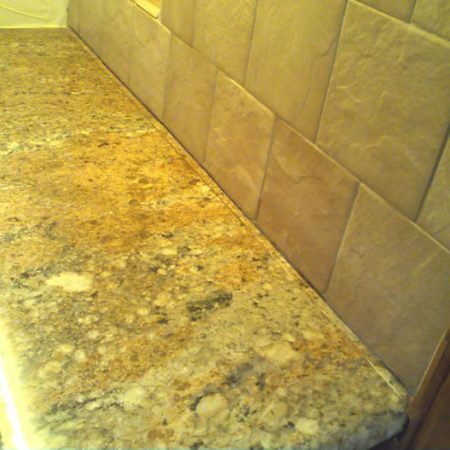 Since the installer of counter applied just one color to fix the seam it appears noticeable and could be re-bonded and improved. more...
---