Countertop Restoration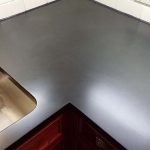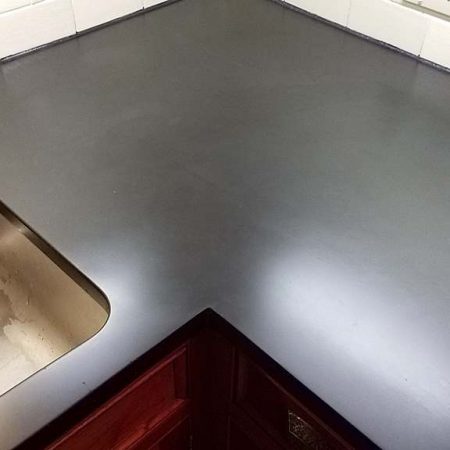 If you have spilled or dropped something on slatestone, try to remove it immediately with a sponge or a rag soaked in warm water. Do not leave a spillage on over night. If you have just spilled something, wipe it more...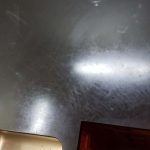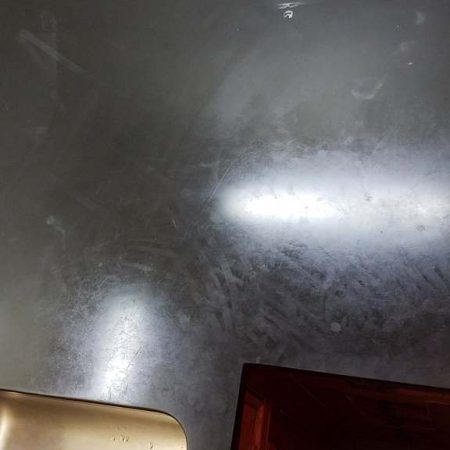 Its name was given to slate for its ability to shale, i.e., split into thin plates. This property acquired by this stone due to a large number of hydromica, which is located in its thickness. Slate consists of more...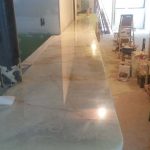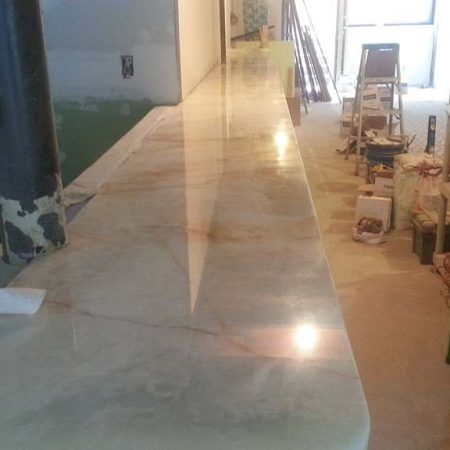 Grinding and polishing onyx is identical to polishing marble. In polishing can be used crystallizer, buffing powder, diamond pads as for processing granite. The cracks repair and re-bonding are done in a very similar more...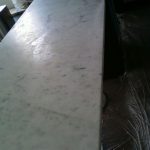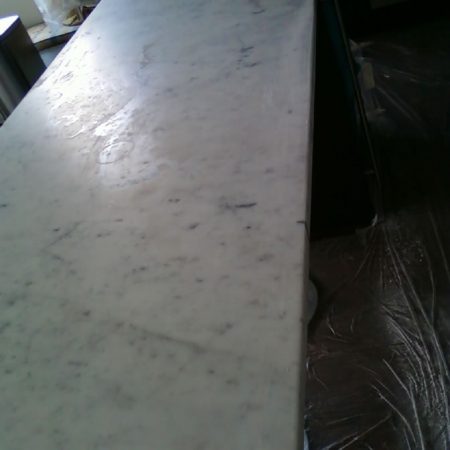 Some drawbacks of a kitchen marble countertop. It can get damaged from time to time. Kinds of damage may include scratches, stains, cracks, loss of shine, etches, ring marks, spottings, etc. It is here that we enter more...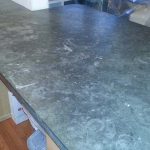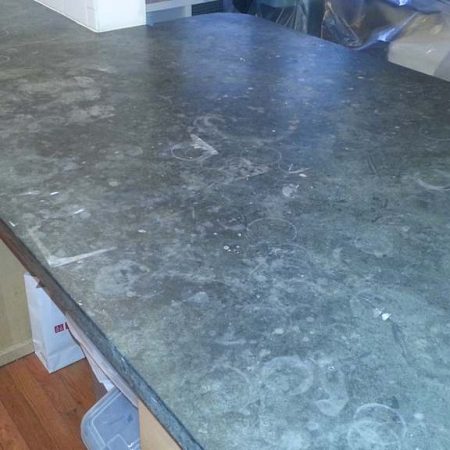 It is absolutely counter-indicative to apply for cleaning marble usual caustic household cleaners: a washing powder, cleaning powders like Ajax or Domestos. The substances contained in them can destroy the structure of more...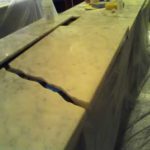 This piece is located in the busy retail store in Manhattan NY, so for convenience, the dislodged chap piece was fixed during night time. more...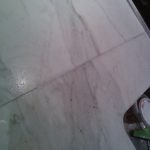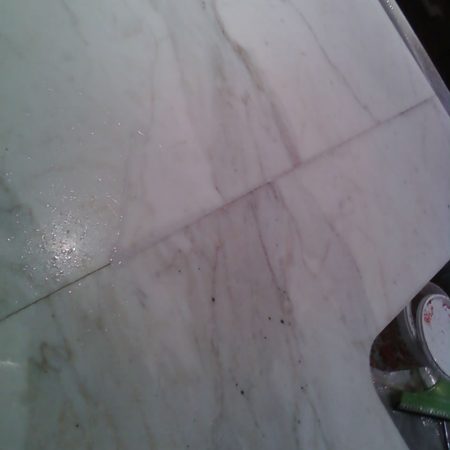 You can clearly notice lifeless and greasy surface that definitely will require the topical refinishing or at least deep cleaning and sealing. Additionally, there is a poorly filled seam. more...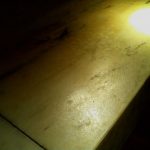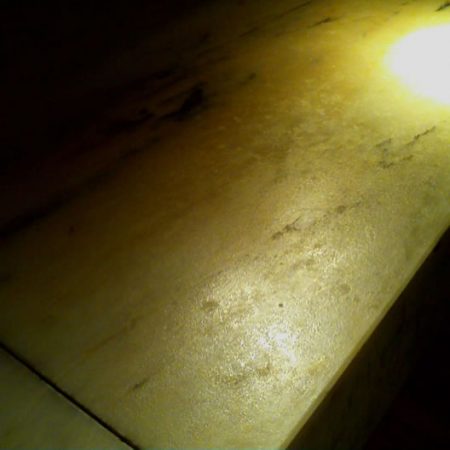 This disrepair marble bar top is located in a nightclub in Chinatown New York, NY. As you can see in the picture the bar was heavily used, as I guess with a lot of spills of various drinks on daily/nightly basis more...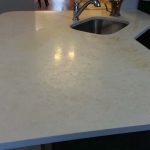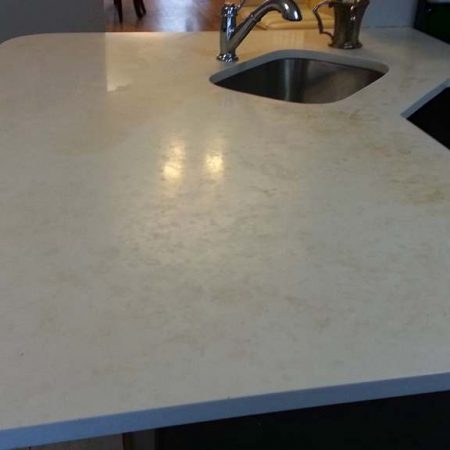 It is important to remember that a Corian (despite it's man-made stone) can be spoiled by any acids: sour berries and fruits, general detergents and others. In the case of acid spilled on Corian, it is important more...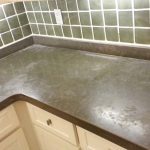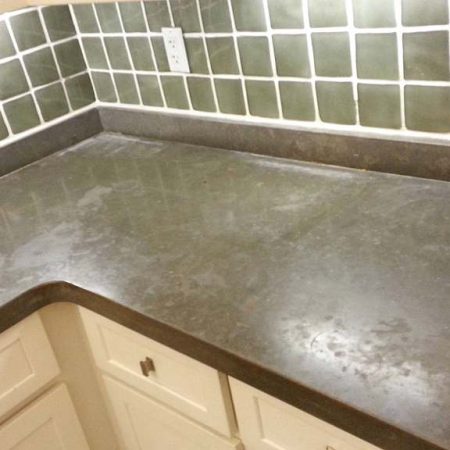 More often than not, customers call us for polishing countertops service and restoring tabletops because of the fact that marble countertops are susceptible to stains and with time passing lose its elegant appearance. more...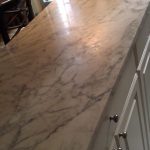 The way to remove this etches and ring marks is by polishing the marble in the same way as it was done on the factory on the time when it was fabricated. more...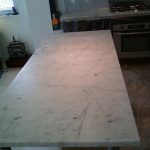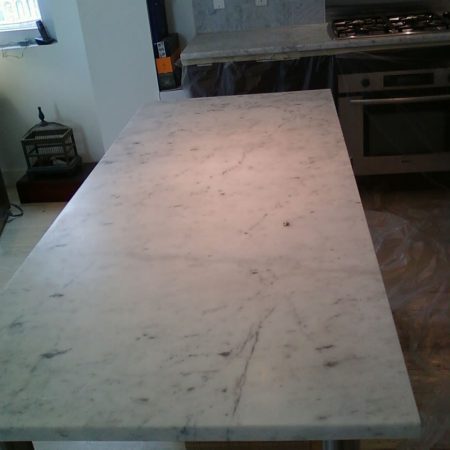 Do you have a marble countertop or an island top in your kitchen? Then by now, you should have realized that it takes a lot of work to keeps your marble looking clean and new all the time. The most of new marble slab more...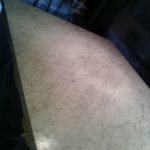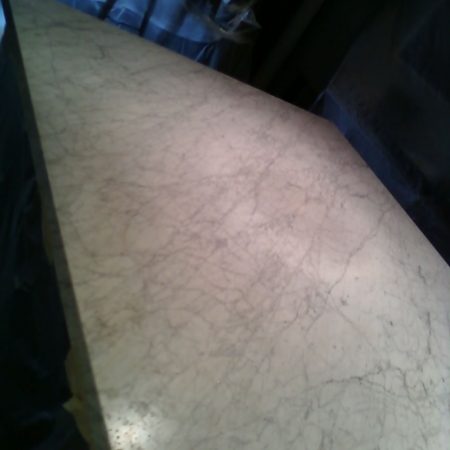 This beautiful benchtop had normal daily wear and tear signs on its surface. The top will be restored by "removing the top layer of marble" by grinding, polishing and buffing. Material White Carrara more...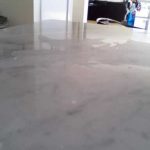 Did you not take proper care of your marble countertop? Did your stone original shine was replaced by dull wax build-up? Were you unable to bring back your amazing stone to its original beauty? Did not satisfied with more...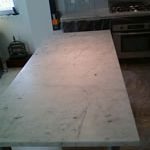 Have a Dull and Scratched Counter Tops? You spent a lot of money installing a new countertop or purchased a home with marble counters and you'd like these surfaces to be really clean and shine? The good news is more...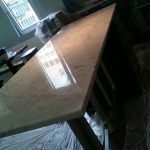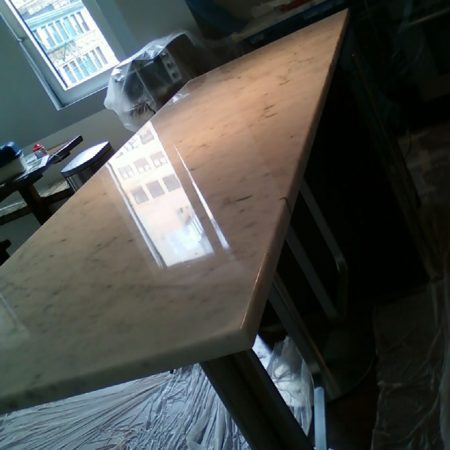 This countertop was revitalized, all etches and scratches were removed. Floor was protected by drop-cloth from water drops, splashing and other possible work dirt. more...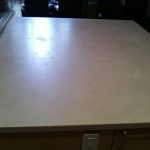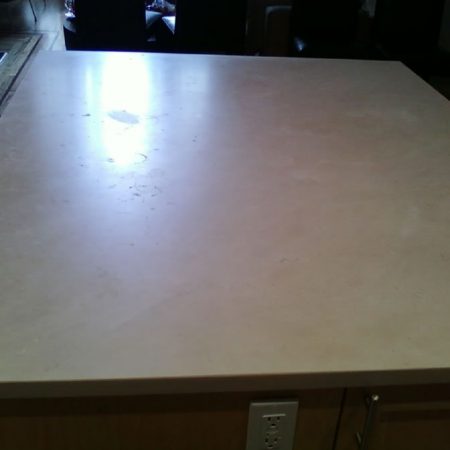 Crema marfil kitchen island, water rings and dull spots removal. Picture before removal. Some kinds of marble can be etched by slightly acidic liquids or even just with tap water if leave on surface for long time. So more...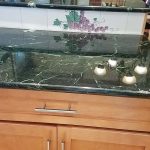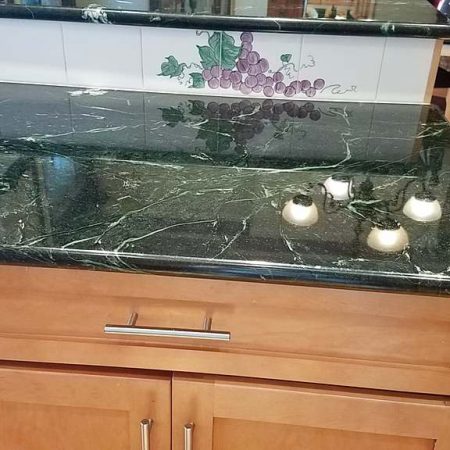 As a result of honing, polishing and regular buffing the Vermont Verde surface becomes shiny but the color will be slightly muted, and the picture of the stone patterns will not be clearly seen. To give to the Vermont more...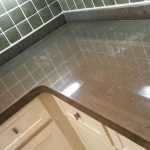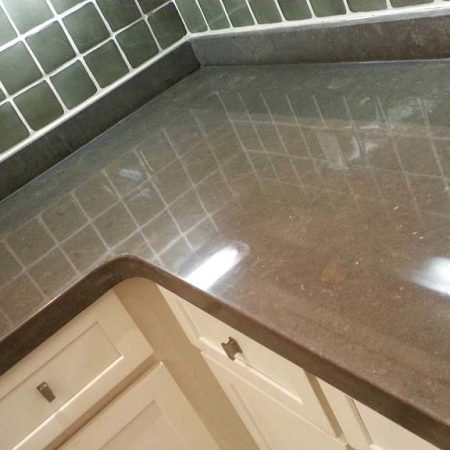 Restoring the pristine surface shine can be achieved by its proper polishing. This procedure should be performed by companies specializing in stone restoration and not by general contractors. Diamond buffing will make more...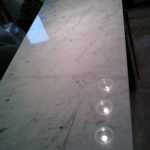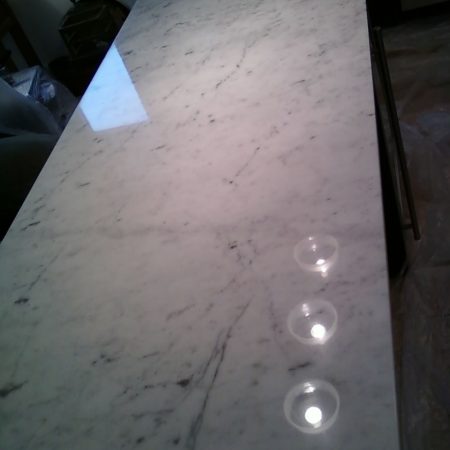 Kitchen White Carrara countertop after shine restoration with a glossy finish. All scratches and dull spots were removed. The top was repolished, buffed and sealed. A perfect reflection of the overhead light more...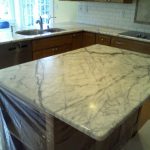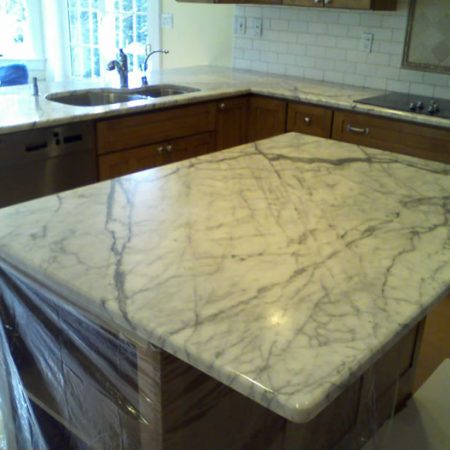 Marble Benchtop/island lost its initial sheen due to daily usage, such as cooking, eating, keeping appliance/cookware, cleaning etc. more...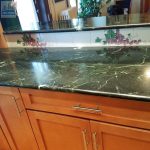 Picture of Dull Black Vermont Verde Marble Counter before polishing and crystalizing. more...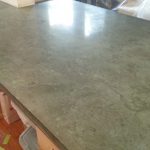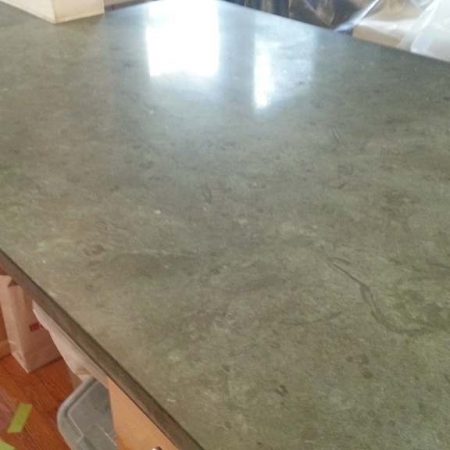 If you have a limestone counter top in kitchen, try using cutting boards for cutting food. Place glasses only on coaster cup pads, especially for glasses with wine or juice. Place hot dishes and pans only on protective more...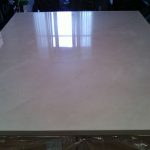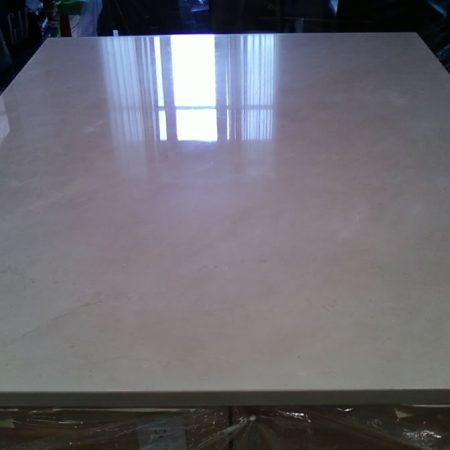 Crema marfil countertop after water marks/rings/stains and etches removal. more...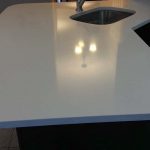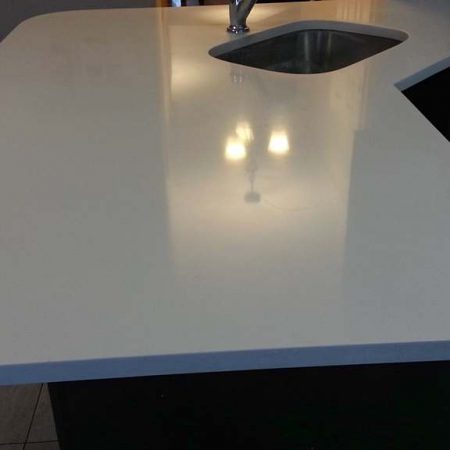 It should be noted that all works related to care and repair of stone surfaces should be performed in strict accordance with all guidelines and rules. In addition, the work should be performed by specialists who have more...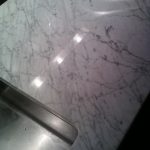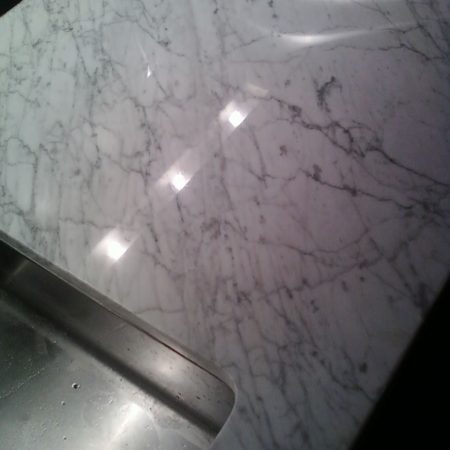 Counter now have the even glossy finish. White carrara buffing required a specific approach to achieve the gloss evenness. Due to different chemical composition of white and gray parts, they can react differently on more...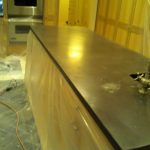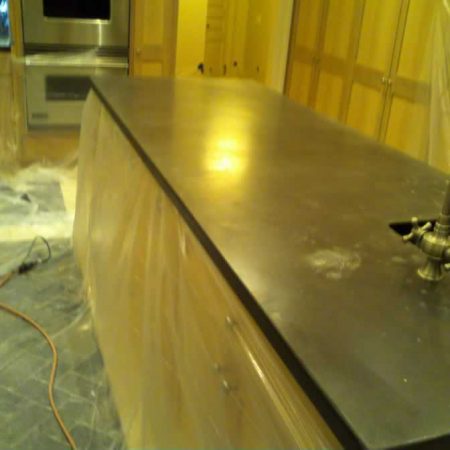 The concrete is relatively soft material and can easy loose the shine, showing wear and tear signs which occurs as a result of normal wear and aging on counters. more...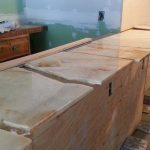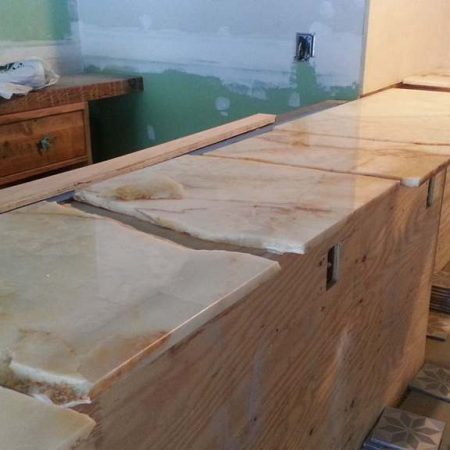 The physical properties of some stones do not always allows it to be used in areas with high traffic or high humidity, in sanitary zones, etc. Ideal use of onyx is for a small items, like window sill, door saddle, more...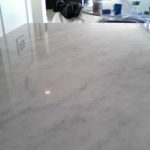 Wax finish was stripped from surface, cleaned and buffed. The polish or shine finish is not from the application of a product on the surface. This can be confusing when some "topical" products are called more...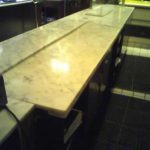 The crack was fixed with precolored 2 component epoxy and some adjustments such as leveling and jointing. Was done at night shift by one person. more...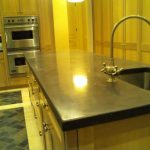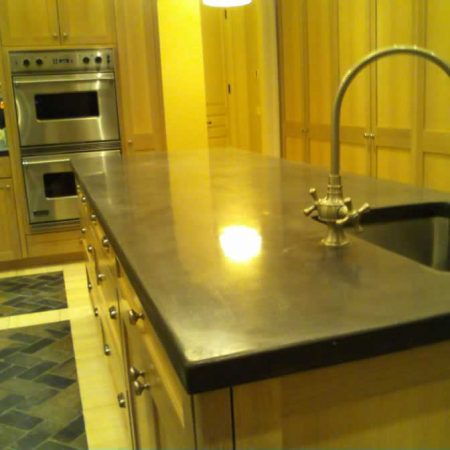 The concrete is not a marble and require some other methods of polishing. To avoid exposing of a sand from the concrete body the slight polishing and buffing should be applied, avoiding deep grinding. more...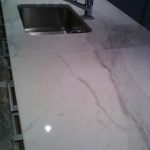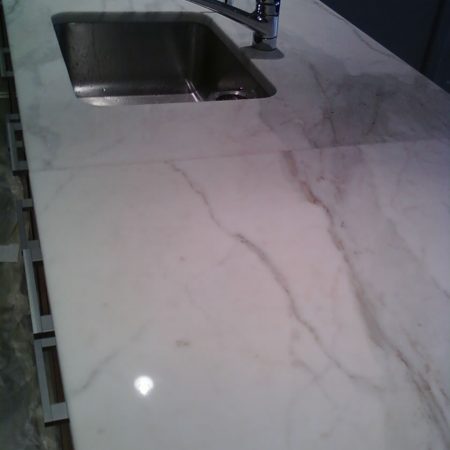 This beautiful Calacatta Gold marble counter was polished, buffed and sealed. more...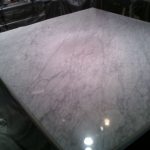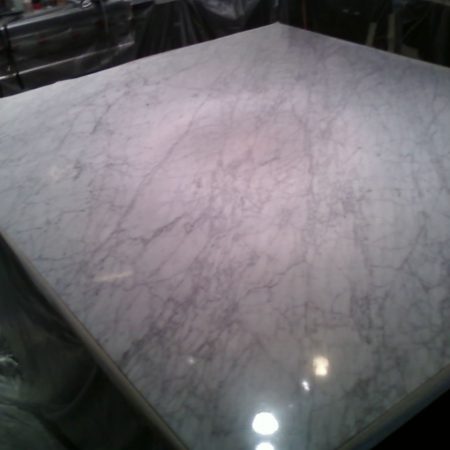 Benchtop was resurfaced by grinding, polishing and buffing. more...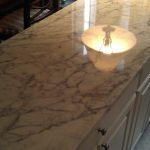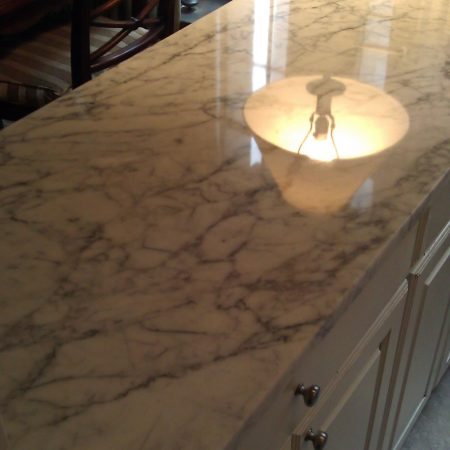 Kitchen marble bar top. Etches were removed by polishing with diamond pads and buffing with buffing compound. Then sealed with "BulletProof" stone sealer. more...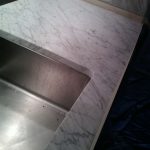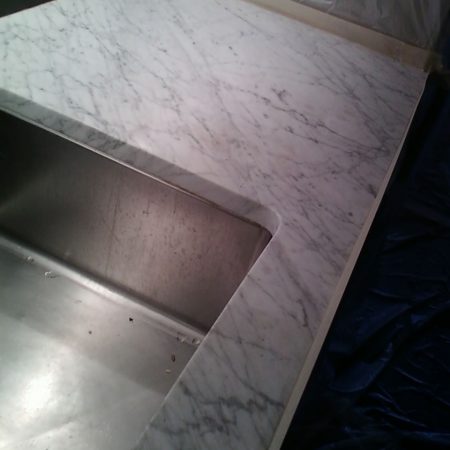 Matte or Honed finish on kitchen counter top will be turned to shine finish by refinishing technique. more...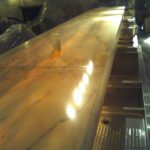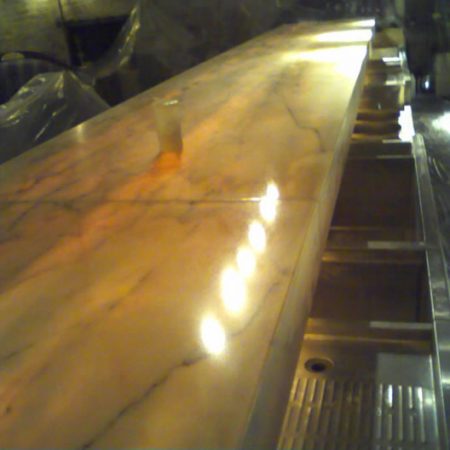 Marble bar top after restoration. It was deeply grind, polished and buffed. Erosion and roughness removed. Restaurant in Chinatown Manhattan NY. more...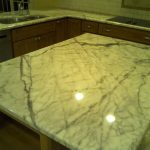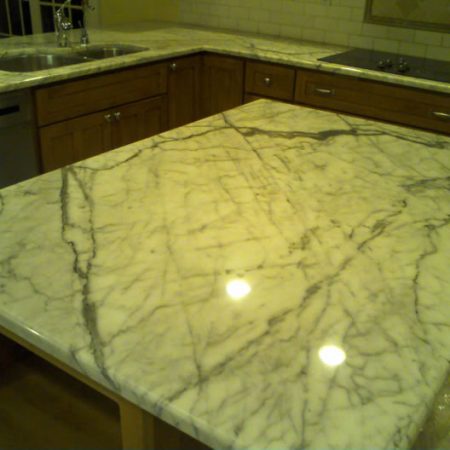 This marble island was repolished by electric polisher and diamond pads such as #200, #400, #600, #800 grits and then buffed with "Dia-Glo" buffing compound, and then sealed by "Rapid Cure more...
---