Shower Restoration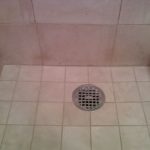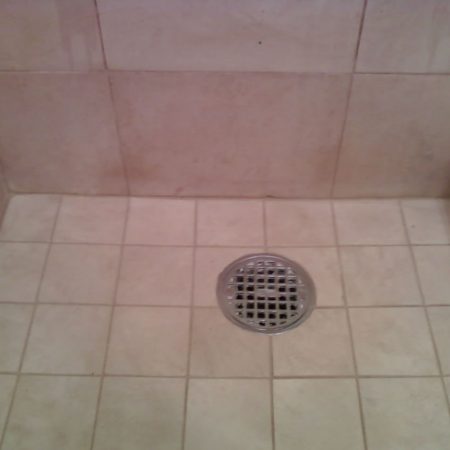 This shower stall and saddle had deep mold, hair dye residue, etching, and deep stains. We restored the marble and eliminated all the deep stains and deep mold with a special paste (also known as a poultice). We then more...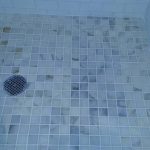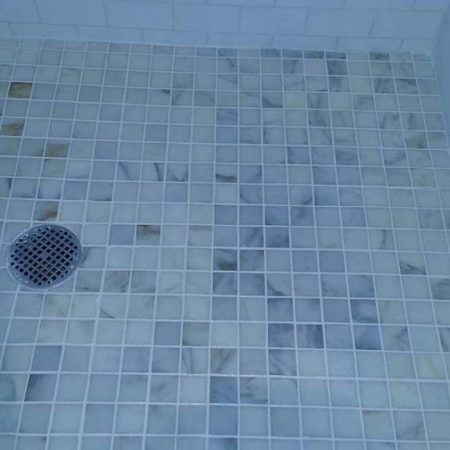 As you can see in the photo, we restored not only between the tile seams but also removed yellowing and stains, eliminated the traces of efflorescence on the stone by deep grinding and chemical treatment. The general more...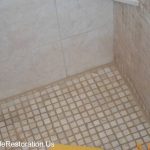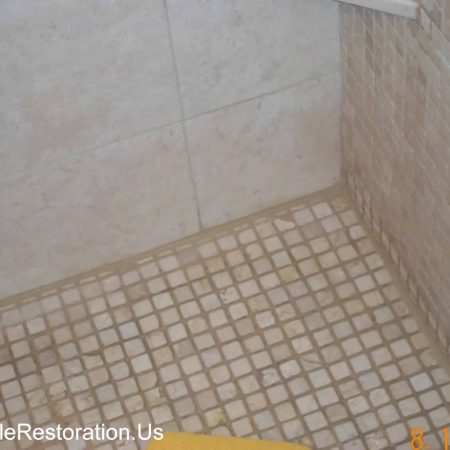 The picture shows the marble mosaic shower floor after cleaning. Grout & marble was cleaned and mold removed. Then all shower surfaces were resealed. more...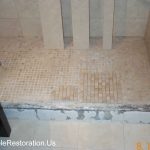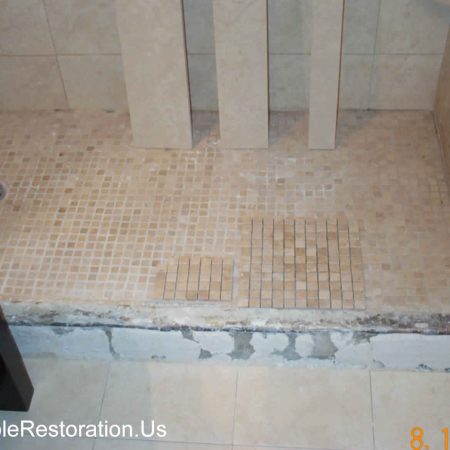 Picture shows marble shower and saddle parts before repair. Shower had mold on the floor and soiled grout. Removed old shower saddle for replacement. The old shower threshold was removed and the new pieces fabricated more...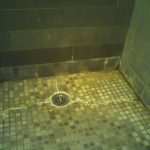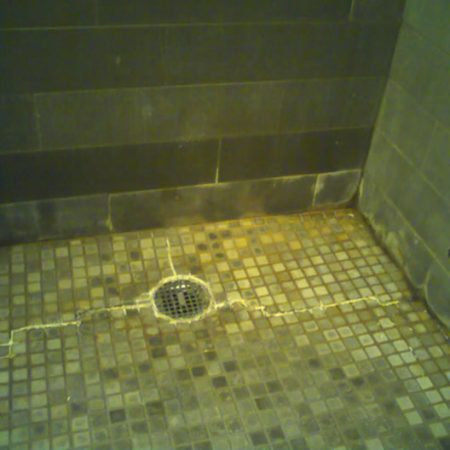 If water comes out from underneath marble shower floor, that is a more serious issue as it has soaked throughout tiles or seams from the bottom to the surface, leaving salt deposits and other compounds on the more...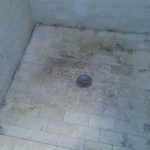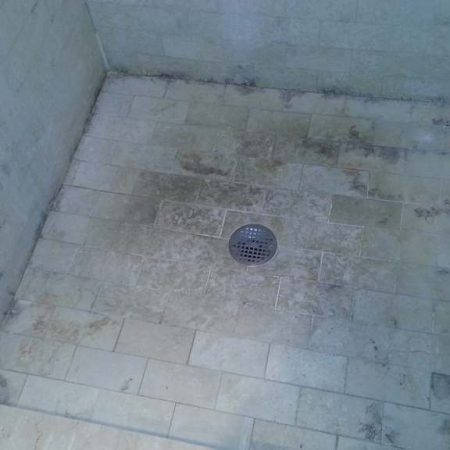 Shower Mold Removal. Undesired toxic black mildew can cause problems such as mold illness, mental disability, damaging internal organs, allergic reactions, etc. If you don't take care of mildew in a shower, it can more...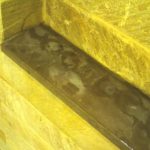 The marble in the bathroom/shower/kitchen is susceptible to stains and maybe not the best choice especially if you heavily use it unless you are crazy about marble beauty and willing to spend some money on maintenance more...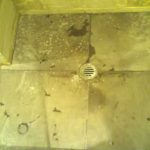 A few folks understand how to use general cleaners and how chemically caustic aggressive cleaners can severely discolor or stain the marble tiles. To avoid that you have to follow the manufacturer's more...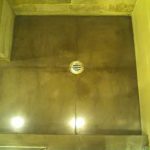 The floor was severely burned and discolored with caustic harsh cleaner. We have revived the shine and the color with polishing and sealing. more...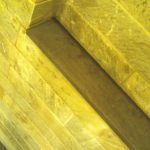 A shower shelf is susceptible to stains and most time is under the influence of different chemicals and many of them are not marble friendly. It can be shaving liquids, soaps, shampoos, skincare products, hair dye, and more...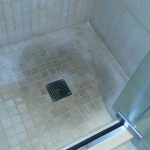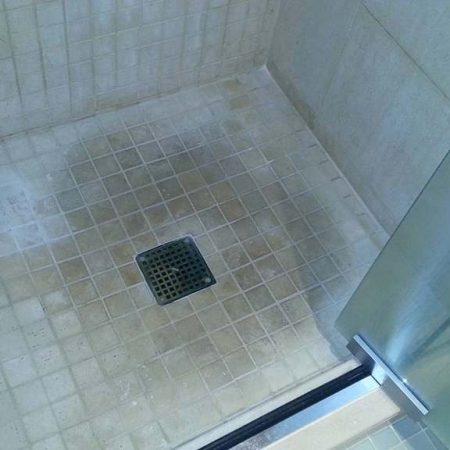 If you have a limestone shower, wipe surfaces with a rubber squeegee after each shower-taking so that dull soapy marks and grime are not deposited to marble and grout. Try to wipe the shower daily. Marble is more...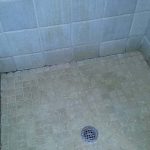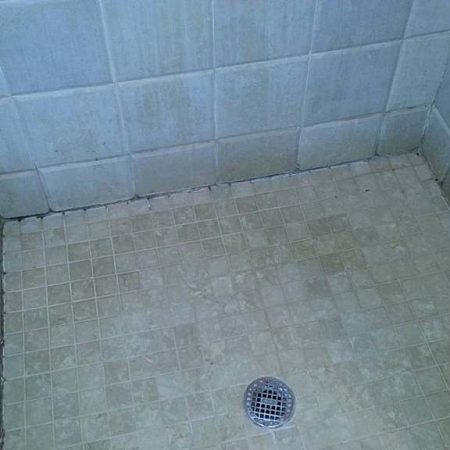 A fresh sealant can be removed easily from most types of surfaces – just wash it off with warm water and soap. However, after drying it may be a pretty tough task. Most often, various solvents can be used for more...
A shower cabin is wet and humid area, especially if there is not a window, it's the perfect environment for a mold developing. So the mold can be either removed/cleaned or molded grout and caulk changed. more...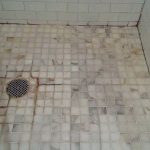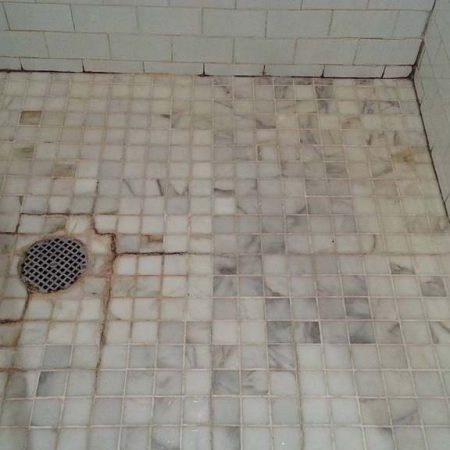 The shower floor restoration was started from polishing with coarse diamond pad, the buildup is hard enough and the fine diamond pads are not able effectively to remove it. Also, when grinding with coarse pads, the top more...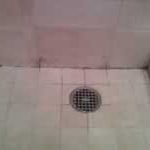 Got a Marble in Your Shower Dirty and Dull? Marble in a shower can get damaged easily, especially if it not well cared for. Whenever the marble shows signs of age, they are in need of restoration. This might be the more...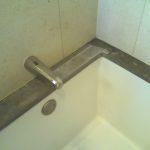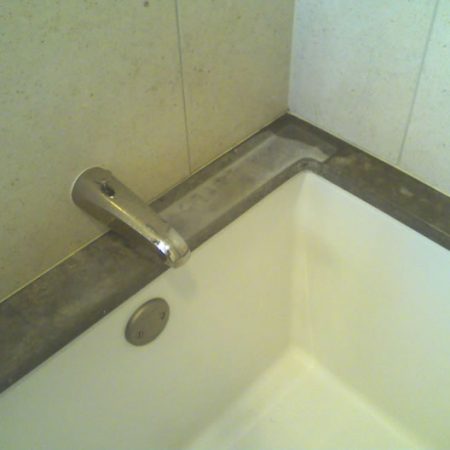 The more you concentrate on maintaining your marble in a bathroom the better would be its shape which would need less restoration cycles and price. more...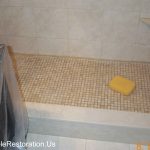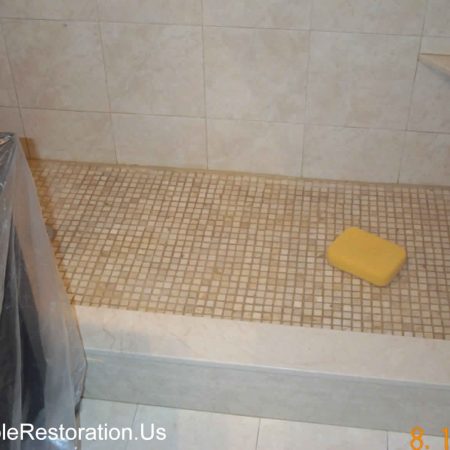 The picture shows marble walls and mosaic shower floor. The floor was re-grouted,  sealed and new saddle installed. more...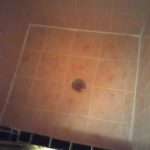 Re-caulking corners and seams of all surfaces in a shower stall are an important stage in the repair of the entire bathroom. If moisture constantly percolates behind shower walls and floor, this can lead to the growth more...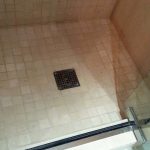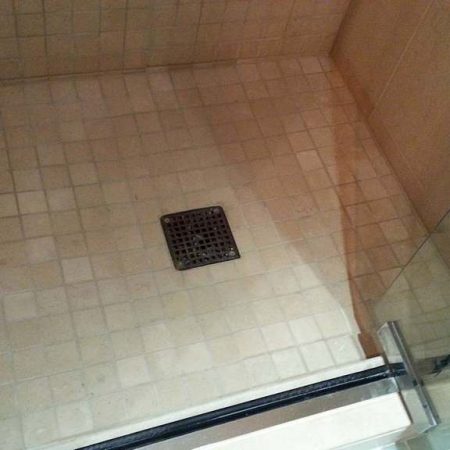 Marble shower restoration is difficult and quite costly work. That's why you need to pay special attention to preventive activities, and also timely clean and restore it. So the marble in the shower will retain its more...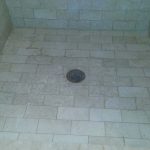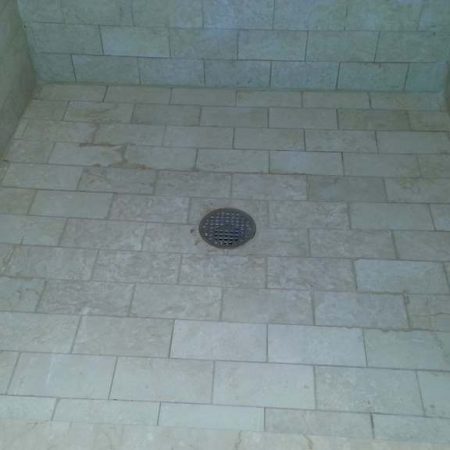 Dirty shower tile and grout stains can creep to everyone, on beginning day shower are clean and the next month dirt covers the shower tiles. Your marble shower floors and walls start out in brand new shape and of more...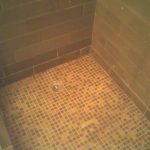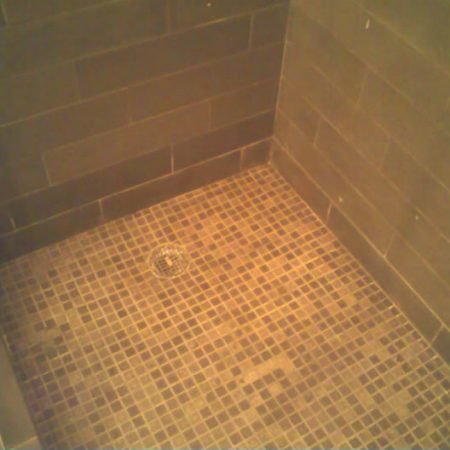 Here we removed mold from walls, cleanup the mineral deposits, fix grout cracks, remove stains, polish and seal. more...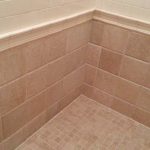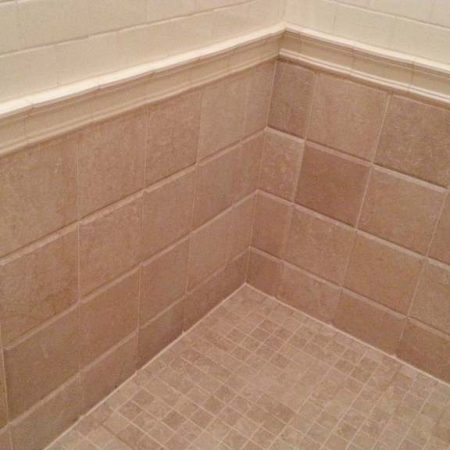 Maintaining travertine shower surfaces their best appearance requires some extra attention when it comes to cleaning and sealing. Use a cleaner that is safe for a marble, not containing bleach, ammonia, vinegar or more...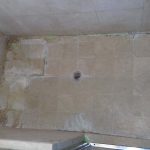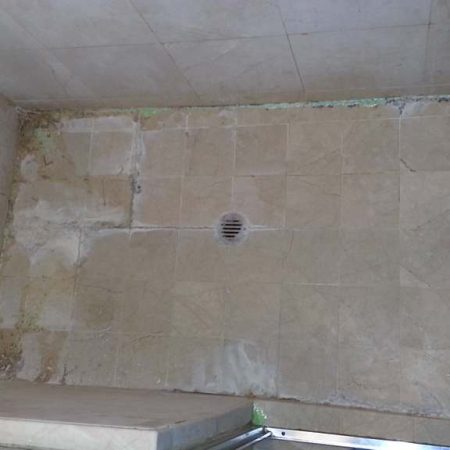 Instead of the salts deposits on shower floor known as efflorescence, it can develop salt deposits below the tiles, leading to expansion within a marble, that can lead to permanent stone deterioration and deep more...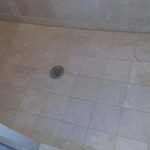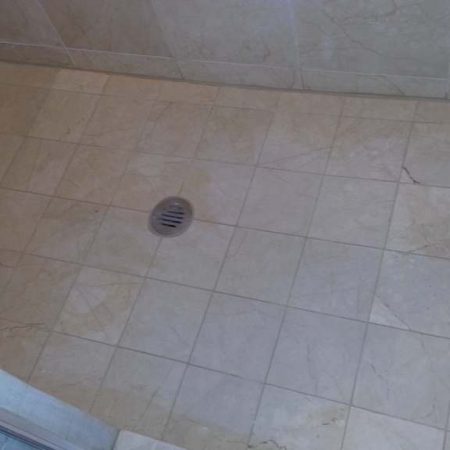 Erosion, mold, calcium deposits, lime and other various problems were solved in one full working day of grinding, sanding, polishing, re-grouting, caulking, and others steps and tasks. more...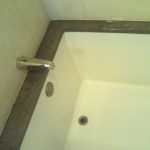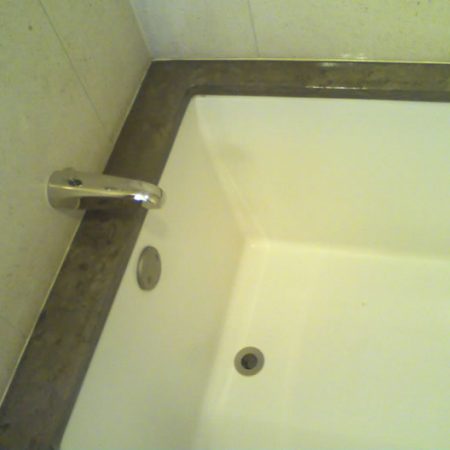 We sand out some erosions and made some patches on remained holes. In the Orion building Manhattan NY. more...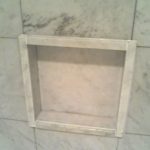 Shower built in wall niche or soap shelf. White Carrara marble. Was cleaned, polished and re caulked. more...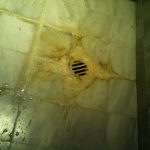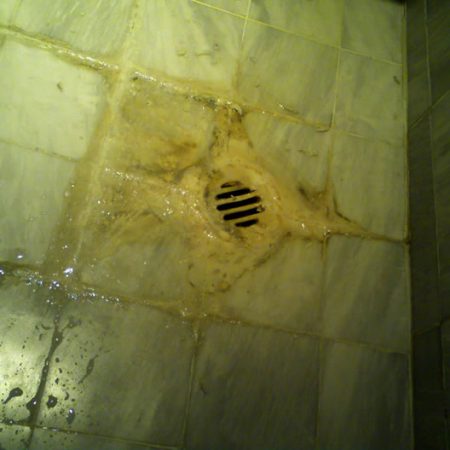 Such build ups virtually may exist around any shower drain strainer, grout, fixture or on shower or steam-room tiles. Owners are often confused about how to get rid of these issues on marble. In the most heavy cases more...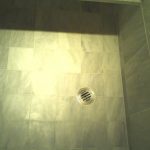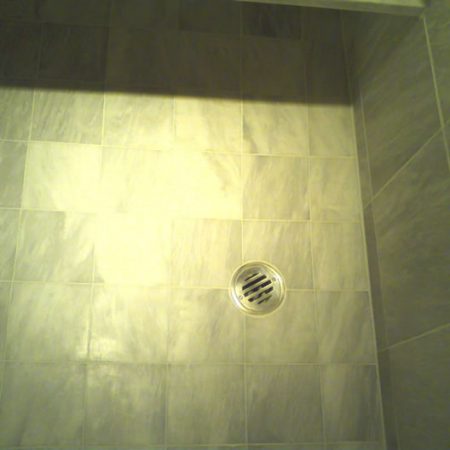 Hard water deposits and buildups can be safely removed from your shower floor and walls! more...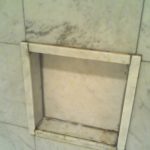 The shower niche had mold and yellow soapsuds. We replaced old grout, changed caulk and clean the surface. Soap scum is persistent and requires a special scum remover to get rid of the film. more...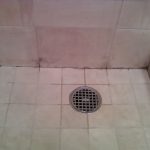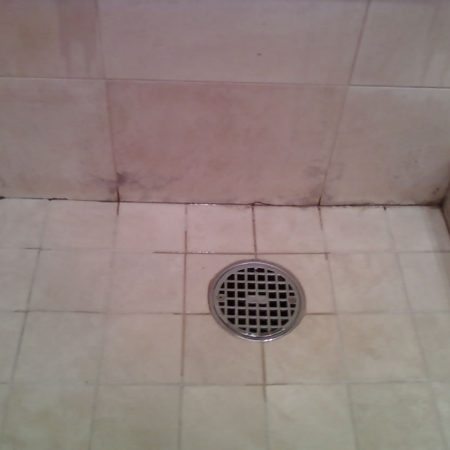 The more you concentrate on maintaining the marble in a shower the immunity against moisture is increased thus saving the walls and tiles from getting stained and mold development. more...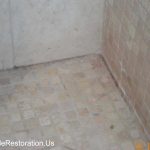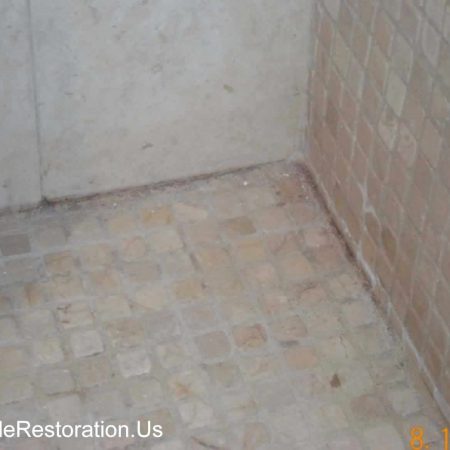 Picture of molded marble shower floor. Mold has black color and located on the grout at the corner of shower. Marble Shower Floor. more...
---