Vanity Restoration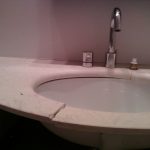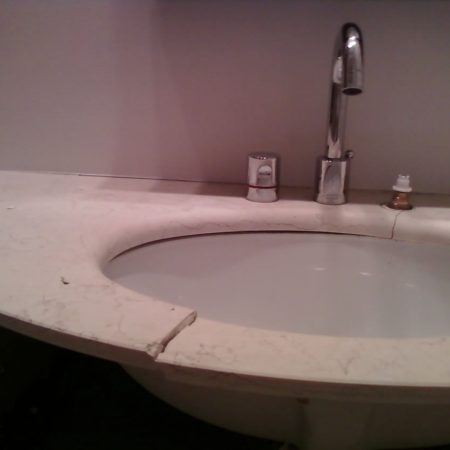 This console type of vanity was broken by the previous tenant living in Manhattan and was sagging and held by the sink, otherwise, it would fall apart. more...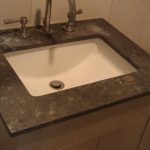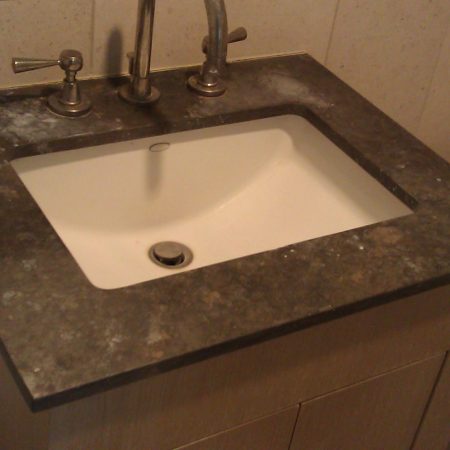 This vanity is soiled with soap scum and others undesired etches and stains. Caulk dried and peeled off. more...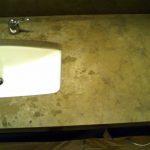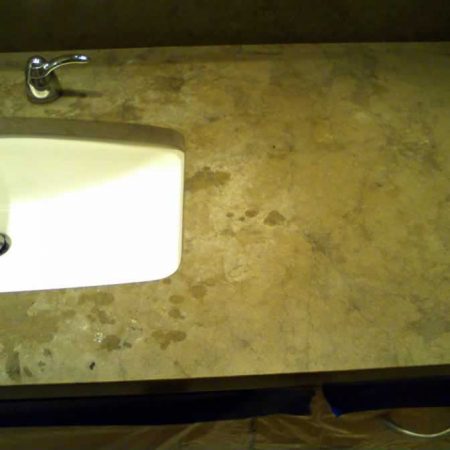 The brown limestone bathroom vanity was severely etched and discolored during normal usage and various caustic cleaners and chemicals. If not timely restored it could entail the deep erosion. more...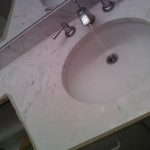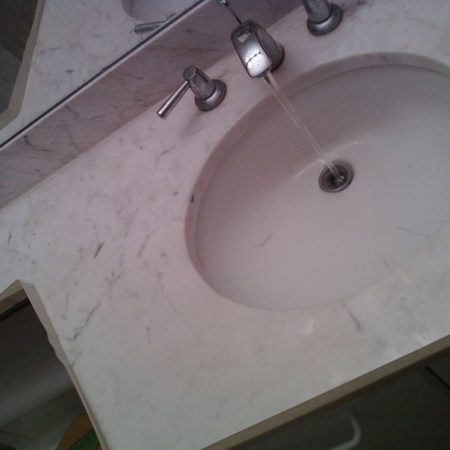 Marble vanities in bathrooms are most exposed to stains and etches (as well in kitchens), as daily usage means contacting marble with various chemicals and substances. The sealing remediation may help to prevent some more...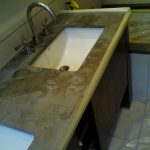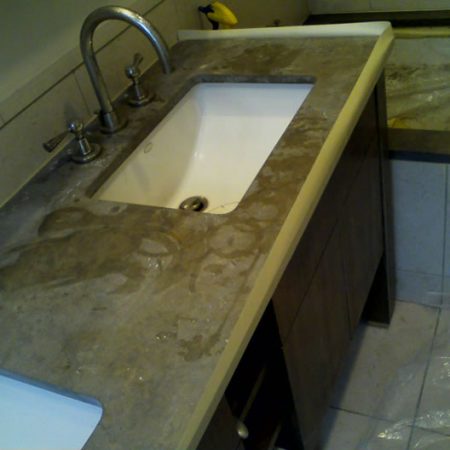 Here is wrong cleaning products that were used. The general brand cleaners and chemicals like overly aggressive vinegar, ammonia, Clorox can etch that will entail discoloring almost immediately, but also they can etch more...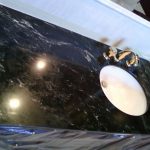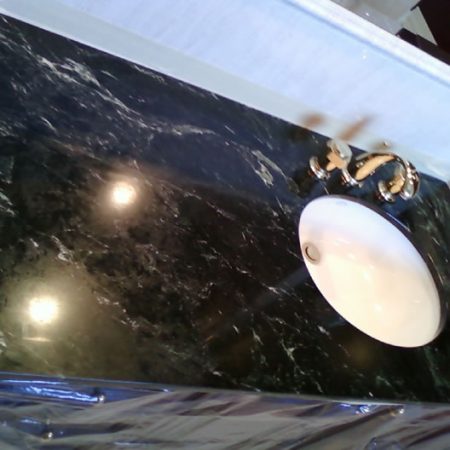 Aggressive liquids can easily etch a marble, but if the marble is not rich with calcium carbonate, the surface can be slightly etched and discolored, creating a cloud-like haze. more...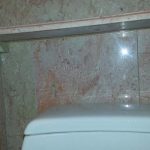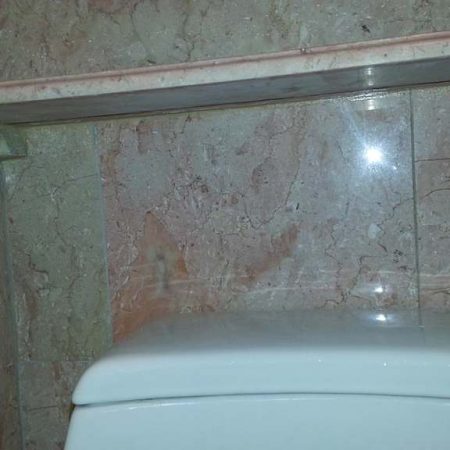 After all procedures with glue for the crack and sagging propping, all the restoration sites must be polished, so that the surface is perfectly even and smooth, and gluing places are not visible and could not be felt more...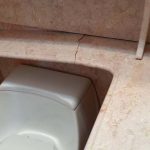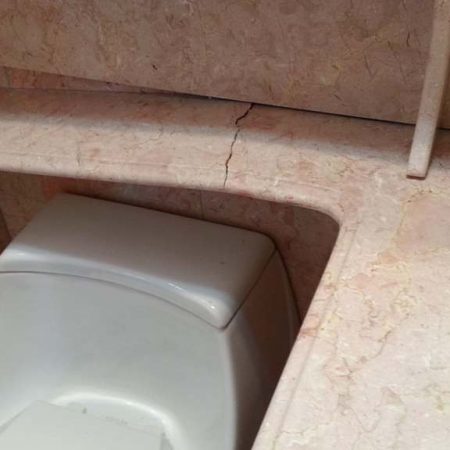 Here you need to restore most marble characteristics to the original while retaining maximum elements of the product. This is a task for professionals, since considerable practical skills, sophisticated equipment, and more...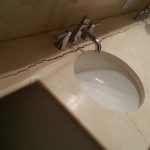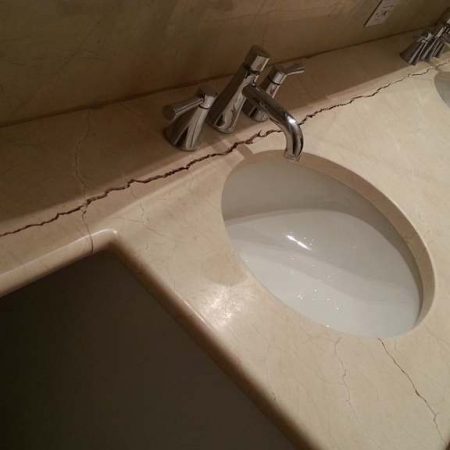 The long throughout offshoot crevice on Crema Marfil marble banjo vanity top happened by metal bar rusting and expanding asides. more...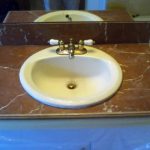 The vanity made from regular tiles and looks like made from a slab. Probably there is a wonderboard under tiles, and all the same as on regular tiled walls or floors, except the wooden edge. more...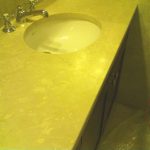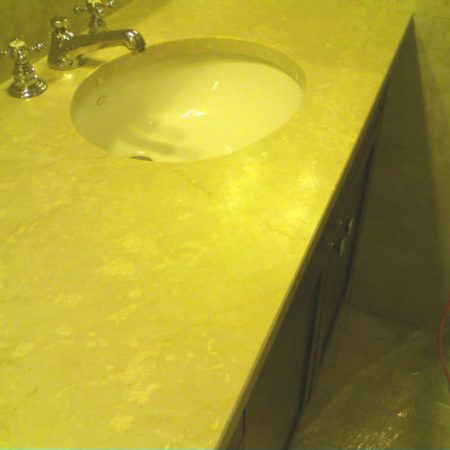 A heavy used vanity can completely turn to dull appearance. And you even may forget how it was looking at first time. more...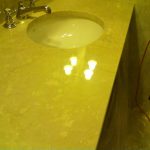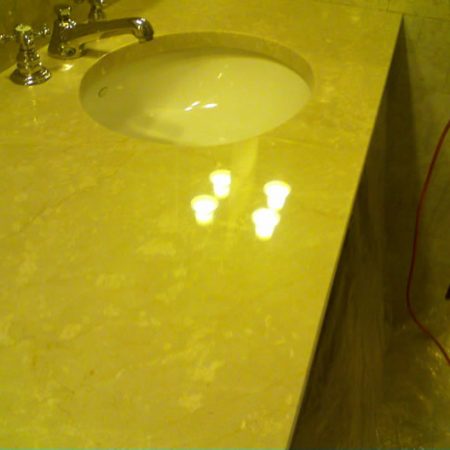 To make a final gloss finish we can use various abrasives, compounds and chemicals. To seal a marble we use a penetrating stone sealer. more...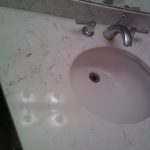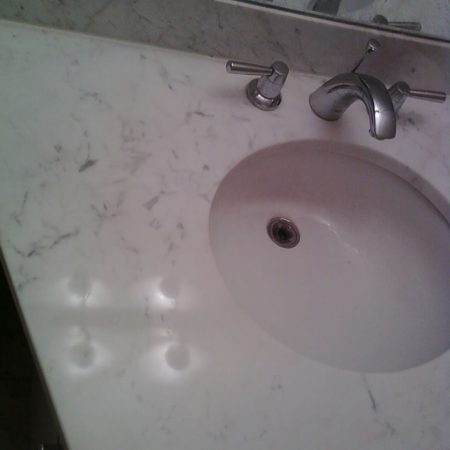 We can use several methods and products to bring gloss finish to marble surfaces. There are several buffing compounds, chemicals and liquids. We are choosing the proper depending on kind of marble and desirable more...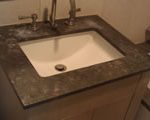 Marble vanity tops are very common in homes throughout the country. Over the years vanity tops appear typically. Marble can be easily scratched by abrasive, burned by cleansers, chipped or cracked. Also, vanity can more...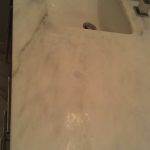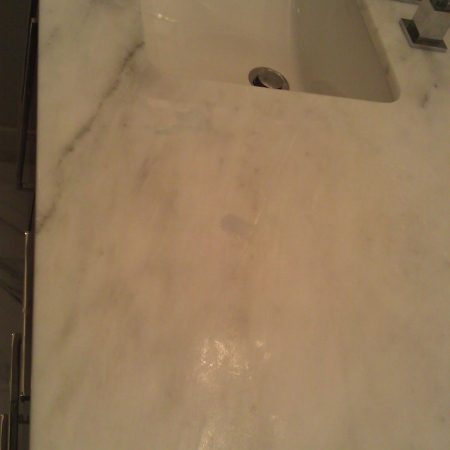 Splotchy-looking counters are the most common problem, and there is most often misunderstood in its causes and cures. more...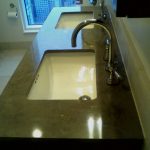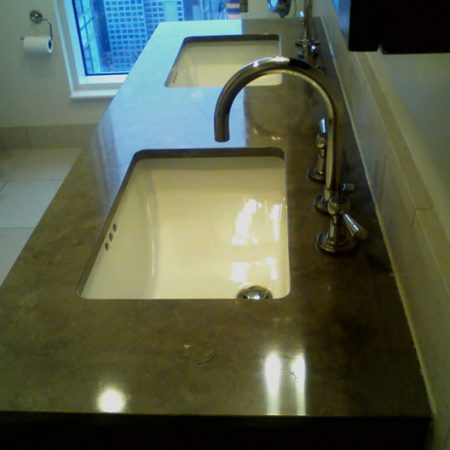 A limestone typically has a good polishability, but at the same time due its chemical composition it is very sensitive for any acidic chemicals or wrong cleaners. more...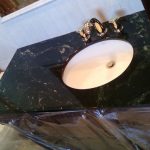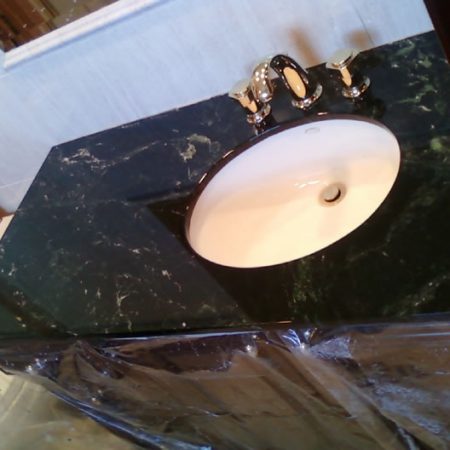 This serpentine marble vanity had scratches, etching, cloud  stains, and lost its color and sheen. We restored it back to better than new appearance. We eliminated all water marks, stains and we gave it a natural more...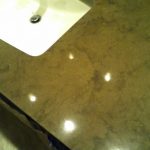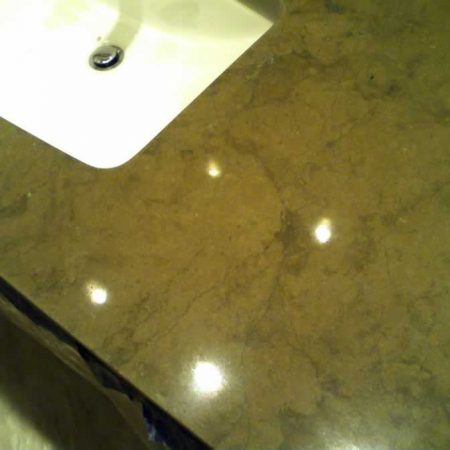 The brown limestone vanity was deeply polished and buffed. Chemical burns were removed with grinding. more...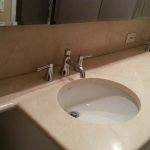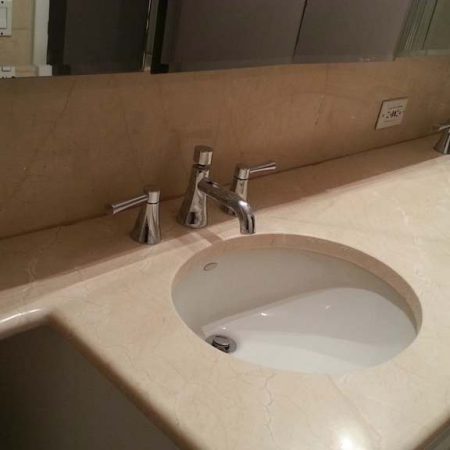 The long crack along the backsplash on banjo double sink vanity was filled with beige epoxy, and then sanded out and polished. Crema Marfil Marble Vanity. more...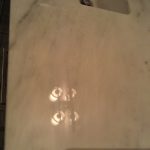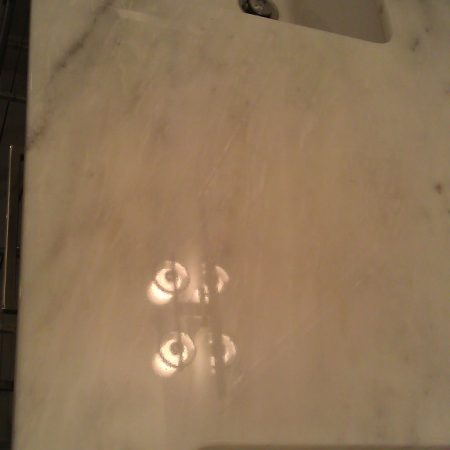 To diagnose a loss of shine is to determine if  the marble originally had a shine finish or matte. more...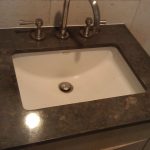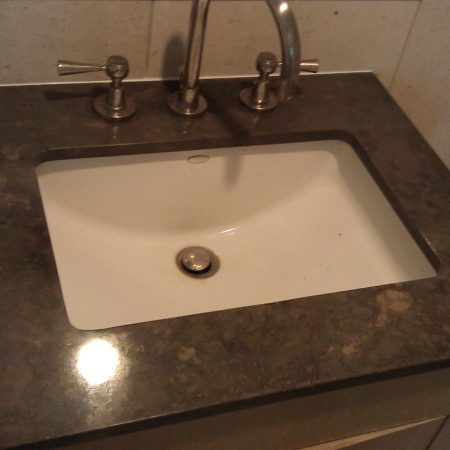 Rectangular brown vanity. Polishing and re caulking. Manhattan NY more...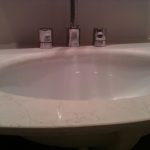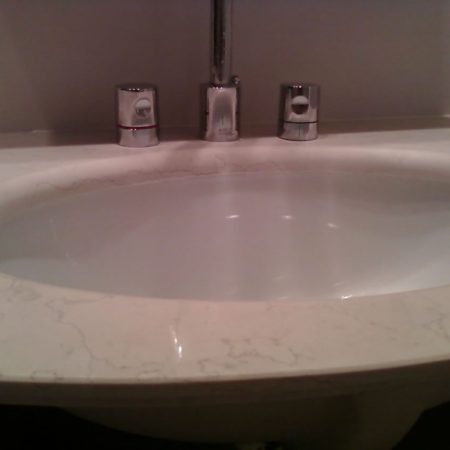 We lift the vanity, fix cracks, re attach sink and re caulk the backsplash. more...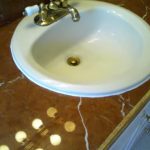 This bathroom vanity is made from the same tiles as used on walls and in shower. Good idea to save some money and match a color. Made from Rojo Alicante marble and located in Downtown Brooklyn NY. more...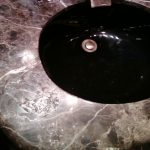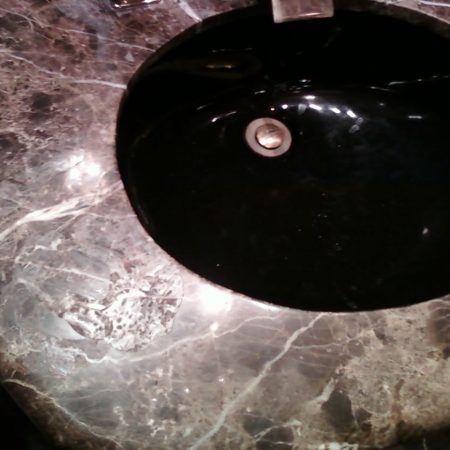 The deep etches typically happen with prolonged contact with harsh chemical, and it's not necessary with cleaners, it can be some kind of body care or hygiene products as well. more...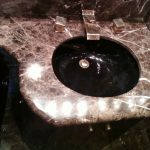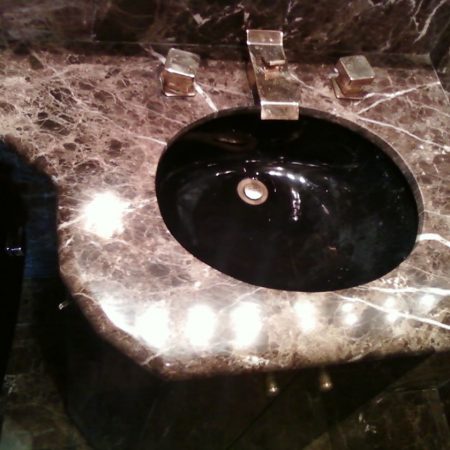 To remove deep etches the marble should be polished much deeper than for the just shine restoration. Not all surface is required for the deep polishing, but only affected and around. more...
---