Cracks Repair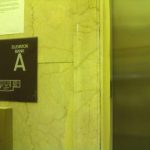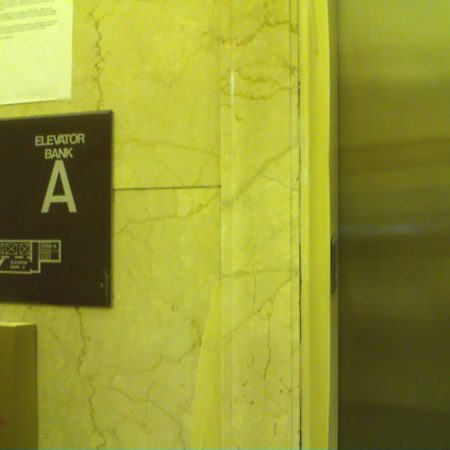 Ornamental Botticino elevator curved doorframe after onsite cracks repair. more...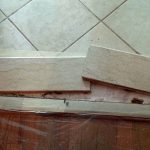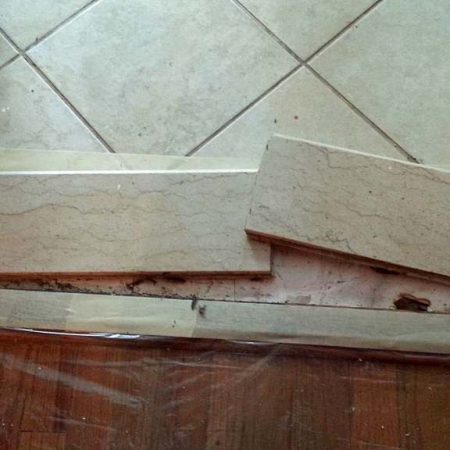 Before installing the door saddle you'll need to make sure that the floor beneath is thoroughly cleaned and dried. Marble is a soft material and can be susceptible to cracking if not installed on a level surface. more...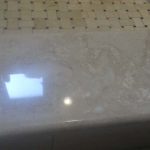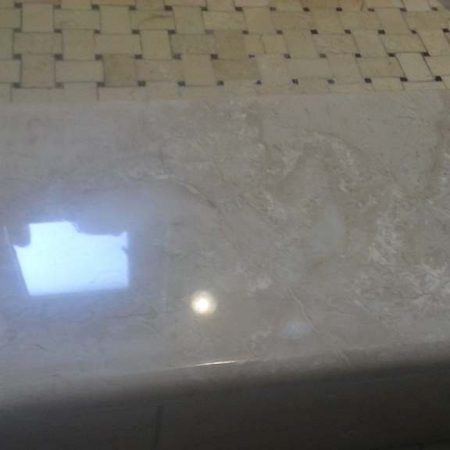 In practice, marble is restored somewhat easier than granite. If properly processed, the traces of its restoration will be almost impossible to notice. Often the crack line may appear as a natural vein or pattern. To more...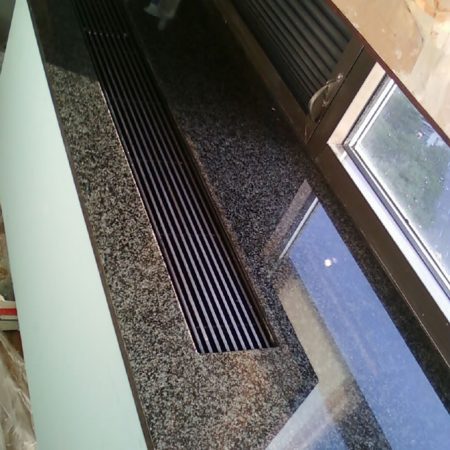 To repair and hide the crack lines to unnoticeable – the multi-colored epoxy was used. more...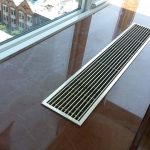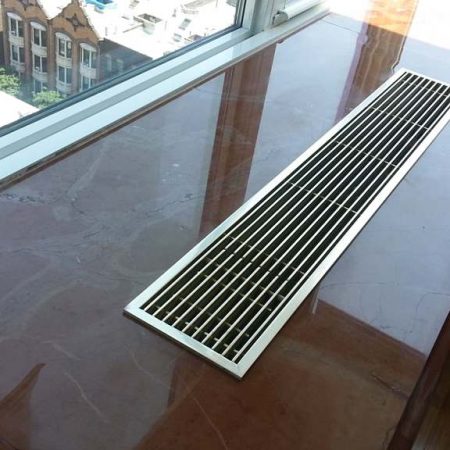 We are doing marble restoration not only on flooring but also on window sills, walls, counter tops, steps and for each task (like to save fixture) we use its own approaches and equipment. more...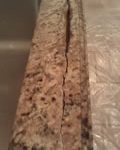 Cracking in your table, counter or slab is often a big shock and pain too. You understand that once it's broken, even if fixable, it will never be like new. It's true but we can offer the solution that will more...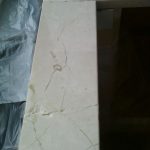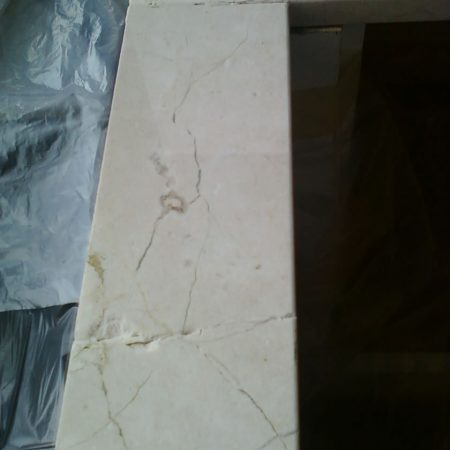 Like other problems on brittle marble, cracks and stun marks can be confusing and difficult to correctly determine. more...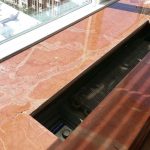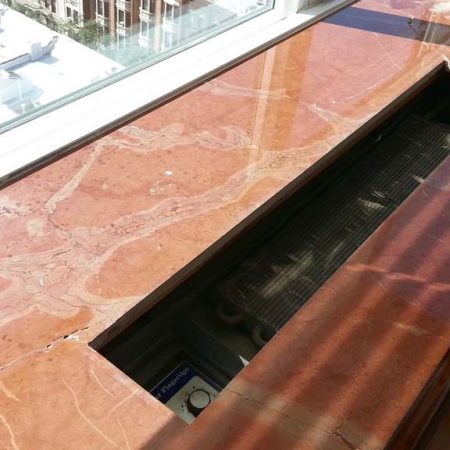 Often to restore window sill, it is necessary to dismantle the stone. Today, we can restore your window sill right on-premises. The price for the restoration will be accordingly cheaper, since dismounting and more...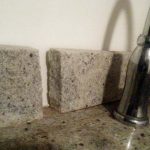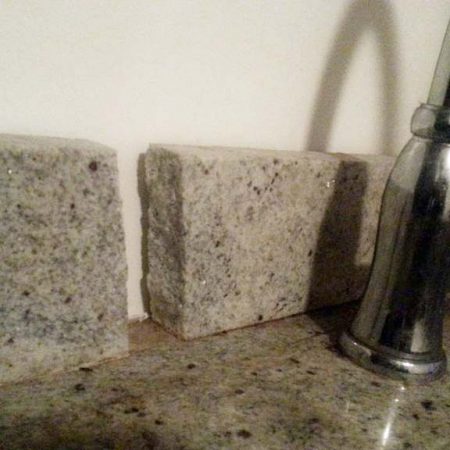 In fact, after the backsplash crack restoration, it will be visually intact. Outwardly, nothing will show its repair, it will be possible to notice the traces of restoration only under the magnifying glass and knowing more...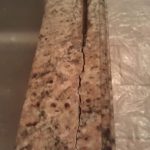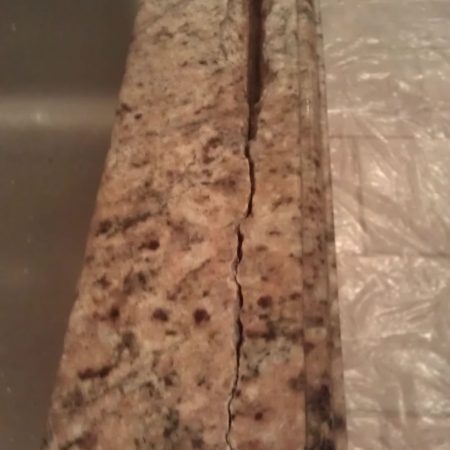 Spalling and cracking on granite are a very common problem, especially on areas like by a sink, where metal rods are starting to rust and expand. The complexity of the work will depend on the specific case and how more...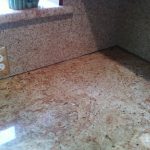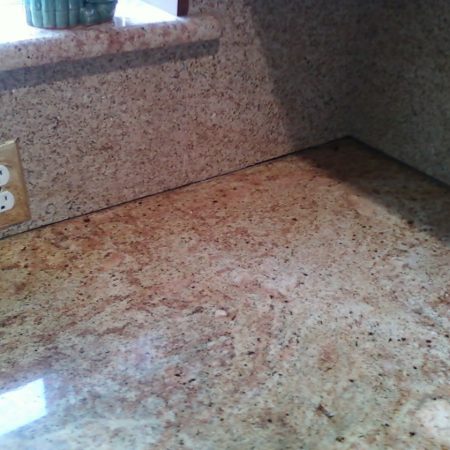 The counter had not properly propped cabinets under the corner, due to its weight the counter eventually starts to moving down and buckling, detaching seams and cracking sink cutout. more...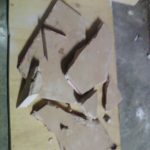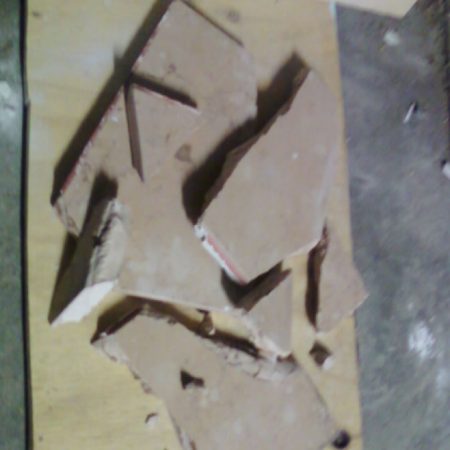 The panel from lobby wall in the building in Flatbush Brooklyn NY. Fell down from the wall and disrupted into many small pieces. more...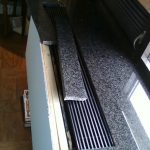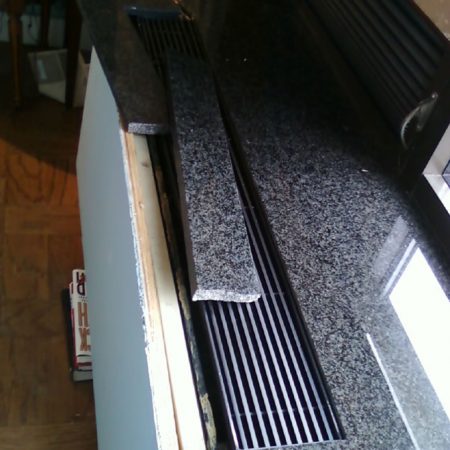 The top is cracked due to looseness of radiator wooden frame/cabinet. more...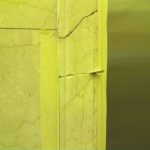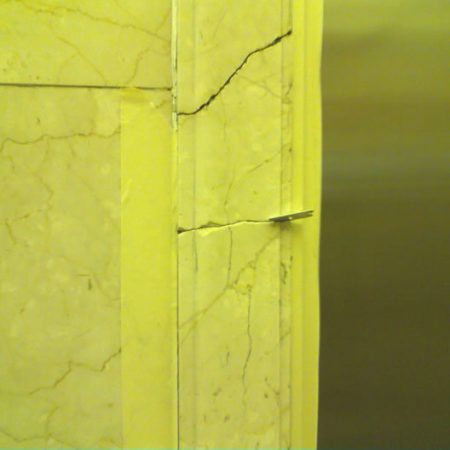 Cracked botticino border panels next to building elevator door. more...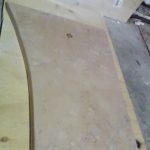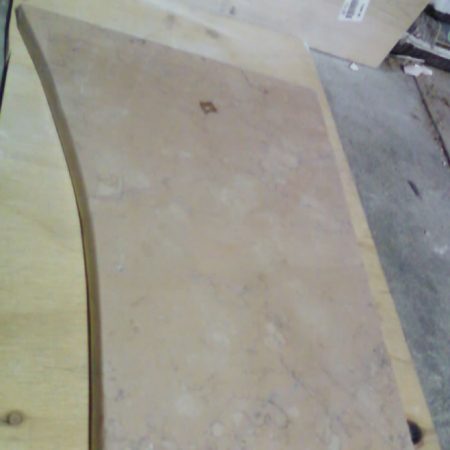 In most cracks repair projects a color matching and closest fitting is critical for the cracks visibility and strength. For some kind of marble a color can be easily matched, for some others not so easy or not possible more...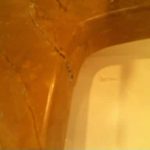 This is a sink top made from marble. See that unsightly, gnarly crevice extending all the way into the stone's edge, "intruding" into the sink? Think they can't be fixed? Well, at ABC Stone, we more...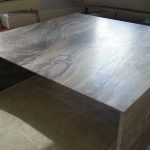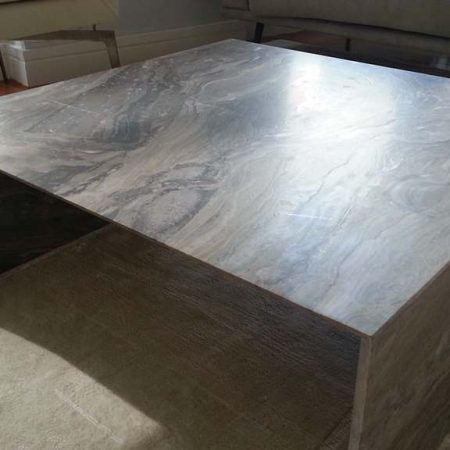 Marble has excellent quality characteristics: slip resistance, strength, easy maintenance, durability, beauty, uniqueness and practicality. You may be able to see where your repair is, but don't tell anybody else and more...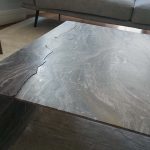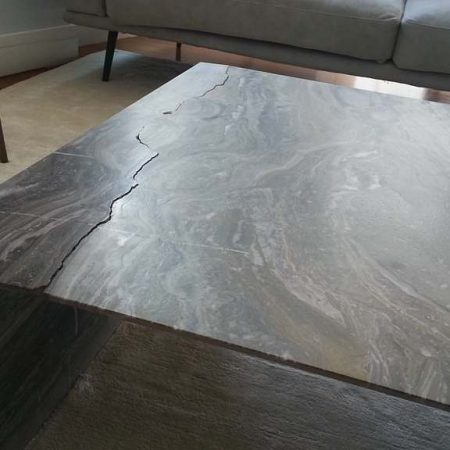 You may feel like the end of the world, or at least the end of your table when you spot a crevice like this on it. Unfortunately, marble can be fragile due to its veins and other mineral deposits. But don't worry, more...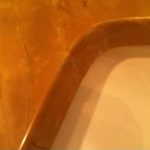 Here is the cracked sink edge which we've earlier shown. Notice that we've fixed the unsightly, slightly-bulging crack. Yes, there still are some visible crack and/or "fissure" lines, but we've more...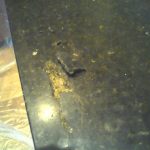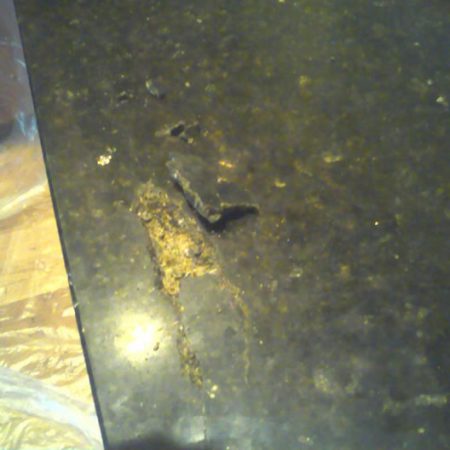 In order to strengthen a weak part of counter top  a stone fabricators use a metal rods/bars for purpose to strengthen a weak part of counter, in most cases it's around sink cutout or narrow and long more...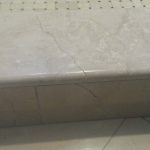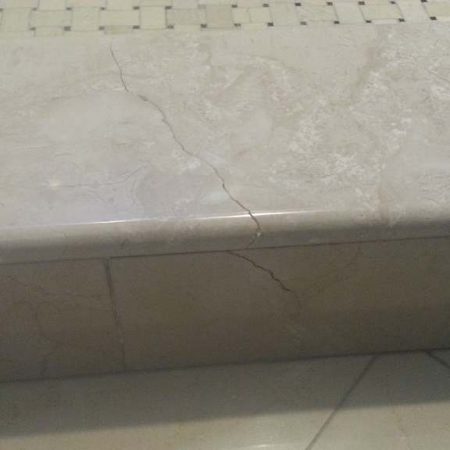 Got natural or acquired hairline cracks in marble? Causes: laying already broken pieces or cracks appear during of illiterate installation. Natural structural cracks or deep veins (depending on grade and origin of more...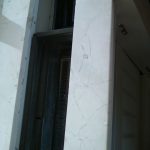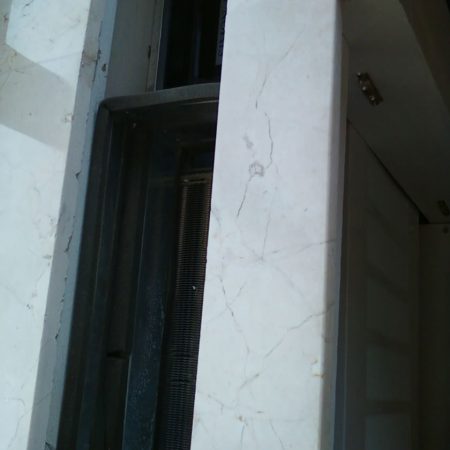 The top sill was cracked by radiator installers by trying to install and tightly fit the radiator under the piece. We fixed the crack and seams as well. more...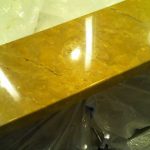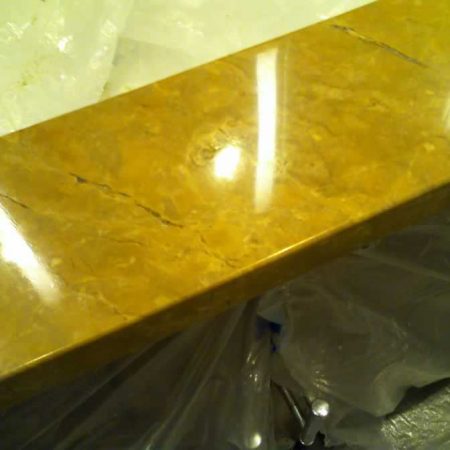 On this kind of marble it is easy to find and match the color of epoxy, so the crack line is almost invisible. more...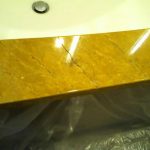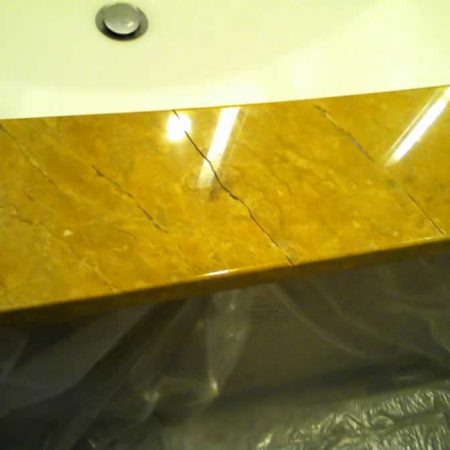 Probably there was an internal tension in marble body, caused by improper installation or fabrication, that can lead to cracking vanity. more...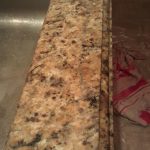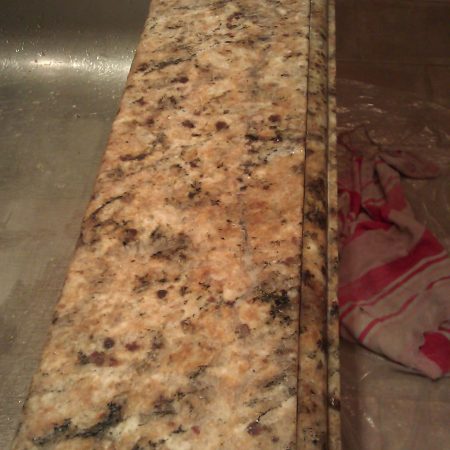 We expanded the crack a little in order to better clean up inside rust, and dry out the inner surfaces. Then filled up with flowing epoxy resin. For better crack hiding we blended a few colors of resin. more...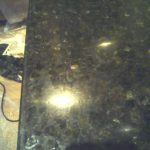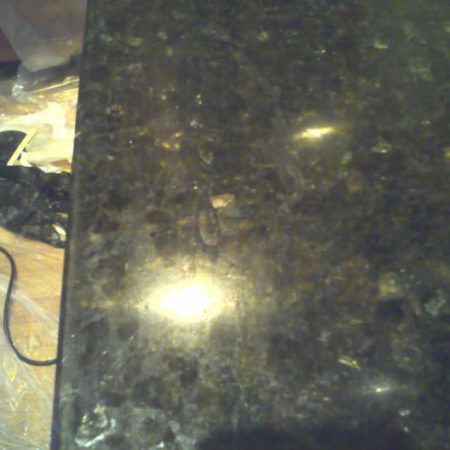 The crack was forced out by rusted and expanded metal bar inside of the granite. more...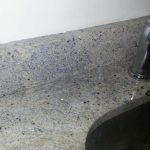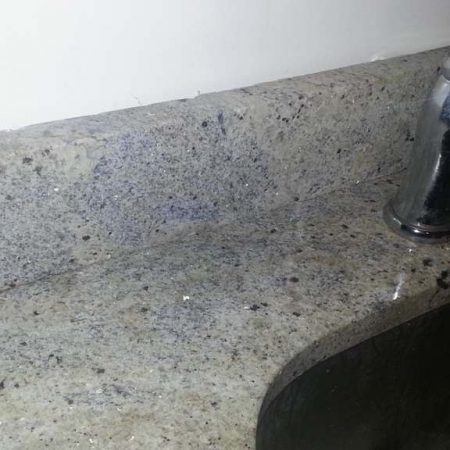 The granite counters and backsplashes are installed with cheap latex caulk that may crack, grow mold and peel off over time. Many times a new houses will settle down causing the caulk to crack between the granite more...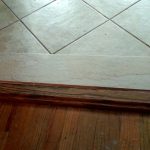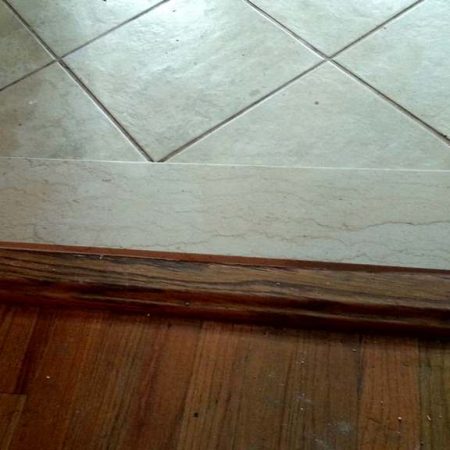 The saddle was just rebonded and properly installed into its place. Thick layer of cement under saddle will provide extra strength for the marble. more...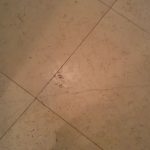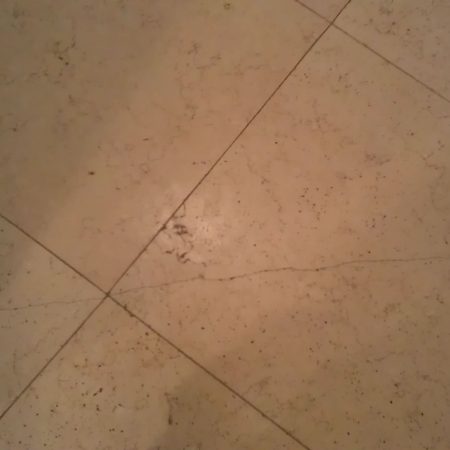 Sometime marble or granite are becoming cracked, chipped or broken over a time, by accident, improper installation or floor/building shifting. It can be a tile that needs to be replaced or a counter that need to be more...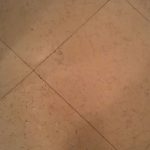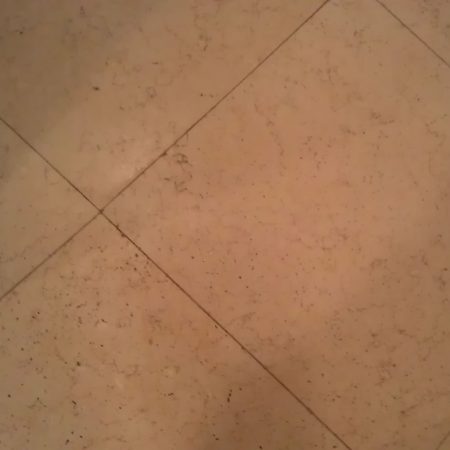 To repair cracks in limestone we use special blend of beige dust and darker grains. Such blend is sold as component of limestone repair kit. more...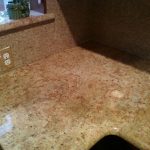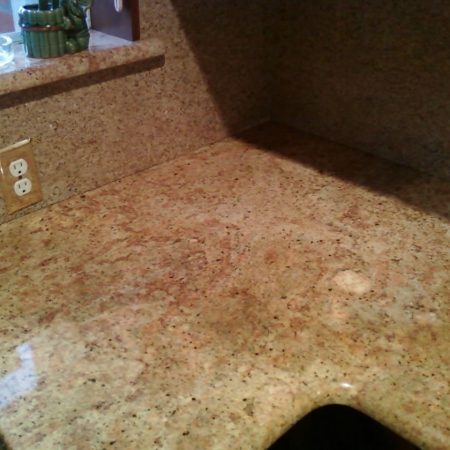 To lift and permanently support the counter we put wooden bar between floor and counter bottom, then put some shims to completely lift it till backsplash. After the lifting we fixed the seams, cracks on sink cutout and more...
---