Chips Repair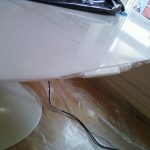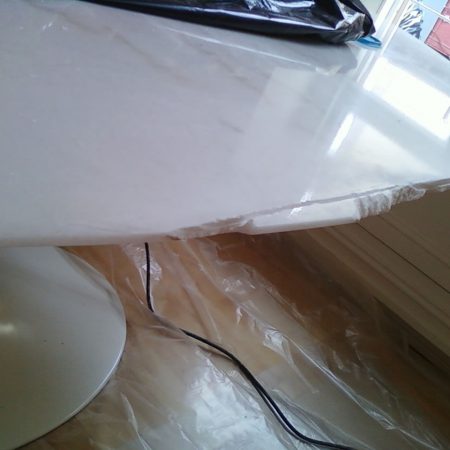 The white Thassos Knoll dining table was deeply chipped during moving to the new office in Manhattan NY. We cut off the damaged part and re-shape the new edge. more...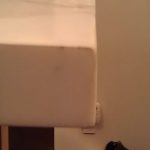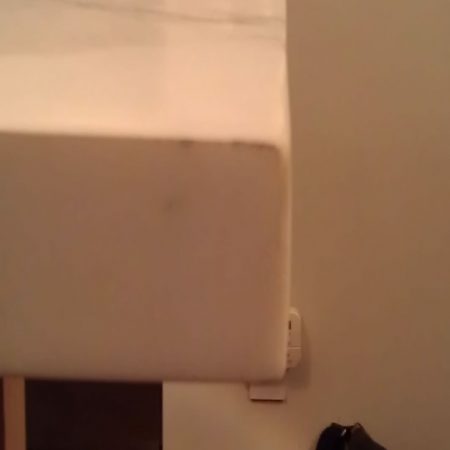 To fix such chip on the counter corner we used a water-clear epoxy, with some white pigment added. more...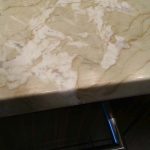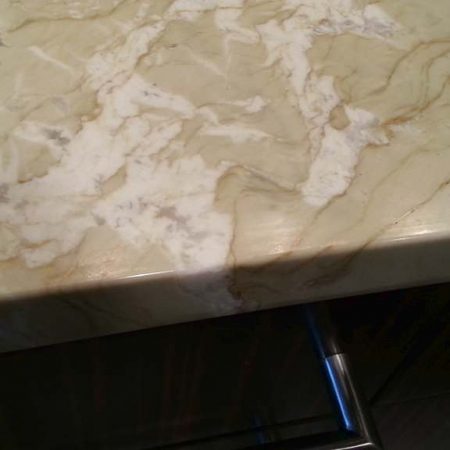 The chip in the edge was perfectly blended and patched in a matter of an hour. Beige marble countertop. more...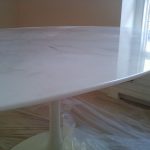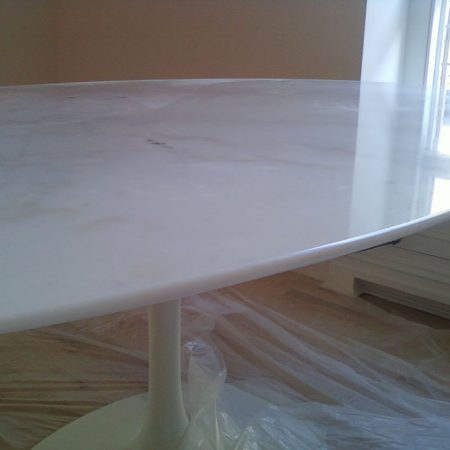 We smoothly cut off the affected/chipped part of the edge, then grind down and reshape the new edge. The new edge is shine and seamless with rest of edge. more...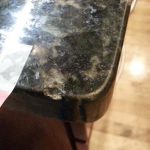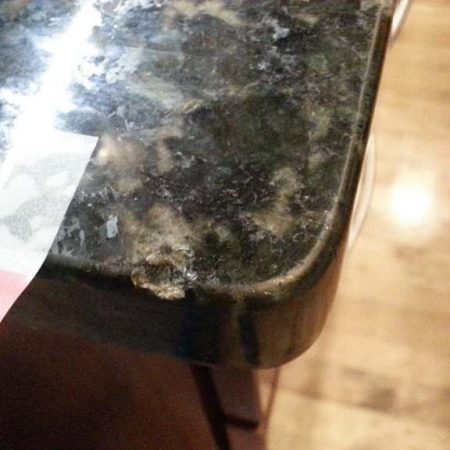 Crystalline granite can develop chipping and pitting since it is made from variety of different grains, crystals and minerals with various hardness, that can come out, usually on the edges, or around the sink where more...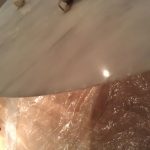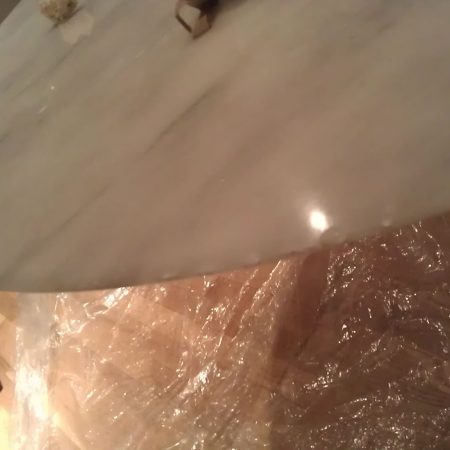 The edge was chipped during the moving table and hitting chairs, although they are not big, there are indentions spreading all around the table edge. more...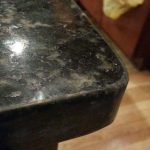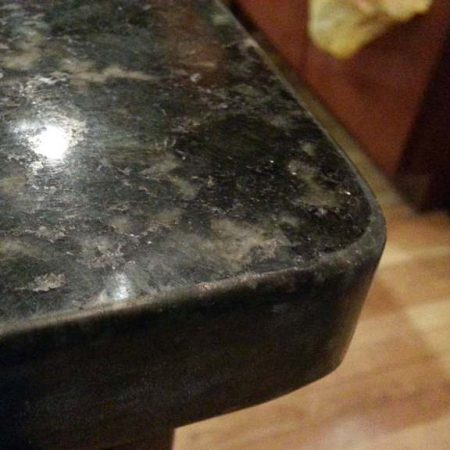 We put tape on the area around the chip and put some epoxy to fill up the gap and spread just little above stone surface. We use epoxy and and mix color toners in the epoxy to blend the chip with best color more...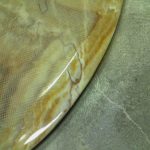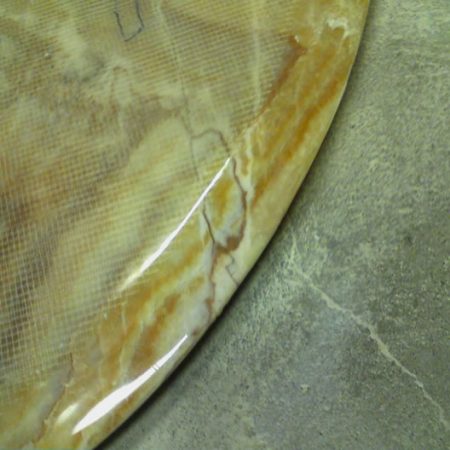 Onyx is one of the easiest marble for color matching. It has natural yellow/brown colors that are matching to most general epoxies. It can be easily blended among natural colors and patterns. more...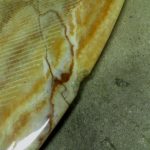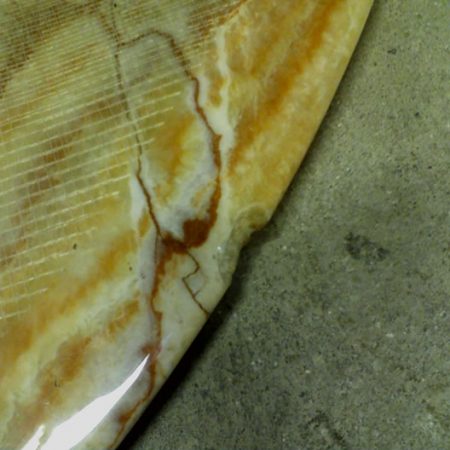 The table has a clear coat on the edge, we fixed the ding without coat restoration. more...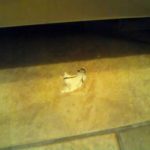 Deep gouges, crumbling or potholes in a tile caused by moving furniture or by hitting other heavy objects can be not easy to repair and depending on its size and depth. Deep gouges or chips (that is 1/8″ or more...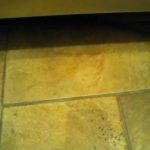 The gouge (pothole) was filled in with pre-colored epoxy and hidden by imitating the original finish. more...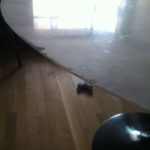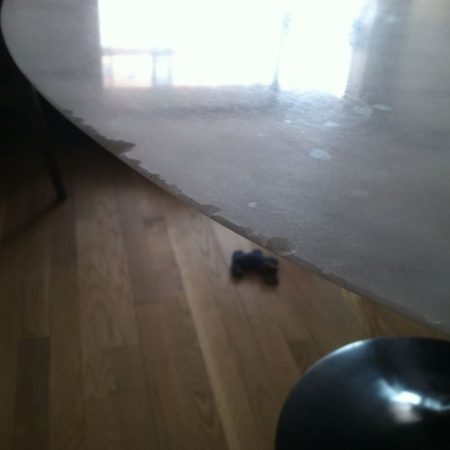 Marble tabletops are subject to easy etching, stains, and nocks, from the daily kitchen affairs. This entails very easy for the marble to lose its luster and taking the whole kitchen down with it. more...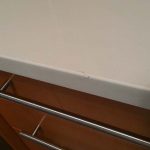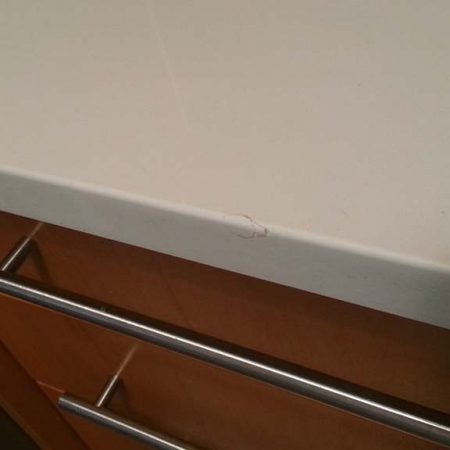 Man made stone is characterized by a simpler manufacturing and processing, a lower cost and it is much easier to perform chips repair or finishing works than on its natural analogue. All these characteristics combined more...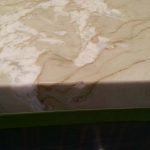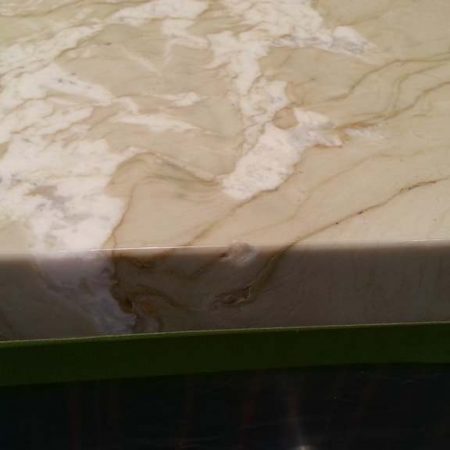 For a chips on counter-top edge, I would recommend a thicker glue, almost a putty like consistency. more...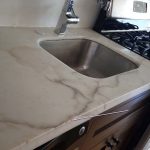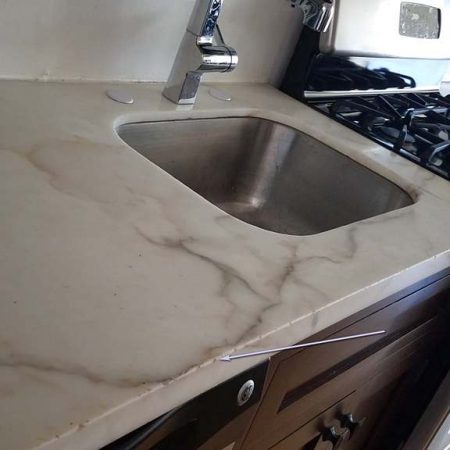 When restoring nocks on countertops we are using the special two-component adhesives (Superior or Akemi) both either on polyester or epoxy basis. more...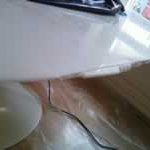 Get Rid of Marble Chips Once and For All. The marble is quite soft and brittle material and it is not required significant force to deform it. Most damages can be in the form of cracks, chips, stains and etches, which more...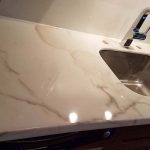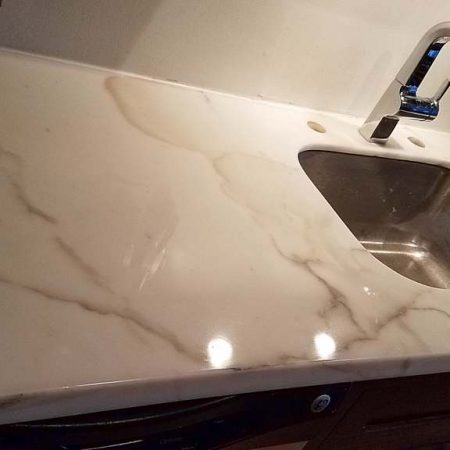 Long-term exploitation of marble countertop, as well as improper cleaning, can lead to the fact that marble loses all its attractiveness and color saturation. In addition, reflection and mirror shine can disappear. more...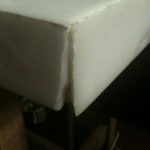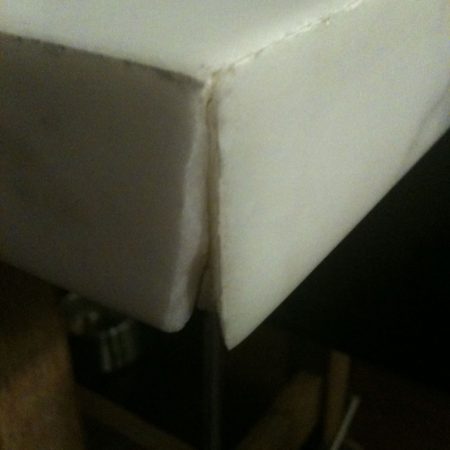 This chip is more likely happen when fabricators put together the edge parts and over pressure the mitered tip of the edge. The crack was hidden for some time, and then fell apart. It's not fail of the more...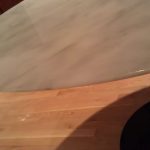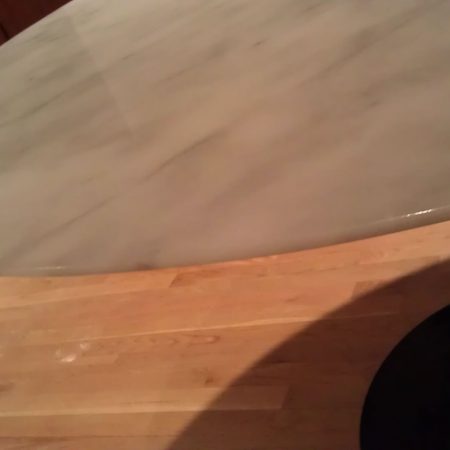 The chips were removed by smoothly sanding out marble around chips. The deepest were fixed with semi-clear colored epoxy. more...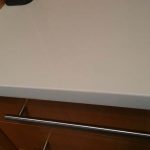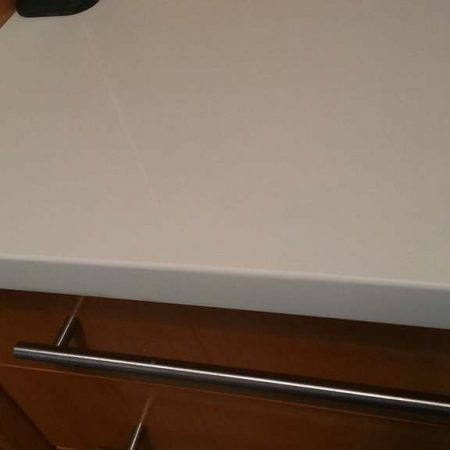 Instead of chip patching with a glue, usually we prefer to completely sand/gring out a chip, if depth ot chip allows to do so on the edge. more...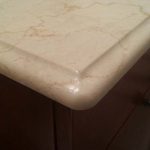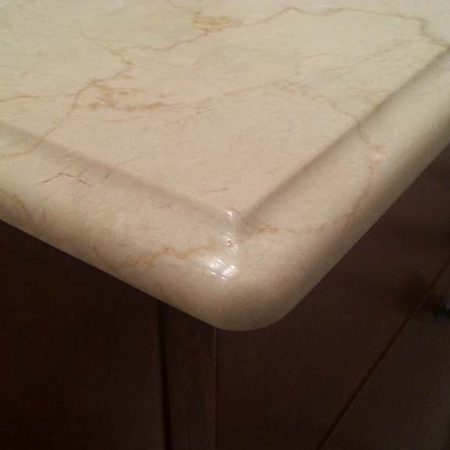 The chipped off tip on corner of Botticino ogee edge after setting back and repair. more...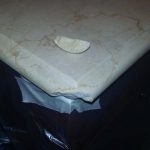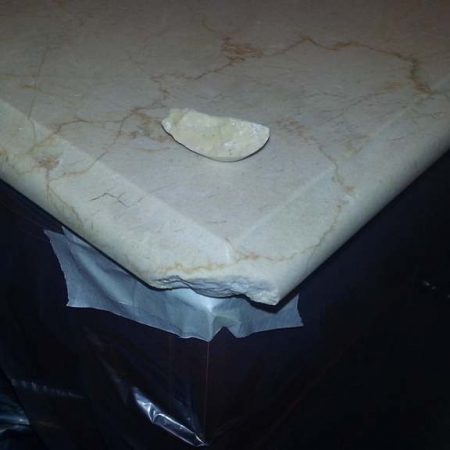 If a fragment is chipping off from a marble or granite, then it is better to save it and paste it back. After this, the parts adjacent to this fragment needs to be re-polished. It is possible to imitate missed more...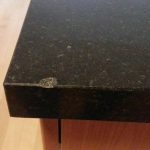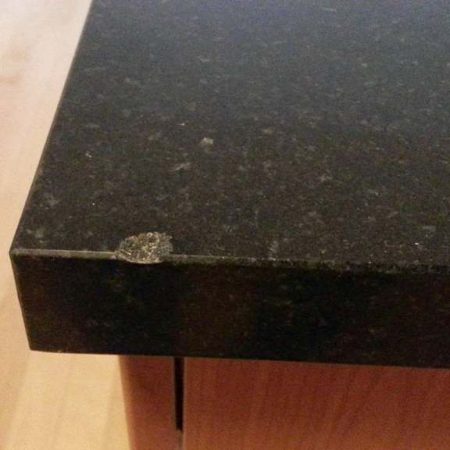 If you've ever had a stone counter top — either granite or marble, then you know how easily it can be chipped. A marble is a soft material and granite often has a crystals, that both can be easy chipped. more...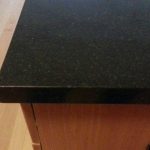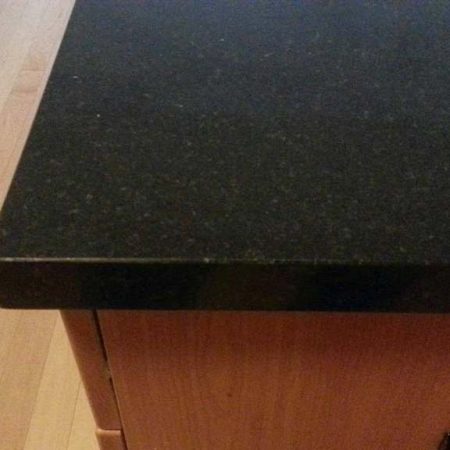 The chip on the granite counter top edge should not be polished with diamond abrasives, but instead the glue excess should be scrubbed off with sharp razor blade, then slightly buffed. more...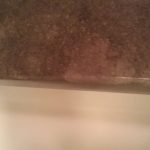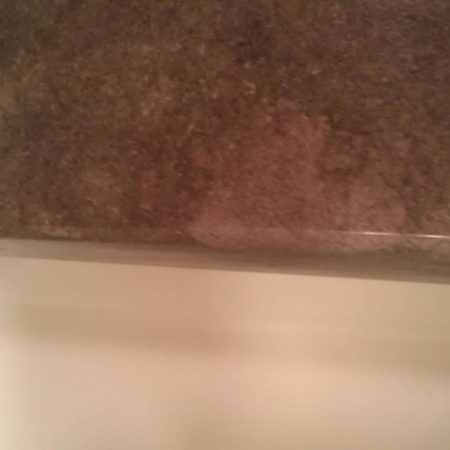 We sand out the chips with handheld sander and coarse sand paper. Then using progressively finer sandpaper we did polishing to smooth shine finish. more...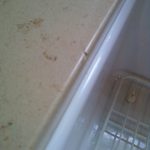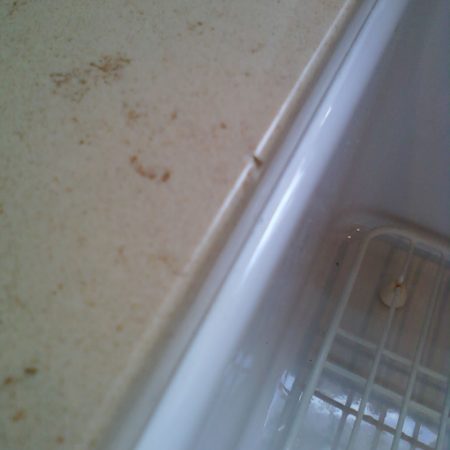 The chipping on counter edges are the most common, as those edges most exposed to any bumps and hits during normal cooking or daily counter using. more...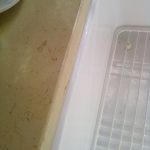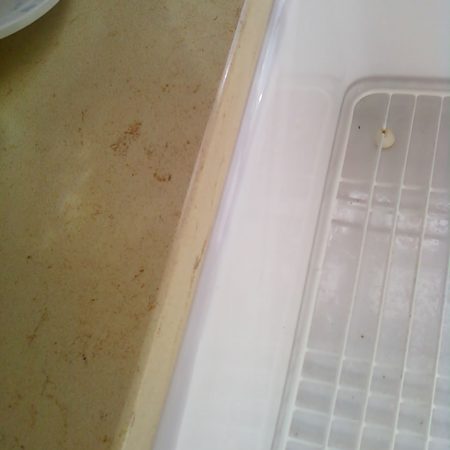 Sometime instead of patching chips with epoxy, we smoothly filing/sanding out the area around a chip and re shaping an edge. This method works on small or medium chips, for huge chips the chip have to be patched with more...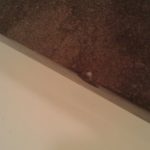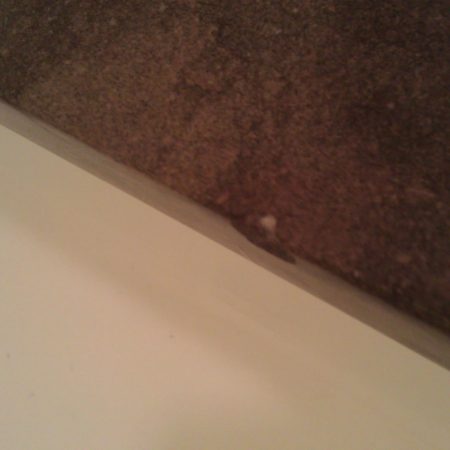 Chip on brown limestone repair by sanding out. Image before repair. more...
---