White Marble Gouge On Table Edge
If you have a white marble gouge or scratch on the edge of a table, here are some steps you can follow to potentially repair or minimize the damage:
1. Clean the area: Begin by cleaning the area around the gouge with acetone. Use a paper towel to gently remove any dirt from the chipped area.
2. Assess the damage: Carefully inspect the gouge to determine the depth and severity of the damage. If the gap is shallow and does not go beyond the surface layer of the marble, it may be easier to repair.
3. Sand the area: If it is shallow, you can try sanding the area with fine-grit sandpaper (800-1200 grit) to smooth out the edges of the gouge. Be gentle and use light pressure, be careful not to sand too aggressively or create further damage.
4. Apply marble repair compound/epoxy: Once the edges are smoothed out, you can try filling up with epoxy or filler that matches the color of your marble. Follow the manufacturer's instructions for application and drying time. Be sure to choose a high-quality marble repair compound that is specifically formulated for use on marble surfaces.
5. Polish the repaired area: After the repair compound has dried, you can use a buffing compound to buff the area and blend it with the surrounding marble. Follow the manufacturer's instructions for polishing, and use a soft cloth or a polishing pad.
6. Seal the table edge: To protect the repaired area and the rest of the table edge, consider applying a marble sealer. Marble sealers help to prevent staining and damage from liquids and other substances.
Please note that marble repair can be a delicate process, and the results may vary depending on the severity of the gouge and the type of marble. If you're unsure or uncomfortable attempting the repair yourself, it's best to consult with a professional marble restoration or repair service to ensure the best outcome.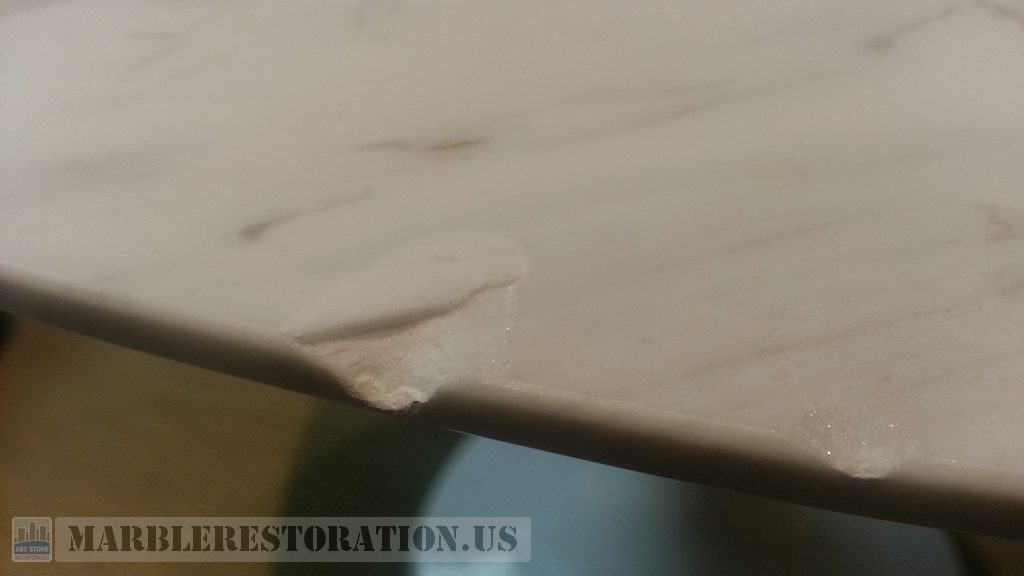 Image Title: White Marble Gouge/Chip On Round Table Edge
Submit Your Order or Ask a Question :
When to expect a response?
You'll get a response within a few minutes or hours and usually not longer than 24 hours.