Bathroom Floor after Honing & Grouting
After the process of honing and grouting, your bathroom floor should have undergone several changes in appearance and condition. Here's what you can expect:
1. Smoother Surface: Honing is a process that involves grinding and smoothing the surface of the floor to remove any imperfections, such as scratches, stains, or etch marks. As a result, your bathroom floor should have a much smoother surface after honing, giving it a more polished and refined appearance.
2. Clean Grout Lines: Grouting is the process of filling the gaps between tiles with a special mixture called grout. After grouting, the grout lines on your bathroom floor should be clean and uniform in color. Any excess grout that may have been left on the tiles during the grouting process should have been wiped away, leaving a neat and tidy appearance.
3. Enhanced Color and Texture: Honing can also enhance the color and texture of your bathroom floor tiles. The grinding process can reveal the true color and natural patterns of the tiles, bringing out their beauty and character. The result is a more vibrant and visually appealing floor.
4. Improved Durability: Honing and grouting can also improve the durability of your bathroom floor. By removing imperfections and filling in gaps with grout, your tiles are less likely to chip, crack, or wear down over time. This can extend the lifespan of your bathroom floor and make it more resistant to daily wear and tear.
5. Easier Maintenance: A honed and grouted bathroom floor can be easier to maintain compared to an untreated floor. The smooth surface and clean grout lines are less likely to trap dirt, grime, and moisture, making it easier to clean and keep your floor looking pristine.
Overall, after honing and grouting, your bathroom floor should have a smoother surface, clean grout lines, enhanced color and texture, improved durability, and easier maintenance. It should have a refreshed and polished appearance, giving your bathroom a more refined and inviting look.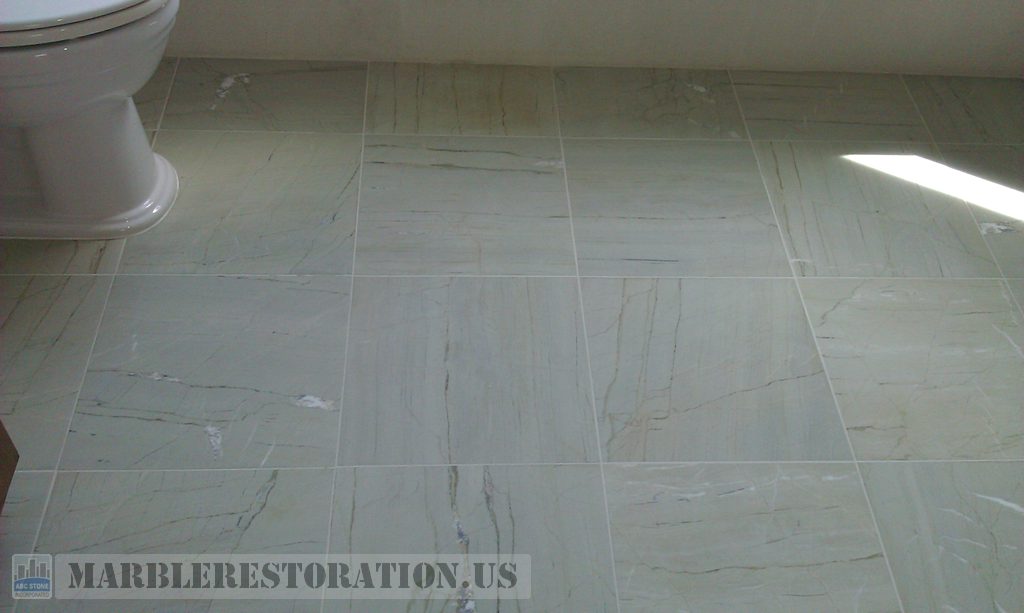 Image Title: Post-Construction Bathroom Floor Honing and Re-Grouting
Submit Your Order or Ask a Question :
When to expect a response?
You'll get a response within a few minutes or hours and usually not longer than 24 hours.
Tags: Before and After
---