Table Top Restoration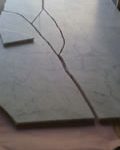 Have a Broken Marble Table Top? If you have a granite or marble tabletop that has chips, scratches, cracks, stains, etches, coating peel-offs, we can repair most of them. Our tabletop restoration features: Polishing to more...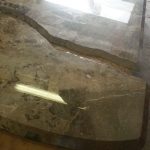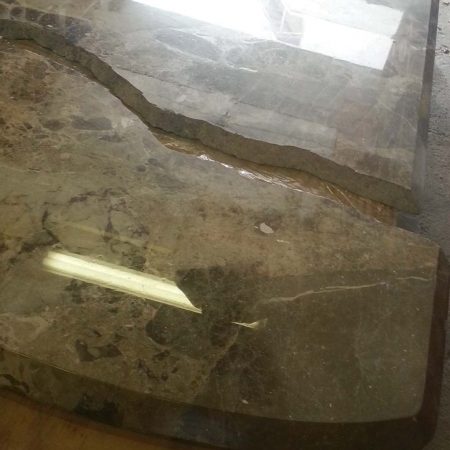 Often we are asked how to glue a split marble table, advice for DIY self-repairing by own hands. We are not giving harmful advises, all the recommendations found on the Internet are only advisory and is not a visual more...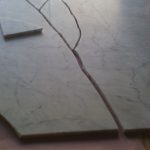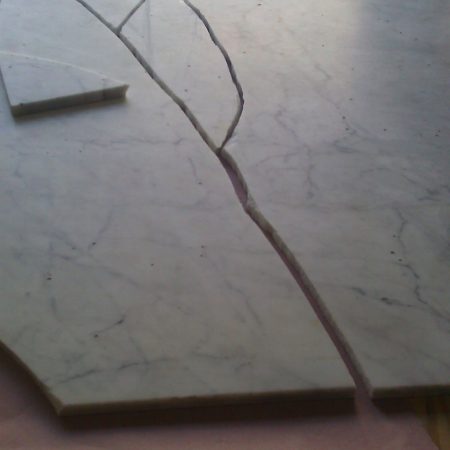 This heavy 1 inch thick White Carrara worktop was accidentally broken into several parts. To repair we picked it up and then deliver back to the owner. The table was used by the photographer as the background of more...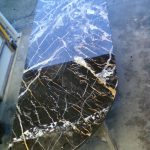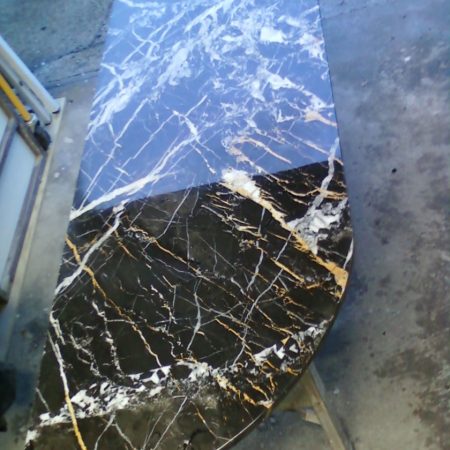 After our restoration services the piece of marble looked as if it was brand new. We added a brilliant gloss to the exterior of the stone, which helped to bring the original colors back to life and added a shine that is more...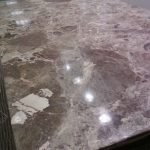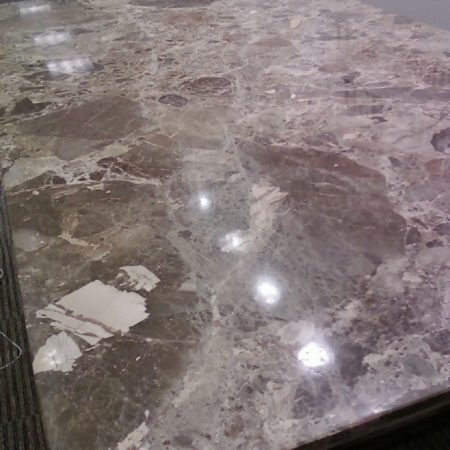 To perfectly hide the cracks we used several colors of epoxy. It helped us better to blend and hide crack lines among other veins and patterns to unnoticeable. more...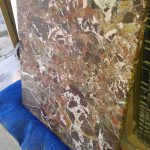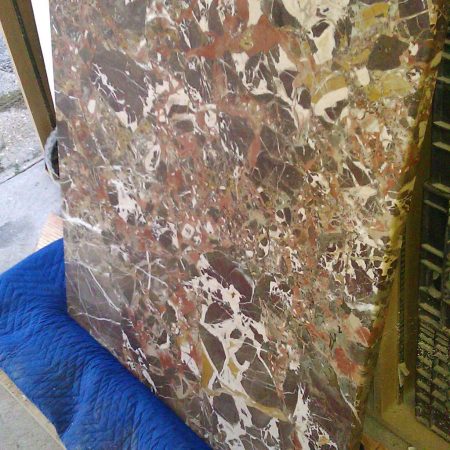 Hued square coffee table top slab after broken off corner repair. Various colors, patterns, and veins allowed us to hide crack lines to invisible. more...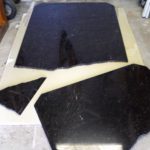 This coated with a "liquid glass" dining table split apart into 3 fragments. To strengthen the repair we used metal bars from the bottom side. Image before restoration. more...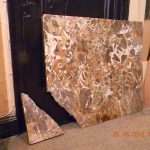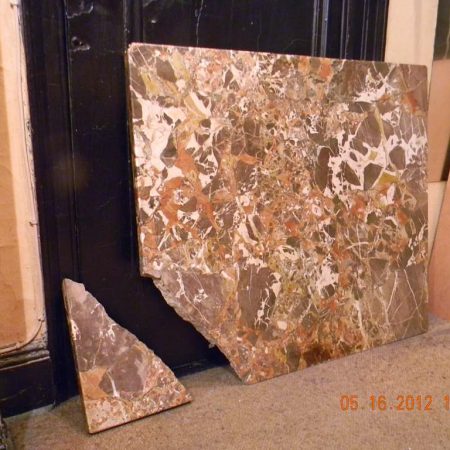 The good news is that a broken marble slab does not mean that it has to be put down in and trashed, if the break isn't too severe, it can be mended and used as brand new table. more...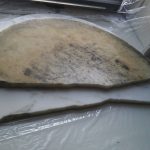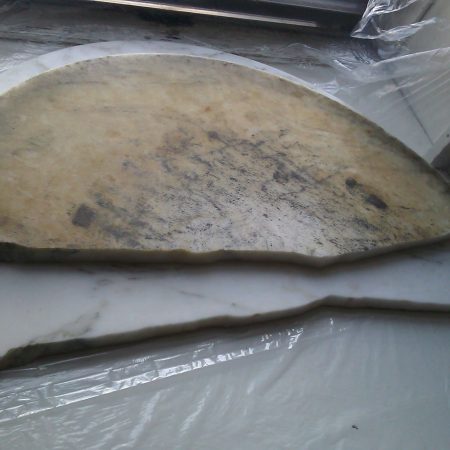 The table top wasn't attached to its base and leg and accidentally dropped down and broken. We mounted the top to the leg with screws upon the crack restoration. more...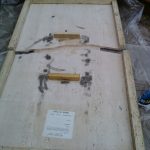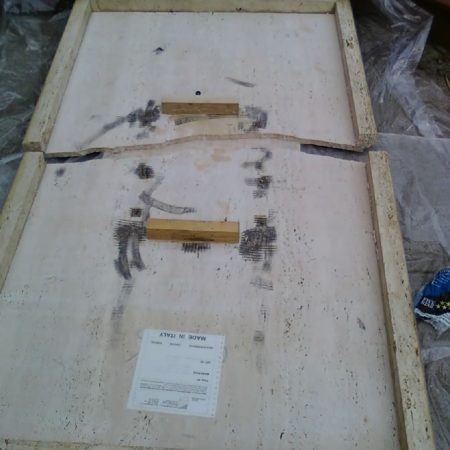 This big travertine dining table was revitalized in the backyard without pickup and delivery. Sometimes it's easier and safer to do reparation on-site, it is eliminating the risk to be messed up during more...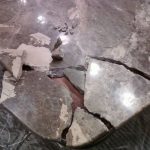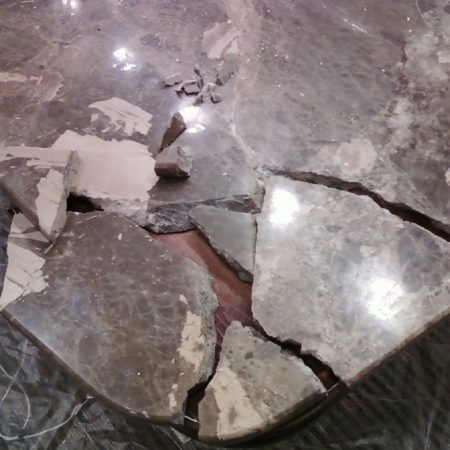 Although the table was laying on a flat plywood base, it was accidentally messed up during moving into the new office. more...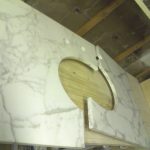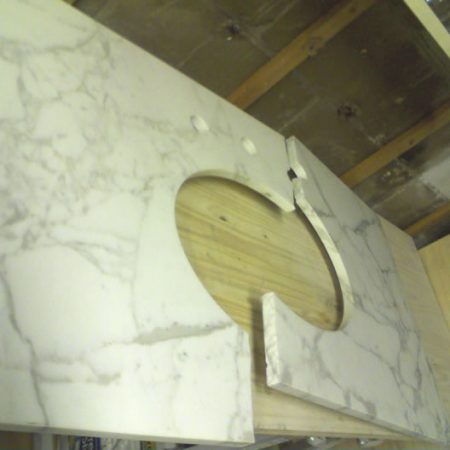 Honed Calacatta Gold vanity with an oval sink. Before renewal and the crack repair. more...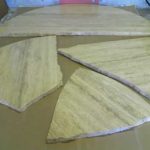 The round dining table has been fallen and chopped onto 4 large shards and turned to salvageable condition. The good thickness and lightweight of travertine allowed us to fix it without inserting metal bars. more...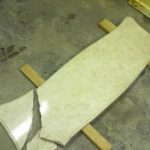 Salvageable old fashioned commode top with Ogee edge is accidentally chopped to 3 shards. more...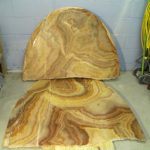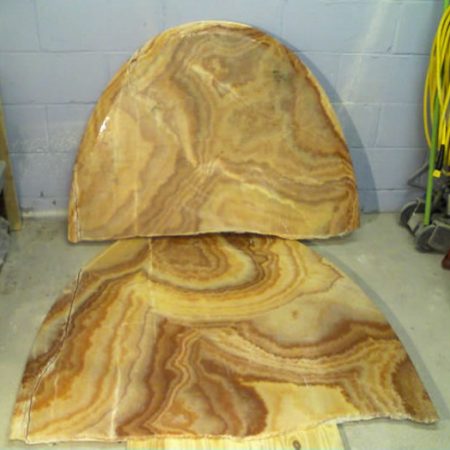 Although the table has a fiberglass mesh, it was split into two parts. The mesh is helping to enforce the slab in the direction toward to finished surface, but it only helps and not significantly strengthen more...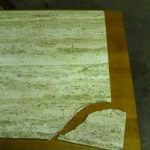 The travertine is a very soft and brittle kind of marble, plus there are a lot of natural voids and holes in the body of the stone. So it makes the travertine easier to knockdown and come apart. more...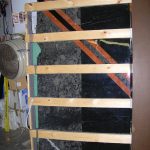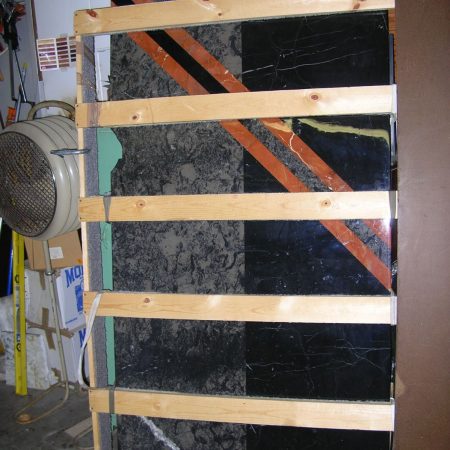 The table in the wooden crate was cracked in the middle and the big chink was broken off from one side. The clear coat was separating and delaminated along the cracks. more...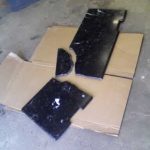 Black marble credenza top with a white pattern and beveled edge. Broken onto 3 big chunks. more...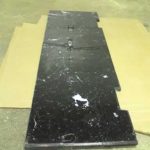 Drawer/credenza black marble top was broken in a few parts, then fixed with 2 components epoxy and polished. more...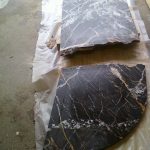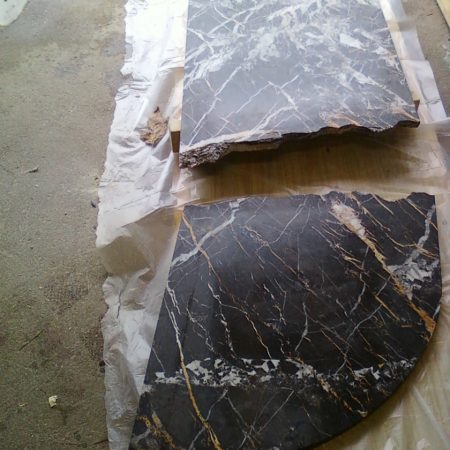 One of the main concerns that our customers have is whether their stone is repairable after a major crack such as the one shown in this photo. The simple answer is yes, we know exactly how to treat minor and major more...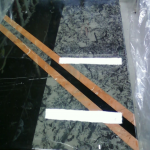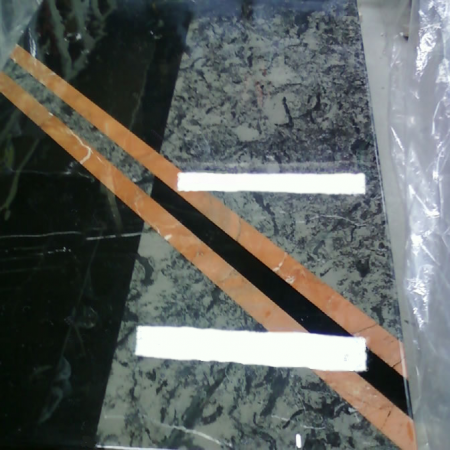 The dining table damages were fixed first, then recoated with crystal clear epoxy resin. more...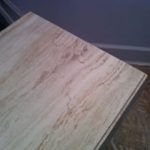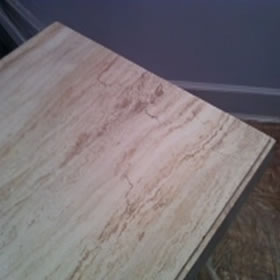 Dining table disruption restoration. The image of breakage after the repair. Pre-colored epoxy (travertine filler) was used. more...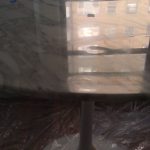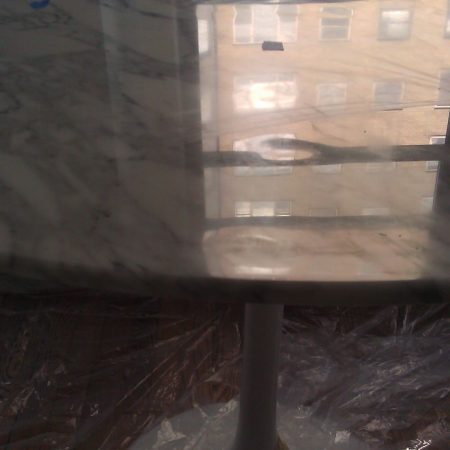 This new table is purchased at a discounted price. The seller instead of the replacement offers money to compensate for the restoration work. There are obvious signs or previous attempts to restore some unknown more...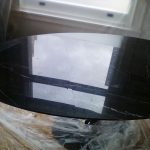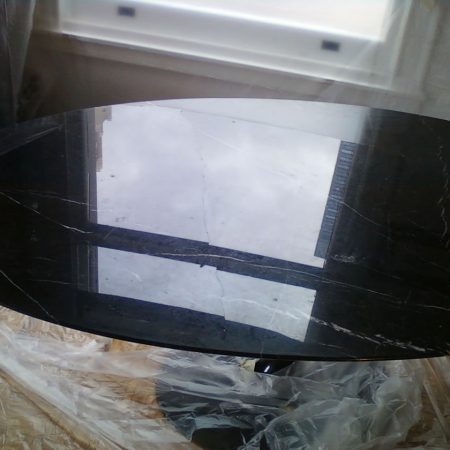 This buckling dining oval table had inner/hidden crack, it can be noticeable on surface reflection. Actually the table was already cracked but held by supporting plate/disc from underneath the table. more...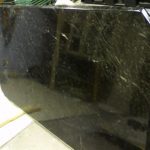 The big rectangular dining table had a transparent polyester resin/glaze coat on it. We fixed it without recoating the entire table. First, we restore the marble cracks then the glaze coat itself. It's all more...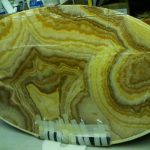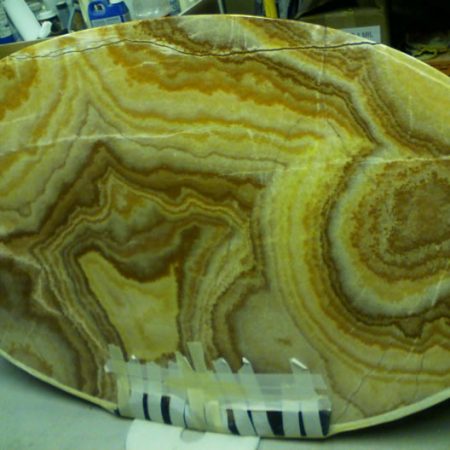 The table has a glaze clear coat on it, we fixed it without re-coating. Also, we cut channels and insert metal rods from the backside. In some cases inserting bars in onyx is not recommended as it can be more...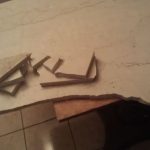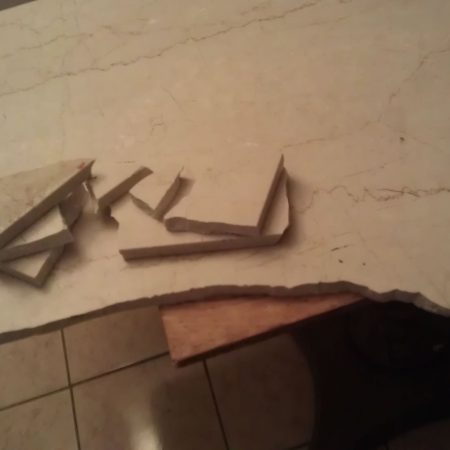 Dinning table, botticino slab 3/4 inch thickness. Was accidentally broken on several fragments. Located in Bronx NY. more...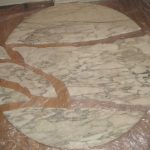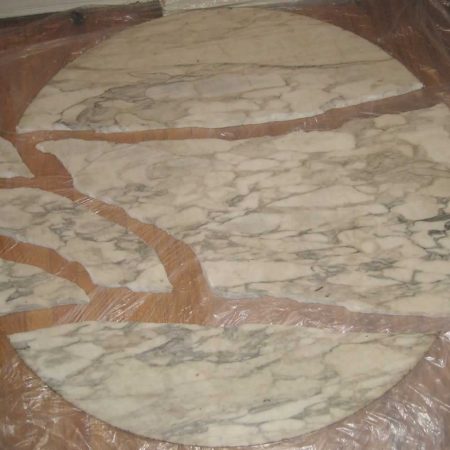 You can see as far as this table-top is broken into many small pieces at all. Edges of pieces are very uneven, sharp and strongly curved. The table-top is very heavy. more...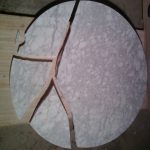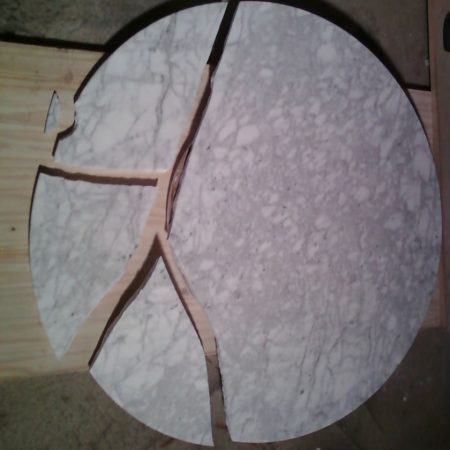 This mid-size round table was picked up from the client's address and restored on our side as it would generate a lot of dust and mess on the client's premises. more...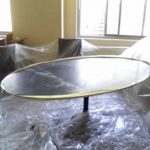 It is very critical to clean, protect and restore the polished appearance of the marble. It has to be prevented from all sorts of bad cleaning detergents, soaps and acidified cooking products. White Carrara Tulip more...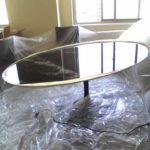 The Tulip Saarinen table originally was not glazed and has a "naked" marble surface, so it lets us easy to polish and buff the surface by the "traditional" method of marble surface more...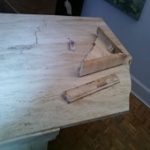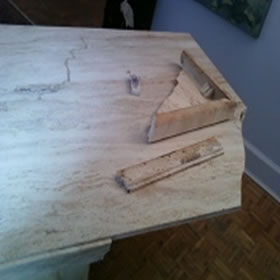 Broken corner and edges of dining table. Image before revamping. more...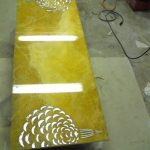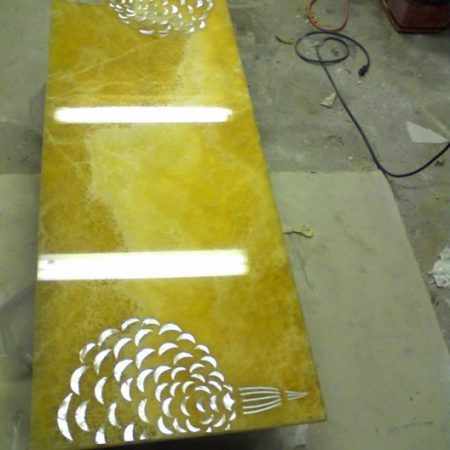 The table was fixed with the help of semi-clear yellowish flowing epoxy. We had to avoid inserting metal bars from the bottom side as they could be visible through the onyx body. more...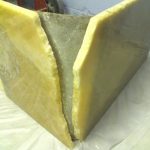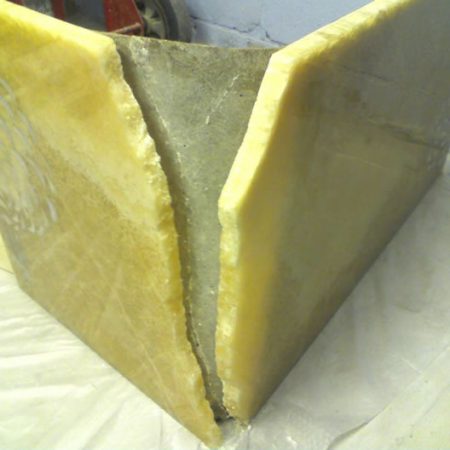 The onyx coffee table was accidentally split into three parts. This rich table has something like pearl shells inserted into onyx body. Was shipped from India. more...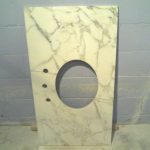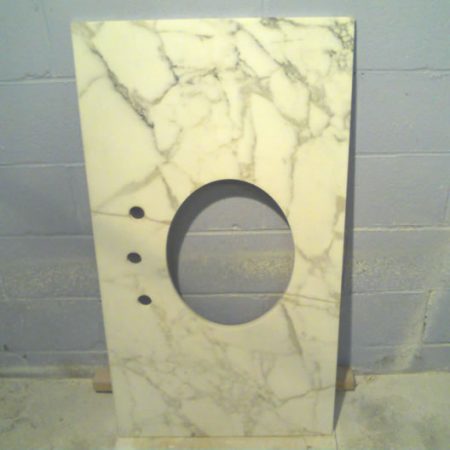 On this vanity we decided to use the light gray epoxy to better blend in among a natural veins. more...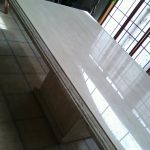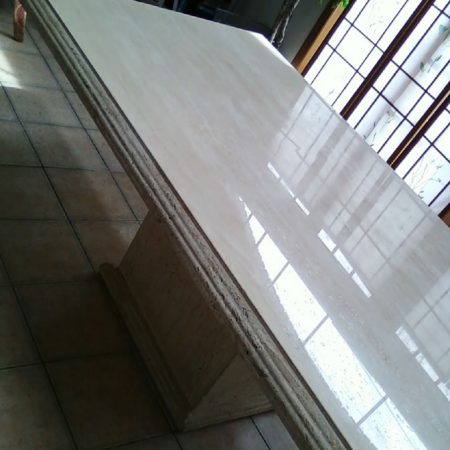 For the strengthening the table we inserted several metal rods into the table from the bottom side and into the edges. more...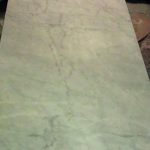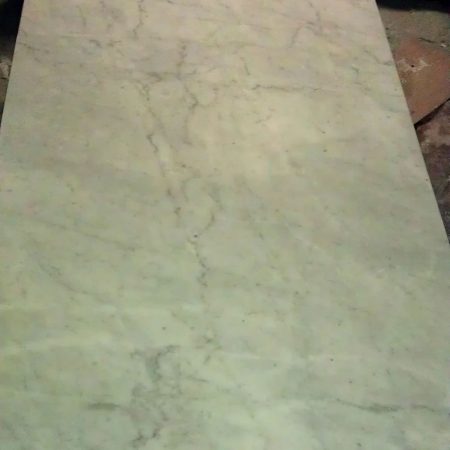 The table was used by photographer as pictures background. So for the purpose of prevention flash reflection we preserve the original matte finish. more...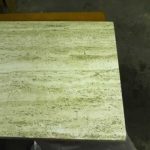 The crack repair and then polishing of travertine required special approach, we need to avoid the removal of original travertine filler from the surface. Otherwise the entire surface should be re polished. more...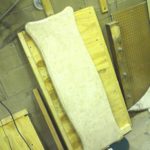 We fix this commode top with previously colored knife grade epoxy, then restore the ogee edge and then polishing and buffing. more...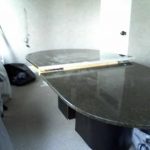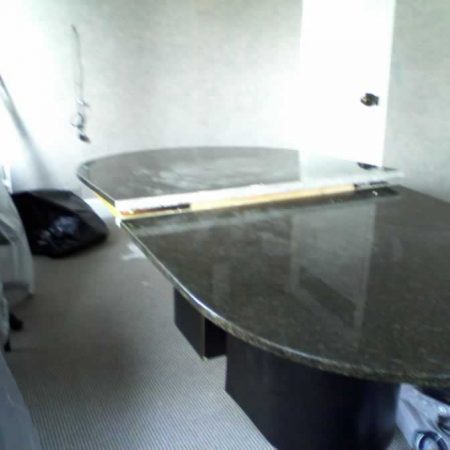 We disassembled this table top and its base in Downtown Manhattan, then moved it to Midtown and assembled in the other office room. more...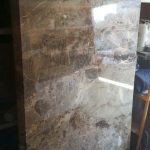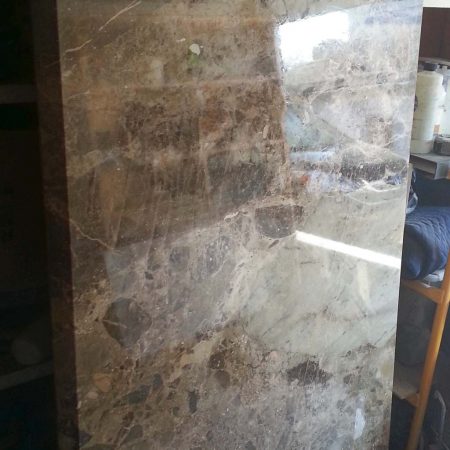 Broken table top repair usually done with crack reinforcing from back side by cutting a grooves and submerse supporting armature into grooves with flowing epoxy. This will give stiffness to the table, and will not more...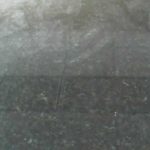 We move this table to new office in Midtown of Manhattan, then assembled and fixed it on site. more...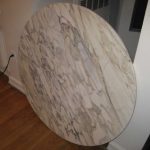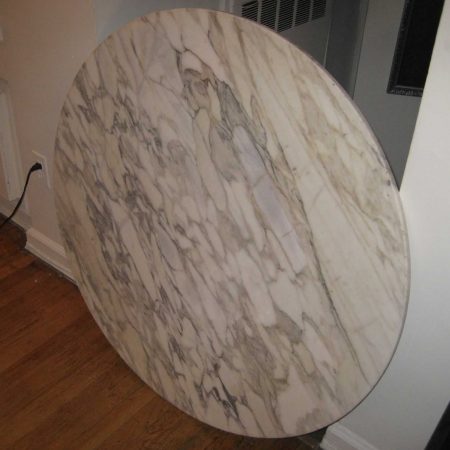 Table-top now is integral. Traces of connections of sharp fragments are imperceptible. The circle of a table-top hasn't changed. It is ideal. more...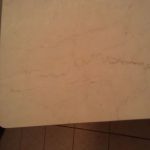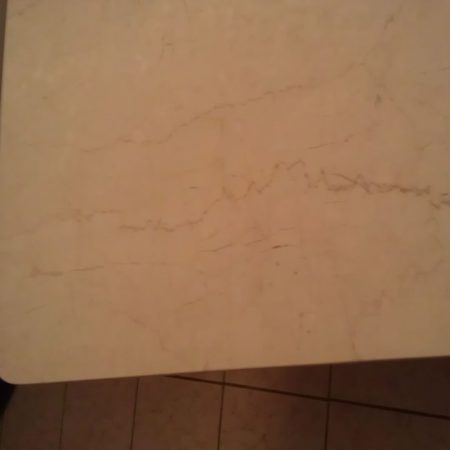 Dinning table made of beige botticino. Cracks were fixed on client's site within one day. Bronx NY. more...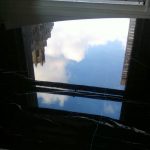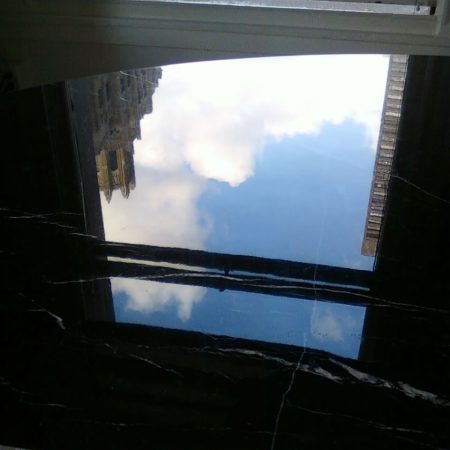 The internal crack was fixed with black liquid/flowing epoxy, allowing the epoxy soak deep through the crack, providing the best adhesion and strength. Then polished and buffed. All done on premises. This way allows more...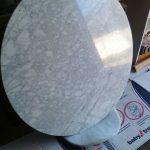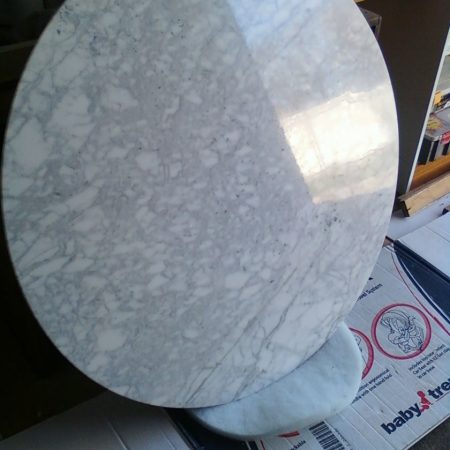 The table was fixed with light gray and white semi-clear flowing epoxy. To strengthen the repair there was metal bars inserted from backside. more...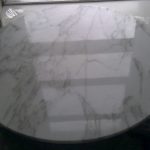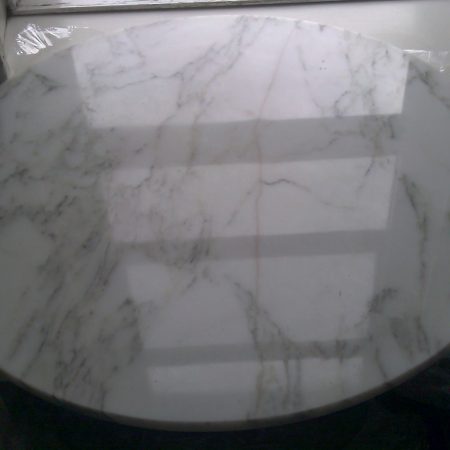 The table top was fixed on client's premises without picking ups and delivering. more...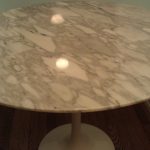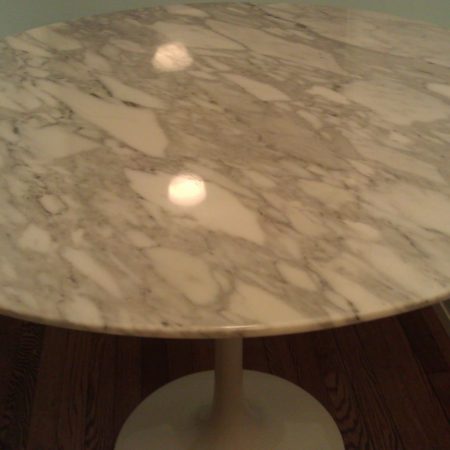 The waves and unevenness were removed by evenly grinding down the surface, then refinishing and polishing as usual. more...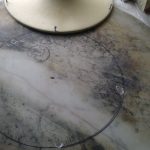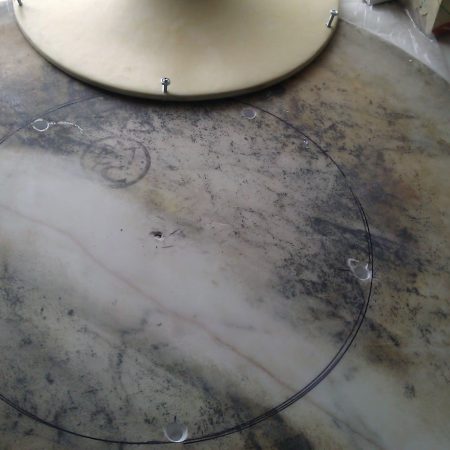 To mount the leg we marked and drilled 5 holes with diamond drill bit. Then we fill up the holes with an epoxy and sunk the screws into epoxy. more...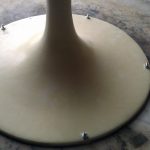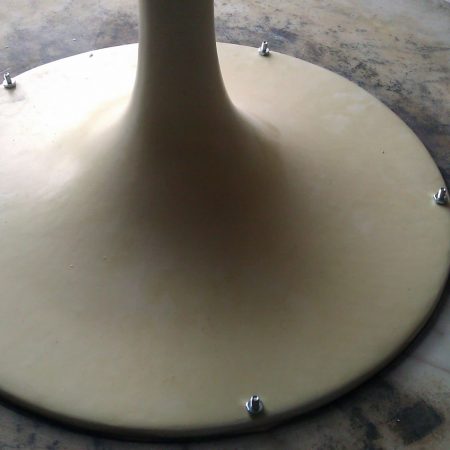 Because the table wasn't attached to the leg once it fell on floor and broke. So after restoring the table we properly mounted it to the leg. more...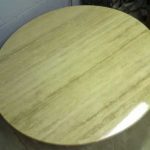 The broken parts were glued together with pre-colored knife grade epoxy and then slightly polished to shine finish. more...
---