Tag: Content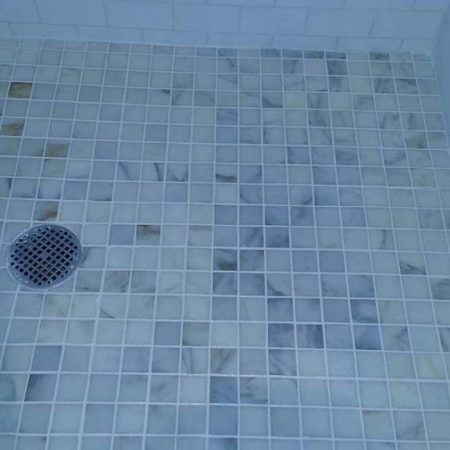 As you can see in the photo, we restored not only between the tile seams but also removed yellowing and stains, eliminated the traces of efflorescence on the stone by deep grinding and chemical treatment. The general more...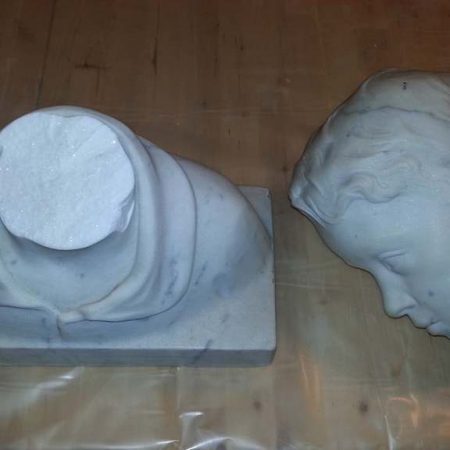 Sculptural restoration is not only a faster process of returning the original appearance to marble sculptures but also cheaper than replacement. After all, you can restore not only the countertops, floors, and more...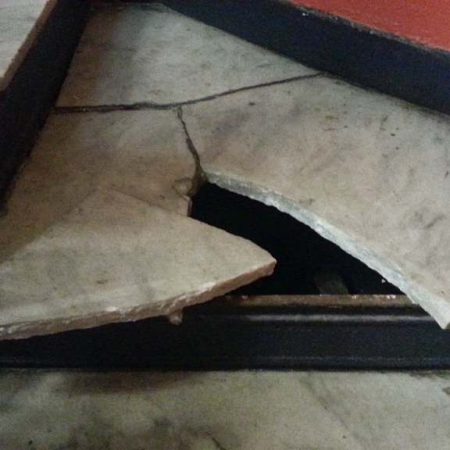 In rare cases, we can do salvageable buckling landing slabs and structural repair. A lading slab has to be propped from the bottom side, by a metal sheet, L-bars, concrete, wooden beams, etc. Under this slab we were more...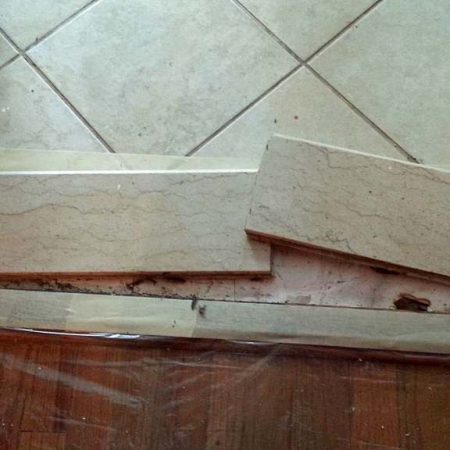 Before installing the door saddle you'll need to make sure that the floor beneath is thoroughly cleaned and dried. Marble is a soft material and can be susceptible to cracking if not installed on a level surface. more...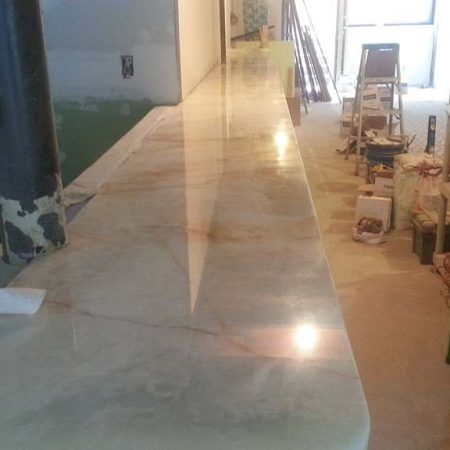 Grinding and polishing onyx is identical to polishing marble. In polishing can be used crystallizer, buffing powder, diamond pads as for processing granite. The cracks repair and re-bonding are done in a very similar more...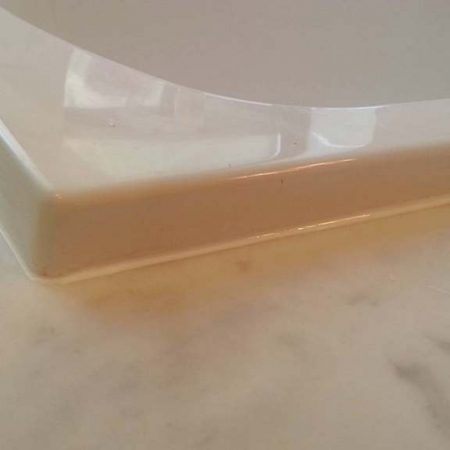 Caulking the seams in the bathroom is very important because, through poor-quality caulked seams, moisture spreads into and out of the tiles, and then, after a while, causes irreparable harm to the underneath surface, more...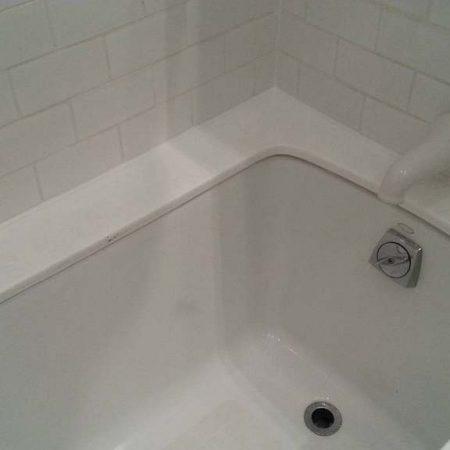 The gap between the wall and tub can be narrow or wide. If the gap is not too wide, it is better and easier to use acrylic caulk. Insert the tube into a caulk gun and gently, in one step, fill the gap along the entire more...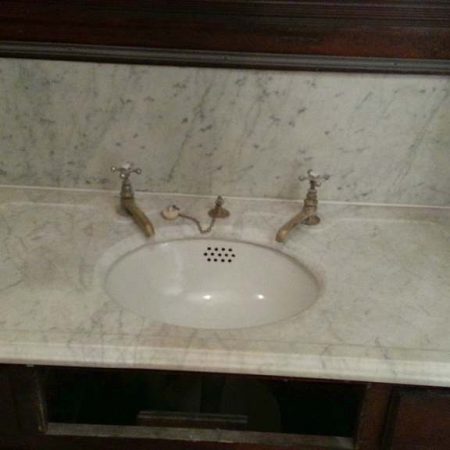 Antique marble counter top with the backsplash is located in a brownstone in Brooklyn. Although it had a lot of permanent stains, some of them possibly 100 years or so, after poulticing we were able to extract most of more...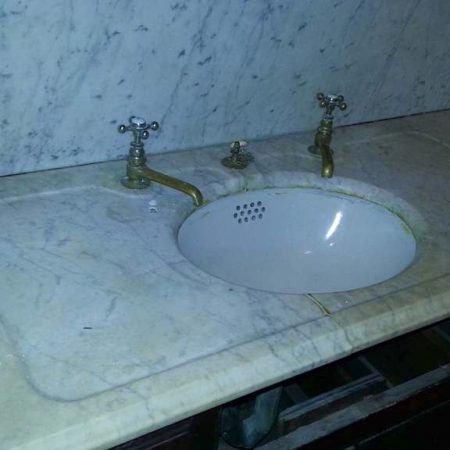 We will simply grind down the stained and discolored layer until we'll get clean, raw marble with uniform color. Then a poultice will be applied to remove some of the stains from the counter. If we'll be lucky, more...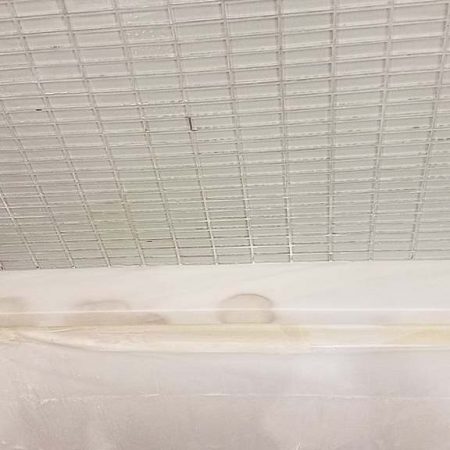 Marble has pores and thus permeable, so it is easy to leave a stain and often impossible to remove the stains, especially on such white marble. We were able to brighten them to less obtrusive shade. more...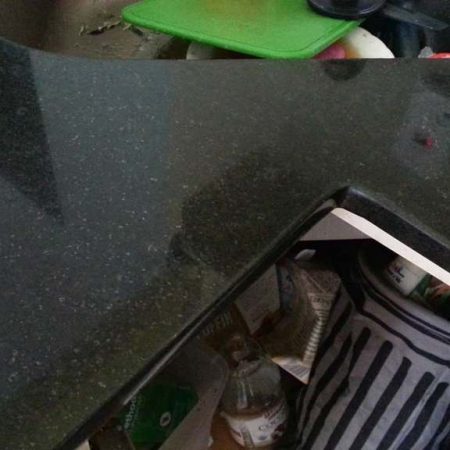 Cracks in granite are repaired by filling up with epoxy to glue pieces back together. But the crack will remain visible and uneven unless the area around the crack is sanded and properly polished. Filling the cracks more...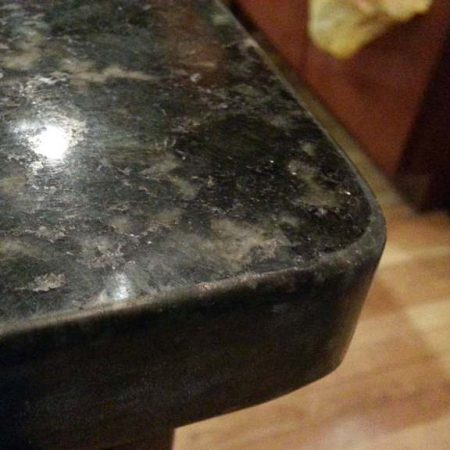 We put tape on the area around the chip and put some epoxy to fill up the gap and spread just little above stone surface. We use epoxy and and mix color toners in the epoxy to blend the chip with best color more...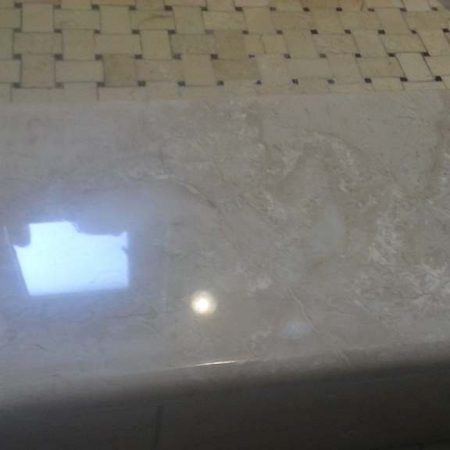 In practice, marble is restored somewhat easier than granite. If properly processed, the traces of its restoration will be almost impossible to notice. Often the crack line may appear as a natural vein or pattern. To more...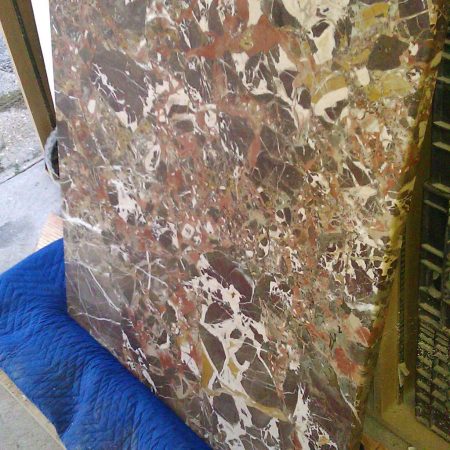 Hued square coffee table top slab after broken off corner repair. Various colors, patterns, and veins allowed us to hide crack lines to invisible. more...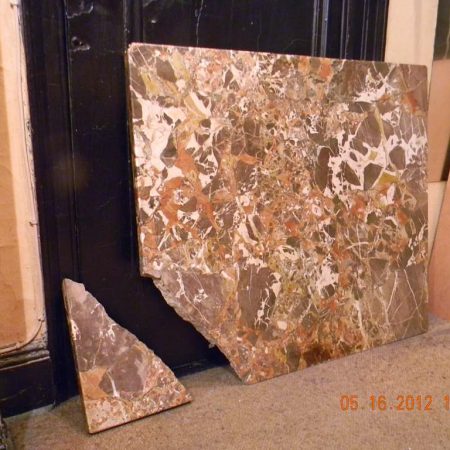 The good news is that a broken marble slab does not mean that it has to be put down in and trashed, if the break isn't too severe, it can be mended and used as brand new table. more...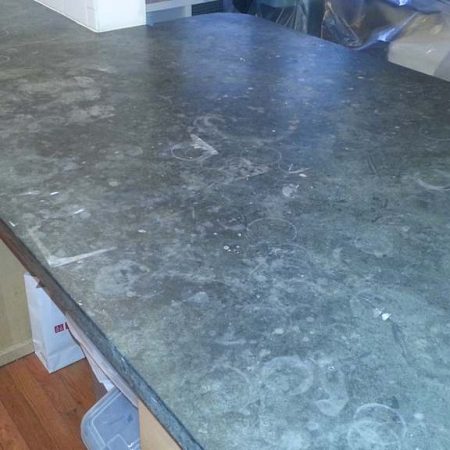 It is absolutely counter-indicative to apply for cleaning marble usual caustic household cleaners: a washing powder, cleaning powders like Ajax or Domestos. The substances contained in them can destroy the structure of more...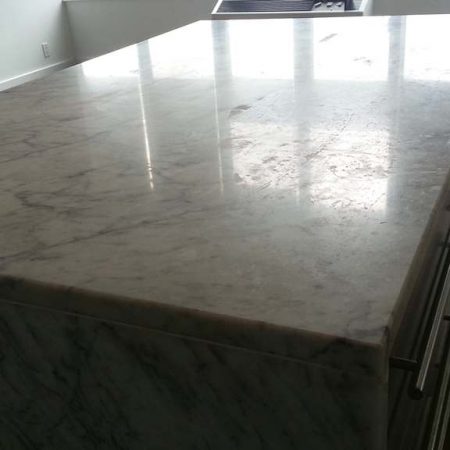 Water spottings or etch rings on countertop surface and waterfall edge. Marble, travertine, onyx, limestone are all these stones on a calcite basis, and therefore unstable to PH active liquids, especially acids. When more...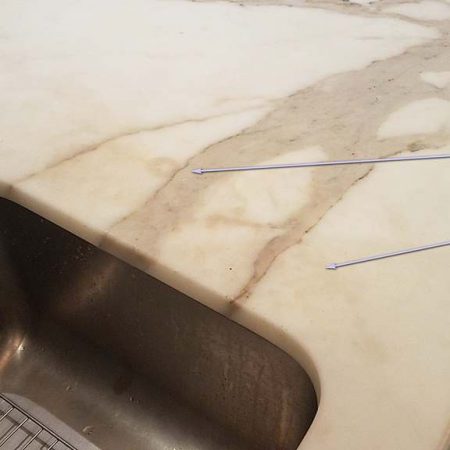 In order to avoid such undesired spottings, you should know:  marble is afraid of spilled coffee, tea, juice, sodas, wine, ketchup, dressing, etc. A sealer may help in some such cases but in not all cases. more...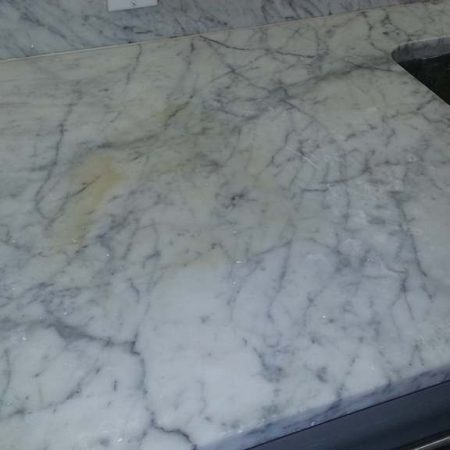 Sometimes the light marble countertops begin to acquire an undesired yellowish shade. To remove yellowing spotting, try to apply on a stone surface and leave for a few hours a saturated solution of soap, and then more...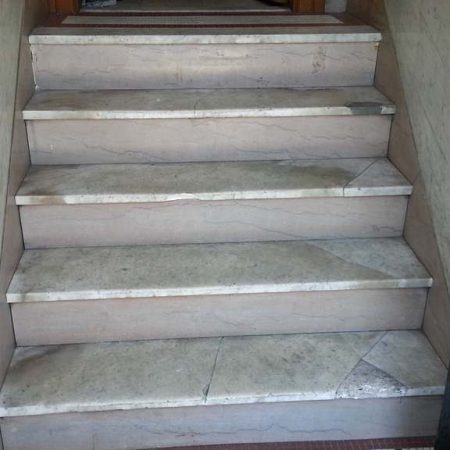 Despite all its positive qualities, marble belongs to the group of soft stones, so constant exposure of the polished surface to abrasives, chemicals or other unfavorable compounds and other deterioration factors can more...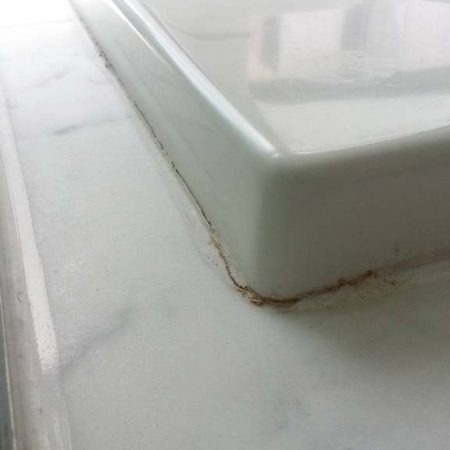 There are a lot of seams in a bathroom, and all of them must be caulked immediately after the completion of the main works. Be sure to check each seam and do not forget to apply a special compound that will give water more...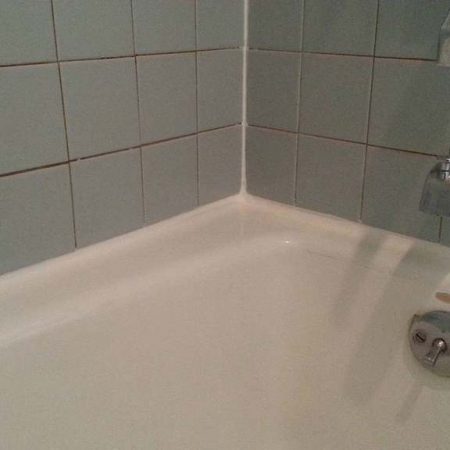 Re-caulking is important in areas such as: Bathtubs tops Shower floors perimeters Shower thresholds and window sill Shower glass panels Around shower fixtures such as handles and faucets Around sinks and more...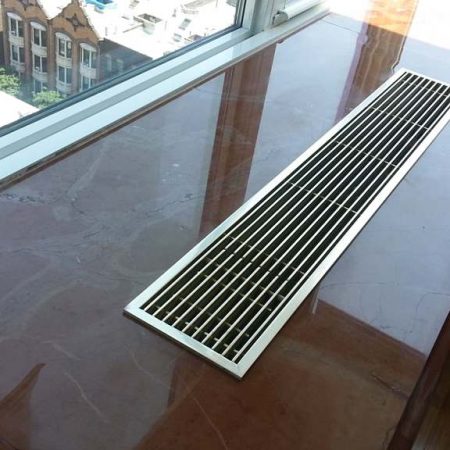 We are doing marble restoration not only on flooring but also on window sills, walls, counter tops, steps and for each task (like to save fixture) we use its own approaches and equipment. more...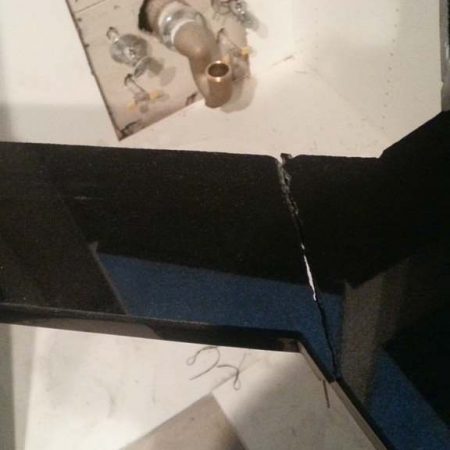 Cutout for sinks or cook-top are weakest areas on a counter, and the most potential spots for chap cracks to happen, as there is most concentration of internal tensions over an entire counter. more...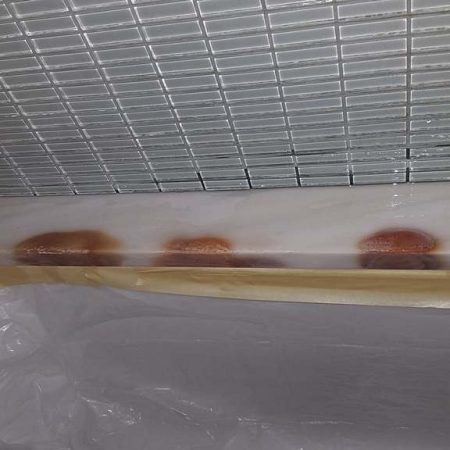 Taking into account the content of minerals in marble, there is always a risk that the iron in the rock can rust. A beautiful picture can deteriorate when iron, deep inside the rock, changes color under the influence more...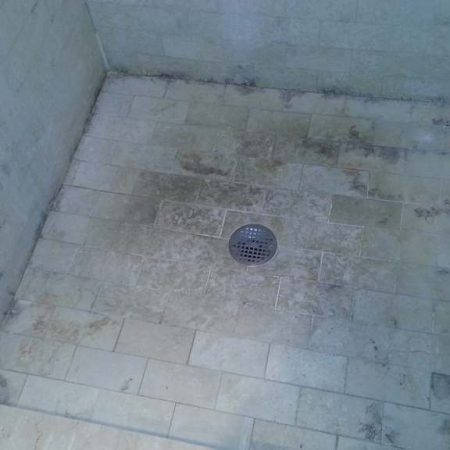 Shower Mold Removal. Undesired toxic black mildew can cause problems such as mold illness, mental disability, damaging internal organs, allergic reactions, etc. If you don't take care of mildew in a shower, it can more...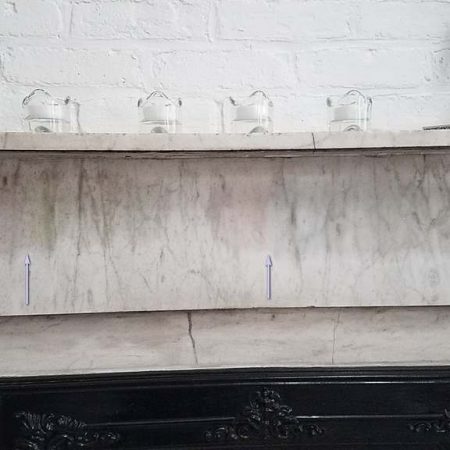 The organic blots/smears were left by Christmas Decorations adhered to the marble panel. Often there is an opportunity to remove such stains with special gels, and organic stains from a light stone often can be removed more...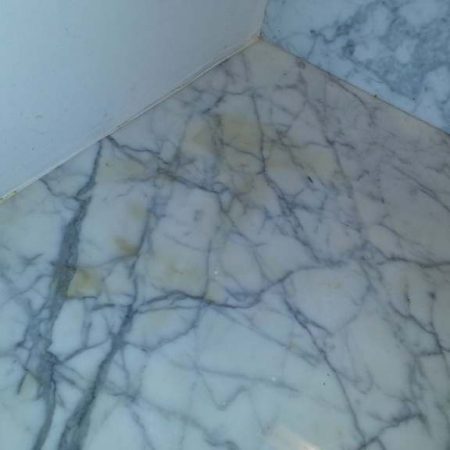 Spills and drops from coffee, tea, wine can leave ugly undesired marks. To avoid this, immediately wipe the stain with a damp cloth and then apply to the remaining stain with a special "Mangiamacchia – Spot more...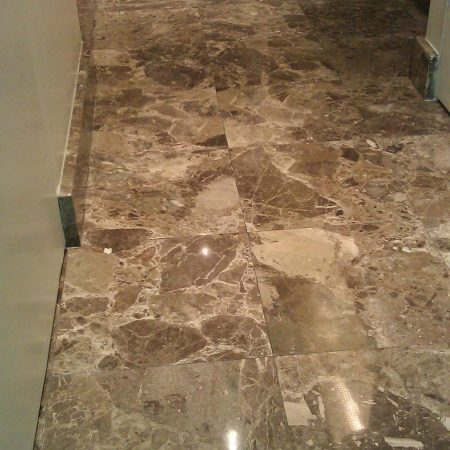 To achieve the ideal floor, it is necessary to grind it with subsequent polishing. This type of work will give your floor a qualitatively different appearance, not only from aesthetic but also from a practical point of more...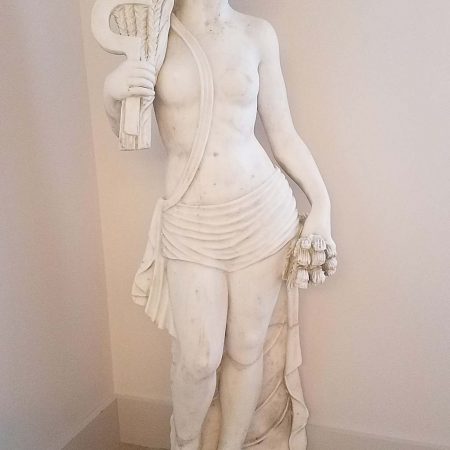 Sealers are products that saturate and penetrate into pores of statuary marble and clog its pores, thus reducing the natural absorbency of most stains. more...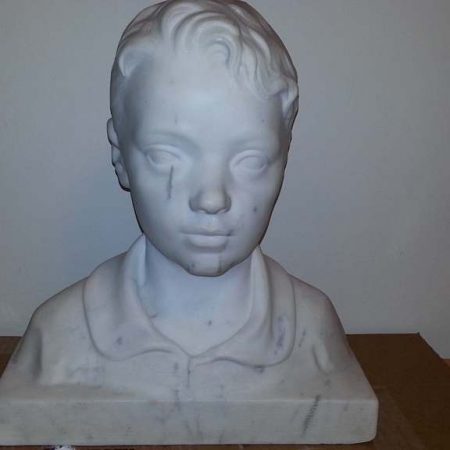 In order to glue together splintered statuary white marble parts you need special glue-like Akepox, and it must be designed for a white marble repair. The fact if you'll use the wrong mastic you can make very visible more...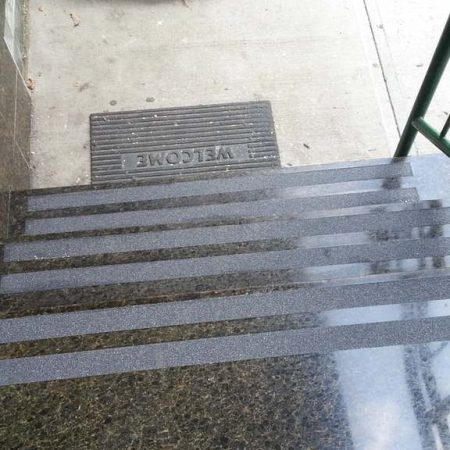 Installing quartz, ceramic, porcelain, granite steps in a building, commercial or factory premises as well as on the adjacent street territory is a practical and economical solution. However, with all the advantages of more...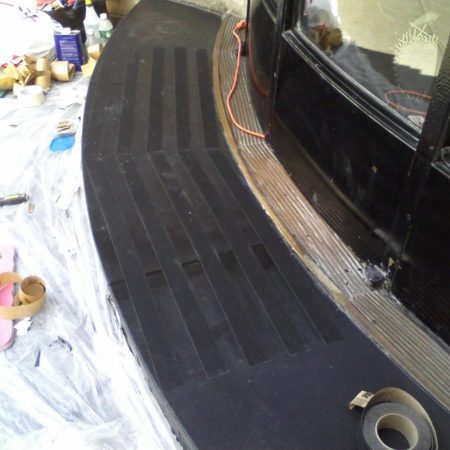 Anti-slip (non-skid) tape installation and seam repair on the granite step. Petrossian Caviar restaurant at 911 7th Ave, New York, NY 10019. more...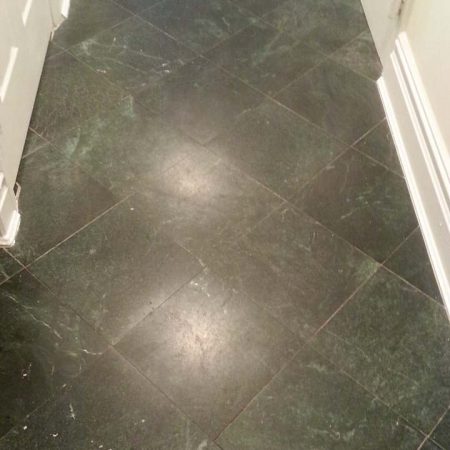 Entryway marble floors are most often subjected to restoration because due to deterioration such as sand grain abrasive effects in mud, the floors are usually opaque, severely scratched and worn out. It happens when more...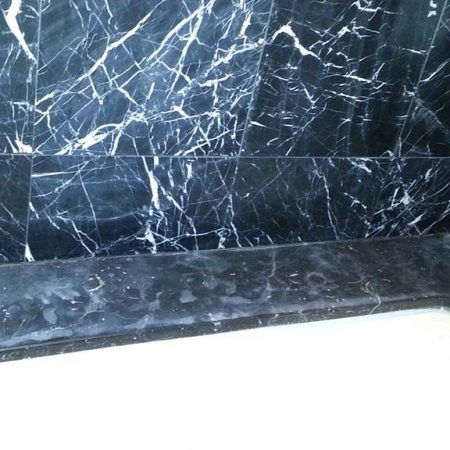 Cloudy opaque spots on marble are actually etched, no stains, the salts, and minerals in tap water react on the surface, leaving such etch marks. more...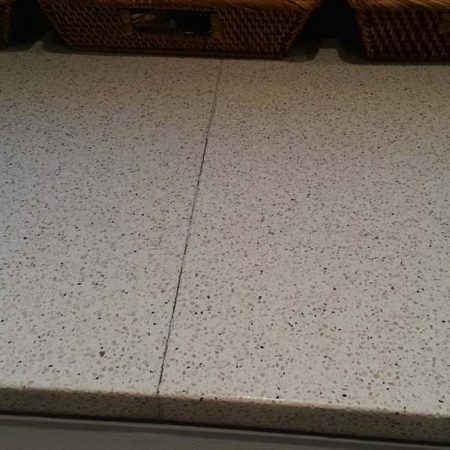 The poorly filled seam on Caesarstone is cleaned from old glue by cut out and is ready for fill up, blending and restoration. more...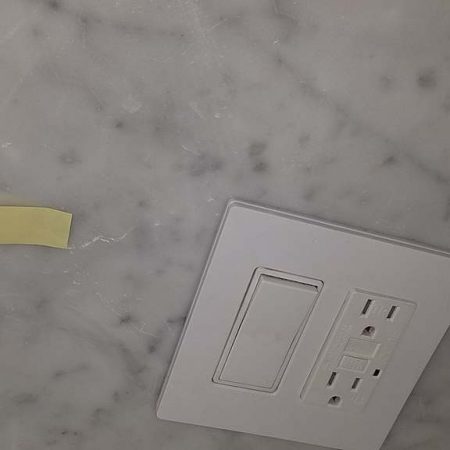 Although surfaces made of natural stone refer to sufficiently hard surfaces, but it can be easily be scratched by any hard object like kitchenware. A good deep polishing can definitely remove light surface scratches more...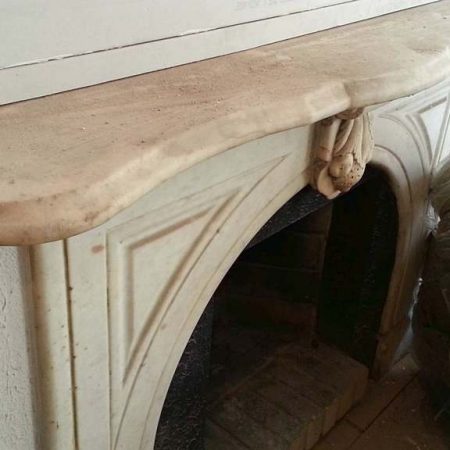 As a result of intensive and long-term use, the marble fireplaces are losing all their beauty and attractiveness. In addition, many non-aesthetic scratches, gashes, chips, and stains are formed on its surfaces. To more...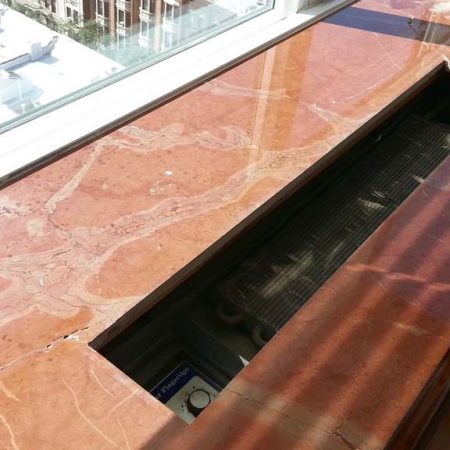 Often to restore window sill, it is necessary to dismantle the stone. Today, we can restore your window sill right on-premises. The price for the restoration will be accordingly cheaper, since dismounting and more...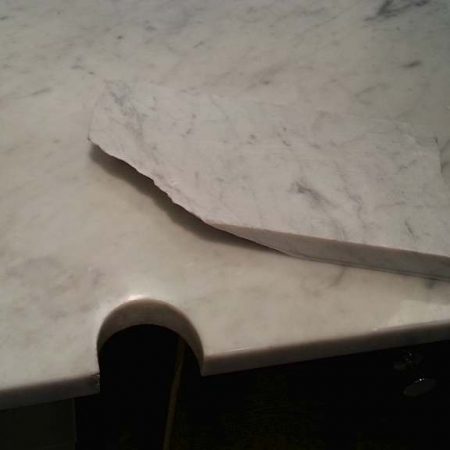 When restoring marble such operations as grinding, polishing, sawing, drilling, cutting, carving, gluing, sealing, glazing, refitting and others can be used and their combinations. more...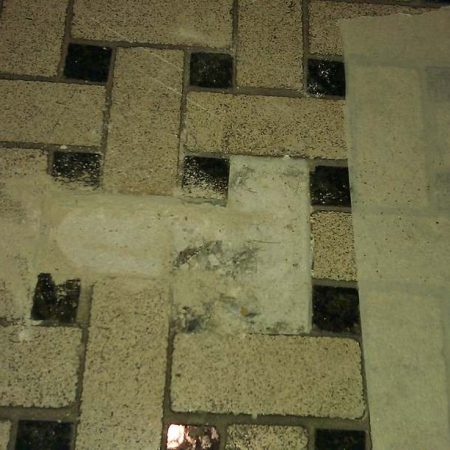 Mosaic tiles are a combination of pieces of the same shape and size, glued to its base, which creates a single composition. The base can be a mesh or paper. The material is various, it can be glass, stone, plastic, more...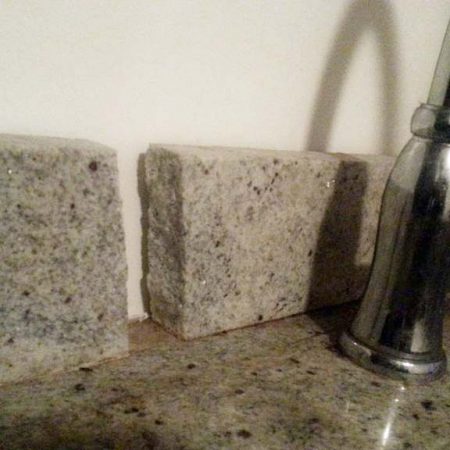 In fact, after the backsplash crack restoration, it will be visually intact. Outwardly, nothing will show its repair, it will be possible to notice the traces of restoration only under the magnifying glass and knowing more...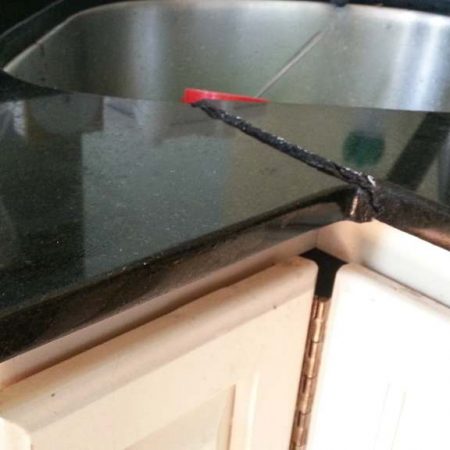 Granite crevice repair is quite a demanded service, which we are performing constantly. As a rule, at most this applies to granite tiles and granite countertops. Of course, granite crevice reparation should be more...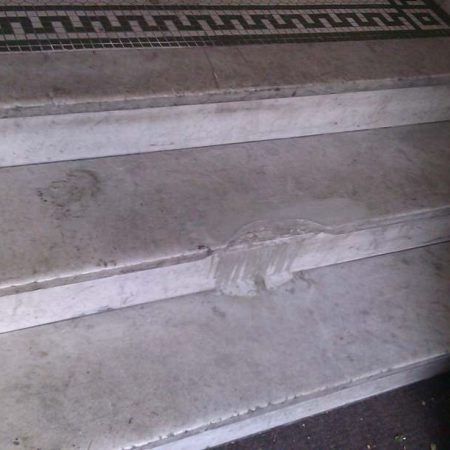 The repair of marble steps in a building also implies compliance with certain technical features of the repair. This is necessary not only for the fact that brand new steps in public buildings would last longer but for more...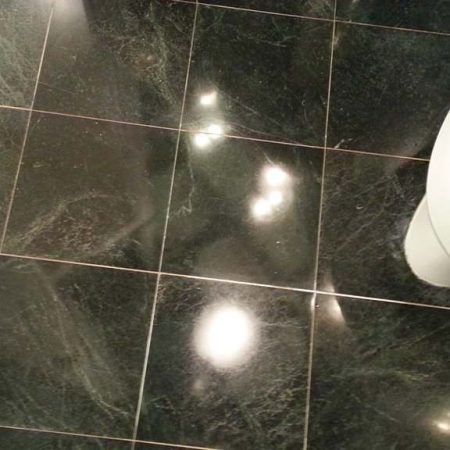 A marble floor suffers from women heel pins, furniture legs, sand, which falls from shoe soles. And if a heavy object falls on the marble, it is possible to form a chip or pothole. All these consequences can be removed more...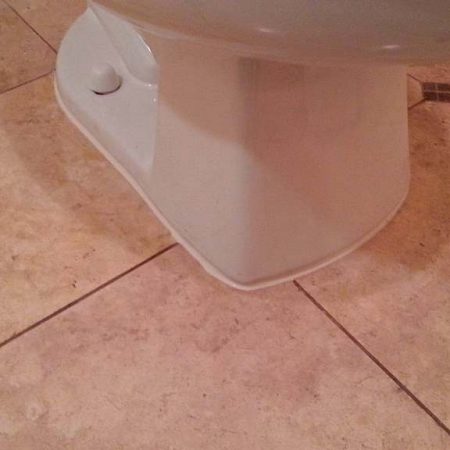 Clean the sides of the toilet base from traces of dirt, old grout or caulk. After this, carefully dry them with torch or fan, as well as the adjacent floor. The further processed joint must be degreased with acetone or more...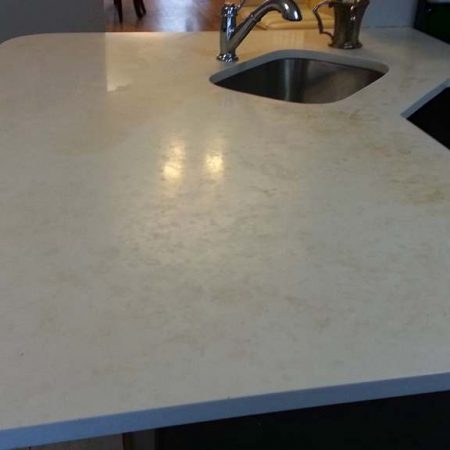 It is important to remember that a Corian (despite it's man-made stone) can be spoiled by any acids: sour berries and fruits, general detergents and others. In the case of acid spilled on Corian, it is important more...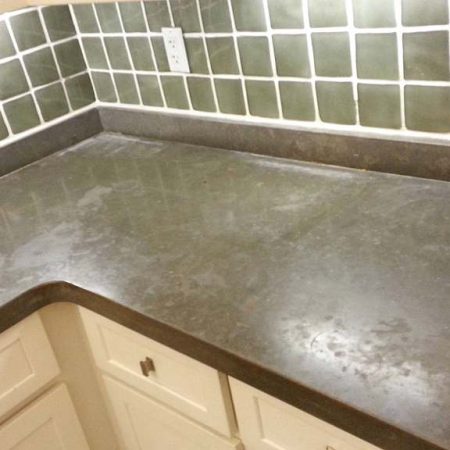 More often than not, customers call us for polishing countertops service and restoring tabletops because of the fact that marble countertops are susceptible to stains and with time passing lose its elegant appearance. more...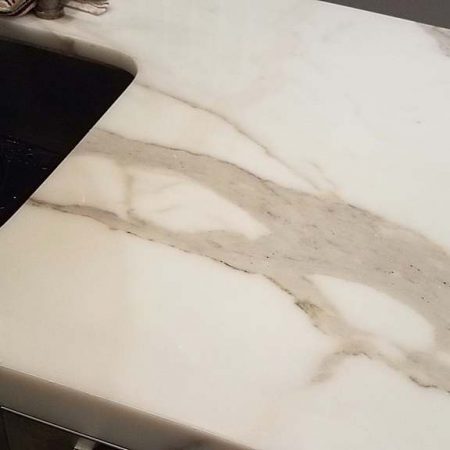 The blotchy stains were topical and easy to removie with top layer of marble. Sometimes light countertops begin to acquire a yellowish shade. To remove such film, try to apply on a surface and leave for a short time a more...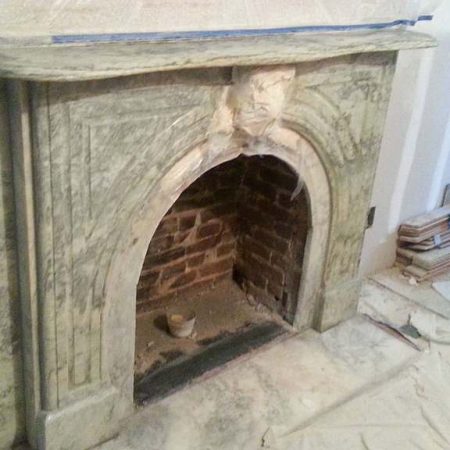 For the stains removal test, first, we applied poultice on the keystone of this wood-burning parlor fireplace. more...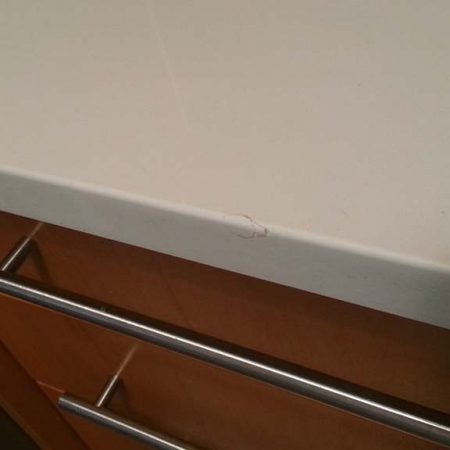 Man made stone is characterized by a simpler manufacturing and processing, a lower cost and it is much easier to perform chips repair or finishing works than on its natural analogue. All these characteristics combined more...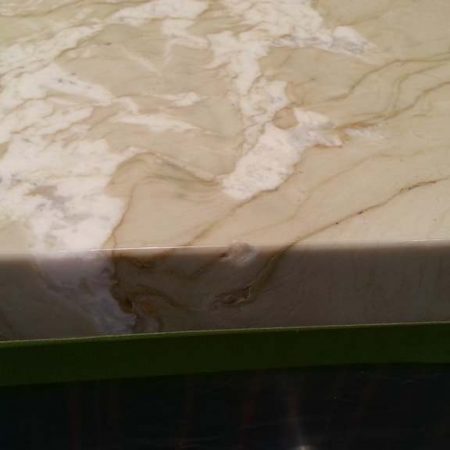 For a chips on counter-top edge, I would recommend a thicker glue, almost a putty like consistency. more...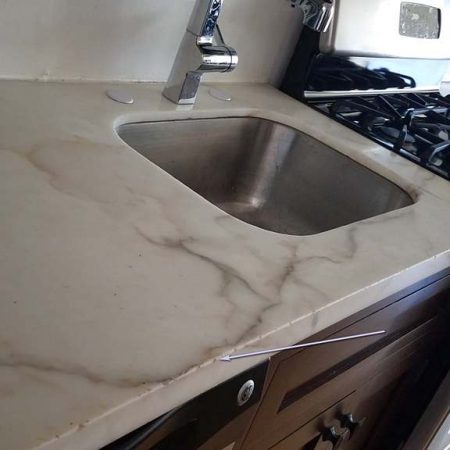 When restoring nocks on countertops we are using the special two-component adhesives (Superior or Akemi) both either on polyester or epoxy basis. more...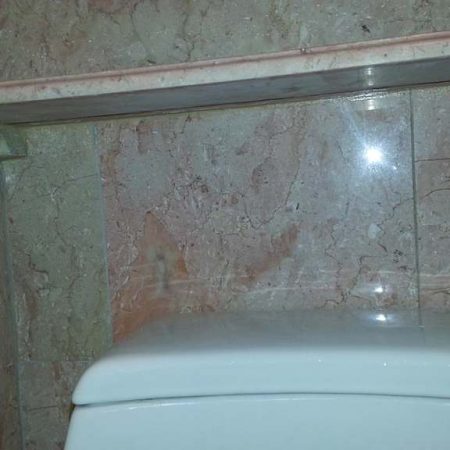 After all procedures with glue for the crack and sagging propping, all the restoration sites must be polished, so that the surface is perfectly even and smooth, and gluing places are not visible and could not be felt more...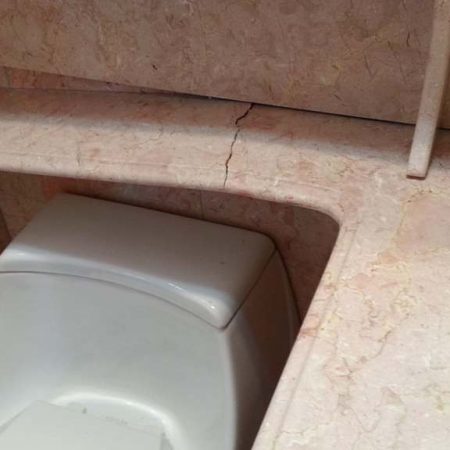 Here you need to restore most marble characteristics to the original while retaining maximum elements of the product. This is a task for professionals, since considerable practical skills, sophisticated equipment, and more...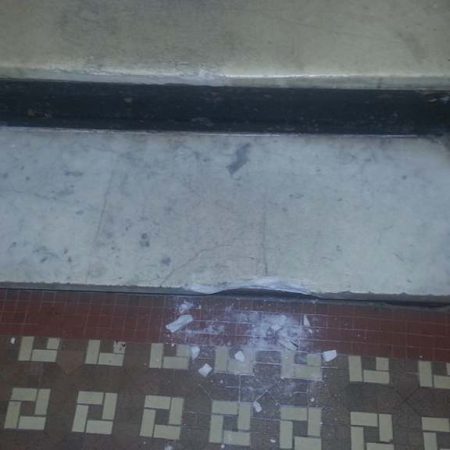 The step was severely chipped by moving company, and could not be properly restored due its size and location, so we suggested to replace the step instead of repair. A patched chip would not last and would happen more...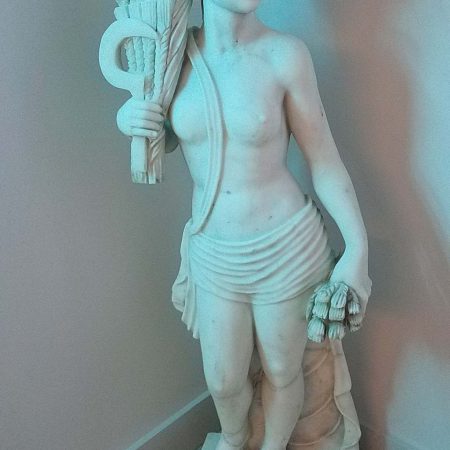 Marble sculpture sealing with protective agents is recommended once a year or two, but it all depends on the degree of stress on it. Basically, silicone-based sealers are used for saturation, they protect the stone more...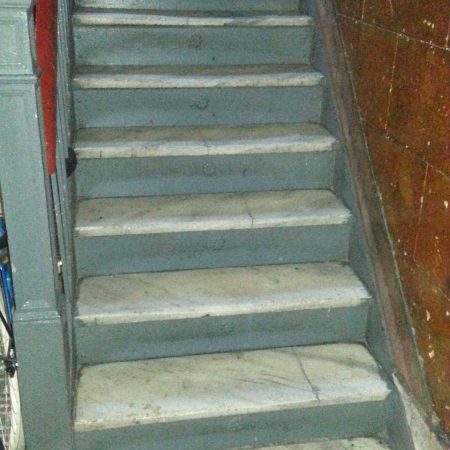 First of all, due to the fact that marble availability can be found at every step: marble floor at metro stations, in restaurants, museums, cultural centers, historic buildings and modern buildings. A natural marble more...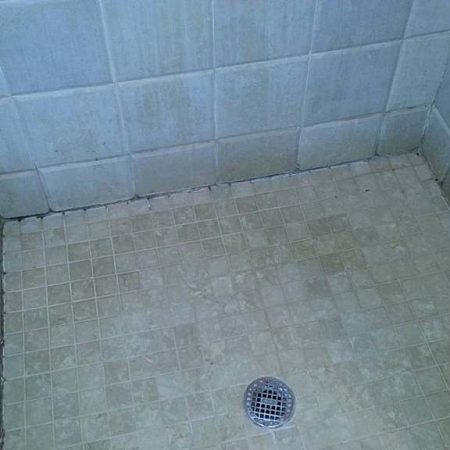 A fresh sealant can be removed easily from most types of surfaces – just wash it off with warm water and soap. However, after drying it may be a pretty tough task. Most often, various solvents can be used for more...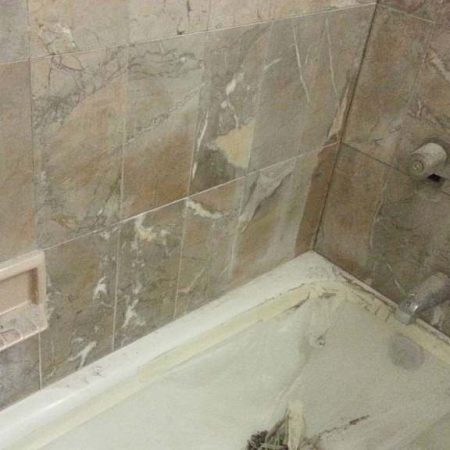 In fact, the shower walls polishing procedure is the same as on large floor spaces. The difference is only in the equipment used. The only point about which you should not forget is that the restoration of the walls more...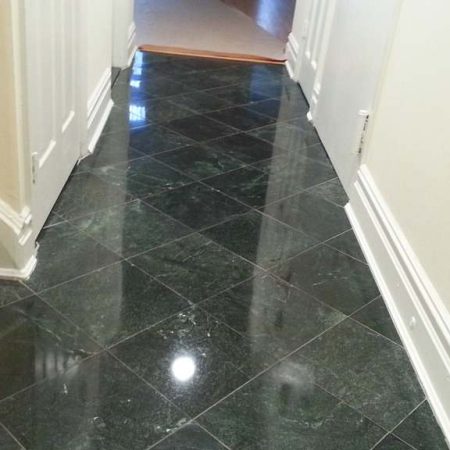 We use the best sealers to give marble floors the maximum protection and an elegant and consistent appearance. more...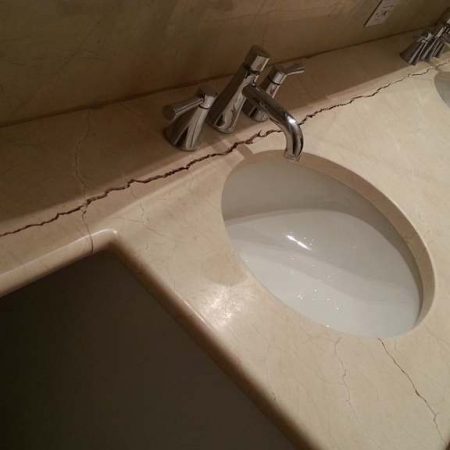 The long throughout offshoot crevice on Crema Marfil marble banjo vanity top happened by metal bar rusting and expanding asides. more...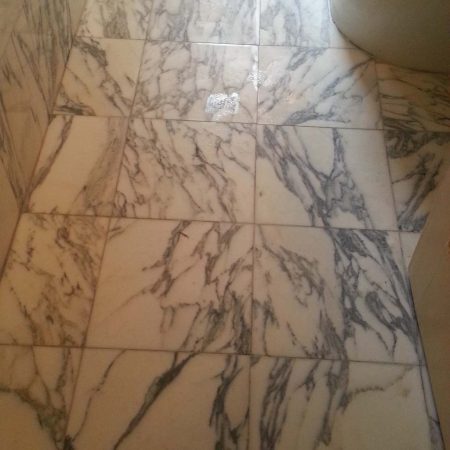 The grinding process (make hone finish) is part of a floor polishing process, it can also be the stand-alone process in order to make the floor leveling, to get rid of superficial cracks, scratches, and dull spots. The more...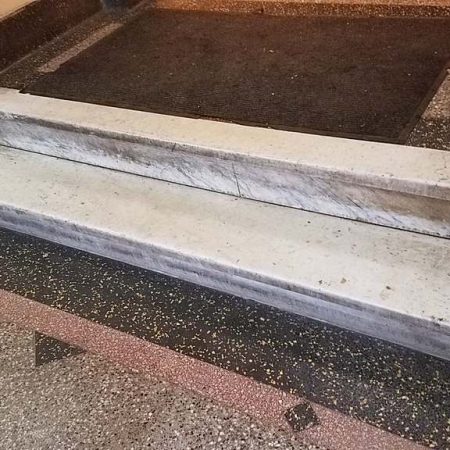 Most often, marble steps restoration and additional stone repairs are required for stairs and floors made of natural stone. These items made from natural stone that is more prone to wear and tear, cracks, scratching, more...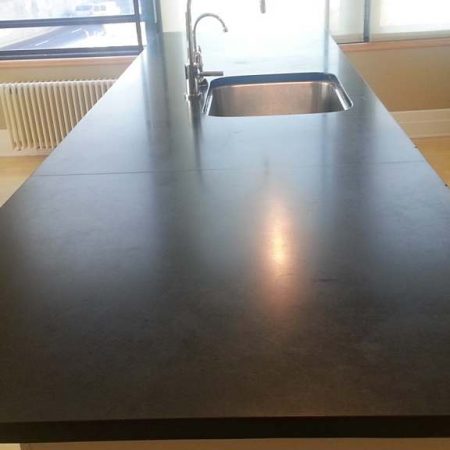 Granite countertops – the most practical choice for a kitchen. They are not reacting with acids and they are very difficult to scratch. As a protective measure remember the following rule: try to remove spilled more...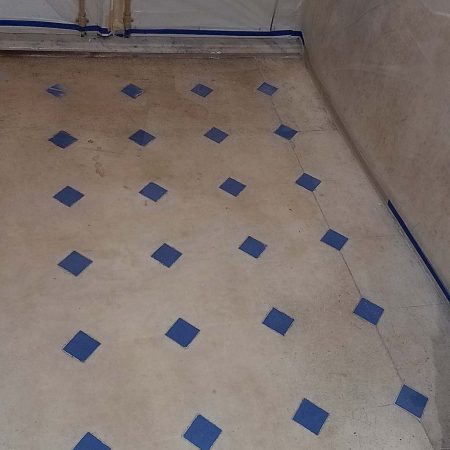 Not everyone can afford stairs, columns, floors, countertops made of natural marble not only testify to the taste of the owner, but also about a certain level of prosperity. After all, long ago only very rich and noble more...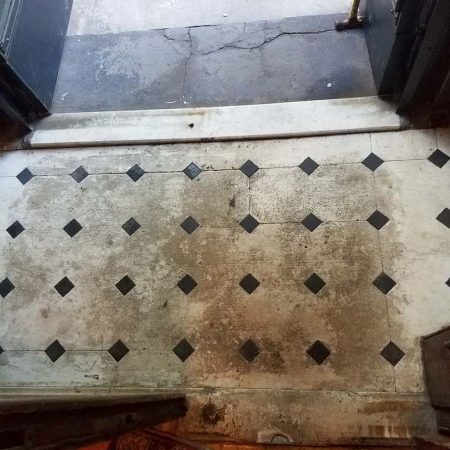 It is important to understand, any sealers or cleaners for marble will not protect it from sand, dirt, grime, scratches, dingy spots and a doormat placed at the entrance will wipe off any dirt from the sole of the more...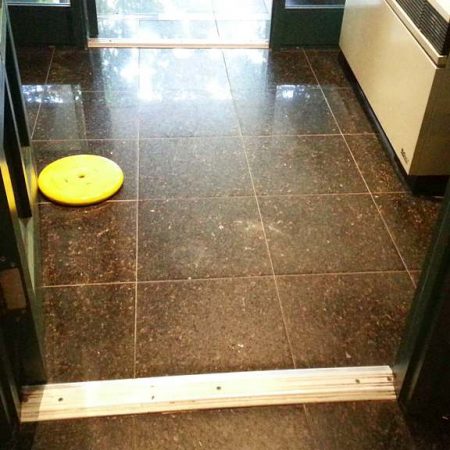 Why the granite restoration process is important? First, it is worth comparing how the granite looked before and after polishing. Also, if the granite contains many cracks, scratches, scuffs, and dingy spots, then the more...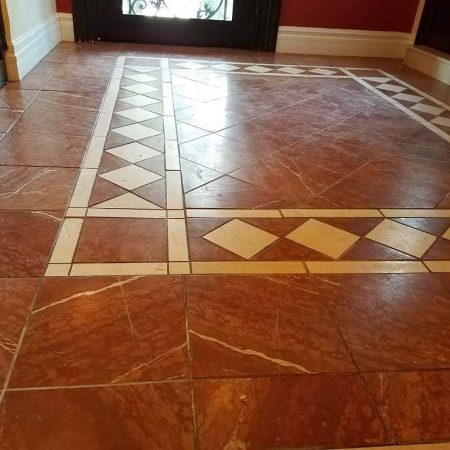 Marble grinding and polishing is used for pitted, swelled and worn out to a depth of 1/16 to 3/16 + inches. Marble floor grinding is carried out to the majority gap's depth, and the deepest ones are filled by more...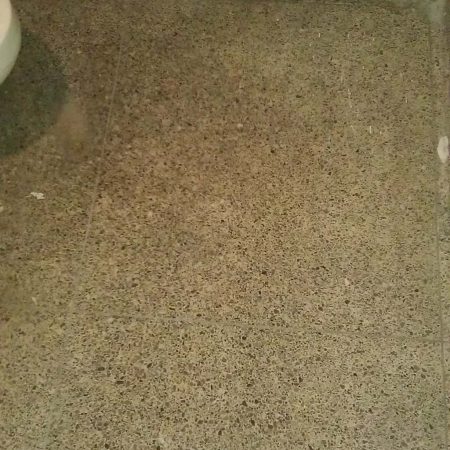 Very often there is a need to restore old, shabby floor especially for grime terrazzo floors in public places. There are many ways to restore the old floor and give it a beautiful, original appearance, moreover, many more...
---